Although Guild isn't a dedicated "event app", it can support an event that is running virtually, or online, which of course is happening a lot at the moment because of Coronavirus (COVID-19) and travel bans.
What types of events is Guild best suited to?
Guild is a messaging platform for private professional groups, networks and communities. As such it best supports events that are:
B2B / professional in focus
About expertise, knowledge sharing, networking, peer exchange and discussion - so summits, roundtables, meetups, single-track conferences rather than trade shows or exhibitions
Why, and how, would Guild be used?
You can use Guild to support your event as follows:
Very easily, and instantly, communicate with your delegates and sponsors to keep them up to date with what is happening.
Allow attendees to connect, communicate and collaborate in advance of the event and follow up after the event.
Post details and link to the virtual experience on the day - potenially create different groups for your topics, tracks or breakout themes.
Provide a means for follow-ups, feedback and to continue the conversation and networking after the event.
Add value to sponsors by co-branding your event group on Guild or by allowing them to participate in conversations with delegates so they gain market insight and can deliver thought leadership with valuable contributions themselves.
Provide a 'year round' place for your event community to connect and communicate and use Guild to help inform the content and programming for upcoming events.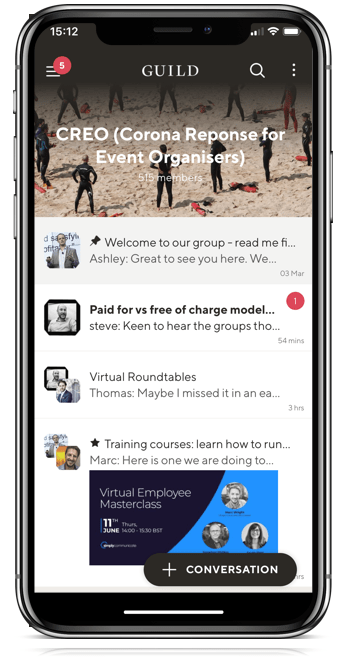 Guild doesn't do video streaming, agendas etc. so who does that?
Guild is for communications, networking and conversations but to do a full virtual / online event you may need more e.g. video streaming / panels, registration, speaker profiles, floorplans, sponsor profiles, webinars, video on demand etc.
For vendors who can help with these aspects we have compiled a resource document (see Sections 3-5) at https://docs.google.com/document/d/1-uhTOFA0CmhDvRY-FsfLrxV1V5piu9z_rW27PlTQxeY/edit?usp=sharing which was created for event organisers having to respond to Coronavirus (CORVID-19), many of whom are looking at virtual event alternatives.
A step by step to getting going with Guild

1. Set up your Business Account
Do this on your laptop/desktop rather than mobile phone:
If you are not already a Guild member: go to https://guild.co/pricing and click 'Start Free' in the middle Business option and register.
If you are already a Guild member: go to Settings > Your account Status > Create Business account
2. Set up your group(s) in the web admin
You need to do this on your laptop/desktop rather than mobile phone...
Click on the Admin button top left of the Groups section to go the web admin
Click 'New group' button and give your group a name. You can change the name at any time.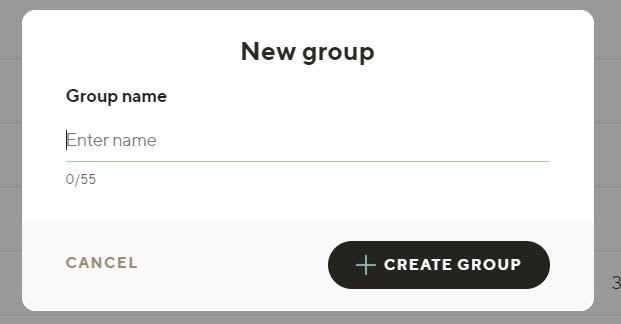 Click on the name of the group you've just created to edit its details. Start first by editing / updating the info as shown here: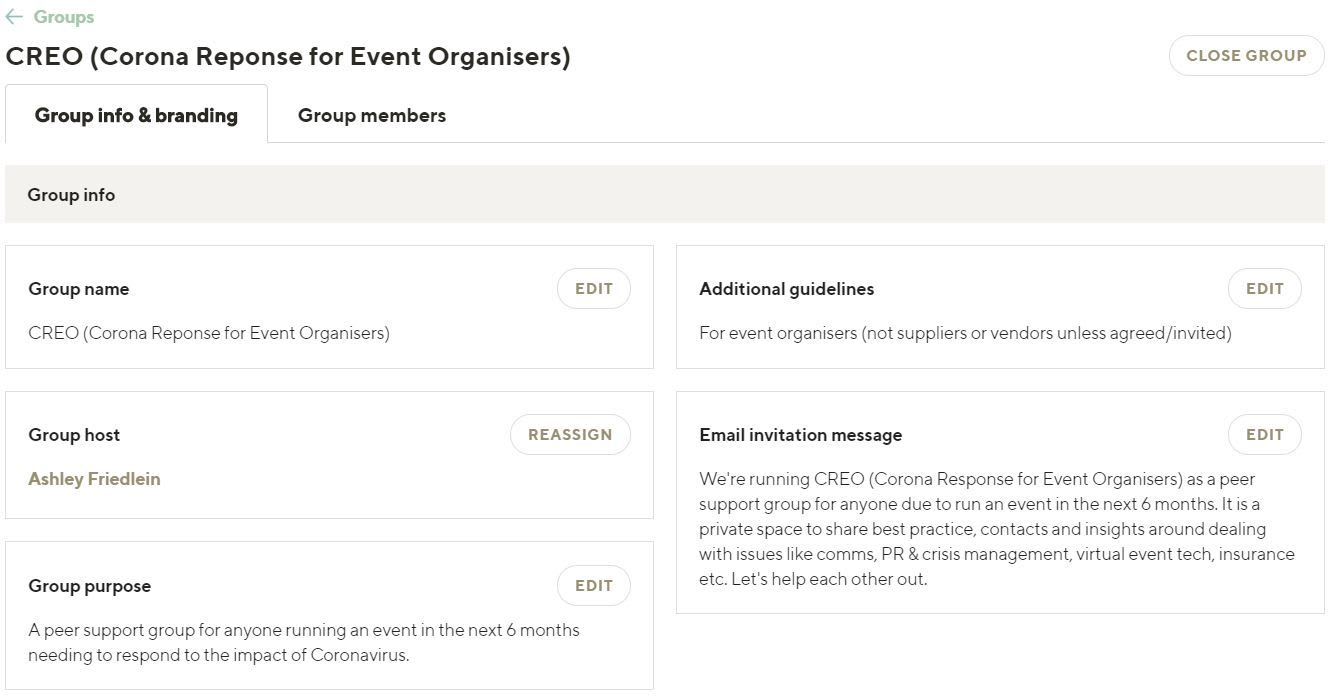 Scroll down a bit further and you can update the logo to your own logo and choose an image to show in the masthead of the group: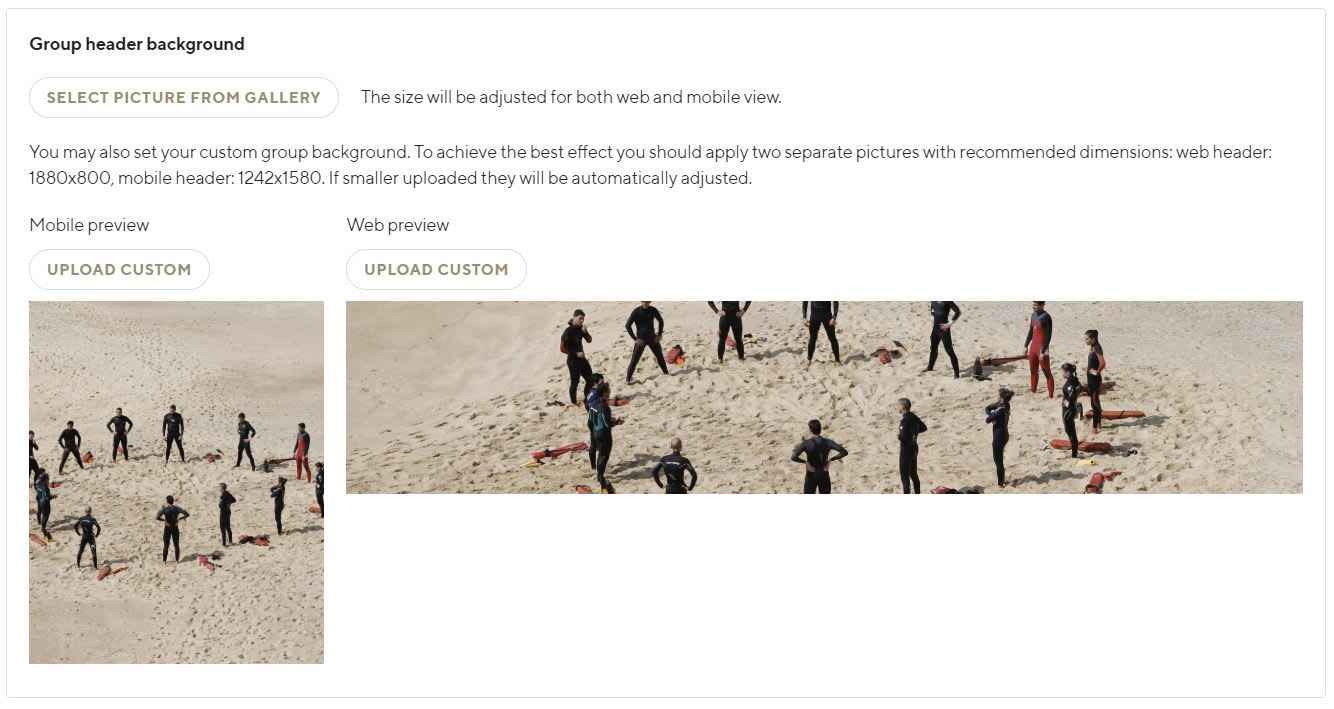 Keep creating / editing as many groups as you want to reflect your event. You might have a main group for everyone and then other groups for specialist topics, tracks, areas of interest, themes as per your event.
If you want help you can add other Admins to your account by inviting them in as Admins by email in the 'Account & Admins' section of the web admin:

3. Start inviting people in!
Once you're happy you've got the right group(s) set up, the group info and branding is as you want it, then you can start inviting people in:
Click on the 'Group members' tab for the group:

Click on the 'Copy invitation link' button to copy the unique invitation link for the group to your clipboard. You can then paste that anywhere for people to follow to join the group or you could use it to make a link in an email invite or the link behind a button.
Or, you can click 'Invite be email' and invite multiple people at once by entering email addresses separated by commas. You can paste a list from a CSV for example:

4. That's pretty much it, but...
Your group(s) do still need someone to host them to make members feel welcome, to answer any questions, to help encourage conversation etc. Some key points:
Make sure you post a welcome message before new members join so that they don't enter an 'empty room'. We suggest you pin this message to the top by swiping left and pinning (if on mobile) or pinning via the 'more' icon on the conversation (if on web)
Hosts of a group have the power to invite new members in, remove anyone, and delete any message (for quality control). Admins have the same powers if they are in a group too. You can reassign who is host of a group to any member of that group via the web admin.
You can regenerate the invite link to any group via the 'Invitations' section in the web admin - this invalidates the previous link. This might be useful if your invite link gets 'compromised'.
5. But will people use it?
The evidence is, yes, they will but you can't expect people to immediately start chatting away. It does require some 'warming up' and a little bit of help from you. Exactly like running a good event actually. Here are some best practice tips:
CREO (Corona Reponse for Event Organisers) - support group for event organisers
We've set up CREO (Coronavirus Reponse for Event Organisers) as a peer support group for anyone due to run an event in the next 6 months. The CREO community has also crowd-sourced a document (the "CREO Manual") to capture the advice, resources and insights generated by the group.
If you are an event organiser, or know someone who is and might benefit then join the CREO community here.
And finally...
We're here to help. Above is a quick guide and it is very simple. But we understand this is still quite a new idea - to have messaging groups to support an event (physical or virtual) so don't be afraid to get in contact as we'd love to help and make your event a success!
---
Join Guild 🤝
See for yourself how the Guild experience is different to WhatsApp, Slack, LinkedIn or Facebook Groups. Guild is a safe space to connect, communicate and collaborate with others.
Join us on a platform that is purpose-built for professionals and businesses.
Contact us if you want to know more or have any questions
---