In brief
Charities, Social Enterprises and Not-for-Profit organisations often have dispersed workforces comprising of staff, volunteers, trustees and advisors who need to communicate privately and safely.
Many of these organisations rely on WhatsApp for professional communications, but many employees dislike the mixture of personal and work messages.
And many are aware of the GDPR risks of using consumer messaging apps for work purposes...but ignore them.
Social enterprise Seable has tackled these issues head on and have chosen Guild to create a simple, compliant internal and external communications platform that is fully accessible for their visually impaired colleagues.
The Opportunity
Seable is a social enterprise and specialist tour operator offering tailored travel and group holidays for blind and partially sighted people.
Their workforce of staff and volunteers required the flexibility and speed of a messaging app, but also recognised that consumer messaging apps were not GDPR-compliant.
Seable founder Damiano La Rocca explains:  "We knew we needed a professional messaging app and not a consumer messaging app as we understood the privacy and GDPR implications of using WhatsApp.  But, we also wanted a solution that was easy to use - an app that employees would easily and happily move to for work-related conversation.
We also needed it to be accessible as we employ visually impaired staff."
Seable initially wished to improve internal communication and felt that a simple mobile and browser based professional messaging app would be preferable to more complex workflow platforms such as Slack.

How has Guild helped you and others at Seable?
Seable have set up internal communication groups for marketing, administration and sales.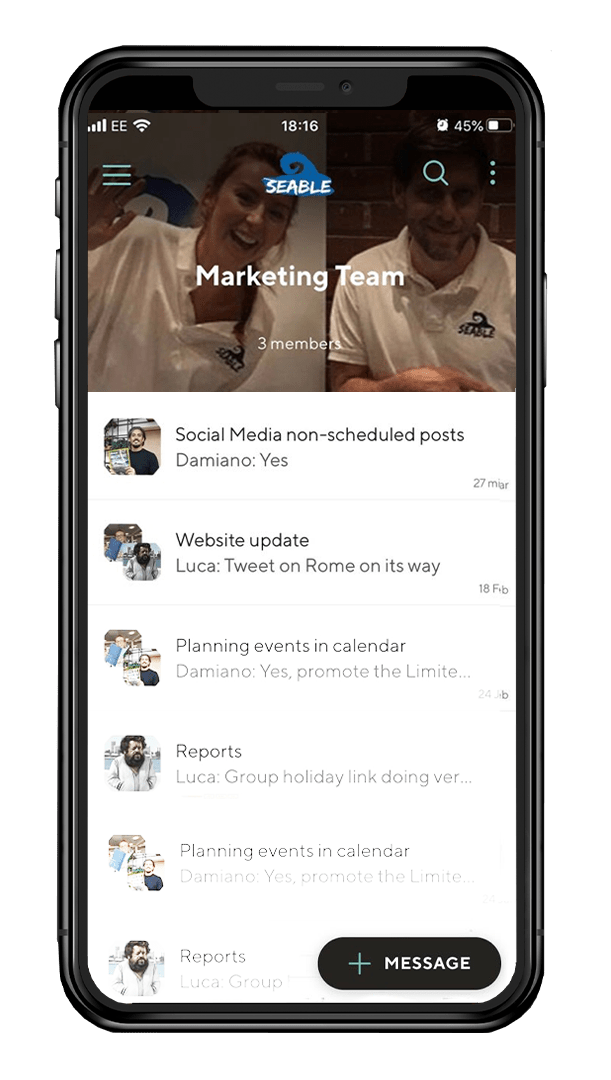 What do you/they like most about Guild?
Damiano continues:
"The teams like that that we have different categories for different topics. They like the threaded conversations, the look of the app and its ease of use.
The search function is really helpful when we need to find specific information that might have been discussed some time ago.
"Guild has helped us increase focus and efficiency in our internal communication, resulting in more productivity and professionalism."
Seable also works with external providers to help create their tailored tours and experiences for visually impaired travellers. Being able to create private Guild groups with these partners is another useful feature.
Do you have any advice for any charities, social enterprises or SMEs?
"I suggest using professional messaging apps to improve your internal communications and productivity.  By using Guild you can bring your community together in a safe and structured environment with ease.
Do make the move from WhatsApp and Facebook Messenger as all businesses, no matter whether they are social enterprises, charities or SMEs, need to be GDPR compliant. We've now switched off all WhatsApp use at work.
You can ask the extremely helpful Guild team any questions and before you know it, you will be setting things up and chatting away on Guild!"
---
Join Guild 🤝

See for yourself how the Guild experience is different to WhatsApp, Slack, LinkedIn or Facebook Groups.
Guild is a safe space to connect, communicate and collaborate with others.
Join us on a platform that is purpose-built for creating groups, communities and networks on mobile.