The Health Sciences Academy (THSA) is the world's largest 100% science-based, nutrition-focused online educational institution. Since its launch in 2012, THSA has trained 200,000+ health and wellness professionals, empowering them to become Nutritionists of the Future.
THSA's mission is to help graduates grow successful client practices and raise standards across the nutrition industry.
Students are encouraged to continue supporting and learning from each other outside of their formal courses.
CEO and Co-Founder of The Health Sciences Academy, Maurice Castelijn, realised that dedicated, private, branded peer communities would be the most effective and flexible way to achieve this.
Success Manager Faith Nacional-Rahi is a Registered Dietitian-Nutritionist and an experienced community manager.
Faith explained to us why they chose Guild for THSA's communities.

Results in brief
Increase in global visibility and reach for THSA
Attributable positive impact on course sign ups and course cross selling
Streamlined communications with students, alumni and prospects
Increased loyalty and engagement with students and alumni
Networking opportunities add value to programmes for members
Public communities demonstrate THSA's commitment to the highest industry standards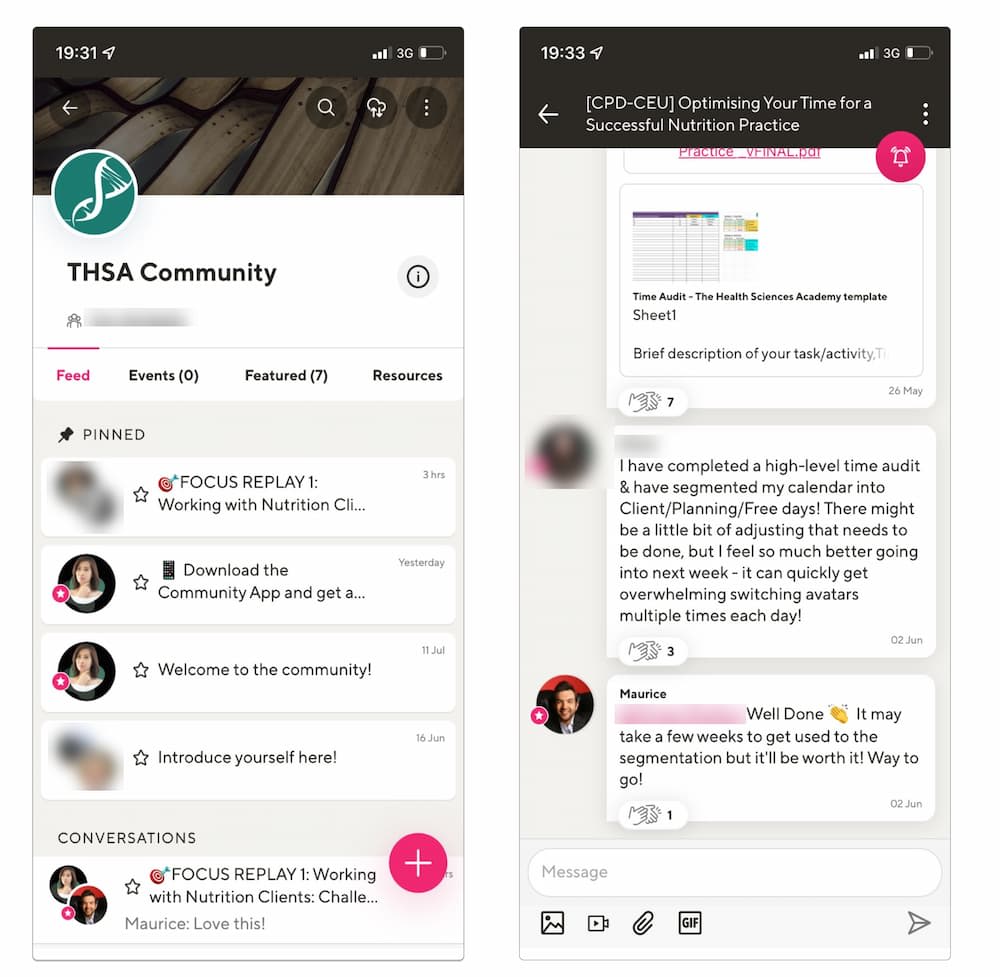 ---

Here's what Faith had to share with us during her conversation with our team:

Why did The Health Sciences Academy want to start a community?
"Health and nutrition professionals are in a competitive global market. Our goal is to support our students with training, education and standards so they can build successful businesses and careers.
We wanted to create a community to continue conversations from the first time someone connects with us and to be able to engage people much earlier in their careers and educational journey.
Attendee questions at our live webinars, interactions on social media and enquiries via our website live chat can all be continued in the community. It's the first step in a mutually beneficial relationship.
Prospective students quickly get a taste of the quality of our training and support, as well as seeing who else is looking to make a difference and improve lives.
We also wanted to create communities so we can continue to connect with and advise students even after they graduate from our programs. And so that they can continue to grow and learn from each other."



What communities do you run on Guild and what are they for?
"We use Guild for several groups - for example, internal comms for our community team as well as dedicated learning cohort and alumni groups.
We also run two larger groups that cater for the broader community.
Nutrition Professionals Worldwide is our global public-facing community.
It allows health and nutrition professionals and coaches to have meaningful, professional conversations in private. They don't have to be part of the Academy, but they share our purpose of creating a happier, healthier world.
Having a discoverable community for nutrition professionals on Guild has helped us expand our global visibility and reach.
People thinking about a career shift might not be looking for educational opportunities right now, but the community provides them with space to see what options may be available.
Our other main community is the private THSA Community, which we invite all graduates and active students to join.
All our training is online and self-guided but we take pride that students never feel they're alone. Our community helps us make that a reality.
Our team can provide a personal touch and graduates get to expand their connections with fellow professionals. This is particularly valuable for certificated professionals, where continuing professional development is a priority.
Our whole team is part of this community so that we can personally respond to the conversations, and follow up on training and events."


What do members like about your communities?
"They feel part of a global health and nutrition movement and are building a professional network with peers within the industry.
They've all found Guild extremely easy to use. They can quickly see who else is in the community, as the groups are fully searchable. Additionally, resources, pinned and featured threads help them find what they need immediately.
Self-guided learning takes discipline, and being part of a community provides you with encouragement and motivation - which gives them even more value from our courses ."


Why did you choose Guild and how has it helped your business?
"With so many students, we needed a flexible platform. Guild makes it easy to create and structure communities for subgroups.
As a community manager with multiple groups, having everything in one place on Guild saves a lot of time.
We're able to continue more conversations with potential students from their first interaction with us. At the same time, we've streamlined our communications because everyone is in one place.
Hosting communities on Guild has made a huge impact on webinar attendance, booking calls and finding out more about our courses. It's paid for itself many times over!
Guild is so simple for members to use. We don't need to spend a lot of time onboarding new members as much of it is automated. We get lots of positive feedback from members about it.
The Guild team are always there for us if we have questions or feedback, and they have helped us to hone our community management expertise.
Our focus is on communities and making global health and nutrition professionals feel connected to each other. And we're achieving that thanks to Guild, our students and alumni."
---
More alumni and learning communities on Guild

Design Community Hub creates community for young designers
Manchester Metropolitan University builds community for digital alumni
Queen Mary University launches student entrepreneur community
NEU uses Guild for teacher community

Spark! Consulting connects entrepreneurs on Guild
Bright Network builds Intern Experience community on Guild
Socially Mobile builds alumni community for future communications leaders on Guild
---
Join Guild 🤝
See for yourself how the Guild experience is different to WhatsApp, Slack, LinkedIn or Facebook Groups.
Guild is a safe space to connect, communicate and collaborate with others.
Join us on a platform that is purpose-built for creating groups, communities and networks on mobile.
Contact us if you want to know more or have any questions.