In Brief

The Professional Publishers Association (PPA) is a membership organisation for the UK's professional publishers and multi-platform media businesses.

Its membership spans 250 publishing and media companies, including consumer magazines, small independent publishers, customer magazines, business-to-business data and information providers.
The PPA chose Guild as its member community platform to increase member engagement and membership value. PPA's Guild groups give members private and direct access to each other, and the PPA, throughout the year, not just at events.
The Opportunity

Like many membership organisations, the PPA has multiple member forums and working groups.
One example group is The Independent Publishers Network (IPN) - a forum within the member network that meets quarterly to discuss topical industry themes, trends and challenges in the world of publishing.
This group of CEOs & senior executives own or manage independent publishing businesses.
Hannah Bray, PPA's MD, Commercial & Events wished to keep valuable member conversations alive in between physical meet ups amongst groups like the IPN. The PPA was looking for a simple member community and engagement platform to encourage sign ups and engagement.
How has Guild helped the PPA?

Hannah shares how using Guild for member communities has delivered value for both members and the PPA.
The decision to create PPA's online member communities was driven in part by a need to improve operational efficiency:
"Previously our members were piggybacking on our emails for meeting minutes, agendas and things like that for future meetings.
Managing discussions with lots of members via email was proving difficult and is certainly not scaleable. It was the obvious first step to find a platform to manage that email community going forward. We wanted a really easy way for us to communicate with the network and for the network to talk amongst each other."
She goes on to explain why they chose Guild:
"We wanted a platform that didn't need to be 'learned' by our members and didn't require too much effort from us to set up and manage. We wanted something as easy and as private to use as email but as instant and mobile as WhatsApp messaging."
Setting up Guild was simple. Opting for a Business Account meant that the PPA could add their branding and logo to their groups.
Hannah was struck by how quickly members took to the platform.
"Using Guild means we can share meeting minutes shortly after our meeting, which is often a great conversation starter for further discussions amongst members.  It feels like Guild captures the energy our members experience from the physical meet ups."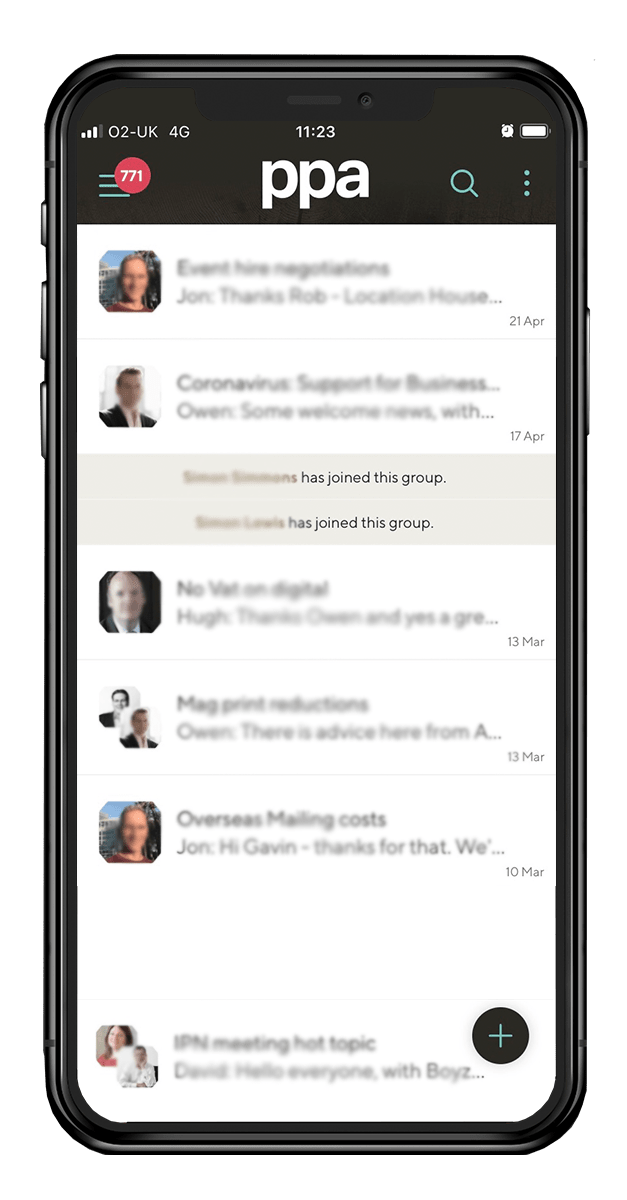 What do you like most about Guild?

A branded space, away from the noise of social media platforms like LinkedIn and Facebook, gives PPA members a feeling of exclusivity and privacy:

"Guild brings out feelings of exclusivity and intimacy, that you don't necessarily get, amongst other platforms like Facebook and LinkedIn, we felt that our members deserved an environment that respected their privacy. Guild is an invite-only platform and all groups are discrete, which means our members privacy is protected"

Hannah says that creating member communities on Guild has increased the value of their membership and is generating returns for the PPA:
"Guild has increased the value of our membership giving our members direct access to each other throughout the year, not just at events.
For us, being at the heart of discussions in the groups, means that we have a better and more informed understanding of our communities challenges and are able to better serve their needs through more tailored resources and events".
---
Join Guild 🤝

See for yourself how the Guild experience is different to WhatsApp, Slack, LinkedIn or Facebook Groups. Guild is a safe space to connect, communicate and collaborate with others.
Join us on a platform that is purpose-built for professionals and businesses.
Contact us if you want to know more or have any questions.