Founded in 1925, FIPP is a global membership association for media owners, content creators and technology partners.
Its 20,000 members include Hearst, Condé Nast, The New York Times, The Economist Group, Disney, and Dow Jones, to name just a few.
Beginning in 2022, FIPP licensed Di5rupt, a standalone business, to run its flagship FIPP World Media Congress event. Di5rupt always seeks to enhance its community experiences, particularly around its events, Media Makers Meet (Mx3) and the FIPP Congress.
For Congress 2023, Di5rupt created a dedicated, private member community on Guild, launching it ahead of the event in Cascais, Portugal. The community remains live offering rich opportunities for member networking and connecting, both during and post event. Delegates and speakers engage in a safe, branded space, exchange opinions and go deep into industry questions and challenges.
The FIPP community is hosted by Jez Walters, Editor-in-Chief, Di5rupt (incorporating the recently acquired What's New in Publishing). Jez explains why Guild's simple set up, usability, privacy, support and networking tools made it perfect for a membership and event community.

Results in brief
Enhanced conference networking and sense of community
Improved pre and post event discussions and networking amongst global delegates and speakers
Delivered conversational and community engagement insights to shape editorial content and future events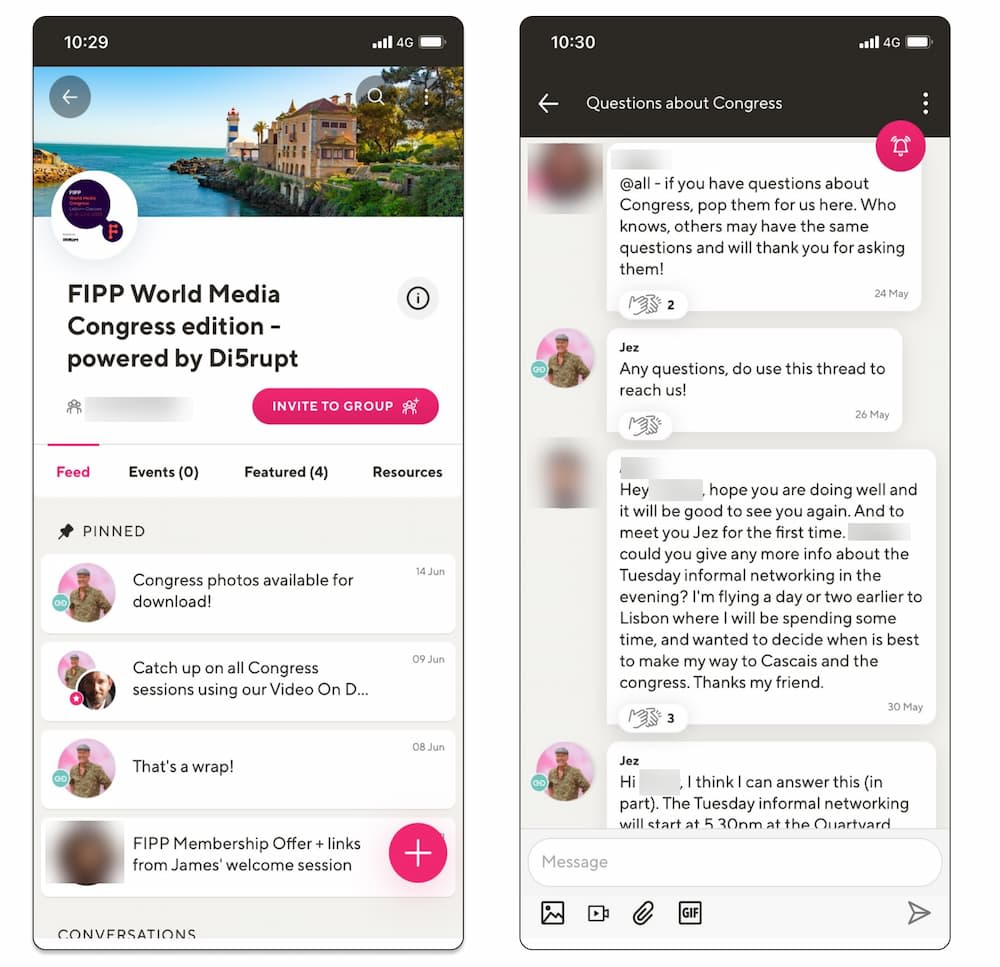 Why did FIPP want to launch a community for its members?

"Di5rupt has proven in the past how much value a community could add to an event.
It was clear that the FIPP World Media Congress would benefit from an online community to boost networking opportunities before, during and after and deliver value for members and conference delegates.

We're there to help our members connect, network and share best practice and an online community lets them do this so much more easily.
FIPP and Di5rupt are global organisations. Their events are a hub for forging international connections. But when you attend an event you can't meet everyone you want to meet or ask all the questions you want to ask.
A community extends the opportunity to discuss and collectively solve the key challenges raised at an event.
Communities are brilliant from an editorial perspective. We can see what the hot topics are by how conference sessions are attended and received, but also by the conversations and engagement that happens in the community."


Why did you choose Guild?
"Guild has such a strong link to the publishing and media sectors. Many of our audience were already familiar with it, including the one we hosted around our Mx3 event in Berlin last year, so we had some good examples to follow.
It's intuitive to brand and set things up, so we could concentrate on launching and running the community itself.
Easy integration into our techstack and rich data/analytics were other key factors in choosing Guild - and we get great support from the Guild team.
We did look at Slack but it just wasn't right for this particular event.
Guild is excellent for member networking, it's brilliant on mobile and the threaded chat / conversations encourage pretty deep topical discussions. It just feels like a respectful space and it's so intuitive to use."


What do your community like about Guild?
"It's so easy for them to pick up and orientate.
First, we message every new community member and encourage them to introduce themselves. That gives them an easy first step to jump into the community.
The search feature also allows members to see the conversations and content that they are most interested in, and we can flag the important information as pinned or featured threads, as well as use the resources and event features to signpost things.
Members can connect 1-2-1 as well. The Direct Messages (DM) really helps with them making connections and networking.
Importantly, they tell us that it feels like a safe space. The community feels private and professional so they are able to go a bit deeper into what matters to them.
I think we're seeing conversations and discussions in the community that perhaps wouldn't work elsewhere online."

What advice would you offer to membership associations thinking of starting a community?
"Go for it. Stop talking about 'community' and make it happen! You won't look back.

We've had lots of brilliant advice from the Guild team, who are experts in community strategy, not just their technology, and we've seen it work first-hand.
If there was one aspect we would have done differently in hindsight, it would have been to have a few pop-up banners in the registration hall, allowing people to join the community using a simple QR code. The more touchpoints you have, the better the sign-up levels.
At future events we'll look into integrating the community even further and test more techniques from their events and community best practice guide, like using QR codes to make it even easier for people to join the community or jump into specific conversations."
---
More membership and media organisations using Guild

The Marketing Society builds membership community on Guild
Trade Association Forum boosts membership offering with community on Guild
PRCA powers the communications sector with Guild groups
Renewd moves from Slack to Guild for its B2B membership community
Independent Print Industries Association hosts buyer/supplier community and internal communications groups on Guild
CIPD sets up HR Leader support group on Guild
Low Carbon Homes builds retrofit professional community on Guild
Case study: Media Entrepreneur Meetup builds networking community on Guild
NEU (National Education Union) use Guild for teacher community
---
More about the ROI of community

Community management tips and advice from membership association experts
12 ways membership organisations can get ROI from community
---
‌Try Guild 🤝‌‌
See for yourself how the Guild experience is different to WhatsApp, Slack, LinkedIn or Facebook Groups.
Guild is a safe space to connect, communicate and collaborate with others.
Join us on a platform that is purpose-built for creating groups, communities and networks on mobile.