In brief
Virtual and physical events bring people together and they can create powerful communities.
DigiConf - is a highly regarded B2B digital marketing conference with participatory conference 'themed' sessions. In 2020 it changed format from physical event to virtual conference.
Organiser Luke Brynley-Jones and his team created an event community on Guild a week before the event. It connected attendees with the event organisers and speakers. As well as helping to drive event registrations and attendance rates, the community continues to generate additional value long after the event attendees and the Digiconf team.
More than 3 months on from the event, the DigiConf event community is still growing, with attendees, speakers and sponsors continuing to share content and discuss key topics and themes in B2B digital marketing.
Why did you decide to set up an online community to support your B2B event?
Conference organiser Luke Brynley-Jones explains why they chose Guild to host the 'Digiconf' Community:

"I knew about Guild and was already a member of a few groups. But the penny dropped about how we might use it as events organisers when we had to pivot quickly from a physical event to a digital one because of Covid-19.
When we spoke to the Guild team, we saw that we could create an event community without having to risk investing in costly community platforms. And the more we saw, the more we liked the idea of using an ad-free community platform."
What was your EventTech Stack?
The DigiConf virtual event ran on the BigMarker platform and Guild was used to host the events' branded online community platform.
The virtual conference kicked off with a keynote from Ashley Friedlein about how B2B marketers can adapt to the rise of messaging. Live polls were used to engage with the audience during this and other sessions.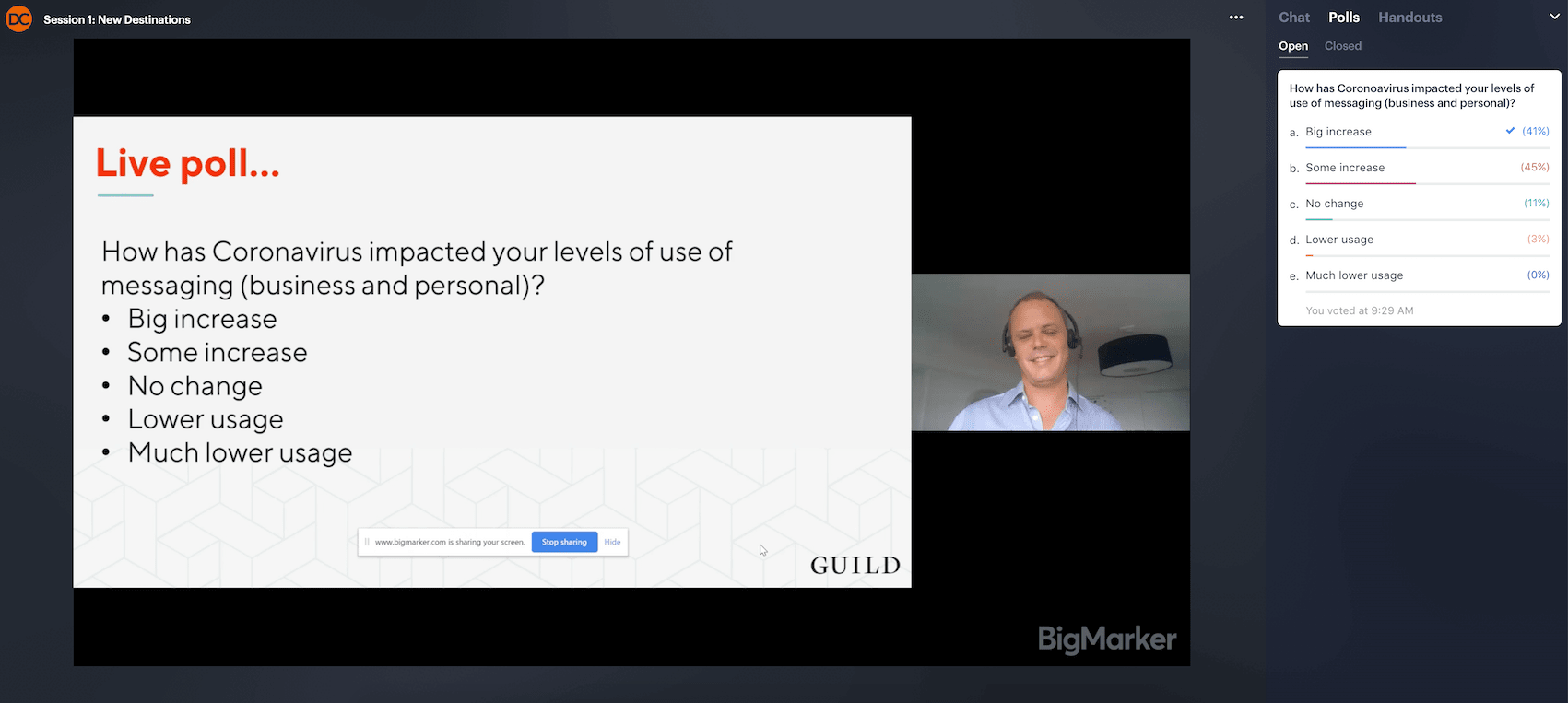 Panel events included this B2B influencer marketing and compliance session, featuring Rupa Shah from Hashtag AD, Tim Williams from Onalytica and Chris Thomas from Sage.
During the conference the host regularly reminded delegates both verbally and in the BigMarker chat stream to join the 'DigiConf' Guild community to continue the networking and conversations.
What do you like about Guild?
Luke and team were impressed by how easy it was to set up a branded event community in Guild. An important factor as the team were focusing on making the event a success:
DigiConf event producer Sophie Waitt was tasked with setting up the community:

"We went from, "let's set up a DigiConf event community", to inviting people in in about 15 minutes. It was extremely simple to set things up."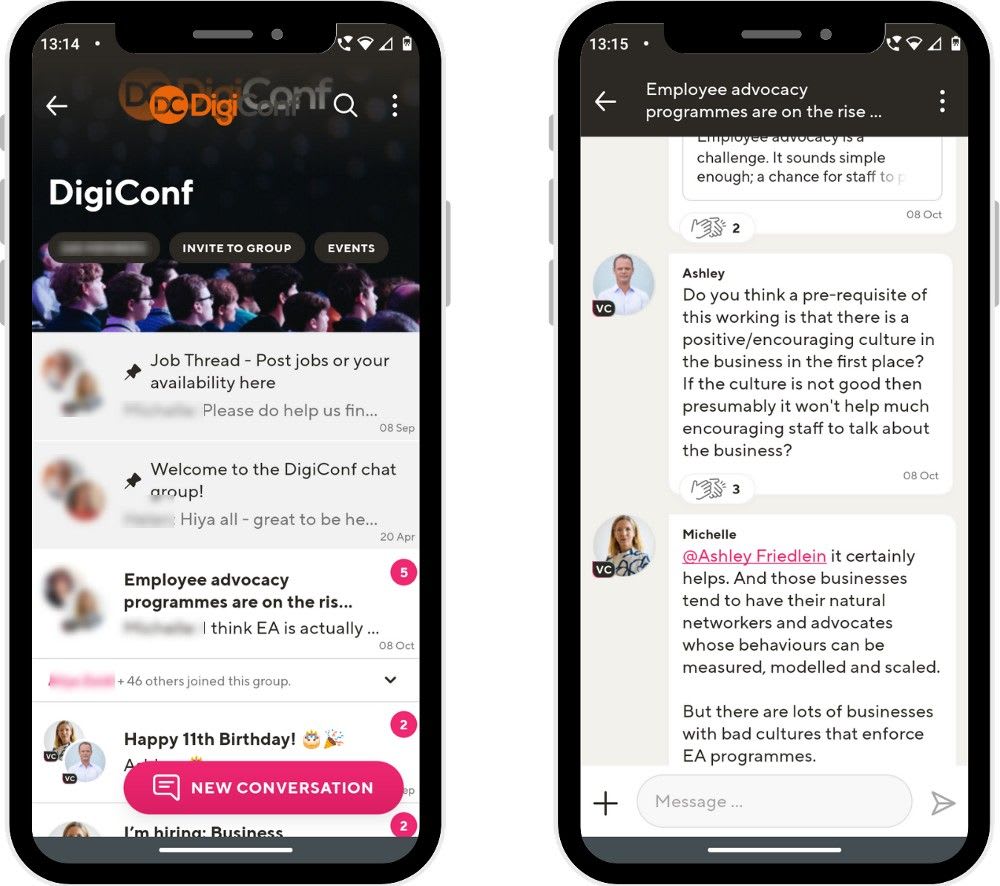 Whilst some may use social media communities to support events, the DigiConf team saw that Guild enables event organisers to create much longer-term value. And that they could draw valuable insights from the platform data.
Luke continues: "What we really like about Guild is how you can draw insights and generate value as an event organiser pre and post event from a community.

Inviting the speakers in to highlight their topics and answer some of the attendees questions ahead of the event was really important.
I can see that even when we return to physical events, we will be able to poll opinions, predict the hot topics and understand what B2B marketers' pain points are through the event community itself by looking at the conversational data from Guild. Hard to do that in social platforms."
How can I join the DigiConf community?

The DigiConf community is for digital, marketing and communications professionals. Especially those working in B2B industries or with B2B clients.

It is free to join and is hosted by Luke Brynley-Jones, Founder of Digiconf.


Set up your event or conference online community on Guild for free today... and get maximum value from your events
See for yourself how the Guild experience is different to WhatsApp, Slack, LinkedIn or Facebook Groups. Guild is a safe space to connect, communicate and collaborate with others.
Join us on a platform that is purpose-built for professionals and businesses.
Contact us if you want to know more or have any questions