Substribe Summit 2020
In September and October 2020, Substribe launched a summit event dedicated to the future of b2b subscriptions. It ran 100% virtually, scheduled over 5 separate sessions across a 10-day period with over 100 C-level attendees who lead B2B media, membership and subscription businesses. Speakers included: FT, Elsevier, AgriBriefing, ProfitWell, Chemical Watch, Zuora, Procurement Leaders, Incisive, Leaders in Sport, Econsultancy etc.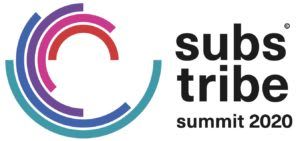 Tech platforms: Guild + Hopin
Substribe used Guild to set up a community of subscription professionals in advance of the event, as well as a group for the event's advisory board. Hopin was used for the event itself.
Chat during the event happened largely within Hopin but the conversations and networking in the lead up to the event, and following in it, happened in Guild. The event hosts also encouraged event attendees to join the Guild community with verbal announcements, posting the joining link in the event chat, and by email.
During, and particularly following, the event, the organisers used Guild to get feedback, ask for questions from the community, to post takeaways, and speakers - who are part of the community - continue to answer questions: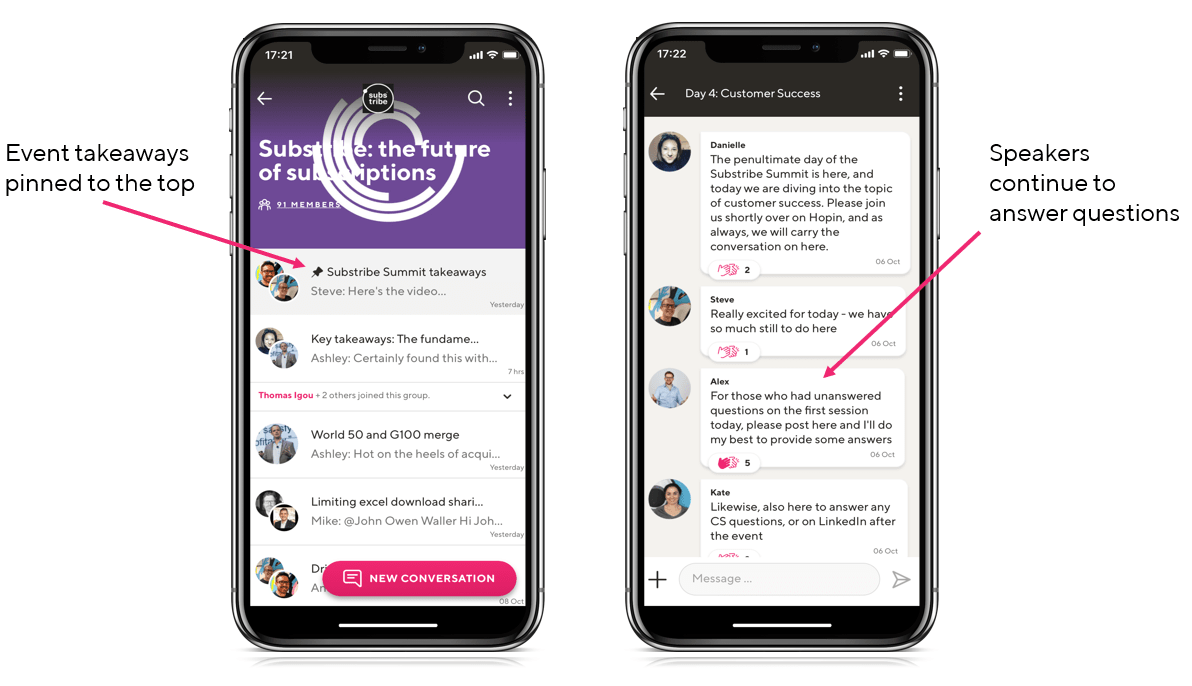 The Results
Almost 50% of the event delegates joined the Guild community before the event itself and had already begun conversations and networking in the weeks leading up to the event.
Another 40% of attendees joined the group during or just after the event, meaning only ~10% did not join at all.
336 group messages have been posted around the event.
134 direct messages have been sent 1-1 between delegates showing the networking value also being delivered.
What Substribe say
"For our senior executive delegates we believed it was important that any community platform was easy, mobile and private - and Guild is all those things. Members are very happy to engage in our branded space."
Steve Budd, Founder, Substribe
"Subscriptions, and B2B community, is a hot topic right now and we wanted to add value to our event attendees both before and after the event with our Guild community. There is a lot of appetite to continue the conversations and networking year-round."
Andy Burden, Founder, Substribe
"We will be doing a series of events, launching our own membership proposition, and we offer consulting services. So being close to our prospects and customers via our Guild groups is really important for customer/market insights and to stay front of mind when prospects need help."
Steve Budd
Use Guild to add value to your events and engage your professional community
Read more about how Guild is being used to enhance events and further ideas around event communities and networking groups.
Do get in touch with us if you have an event and would like our thoughts on how Guild could make it even better!
---
Join Guild 🤝

See for yourself how the Guild experience is different to WhatsApp, Slack, LinkedIn or Facebook Groups. Guild is a safe space to connect, communicate and collaborate with others.
Join us on a platform that is purpose-built for professionals and businesses.
Contact us if you want to know more or have any questions
---