We covered "Get off to a great start with your Guild group" in another article but, once your group is up and running, what are the best ways to encourage engagement?
1. Vary message content
You can post different types of content e.g.
Welcome messages (see "Get off to a great start with your Guild group(s)")
Use FORMATTING for interest... you bold text by putting asterisks around words or phrases (*bold*) and you can italicise text by putting underscores around words or phrases (_italics_). You can do both at the same time if you want!
Run an AMA (Ask Me Anything) session - see How to run an AMA on your Guild group
Links to interesting content/news
Links to register for events/webinars that you are running
Links to surveys or polls you are doing
File attachments with content you have produced (white papers, research, presentations, spreadsheets etc)
Links to documents the group can collaborate on e.g. Google Docs/Sheets, Dropbox, OneDrive etc.
Updates/reminders about what members can do in Guild that they might not be aware of. For example, updating their professional profile with links, being able to see info on who has read messages for all messages, being able to edit/delete their messages forever, being able to search archives and profiles, the ability to see host-featured content from the group and lots more. Explore the How To articles to learn more about making the most of Guild.
2. Video
We know how popular and engaging video is. Even on professional sites, like LinkedIn, video is becoming much more common. So to spice things up now and again, why not record a video and post it to your group.
We recommend using an app (e.g. Clips which comes on Apple/iOS phones by default) which adds captions. Clips, and others, let you edit/correct the text of the captions if it isn't quite accurate from what you actually said. The advantage of captions is that your video can still be watched and understood without sound.
3. Applaud efforts by members
As soon as your members start posting their own messages, make sure you're there to support them. Hit the applaud react button on their messages to show them you're there and listening.
4. 'Feature' the best content from your archives
In Guild you, as host or admin, can 'feature' a conversation. To do this just swipe left over the conversation and mark it as featured. A black star will then appear next to the conversation title marking it out as special. You can feature as many conversations as you want.
Members of the group can then view just all the featured content via the 'three dots' nav icon top right. This is a great way for members to see the 'best of' from the group and immediately/easily benefit from valuable content contributed to the group.
5. 'Pin' a hot topic, an important conversation, an upcoming event etc.
In Guild you can also (as host or admin) 'pin' a conversation - also by swiping left over the conversation and marking it as pinned. A black pin will then appear next to the conversation title and it will be 'pinned' to the top of the conversation feed so that it is prominent and always visible. You can pin up to five conversations at once.
You can use this pin feature to highlight particularly hot or important conversations. Or you can use it to make sure members know about an upcoming event and don't have to search through the list of conversations to find the relevant details.
6. Embed reminders in all your comms
A one-off email or announcement at an event may drive some adoption but ideally you should embed reminders about your group/community across all your communications: remind people at your events, in your email newsletters, in email signatures, at face to face meetings, in onboarding or renewal discussions, in marketing collateral, in social bios etc.
7. Don't panic! It's about quality rather than quantity
We recently conducted research into what the optimum number of host-generated posts per month might be, which we found was two posts per week. Try to make sure that you are posting quality rather than quantity, or your members will feel spammed. Ask them questions in your posts and try to get everyone involved. Consistency is more important than frequency.
8. FOMO (Fear Of Missing Out) is a powerful motivator
Once you have a nascent community with some valuable activity taking place (e.g. some interesting content shares, some questions helpfully answered etc.) then you can let others know what they're missing.
Let them know who is already in the group, possibly show a screenshot of some valuable content/conversations happening, and they will soon want to join so as not to miss out.
9. Let group members talk about what they're doing too
Don't be afraid to let your group members discuss what they're doing – not all self promotion is selling. As soon as members find commonalities between each other, they're that bit more likely to turn up to your in-person meetings, and find the group valuable. Encourage some old-fashioned networking practices.
10. Have guidelines? Be seen to stick to them
Does your community have guidelines? Then stick to them. Members will start to lose trust in what you're doing if you expressly forbid members selling their products, whilst you spend time doing that yourself.
If you control who gets added to your group, make sure you follow the same rules. After all, engagement increases when hosts lead by example. Spend some time cultivating that respect that your community should have for you.
11. Interviews / AMAs with group members
Conduct mini interviews (or an AMA, Ask Me Anything) with some of your group members, either within the group or separately and link to them. Make sure to get permission from the individual to publish it on your company blog, and share it widely across the group. Getting individuals to have a dialogue with the content you share will make them that bit more likely to engage with each other, too.
12. Invite in temporary special guests
Just like you'd invite a speaker, or expert, to a real world event, you can invite someone into your group on a temporary basis. Just remove them after a week or whatever time period is right. You could invite in a specialist who can answer group members' questions. Or a keynote speaker. Or researcher, academic, author, trade association, journalist, analyst, even a politician?! This really helps liven up the group.
13. Run a poll 📊
As a group host, or admin, you have the power to run polls in your group. Click/tap to create a 'New Conversation' and then select the Poll tab:

You can have up to 10 answer options and you can also select the 'Visibility Boost' option to have the poll sent to all group members when you post it. Members of the group can then vote and view the results. This is a good way to provide an easy form of interaction and engagement and stimulate conversations around the results.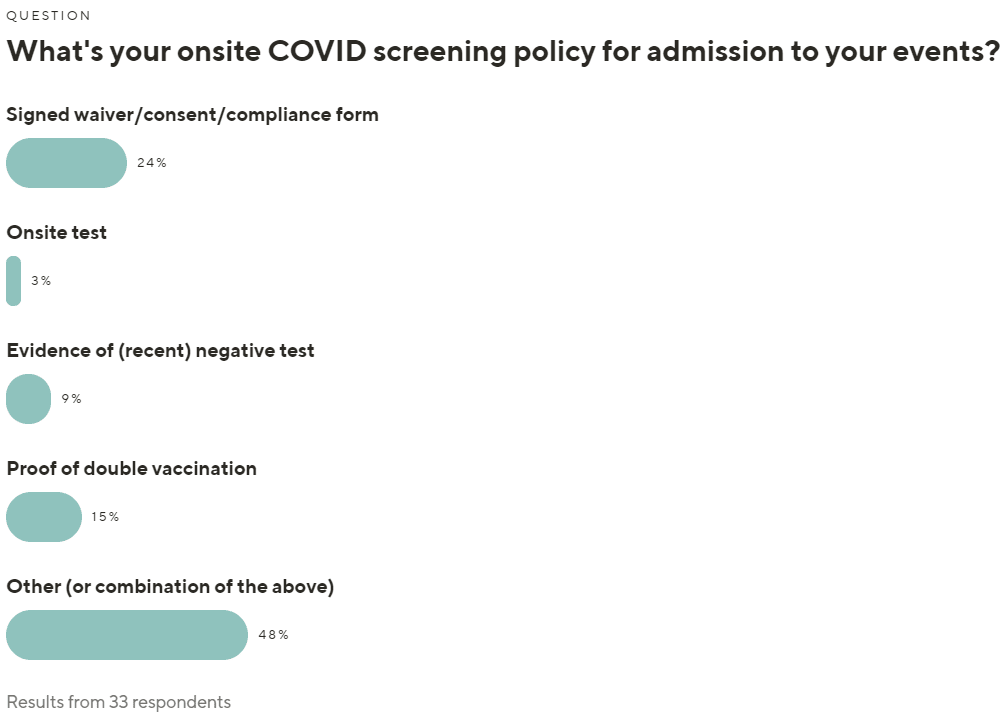 14. Remove inactive members of your group...
If someone isn't contributing to your group, don't be scared to remove them. Find this awkward? Send them a quick DM to check if they are getting value out of being a silent member of your group, and take it from there. If they claim to be getting value despite their passive status, then encourage them to become an active contributor – win-win.
15. ..and keep adding new members
Make sure your group has a steady flow of new entrants to keep the group feeling alive, fresh, dynamic and current. Guild's engagement analytics (in the Admin section) give you detailed insights into who is engaging and who is not.
16. How did your group come about? Let people know
This is often a much over-looked and under-rated fact about your group which members will often not know if they are new to the group – especially if you've been running something for several years. Consider writing this up in a blog post, and pin it to the top of your group. You can even explain it at the beginning of in-person meetings, or include it in your member email newsletter. The roots of a group can often re-inspire members to contribute positively as they feel they are part of a bigger, often more meaningful, whole.
17. Ask for feedback
Worried about whether the content you're posting is striking the right tone? Make sure to consistently ask for feedback. You don't even need to ask the whole group every time – remember that on Guild you can DM people completely privately. Don't be afraid to say "What did you think of when I posted ______?" You might not always get positive feedback – but remember every bit of constructive criticism inspires learning.
18. Rotate group host status to mix things up
You can reassign host status to any member of the group, so if you feel that this might keep things fresh in your group, you can use this to invigorate things. Ask your members if they'd like to act as a guest chair, host, or interviewer for a few days – let them have fun with it. A great feature if you're going on holiday!
19. Find and nurture your ambassadors
The more you can make your group members feel as if they have a stake in your group, the better. Aim to have 10 true group ambassadors that will help you spread the word, and help get more people involved.
Successful online communities are made up of members who feel that they can contribute when they want to, so do your utmost to ensure that organic usage is at the forefront of your strategy. The more self-sustaining your group is, the less you have to worry about consistently coming up with exciting new content, and your ambassadors will help you defend your policies.
20. Create group traditions
Successful communities have their own 'rituals' or 'codes' that are known to the group and make it distinctive. Are there ideas you can come up with that might seem idiosyncratic or quirky but differentiate your group and build emotional bonds to it?
Does your group need to present pitches? Host a #pitchFriday thread. Does your group propose new members into the group? Start an #introMonday thread. Other ideas include #helpWednesday, #throwbackThursday, #marketplaceMonday, #casualFriday, #thankfulThursday – and so on.
21. It can take months for a group to 'warm up'
It takes time for all groups to warm up to each other – both in-person and through tech – as that is what is natural for humans. Even your quieter members are likely gaining value from merely being connected with the other members – the DM count in your admin panel will show you this. Don't be disheartened if it takes a few months for your group to gain that momentum, and keep up the good work.
22. Make a hard switch from other messaging apps (like WhatsApp)
It is usually easier for your users to have just one messaging app to use for your group, network or community. In some cases Guild is used alongside the likes of WhatsApp where the latter is just used for 'off the record social' chat.
Engagement on Guild is typically best when a group starts with Guild rather than running parallel groups on WhatsApp and Guild as users aren't then always clear which to use for what.
Increasingly we are seeing customers making a 'hard switch' to Guild and shutting down groups on consumer messaging apps like WhatsApp (for legal/compliance reasons also). Obviously this takes some decisiveness but certainly helps with engagement.
23. Ensure your members have the mobile app
The best thing about modern connectivity is that our phones allow us to be part of online communities like never before. In order to encourage maximum participation in your group, encourage your members to download the Guild mobile app and enable notifications.
(NOTE: you can see via the engagement analytics data whether individual users have the mobile app or not so  you can gently 'remind' those who don't).  
If users go into their app settings, they can enable or disable notifications on a group-by-group basis, or choose to receive email notifications instead.
---
Joining communities on Guild is a great way to learn about engaging members - see how your fellow hosts welcome and bring people in to the conversation. Many Guild communities are private but you can find those which are open to new members on the Guild groups directory at guild.co/groups
---
Join Guild 🤝

See for yourself how the Guild experience is different to WhatsApp, Slack, LinkedIn or Facebook Groups. Guild is a safe space to connect, communicate and collaborate with others.
Join us on a platform that is purpose-built for professionals and businesses.
Contact us if you want to know more or have any questions.