In brief
Bowen Craggs helps large, global companies optimise their corporate digital communication channels.
They provide consultancy and have a subscription service which includes The Bowen Craggs Index, a research-based benchmarking methodology for best practices in global corporate communications.
Subscribers and clients are corporate website managers in the world's biggest companies across Europe, North America and Asia. They share similar unique challenges. For this high-value network, time and simplicity are at a premium.
Bowen Craggs brings clients and subscribers together by organising roundtable and peer networking events around the world and through a virtual community - The Bowen Craggs Club.
They found that Guild offered everything they needed to create an easy-to-use, global, privacy-focused community platform.

Results in brief
A globally networked community of highly specialised global corporate communications professionals
Paid subscriber retention
Closer relationships with clients and prospects
Community-led growth for consultancy services
Insights from the community generate content marketing and event topics
Improved content reach
Supports customer service

Chief Commercial Officer Dan Drury told us about the Bowen Craggs Club and the benefits of building an online community.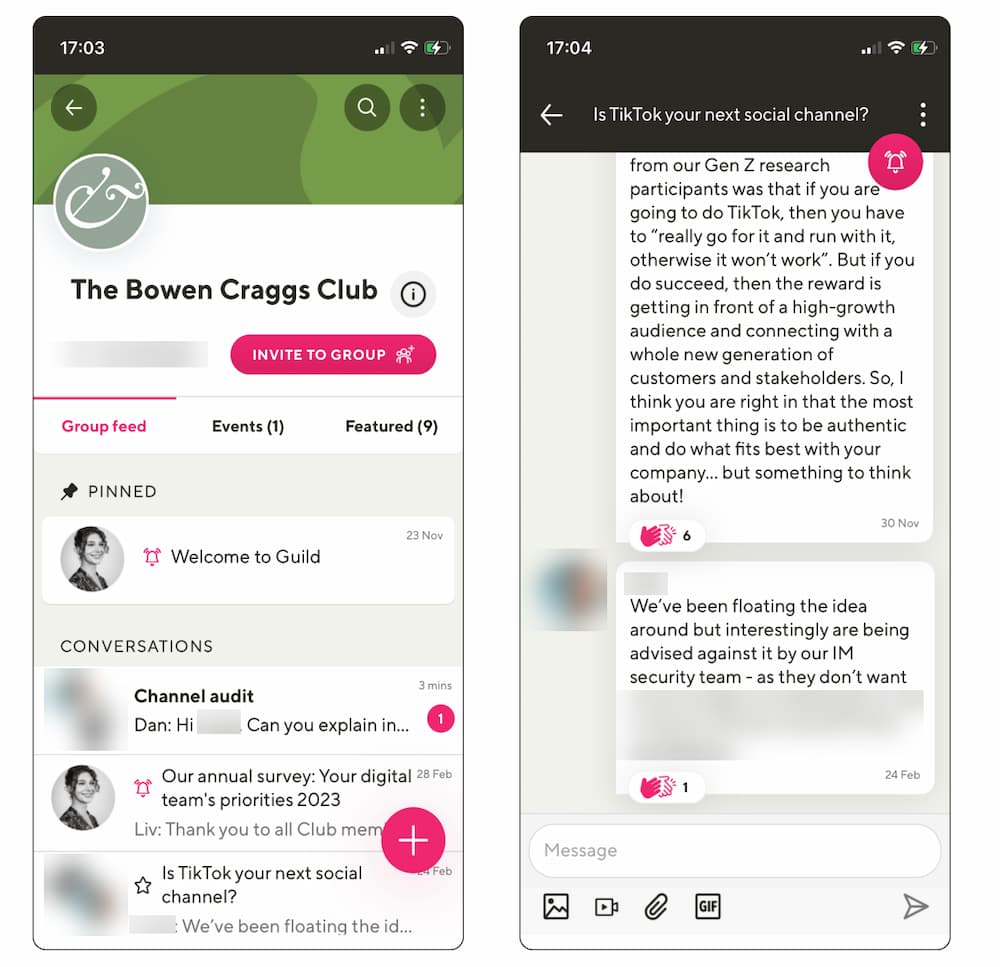 What is the Bowen Craggs Club, and what does it do?
"The Bowen Craggs Club answered a genuine need for corporate communications professionals. We realised how much our clients enjoyed talking to each other. Even when they were in huge organisations, they were pretty much the only people doing their specific job.
They actually had more in common with people in other, very different organisations than with their colleagues.
Our clients valued the chance to tackle challenges alongside peers with a shared experience.
We began by hosting "network meetings" – over the years, we held about 70 roundtables of 10-20 people from all over the world. They were quite informal, and people told us how much they enjoyed them. It was very much an in-person network that happened organically.
But as our client base grew, we wanted to formalise this and allow our members to connect virtually. We decided to add a digital community element so that everyone could connect outside of events, wherever they were in the world."


Why did you choose Guild over other platforms to build your online community?
"We looked for a community platform, but everything was much too complicated. Our members told us they didn't want yet another login, and they didn't want another tool they had to learn to use.
To begin with, we created a LinkedIn Group while we ran our face-to-face meetings. LinkedIn Groups had quite a clunky interface that made it difficult to manage. And LinkedIn is also a pretty distracting place to be. It wasn't ideal, and the community stagnated. We knew we needed somewhere more focused and easy to use – something our members could jump straight into.
When I learned about Guild, I realised it was exactly what our clients wanted – stripped down and simple, but with all the essentials.
We wanted to enhance, not replace, our existing community.
Guild had all the right ingredients for a professional, international group. It's easy to use, mobile-friendly, ad-free and private, but with access to a wider network so we can grow our client base.
In the end, it was our members' decision - we carried out a survey amongst Fortune 500 companies across Europe. They told us they wanted to be part of a digital network. But they didn't want a platform with complex functionalities and features they'd have to learn how to use.
We found getting started on Guild even easier than we expected.
Our community took naturally to joining and connecting on Guild because it was very intuitive. They felt safe because it was a private community strictly for the Bowen Craggs Club. It felt like a natural development of the connections we'd already made."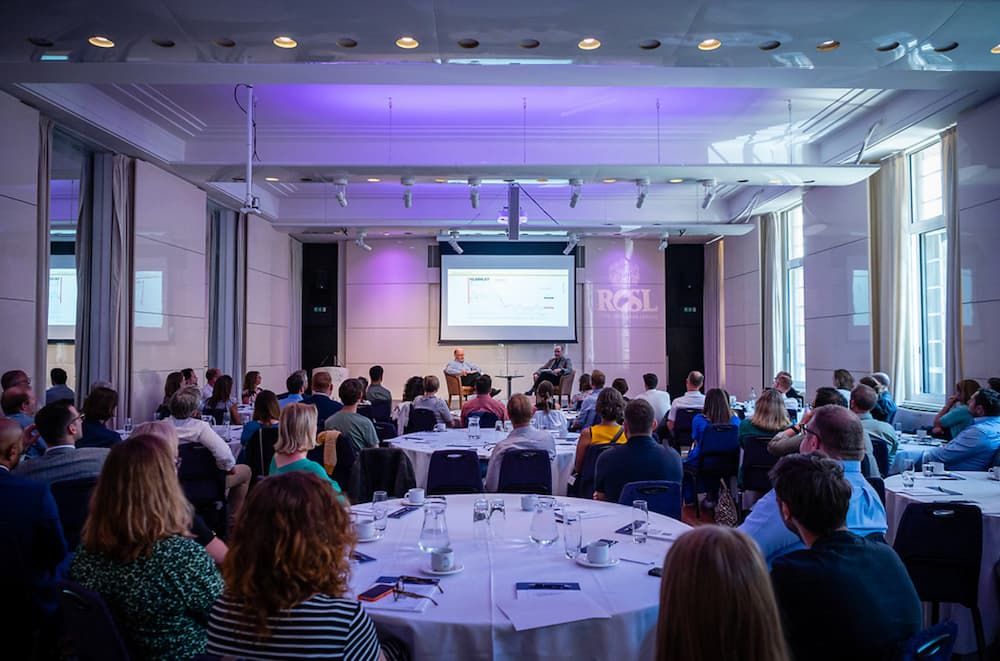 How does your Guild community help your members and your team?
"Our Guild community is a simple, high-touch environment for our members to connect and make the most of each other's knowledge base.
We take our community seriously, and we employ a Community Manager to manage the group, the events and all the other resources. A central point of contact means our members know where to go when they need anything.
For the Bowen Craggs team, it lets us interact personally with prospects and clients in a way that works for them. It's also a great place for both our members and Bowen Craggs staff – it inspires our content creation and helps us with distribution and marketing.
Our community is an important part of the wider Bowen Craggs Club offering. Our events, resources and research support the community – although we're careful that it doesn't become a "broadcast channel".
The biggest value is the opportunity for members to ask each other for support. If a member has a question about a software problem or needs recommendations for a tool, they can ask the community. If they get three or four answers, everyone is happy. It can sound like a small thing, but it makes a big difference to the people who help as well as the person who needs help. And we get to be a part of that."


Have there been any unexpected benefits to starting a community on Guild?
"It allows members of the group to seek advice and ask for help whenever they need it – that can be from us or from each other. Our team can respond to their needs easily. That lets us offer a high-response customer service facility that we know our members appreciate.
We'd seen a general trend away from face-to-face meetings long before the coronavirus pandemic. Cost and time, or environmental concerns, meant that members wanted access to a network without having to travel as often.
As a global community holding meetings in one location is problematic – you're asking people to jump on a plane for the day. Even as we return to "normal" times, that's not an option for many people. We're all time-poor, our budgets are under pressure, and we're aware of our responsibility to the environment.
Building our community on Guild put us in a good position when travel wasn't an option, but we see it's going to stand us in good stead for the future too. With the built-in Video Room our members don't even need to leave the platform to connect with each other, let alone their city. That ease of connection is so important to our members."


Can people from anywhere in the world join the Bowen Craggs community?
"Absolutely – if you are a Corporate website manager or work in corporate digital communications, we'd love to welcome you in.

Visit www.bowencraggs.com to learn more about what we do and how we can help you and your organisation."
Request to join the Bowen Craggs Club community on Guild
---
More customer success stories
Renewd moves from Slack to Guild for its B2B membership community
Agency Hackers build agency leaders peer-support communities in Guild
Bright Network builds Intern Experience community on Guild
Inside Out Awards connects in-house creatives with Guild community
Socially Mobile builds alumni community for future communications leaders on Guild
Beacon Collaborative connects philanthropists with Guild community
Crafty Counsel unites in-house legal professionals with Guild
The Marketing Society builds membership community on Guild
Media Entrepreneur Meetup builds networking community on Guild
Speciall Media builds community of practice for publishers and media owners on Guild
HR Recruit support 'people professionals' with HR Network - a community of practice on Guild
---
Join Guild 🤝
See for yourself how the Guild experience is different to WhatsApp, Slack, LinkedIn or Facebook Groups.
Guild is a safe space to connect, communicate and collaborate with others.
Join us on a platform that is purpose-built for creating groups, communities and networks on mobile.
Contact us if you want to know more or have any questions.