In brief
Mash Media's portfolio of print and online publications, live events and exhibitions includes Exhibition News, Conference News, Exhibition World, Conference and Meetings World, Access All Areas, the Event Production Show, International Confex and more.
As event experts, Mash Media quickly saw that the trend towards hybrid models and a need for 365 engagement around events would remain long after Covid-19 lockdowns ended.
Events 365 is their core branded community and a highly-engaged hub of discussion, debate and best practice amongst events industry professionals.
Mash Media have plans for further communities to support their growing portfolio and various audiences.

Results in brief
Improved audience insights through community engagement - industry trends/technology, their challenges and needs
Sourcing a diverse set of speakers and new topics for editorial content and events
Driving interest, attendance and engagement around a portfolio of events and media content
Maximises reach and value of event content
Value-add for event and publication partners and sponsors
Mash's MD Julian Agostini explains why expertise in community strategy and community technology made Guild the perfect home for their events community.


Tell us about the Events 365 community - what's its purpose and who does it support?

"Events 365 is a central hub of discussion, debate and best practice in the events industry.
It gives our readers, subscribers and event attendees a private, valuable and 'always-on' community of event expertise to engage with. Events professionals are under pressure to not only create incredible events but also to offer more valuable year-round experiences for attendees, exhibitors, partners and sponsors.
But there are also huge opportunities for the industry – to make the events business more sustainable both economically and ethically, to discover and build on good practice, and to showcase the skills and effectiveness of events professionals.
Community is an important part of the evolution of the events industry. With Events 365, the events, exhibition and conference industry gets its own community to collaborate on day-to-day challenges.
Mash Media's portfolio is designed to help events professionals benchmark, develop, share, learn, connect and collaborate with each other. Events 365 is really a digital, mobile extension of our in-person event communities that do just that.
Events professionals have the natural networking skills to not just be great community members but leaders of their own branded communities for their events. Events 365 supports them with both these goals."


Why did you decide that Guild was the right home for your community?

"Guild had already created an exceptional events professional community in CREO, so being able to build on that foundation was fantastic.
Guild's mobile-first approach is incredibly important for an industry where most people are on the move for the most important parts of their jobs.
We also really appreciate Guild's professional focus. There are no ads or algorithms to distract members, whether they've got an urgent question or just want to go deep into a challenge with their peers.
If they need outside expertise, Guild offers a chance to join other communities and build their wider professional networks.
The events industry is looking to "be better" as well as to do business better - having complementary groups on Guild, like Delivering Sustainability in Your Business and Building Inclusive Cultures is a big help."


How does a community support your events and publications?
"There are so many opportunities to explore. A simple act like creating a conversation to support a conference or event means we can build curiosity or FOMO in people who haven't yet decided an event is for them.  
Attendees who are also in the community have more chances to connect with each other and us, whether that's booking a meeting with someone on the day, giving us feedback or asking questions afterwards.
There's always that moment when you're on the train home and realise you forgot to ask someone a question or get someone's name – being able to pop into the Guild community means more of those opportunities come to something.
The community also allows us to be more inclusive of people who can't make an event and to ensure that our sponsors and partners' investment with us delivers even more value outside of our events and publications.
Longer term we'll be exploring pop-up communities for our bigger events.

Guild is an obvious choice for event organisers who want to make their events more memorable and have a lasting, positive impact on delegates.
The editorial team love the opportunity to connect directly with potential sources, increase diversity in the people they can speak to, run polls to power content and get feedback on articles.
Our editorial team really get that community isn't a broadcast channel but a chance to have peer-driven discussions that just can't happen elsewhere.
Running a community gives us opportunities and insights that many publishers don't even know exist. The insights are uniquely ours (and our audiences) because the community isn't on social media.
It helps us source panellists and roundtable participants, build relationships with professionals and experts who can contribute to our content and map and respond to trends and discussions in the community over the long-term."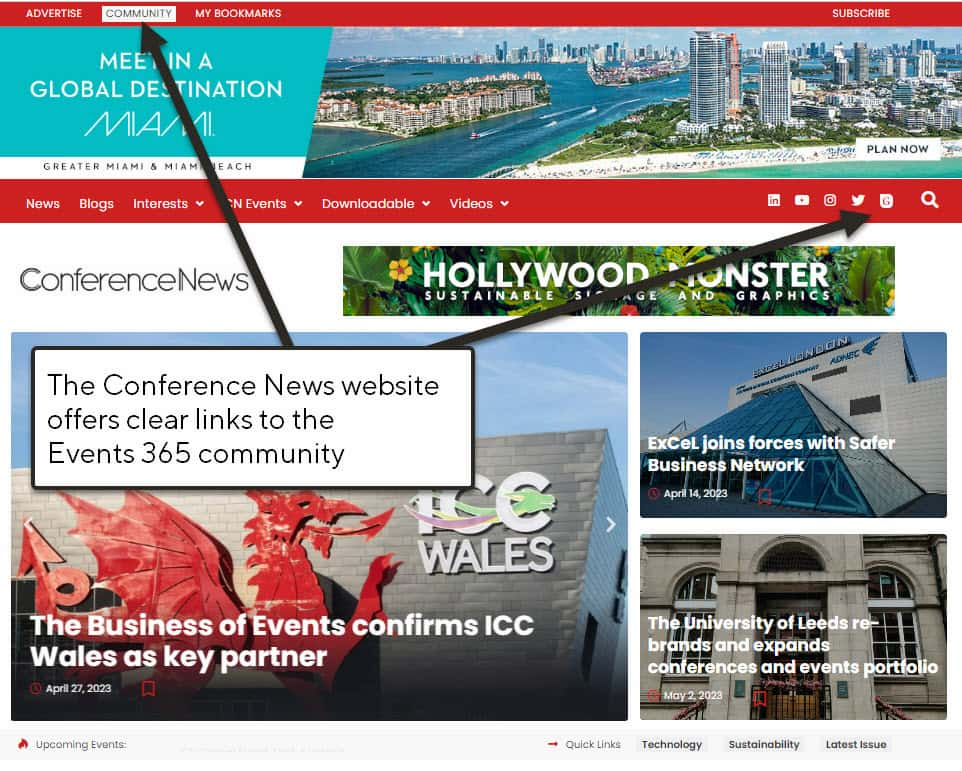 How has your team settled into running a community?
"This was one of the reasons we chose to work with Guild rather than trying to build a community alone.
Guild is more than just a community platform; it's run by experts with decades of experience in building and growing communities. The team's skills really complement our own.
Ashley Friedlein, the founder, and CMO Michelle Goodall are both community strategy experts. They have seen media and events businesses try and often fail at "community".
Their experience with Econsultancy – a global community of 600,000 members, and Guild, with thousands of its own expert, active communities, has been invaluable already.
The Guild team have supported us through our community strategy, establishing and embedding a purpose and member guidelines, aligning our content and events, evaluating success and working out where to go next.
We have a core team who keep a close eye on the community with Guild's support, and then we share knowledge and opportunities with our wider team. Above all, we want to set an example for the events industry on how the right community can improve results for everyone."

Any final word for publishers and media owners about community?
"Do it. It's just good business.
I can't see how you can operate today as a publisher or media brand without having unique access to deep insights and intelligence from your audiences.
Community rocket fuels these insights. It also creates a real sense of proximity and closeness outside of the face-to-face events. When done well, it can also add real value to your advertisers, sponsors and partners.
If you're not already building a community strategy, then you need to be talking to the Guild team. They know their stuff and will help you generate ROI quickly."
---
Are you an events professional? Apply to join Events 365
Events 365 is the online community for events organisers, supporting those working in an events role who are continuously adapting to our rapidly evolving events industry.  Ask for support with any of your challenges and connect and learn from peers and experts in the industry.  Events 365 is run by Mash Media. Membership is open to event organisers worldwide.

---
More about community for events organisers and publishers
How to combine Events with Community: best practice guide
'Pop-up' event community: Mx3 Berlin case study
The power of community analytics: insights on Hopin
Ways to use Guild: event communities and networking groups
12 ways publishers get ROI from community
What is the ROI of online community for B2B Media?
Sponsored communities: how to monetize online communities through sponsorship

---
Just some of the organisations using community and Guild to support events
---
Want to support events and publications with online community? 🤝

See for yourself how the Guild experience is different to WhatsApp, Slack, LinkedIn or Facebook Groups.
Guild is a safe space to connect, communicate and collaborate with others.
Join us on a platform that is purpose-built for creating groups, communities and networks on mobile.
Contact us if you want to know more or have any questions.