Guild is purpose-built for professional communities, making it the perfect platform for sharing knowledge and connecting with peers.
---
Comparing Guild and Vanilla Forums

Vanilla Forums is part of Higher Logic, one of the pioneers in online communities, providing branded community and engagement software for over 15 years. The platform is designed to be plain and simple, but highly customisable, so that brands can really make a community feel like its own. Because of this, someone with at least a basic understanding of web development and design would be necessary to get a community off the ground.

The main offering from Vanilla Forums is community, with a huge number of features built around it, including knowledge bases, Q&A, gamification and events, as well as supporting integrations via Zapier and other common platforms including WordPress and Zendesk. Because Vanilla Forums can do so much, it is often utilised for B2C customer support, helping brands encourage their users to self-serve.

Unlike Vanilla Forums, which is a great solution for B2C brands that want to engage with and support its customers, Guild is a simple to use community platform with a B2B focus. Available on web and mobile, Guild was designed specifically for professional groups, networks and communities to connect, communicate, and collaborate.

Guild is free for communities of all sizes, with no limit to the number of members, and analytics, polls, events, and discoverable profiles and groups are included. Vanilla Forums communities are typically integrated with, and hosted on, an existing website, making it siloed, whereas community owners on Guild can tap into the entire Guild member base to network and attract new people to their community using its discoverable profiles and directory functionality. This makes Guild a great place for professionals to network, without the noise, distraction, and ads of platforms like LinkedIn.

Further boosting its networking features, once connected, Guild members can utilise one-to-one direct messaging with people both inside and outside of groups, making it a GDPR compliant, and more private alternative to consumer messaging apps, such as WhatsApp. Additionally, via Guild's direct messaging feature, it's possible to broadcast updates to an entire community, or more tailored messaging to selected contacts.
Guild - an alternative to Vanilla Forums

Guild is a popular choice for B2B organisations, membership associations, professional services, and media businesses.
With a strong business focus, Guild is the professional community platform of choice for Deloitte, The Lawyer, Cambridge University Judge Business School, Econsultancy, Haymarket, The Marketing Society, CIPD, Incisive Media and the National Education Union, as well as many other associations, tech companies, media businesses, and not for profits.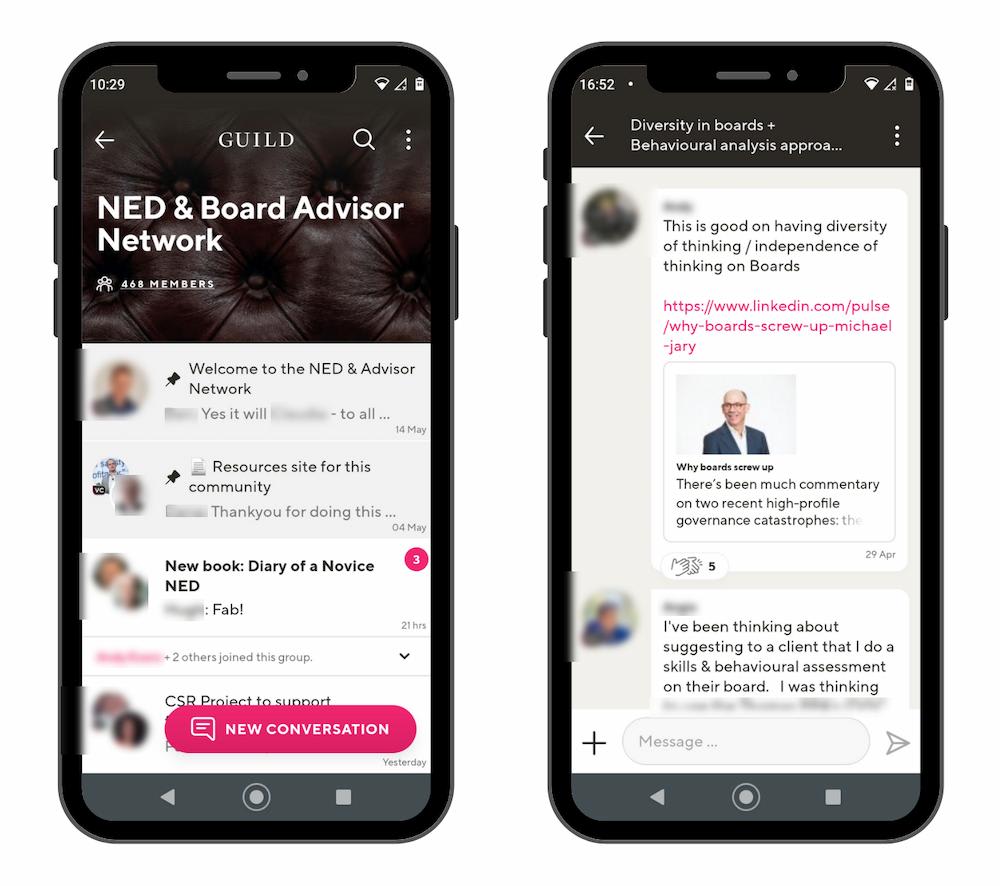 ---
Why Guild?

Free for unlimited groups and members
Community-first with a focus on quality and a real sense of belonging
GDPR compliant, to protect the privacy of you, and your members
Purpose-built for professional communities - providing a safe space for professionals to connect, communicate and collaborate
Elegant and simple to use, offering a clean, mobile-first UX
Custom branding, analytics, and support for all community owners
Professional profiles for all members
Dedicated account management and customer support for Enterprise plans