Many online communities launch with great fanfare, only to die out after a few months from lack of focus, investment, growth or quantifiable value.
This usually happens because your community's role in helping support and drive organisational goals was not clearly defined at the outset.
In this module, we look at how to align your online community strategy to organisational goals.**
Whether you're about to start building a community or if your community has already launched, it's critical that you align community to your organisational goals, objectives and Key Performance Indicators (KPIs).
Any community professional working with a business or organisation needs to consider how to show value and return on investment (ROI) for their communities.

**We're going to look at community from a commercial perspective and talk about 'customers', 'sales' and 'lead generation' in this article.
We understand that charities and non-profit organisations and individuals/creators may have very different organisational goals, objectives and audiences.


What does 'community' mean to business and organisations?
So, let's take a step back.

It's important to think about community not as a platform, technology or specific group of people.

Think about community as something running through and around your entire organisation, with all the following people or stakeholder groups being part of it:

Employees who are building your business and delivering your proposition
Prospects who are looking to be informed and provided with solutions to their needs
Customers or clients who provide revenue or business value on an ongoing basis
Partners who help iterate and distribute your proposition
Other stakeholders that are important to you -  for example local authorities, volunteers, advisors etc.

Having a community mindset helps build loyalty from customers and staff, deliver peer/customer support at scale without mounting costs, and empower advocacy to help in new prospect identification and conversion.
It also creates the organisation's resilience through decentralisation of knowledge and promotional efforts, by empowering others to share value on behalf of the organisation.


Why online community development must support your organisation's goals
Businesses and organisations with a community-led mindset understand the value of activating live sources of insight.
Those with a mature approach to community gather business intelligence at all stages of the customer lifecycle.
Community touchpoints can occur at all stages of the customer lifecycle or 'funnel', for example :
Prospect education
Lead generation
Sales
Customer support
Product development and ideation
Loyalty
Upsell
Advocacy

The impact can be sizeable - this Global Web Index research showed that while 1 in 3 online users distrust content on social media, only 14% of people surveyed felt the same when considering content they found in online communities.
When people participate in an online community, this study by The Community Roundtable in 2020 showed that two-thirds are loyal to the company hosting it. 57% of communities surveyed found that they experienced a beneficial impact on their SEO.
It's important to ensure the direction and outputs of the community feed into each of the business functions that are responsible for different customer lifecycle stages, and support their strategic goals.
For example, for prospect education, lead generation and advocacy, marketing and PR/comms teams. Product development and ideation might belong to an innovation or product teams etc.


How to ensure your community strategy is aligned with your business goals
Whether as part of the initial community launch planning or whether you build this into company and departmental strategy and planning sessions, there are steps you should take to place your community programmes at the very heart of the organisation.

Step 1: Understand what is important to the business. What are the business and departmental goals?
Typically company leadership will be chasing top-level goals focussed on financial growth, customer acquisition fit, product validation and relevancy, or specific business needs based on current industry or economic environmental pressures.
Breaking these down, they can be categorised as follows:

Business : Revenue or profit, market research, partnerships
Marketing: Growth, brand exposure, qualified leads, case studies
Product: Feature development and adoption, market fit
Support: Costs, resolutions, NPS score
HR: Recruitment, talent attraction and retention

As the head of the community program, being involved in the operational planning process will expose you to what is considered critical to success across many areas of the business.
Business areas tend to overlap, and community sits at the centre of the Venn diagram.
Knowing how all the pieces fit together will help be clear about what kind of communities and activities can support the company goals effectively.

Step 2: Define community member segments and personas
Based on what the business sees as an ideal lead, customer or other stakeholder (e.g a donor, supporter or volunteer if you're a charity) can you build a persona that represents these segments/audiences?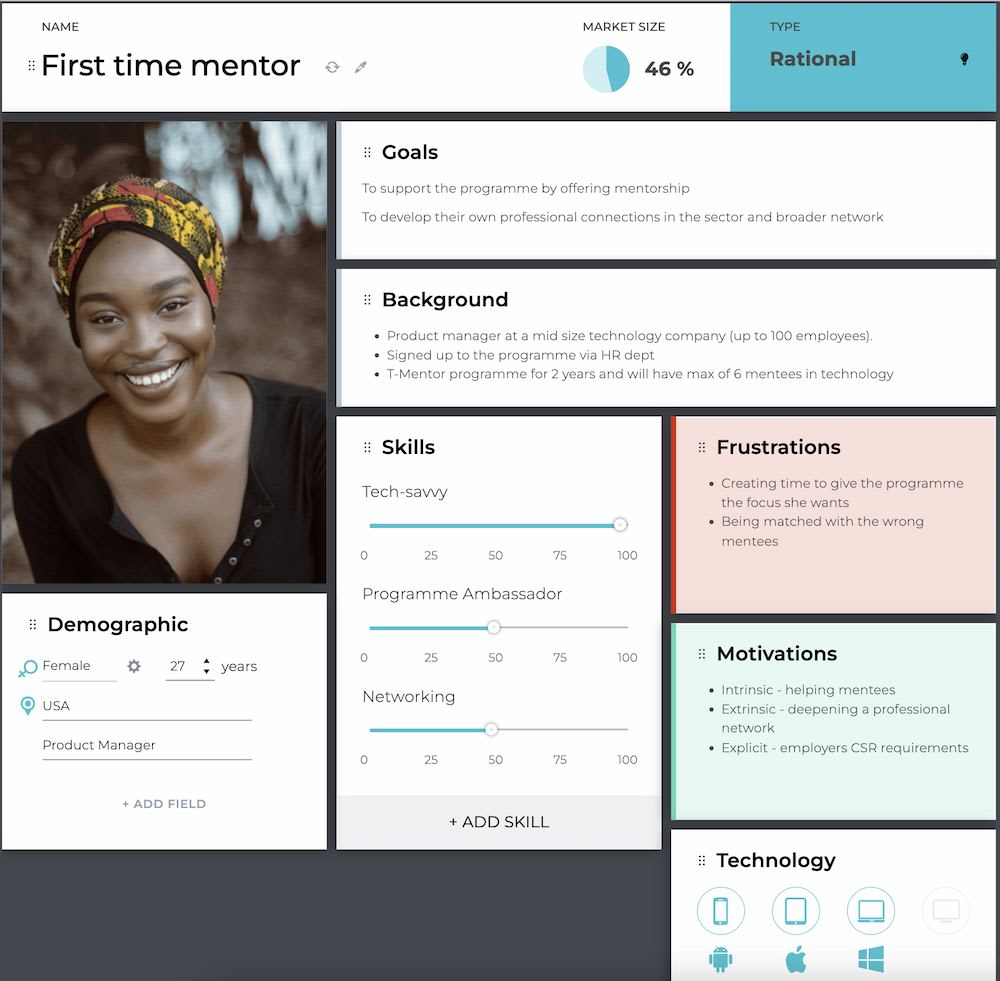 Working through some simple questions can help identify who represents the kind of community members you should be trying to attract, not just from a participation perspective, but also based on buying patterns and product or service use:

1. Do your existing customers and partners provide an indication of similarities and overlaps?

2. What are these customers' core challenges and objectives which they are addressing through the use of your product or service?

3. Can these customers be grouped into specific segments, with an indication of typical demographic or firmographic traits, professional background or other aspects that are relevant to your organisation's activities?

4. What are these customers' main motivations?

Most prospects/customers will be motivated by 3 areas:

Education - how to improve themselves or an aspect of their personal/professional life, how to fix things, perform any activity or use a tool

Access - reaching people or products that help them with their own growth or their business knowledge

Fame - developing or reinforcing personal reputation by having an outlet for their knowledge


Step 3: Map your organisation/business goals to community member segment needs
The quickest way to figure out how to scaffold up to supporting business goals is to map them against what the potential member needs are, what kind of community activity would answer that need and what type of platform or feature/tools are required to deliver a program around.
It's important to continually review these programs and challenge whether they continue to tie back to the business strategy and generate business value, regardless of whether they are successful in their own right.
If you believe an outcome or an activity in the community that is not obviously aligned is still beneficial to the overall delivery of the community initiative and the business, then being able to clearly express why will help clarify why the business should continue to invest resources and funds.
Each main purpose of the community will have different goals and possible supporting activities:

Acquisition (finding community members, champions, ambassadors and driving community growth) - recruiting VIPs, using influencers, social media promotion and discussion hosting, info sharing, affiliate program

Content (increasing quality of content, frequency and volume of contributions) - collaborative tools, rating systems, UGC promotion avenues

Engagement (increasing customer retention and customer satisfaction) - forums, events, workshops, walkthroughs, networking opportunities, AMAs

Product (sharing quality ideas and feedback on existing features/initiatives) - collaborative idea development, rewards/profit share system, open-source aspects of program i.e. technical module development for software, hosting pack for local groups

Support (improving customer success, quality of response and info, immediacy of resolution/response) - issue submission, incentive program for community to support each other, public solutions, tips and tricks sharing


Step 4: Develop the right community measurements and KPIs
To demonstrate how the community is supporting and proactively affecting business metrics, you need to identify and track Key Performance Indicators (KPIs). Ones that will help monitor the right kind of community behaviours and activity to develop and demonstrate effectiveness and positive progress.
It helps to work backwards as well from business targets - if there is a company revenue target, how much does the community program need to contribute, directly or indirectly, to be seen as effective?

From that number, how many new customer acquisitions would be required?
How many referrals or members would you need to reach based on current conversion rates?
You can do the same for targeted support cost savings and efficiencies (e.g. reducing customer support time or the volume of queries to a service agent), or in fact any other business target.
Metrics you might consider could include:
Lifetime value of a community member
Member retention rate
Customer acquisition costs
Net Promoter Score or other customer satisfaction measures
Share of voice
Click-throughs to conversion funnels.
Supplementing these with well-researched targets or competitive community benchmarks helps identify what suitable results could be.

Step 5: Analyse other departmental KPI performance

Organisational departments will all have their own metric sets to track their progress towards their goals.
Being aware of what these are and how they are performing is critical to be able to flag correlation, if not causation, of any impact your community activities are having on them, and thus demonstrate valuable effects of your area of responsibility.
Heads of departments should always think about how their functions influence business goals. Your metrics should be simple, relevant to other departmental objectives and can be used to show results through consumer funnel stages of awareness, engagement, conversion and advocacy (which are most relevant to the stated goals).


The importance of community as a long term strategy
The challenge that many organisations struggle with around community is the time lag in initiatives delivered one quarter not delivering quantifiable results for another quarter, if not much longer, particularly in B2B.
It is a cumulative process and being able to present a reasonably accurate timeline tied into other business activities is important.
Educating and encouraging long-term mindset within the organisation which sees constructing a sustainable high-trust pipeline of interested parties and engaged participants is a big win in itself.
Using your community metric set to show the connection between community growth/activity and changes in business metrics can help with this.
Similarly, being overly optimistic and stretching resources too thin to deliver an ambitious over-arching program is unwise.
Mapping out capabilities and time, cross-referenced with the main objectives of the business, will ensure your efforts are focussed on which activities to prioritise based on potential impact.
---
About the author



Blaise Grimes-Viort has 20+ years of Social Media & Online Community Management experience. He has built and managed large teams of moderators, social media & community managers and volunteer community leaders.
A hands-on community manager and host of Guild Community Collective - the community for community and social media professionals.
Blaise has a track record of success building communities, both online and offline, in Publishing, Telecoms, Entertainment, Auto, Financial, FMCG, Charity, Gaming and more.
You can connect with Blaise on Guild.


More community strategy training
What are the different types of online community? The 5Ps of community.

The Periodic Table of Community Strategy
What is Community Based Marketing?


Join a free online community for Community Managers
Come and join this free online community for community and social media professionals, however experienced you are.


If you're a community strategist, community builder, community manager or social media professional, join Guild Community Collective.
Share best practice, ideas, inspiration, interesting content and resources. Get feedback from the group on ideas and initiatives, develop partnerships and make useful industry contacts and connections.
We will be running virtual, in-person and hybrid events in 2022 and beyond where we hope many of you will be able to meet.
---
Join Guild 🤝
See for yourself how the Guild experience is different to WhatsApp, Slack, LinkedIn or Facebook Groups. Guild is a safe space to connect, communicate and collaborate with others.
Join us on a platform that is purpose-built for professionals and businesses.
Contact us if you want to know more or have any questions