In brief

Speciall Media is a digital strategy consultancy for media and publishing brands.
Founder Carolyn Morgan has 20+ years of senior-level experience in media/publishing and consultancy and has worked in print, digital, TV and live events. She founded the Specialist Media Show and ran the Specialist Media Network on LinkedIn.
Carolyn is an in-demand consultant, speaker and non-executive director. She builds long-term working relationships with her clients, who highlight her generosity with her connections and expertise.
Carolyn launched Speciall Media Group on Guild, a free, invitation-only community for leaders in publishing and media businesses.
It's a safe, private, supportive space for senior leaders in media and publishing to ask questions and share opinions. Carolyn told us why Guild's professional mobile-first online community platform offered the privacy and ease of use she and her audience needed.


Why did you want to launch a community of practice for publishers and other media businesses?
"My clients often share similar challenges with digital strategy in their businesses. It doesn't matter if you're a controlled circulation B2B publisher looking at paywalls or digital advertising or a large consumer publisher launching a readers' club. You can learn a lot from the experiences of others.
The publishing trade press is hugely helpful. However, you can't beat a real conversation with peers for getting to the bottom of an issue. That's especially true in an industry changing as fast as publishing.
I ran a network for publishers on LinkedIn and knew an online network could be highly effective. But LinkedIn is no longer the right place for focused, tailored and private conversations.
I wanted to offer a high-quality experience for my clients and connections. Building an invitation-only community lets me tailor the experience for my audience, not a social media algorithm.
I knew Ashley from the Specialist Media Show – he did a keynote when he was running Econsultancy, so he approached me in January 2020 about trying out Guild.  Little did we both know then that in-person events and informal networking would be closed down for most of the year!  During 2020 and 2021 the group was a bit of a lifeline for media leaders whose business was being disrupted.
I have another good reason for running a dedicated, private community for publishers. A survey I ran for the group in 2021 showed that over a quarter of specialist publishers were planning to launch a community in 2022.
A strong audience community offers real value to B2B publishers, media brands and event organisers.  Running my own community gives members a chance to experience the value first-hand."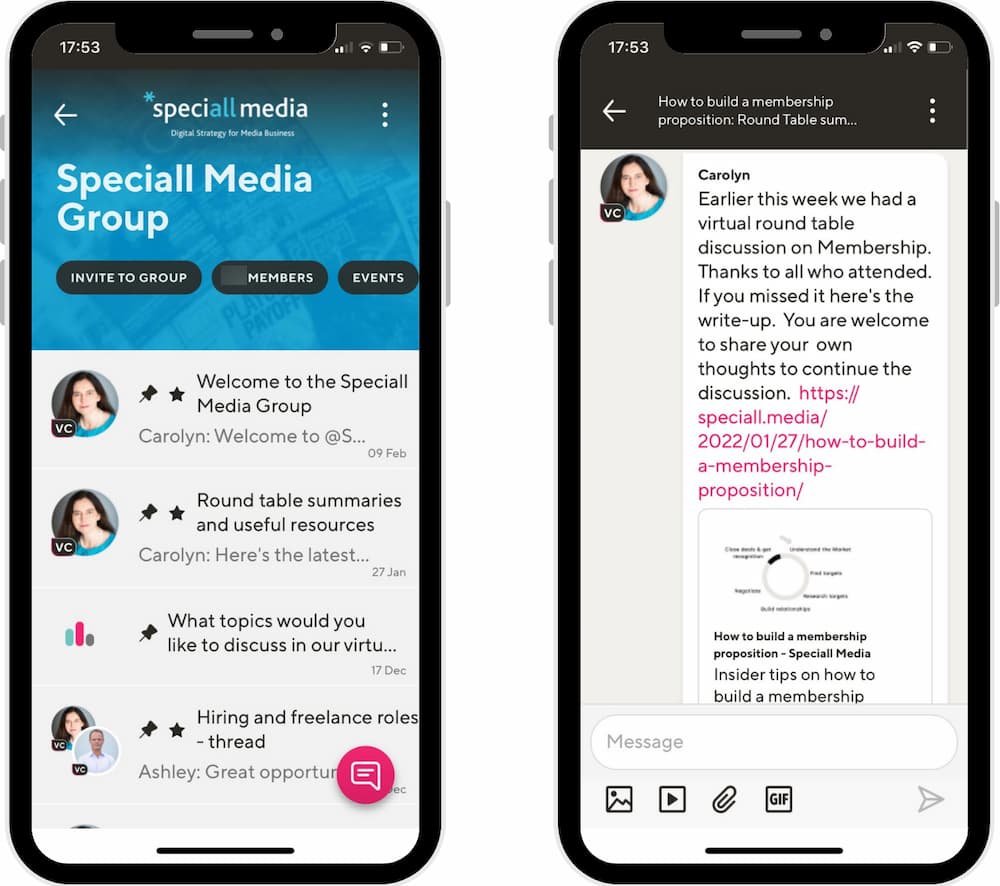 What value do you get out of running your own community?
"As a consultant, my client relationships are for the long-term - some of my clients I have known for a decade.
A community is an efficient way to maintain a connection with the people I've worked with. At the same time, it has a genuine personal touch. It's the best of both worlds.
My clients value the chance to build connections with peers facing similar challenges.
Managing an audience community means I have a finger on the pulse of the industry. I'm  hearing what really matters to my audience and how it changes over time.
Running a community is a valuable source of audience insight. For example, I've published articles based on discussions on membership propositions and the hottest topics for independent publishers. It's a virtuous circle. I build my expertise and my clients get unique information they can't find anywhere else.
Sharing what I learn from Speciall Media Group is a practical example of one of the many benefits of community for media and publishing businesses - using community insight to power editorial, content and events."


Why choose Guild over other platforms like LinkedIn, Slack or Mighty Networks?
"Guild is a particularly user-friendly community platform and it's a really elegant and simple mobile-first platform. That's important for my members who don't want to learn a new app or community platform, and it's important for me as a community owner.
Guild also offers a good balance between visibility, with a public directory, and privacy. I have complete control over who I choose to invite into the community. There are no vendors or suppliers in Speciall Media Group - so senior business leaders avoid sales pitches and other unwanted approaches.
A B2B online community is about quality and engagement rather than headline figures.
I do track who has been reading and posting and actively prompt lapsed or less active members to go back and post a question.
One feature I particularly love on Guild is the analytics and the facility to download posts to a CSV to make it easier to analyse conversation data. I've generated unique research from the community that I can share without compromising confidentiality. I can then report back into the community so they are first to know.
Finally, Guild offers access to a broader professional network.
I can join groups like Professional Community Leaders and Guild Community Collective and hone my community expertise. My members can join industry peer communities like Renewd. Everyone in the community is growing their connections and knowledge and making the most of our time."



Find out more about Speciall Media Group

Speciall Media Group is an invitation-only community for leaders and directors of specialist consumer and B2B media businesses. To find out more and request to join, go to: https://guild.co/groups/742/speciall-media-group
---
Join Guild 🤝

See for yourself how the Guild experience is different to WhatsApp, Slack, LinkedIn or Facebook Groups. Guild is a safe space to connect, communicate and collaborate with others.
Join us on a platform that is purpose-built for professionals and businesses.
Contact us if you want to know more or have any questions.