Whether it's a short term stop gap or a permanent switch, the COVID jobs crunch has led a number of our Furloughed Or Released Talent (FORT) group members to consider freelancing.
There can't be many better experts on the subject than Nigel Sarbutts. Nigel was a three-time PR agency MD before making the switch to freelance. Two years ago he set up The PR Cavalry – a platform matching organisations with a network of over 1000 freelance professionals.
As both a buyer and supplier of freelance services during his career, Nigel had a wealth of advice to share with our 220+ community members during our latest AMA: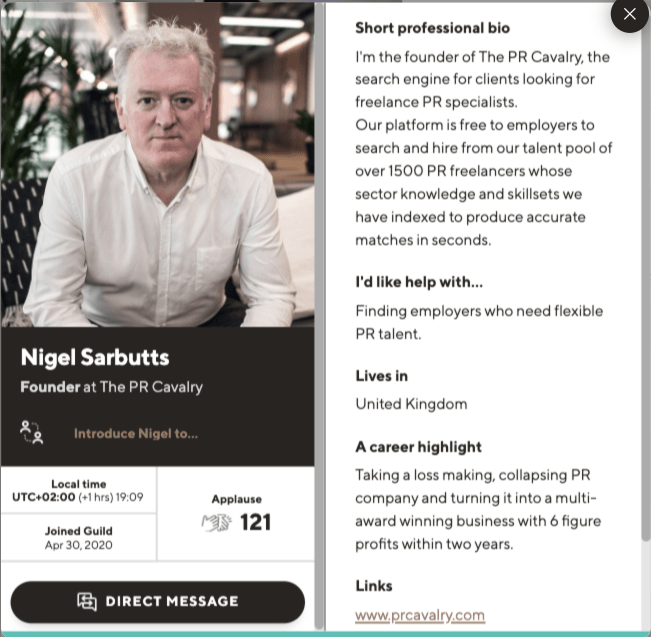 What's the PR and comms freelance market like right now?
"It's picking up (from a very low base) but it's nervy. Freelancers got battered in the early stages of lockdown and clients are behaving in a very risk averse way. However, the trend is up. Tech and health have held up, as well as briefs from businesses in regulated sectors that have to hit reporting deadlines – that work can't stop."
Are you seeing any trends in the types of clients/work that are still being briefed out to freelancers?
"There aren't many identifiable trends. The spread of client briefs we see is enormous, but almost all of them still want media relations, and in particular people who aren't afraid to pitch to media. That's a potential issue for younger, less experienced freelancers."
For those considering the change to freelancing, what should they be thinking about up front?
"It's a business, not a lifestyle. Get an accountant and listen to their advice. Invest in tools and keep your skills sharp. Use your network – join online groups that can be sources of support and inspiration as well as business. Also, consider joining the CIPR – I helped them with some resources - including a model contract – for freelancers. Finally, there is some more food for thought on The PR Cavalry blog.
Bonus tip: create an 'accounts@' email address for chasing money – it gives a useful separation between your day-to-day work and chasing invoices."
Do you feel there is a certain level of experience needed in order to go freelance, or can anyone do it?
"Most freelancers on our platform are at least five years – and in many cases more than ten – into their careers. But a lot of clients are looking for people with three to five years under their belts (account manager type level). I'd say it's less about experience and more about having the right mental approach – thriving on uncertainty and willing to bet on yourself every day."
What about opportunities for more experienced professionals?
"It's less about job titles and more about what the clients want. A lot are looking for freelancers to come in and get sh*t done. That goes back to the mindset part – if you had a senior job title and a team of 'doers' under you, the shift to freelancing (and having to mop up your own mess) can be a real gear change.
Getting new business is always a challenge, but perhaps with fewer events and social distancing it's particularly tricky right now. How can freelancers give themselves the best chance of finding new work?

"Word of mouth will always be your best source of work
Promoting your personal brand and marketing are part of your job. You have to devote real time and money to this – as much as 25% of your billable time
Passive new business is where platforms and marketplaces like us come in. You'd be nuts to rely on any one of them"
How important are digital skills?
"I'd advise everyone to develop a broader set of digital skills, especially in SEO as the ability to craft and land coverage on high Domain Authority sites is a really high value skill that is a world away from the old idea of transactional link building. Google is PR's biggest salesman, and 'old school' media relations skills are gold here. You just have to get used to it being called 'outreach' and 'off-site'!"
What soft skills do the best freelancers possess, in your opinion?
"Knowing how to ask questions and how to listen properly. After that, it's knowing how to value your contribution. You have a lot of skin in the game, so it's getting the client so see the benefit of hiring someone that is so committed and emotionally invested in the success of the project."
Thank you to Nigel for joining us in the FORT.
Other FORT AMAs:
Inside the FORT - Three comms recruitment leaders discuss their top CV and job application tips

Inside the FORT with BoldMove founder Julia Fenwick - Prospects for the communications industry post-COVID

Inside the FORT with journalist and writer Linda Aitchison: How jobseekers can stand out on LinkedIn

Are you furloughed or looking for new job opportunities in marketing, comms, creative or digital?
If you have been furloughed or released, or know someone who has and might benefit from joining FORT download Guild from an app store and click on this link.
[strictly no recruitment consultants please]
You'll be made to feel very welcome by the community.
---
Join Guild 🤝
See for yourself how the Guild experience is different to WhatsApp, Slack, LinkedIn or Facebook Groups. Guild is a safe space to connect, communicate and collaborate with others.
Join us on a platform that is purpose-built for professionals and businesses.
Contact us if you want to know more or have any questions
Photo by Michael Walk on Unsplash