In brief:

Renewd is the global, open network for subscription, membership and event professionals. It launched in 2020, to provide professional and strategic development to a sector facing a massive revolution in business models, product offerings and technology platforms.
The coronavirus pandemic made this need even more urgent as publishers, event organisers, and membership organisations faced a new set of pressing issues, including remote work, navigating government support and hybrid and virtual events.
Renewd migrated its Slack community to Guild to improve engagement, collaboration and networking amongst its members.
The opportunity

Renewd is run by volunteers, including Stephanie Williford, co-founder and co-chair who in her day job is CEO of EB Medicine in Atlanta. She's dedicated to professional development and has brought this ethos to her work at Renewd.
Renewd's events programme offers monthly roundtables on marketing, events, content and product development, and "On the Offense", a series of interviews with successful business leaders. It also holds one-off meetings and webinars on urgent topics like customer engagement, sales management, and M&A trends.
Additional resources include member benchmark surveys and a library of webinar recordings, document templates and job descriptions. In the future, the aim is to offer in-person events, training, certification and awards.
Stephanie says, "Connection is more important than ever right now, and we wanted to offer a place for the smart people of our community to come together for professional development and business growth."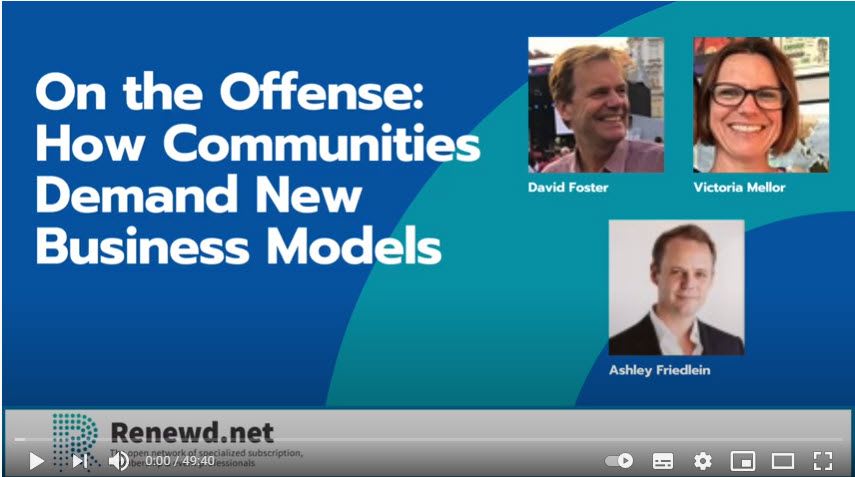 Renewd made its programming free and open, and members are encouraged to bring in friends and colleagues to enrich value for everyone. As a result, membership snowballed, hitting 500 organisations in under a year.
Initially, Renewd offered its members a Slack workspace to share resources, tips and discussions, which fed into the programme of webinars and roundtable meetings.
Renewd's members are worldwide, with many in North America and the UK, so an asynchronous real-time community platform was vital to work across time zones. But members in the group found Slack overwhelming and engagement in the community started to stall.

Why use Guild and not Slack or other platforms to support your membership organisation?

Stephanie Williford, co-founder and co-chair of Renewd, says:
"We chose to move our community platform to Guild to allow for easier access to answers and ideas, improved networking, and stronger safeguards. Moving to Guild was fast and easy and allowed us to continue offering membership free to everyone who needs Renewd's support."
"We believe the community gets better with each new member - a secure place for thinking through new ways and models of doing business, where everyone can contribute a unique point of view. Because of this mission, it needed to be easy for members to invite anyone who needs our support or can offer expertise - being able to share a simple link was especially useful."
Supporting diversity, equity, and inclusion within the industry and member organisations is integral to Renewd's values.  Stephanie added:
"We know that diverse organisations perform better - they attract and retain talent more effectively, make better decisions, and as a result, they're more sustainable and profitable. Most of all, it's the right thing to do and something we want Renewd to support. To this end, Renewd is an honestly open community - with no owners, no profit motive and no overheads, we're led by volunteers and driven by what our members need. Guild allows us to make the most of this flexibility and build a collaborative atmosphere".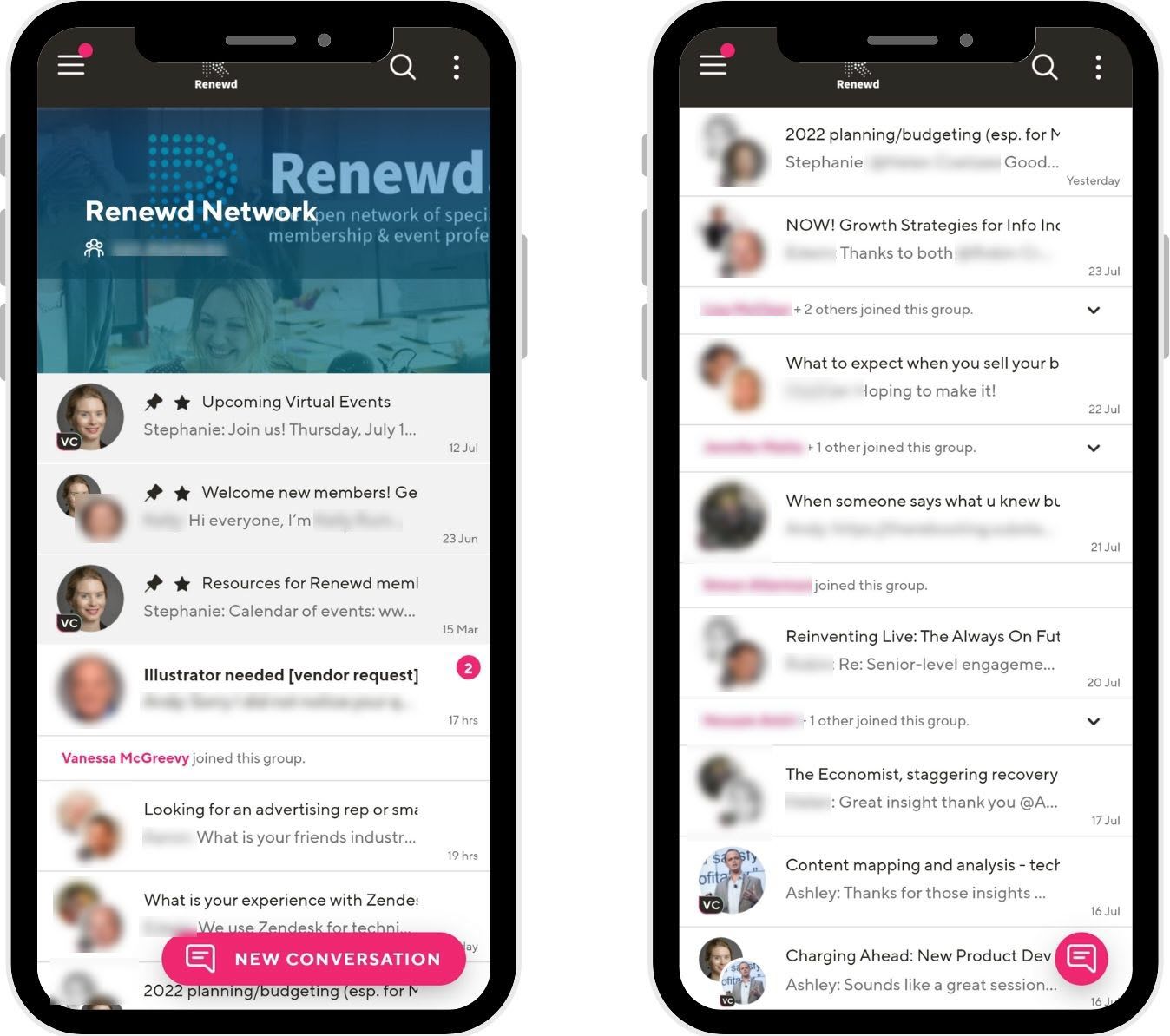 What tips would you give to another membership organisation wanting to start a community on Guild?

"Be clear about the reasons for choosing a platform - for Renewd, it was because we needed a platform that would be easy to use anywhere in the world and offer a private, safe space where members felt comfortable contributing and inviting colleagues to join them.
Communicate the timings and, if necessary, reinforce a sense of urgency by setting deadlines. This gives you some impetus at the start of your new community because members are reassured they're all at an equal stage, which adds to the sense of possibility and excitement for your new community.
I'd also say you should have realistic expectations - over the lifetime of a community, some members move on, and you won't be able to bring them back because it's no longer for them. And that's OK. Focus on making sure that you're serving your active members and bringing in new members who need what you're offering right now - but make it easy for people to come back when they need you again.
Lots of communication is essential, and by making it clear that your community is there to serve members and that they can help make it even better by bringing in new members, you can continue to thrive even as your members and their needs change.
Above all, don't underestimate the magic of collaboration. A solid foundation of webinars, training and other resources is vital for our members to keep improving their professionals skills. However, we call the discussions we have on Guild "the secret sauce that binds our community". Sharing professional experiences also helps us keep providing that unique and insightful content, just as our members do in turn for their clients."

How can I join the Renewd community?

The Renewd community on Guild is an open community of professionals dedicated to sharing best-in-class practices for increasing subscriptions, building communities, and enhancing live and virtual events.
Join  the Renewd community on Guild at https://guild.co/groups/2624/renewd-network and learn more about Renewd on their website https://renewd.net/

Photo by Christina @ wocintechchat.com on Unsplash
YouTube screenshot courtesy of Renewd
---
More customer success stories

See why Guild has been selected as the platform of choice to host The Marketing Society's prestigious global marketing community
Discover how the PRCA is powering the global communications sector with Guild groups
Learn how child literacy charity Bookmark co-ordinates its 350+ volunteers with c community on Guild
Explore how Digiconf created a B2B digital marketing event community on Guild in minutes

Discover why The Access Project moved its internal comms from Slack to Guild
See how the NEU supports education staff delivering remote education to students during lockdown using a Guild community as a resource hub
---
Join Guild 🤝

See for yourself how the Guild experience is different to WhatsApp, Slack, LinkedIn or Facebook Groups.
Guild is a safe space to connect, communicate and collaborate with others.
Join us on a platform that is purpose-built for creating groups, communities and networks on mobile.