In brief
Digital and physical events bring people together and they can create powerful communities.
But far too often connections made, the ideas generated and any long term value from events are lost as soon as the event is over. Momentum and energy tails off. And the potential for an energised community is squandered. ?
Equal Talent are a highly respected respected cultural change and coaching consultancy. They understand the power of community and have successfully built a thriving online professional community from a conference.
Founders Amanda Davie and Catherine Smith run events supporting professional women from around the globe, including the extraordinary 'She Has No Limits' conference. The event blends live coaching, inspiring speeches, panel discussions, awards, comedy and entertainment.  
They created a 'She Has No Limits' community on Guild to enable speakers, attendees and partners to continue the powerful conversations and connections made at the conference.

It's a growing group of 150+ professionals determined to succeed in their careers and support each other, respecting the shared values of optimism, camaraderie, determination, inclusivity and equality for all.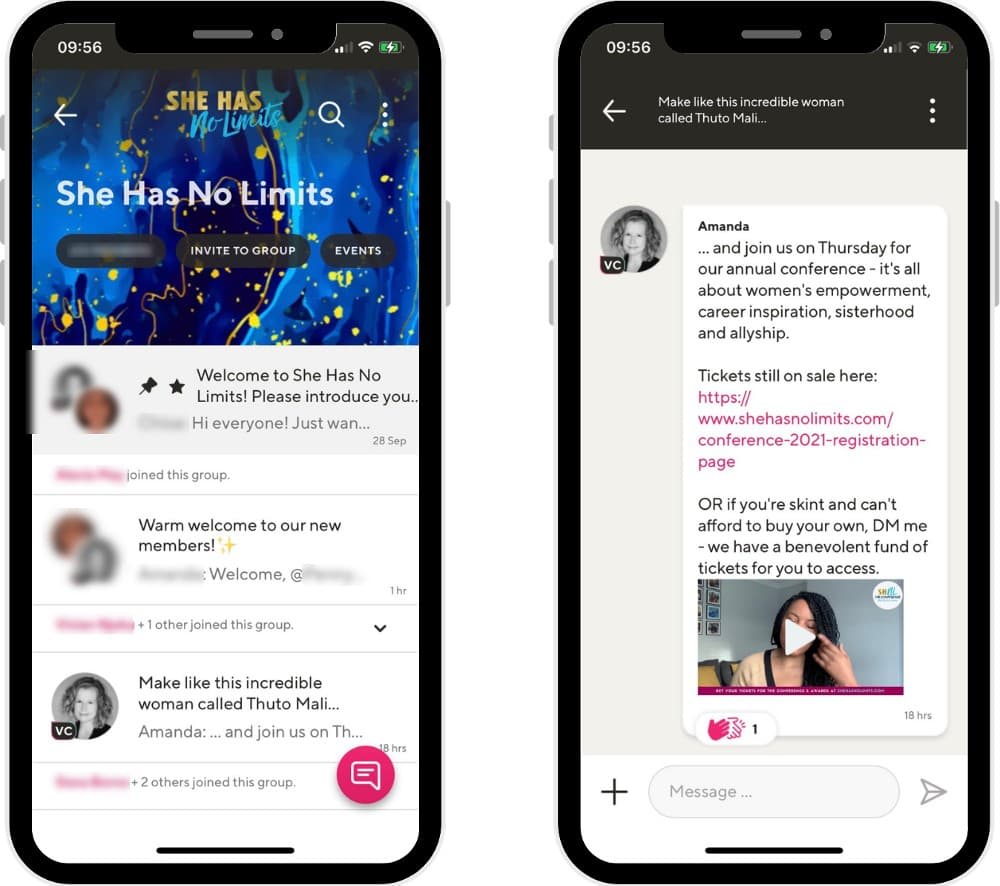 Why not choose Slack, Facebook, WhatsApp or LinkedIn Groups for an online community?
Amanda Davie explains why they chose Guild to host the 'She Has No Limits' Community:

"We'd heard great things about Guild from a few people, so we looked into it a bit more. And the more we saw, the more we liked the idea of an ad-free community platform that respected user data.

Slack is great for project collaboration, and I'm in few Slack communities myself, but it didn't feel quite right for this community. Guild is much more elegant than Slack.
Catherine Smith continues:

"We joined a couple of Guild groups to test it out and saw for ourselves how easy it was to join and get chatting immediately. Guild feels like a better thought out and better organised WhatsApp."
What was your EventTech Stack?
Ahead of the event, the team used a blend of CRM and social media to drive conference registrations and sign ups to the Guild group.
The 'She Has No Limits' ran their virtual conference on Hopin and used its Stage, Sessions, Networking, Expo, chat and poll features.
The conference kicked off with an energetic introduction from Quarantina Turner, Young Women's Trust CEO Sophie Walker keynoted the conference and panels and sessions included Simone Roche MBE and Mary Keane-Dawson.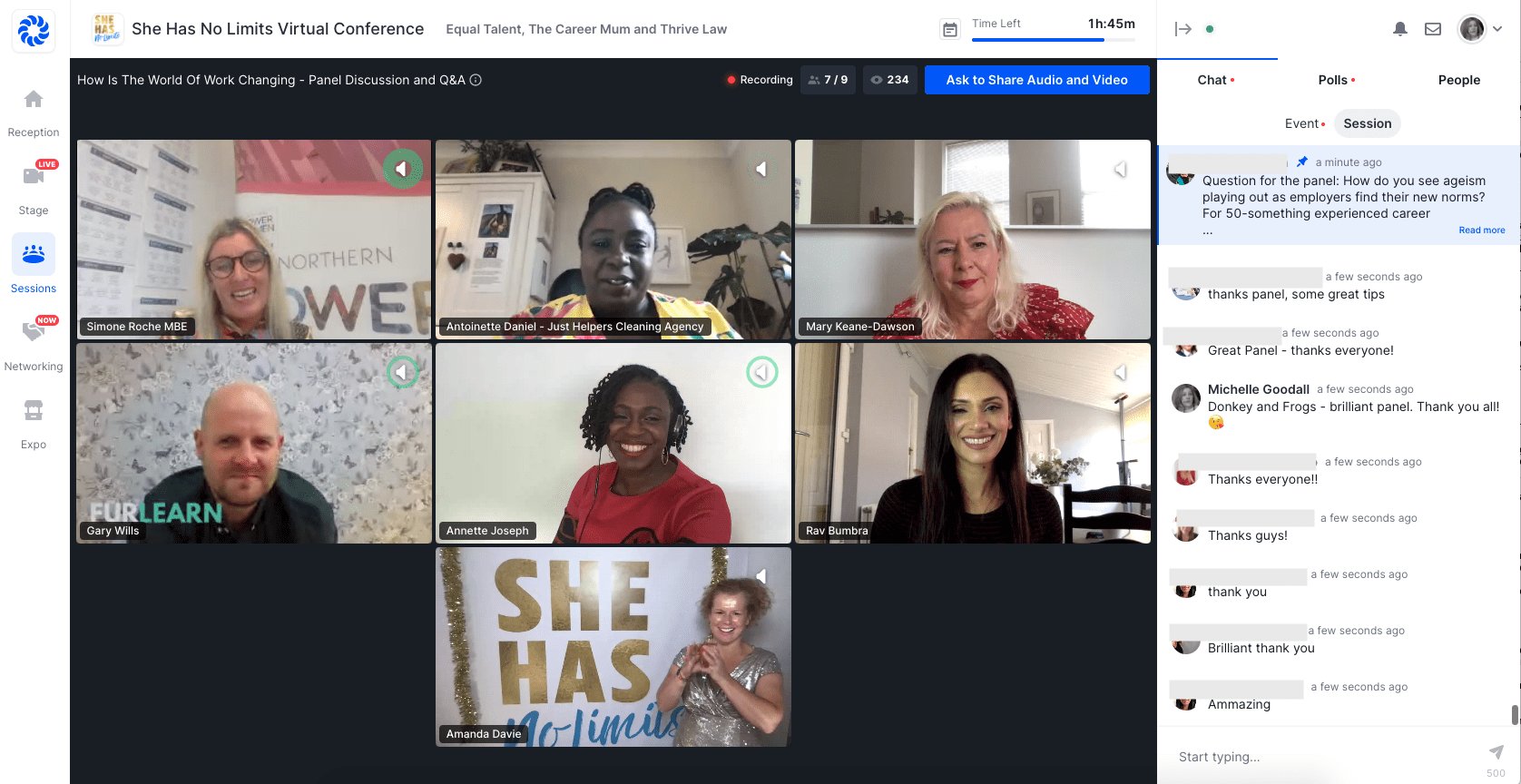 During the event speakers regularly reminded delegates to join the 'She Has No Limits' Guild community to continue the networking and conversations.
What do you and your community members like about Guild?
Catherine was impressed by how quick and easy it was to set up a branded community in Guild. An important factor as the team had to focus time on preparing for the event itself.
"When people say they set up Guild groups in minutes, it's not an exaggeration! We were able to add branding, logo, the group purpose and community rules and a couple of welcome posts in literally 20 minutes."

Amanda says that a number of members have commented how lovely it is to be able to see who they are talking to. Professional profiles are something that WhatsApp groups don't have.

"So, I'm also in a few WhatsApp groups and it's frustrating that you can't see who you're speaking to. With Guild, you can click on someone and see their profile. It's easy to join the dots and start to connect people and ideas."
Another feature that their group members like are the threaded conversations. Amanda continues:
"When you join a WhatsApp group that has been around for a while, you don't get to see all the chat and conversations that have taken place and, to be frank, it's all a bit messy isn't it?
In the Guild group we might post a conversation starter about, say, midlife 'invisibility' in the workplace. The threaded conversations mean that members can easily add their views, experiences and links to helpful resources, or even upload things to that thread. The conversation evolves organically. It's great to see.
We find that people search for topics and then continue to read or add to them. You don't really get that in Facebook, LinkedIn and certainly not in WhatsApp groups"
What's next for the She Has No Limits Community?
Catherine and Amanda have ambitions to continue to grow the 'She has No Limits' community and promote ongoing events to the community.  
They also plan to create smaller sub groups for specific coaching projects. Catherine continues:
"Convening likeminded people with the same challenges is one the most valuable things organisations and businesses can do. The She Has No Limits conference community will continue to grow and members will continue supporting each other. We know that members are finding the connections they have made are extremely valuable.

Our plan is to use Guild to create smaller, private groups to support our face-to-face group and team coaching, as well as our workshops.
Guild is a perfect platform for allowing people to express themselves thoughtfully in a safe space. We really value that. We've also had amazing support from the Guild team to help make our online communities such a success."
How can I join the She Has No Limits community?

She Has No Limits is a movement and community on Guild of professional women determined to succeed in their careers. Its values are: optimism, camaraderie, inclusivity and equality for all.

Hosted on Guild by Amanda Davie from Equal Talent -  join here.
---
Set up your event or conference online community on Guild for free today... and get maximum value from your events
See for yourself how the Guild experience is different to WhatsApp, Slack, LinkedIn or Facebook Groups. Guild is a safe space to connect, communicate and collaborate with others.
Join us on a platform that is purpose-built for professionals and businesses.
Contact us if you want to know more or have any questions