In brief
Q: What's the natural evolution for a business creating thought leadership content that's valued highly by its industry?

A: Convene people around your brilliant content in an online community to generate even more value.
Addictive are a highly respected digital consulting firm. Their founder Simon Andrews publishes the Fix newsletter each week, which is read by people at Google (400+) Facebook, Snap etc as well as many VCs, Brands & Agencies.
Simon and team had organised the 'AdTech Perfect Storm' conference to convene leaders of the Ad Tech industry, but the pandemic put those plans on hold.
Instead they decided to create a group on Guild to enable speakers and guests to discuss topics related to Ad Tech, the evolution of programmatic and the massive changes in the advertising industry, including 'cookie death' and IDFAs.
The 'Fix Ad Tech / Perfect Storm' Guild community is a growing group of 200+ of the smartest people in advertising and the digital industry. Together they share their experiences to better understand how to best unlock opportunities and ride the current challenges in advertising.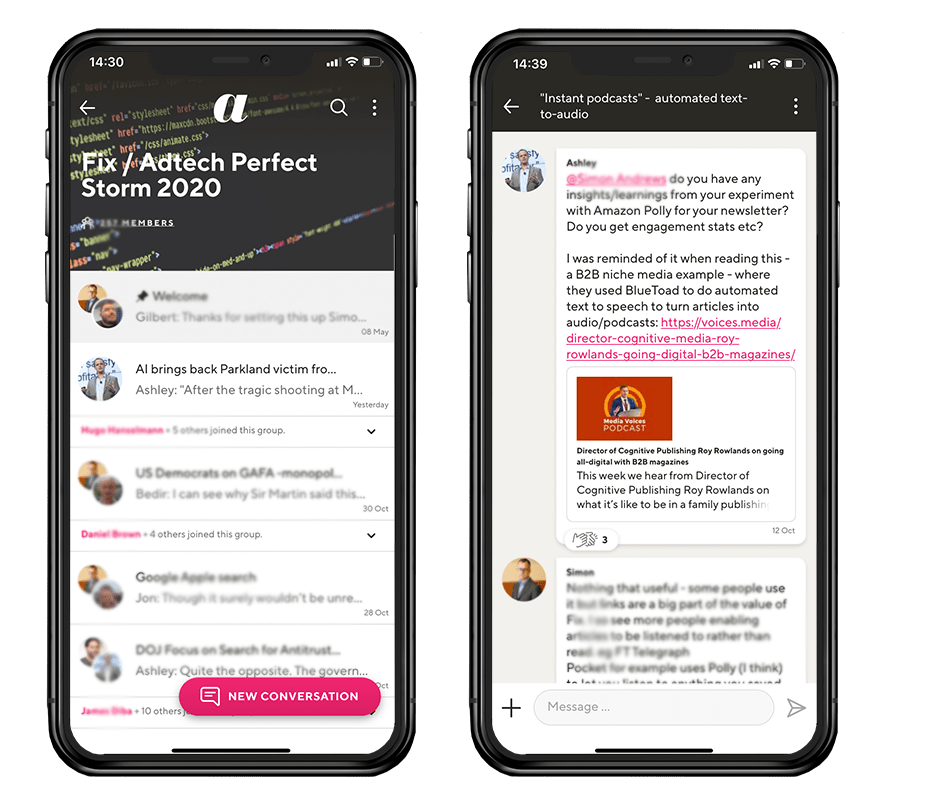 Why not choose Slack, Facebook or LinkedIn Groups for an online community?
Given his understanding of platform data and data ownership, founder Simon Andrews had already discounted WhatsApp, Facebook and LinkedIn Groups for the community. He briefly considered Slack, but opted for Guild for its simplicity, elegance and mobile-first design. He explains:

"Slack is a great tool for collaboration, but it didn't feel like the right platform for the community that I wanted to run. Slack communities are generally messy and noisy, I wanted more of a Salon and reflective feel for the community."
"Guild provides an extremely high quality environment and is blissfully free from noise, spam and ads. The discussions are frank, honest, collaborative and of the highest quality."
Why are online communities important right now?
Simon explains why online communities have become increasingly important:

"It's not just about the pandemic decimating event revenue streams for companies like ours, but that was one of the catalysts.
"It's because value flows 2 ways in communities. Members get value and we get value from how they synthesise things, move discussions into unchartered areas and challenge our thinking"
"Information sharing, professional collaboration and relevancy is really important at this time, but people are time poor so information and discussions need to be high quality and highly relevant to their business needs. I think we've struck that balance with the 'Fix Ad Tech / Perfect Storm' community."
Simon feels that communities are natural and needed evolution of the content > newsletter > event model. One which membership organisations, media and publishing busineses, and increasingly professional service providers, consultants, agencies and vendors are opening up to. Something that we explore more in our Community Based Marketing (CBM) articles:
"I am really focused on the 3Cs - Content, Community and Commerce - and building this Guild has been really useful in developing that thinking.

I 100% subscribe to the 'Community Based Marketing' (CBM) movement.  But to make it a success, you've got to understand that communities are so much more than a marketing tool.
Convening people who are interested and highly engaged in a subject or industry is one of the most valuable things organisations and businesses can do. If you're clear about what the community is for, why it exists, who its for and what value it generates...oh and you are willing to put the effort in to develop it and manage it properly, then the return on investment can be massive"

Are you a leader in Ad Tech looking for a peer community?

If you are a reader of the Fix newsletter or work in the world of AdTech join Simon Andrews, MD, addictive! and >200 professionals in 'Fix Ad Tech /Perfect Storm'
Joining instructions: Join via this link
Join Guild for free today
See for yourself how the Guild experience is different to WhatsApp, Slack, LinkedIn or Facebook Groups.
Go to our pricing page and join free as a member, create your Guild profile, join available groups and build your network.
Ready to run your own professional, private, branded groups, communities or networks?
Excellent! Check out our Business (free) and Business Plus (custom pricing) options.
Guild is proudly British, fiercely independent, ad-free and GDPR compliant. Guild is the best place for professionals to connect and communicate. Come and join us on a different and decent kind of messaging platform that is designed for business and done with integrity.
Contact us if you want to know more or have any questions.