In these 'Ways to use Guild' articles, we're featuring examples of what Guild users have created with our ad-free, private, professional messaging groups and community building platform.
In this article, we look at how Guild can be used to support events, that are either running virtually or physically, to add value for event organisers, attendees and sponsors. You can also read about how to use Guild for professional networking and personal brand building.
What is event tech?
The term 'Event Tech' refers to any form of technology that helps facilitate event planning and delivery.
For example, technology that delivers presentations and experiences, engages delegates, speakers and sponsors, provides analytics and security, enhances the attendee and sponsor experience, community platforms, ticketing software and more.
During lockdown, the scale and different types of virtual events has increased. From conferences, webinars, festivals, awards and learning and development events. Hopefully we'll be able to return to physical events again, but for the time being, most events are virtual and rely on a sophisticated 'Event Tech Stack'.
Why, and how, would Guild be used for events?
A key challenge for events organisers is the reliance on social media platforms to promote their events and to build an engaged community of attendees, speakers and sponsors.
Competing against social media platform algorithms, busy newsfeeds and notifications, many events organisers have to inject significant ad budgets to ensure visibility of their event and their event community.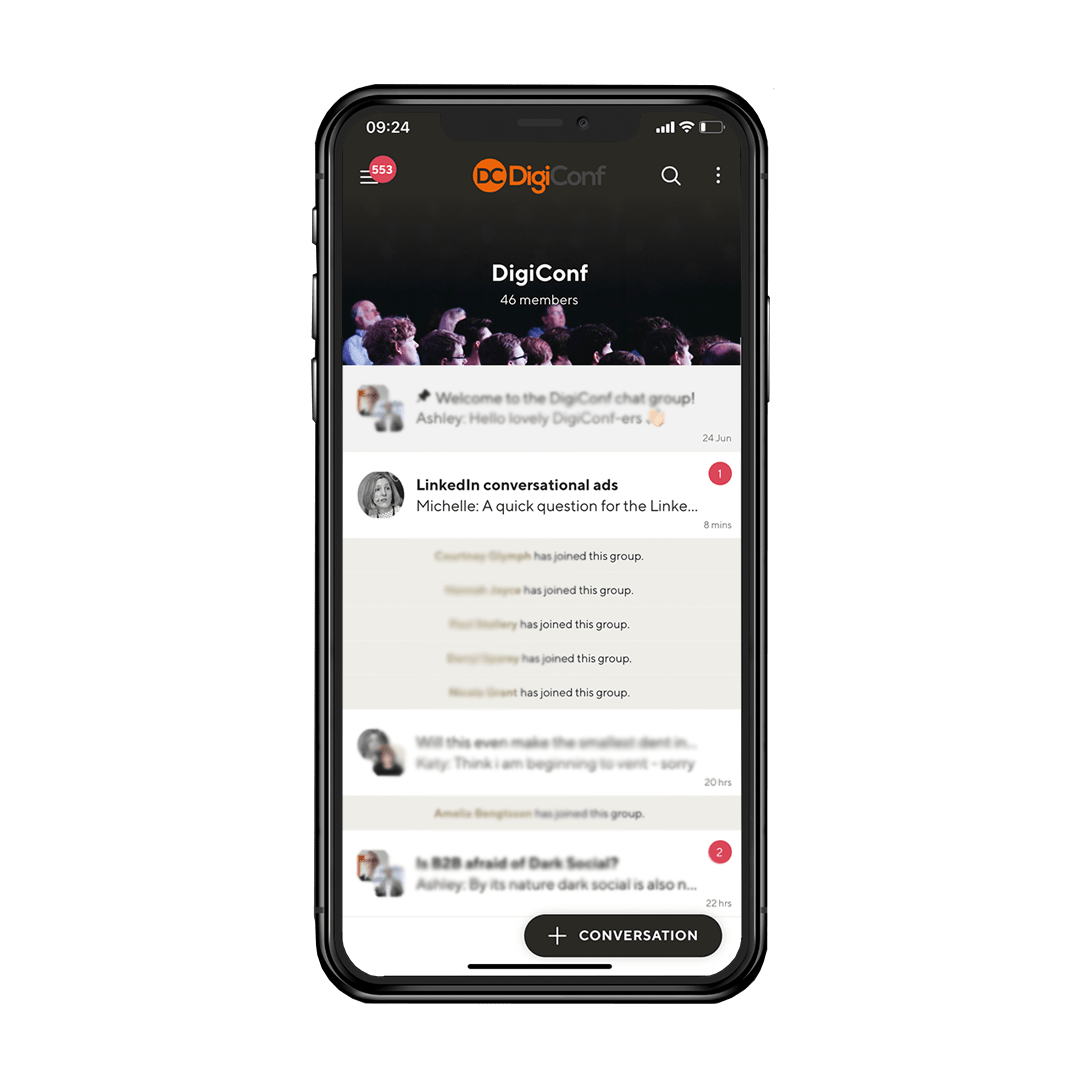 Guild is an ad-free, private platform that can host your event communities without the noise of social media platforms, and with all the control, branding and analytics you'd expect from a professional app.

Why build a community around your event?
Live and in-person events are strong foundations for communities. Events are important ways to convene like-minded people around shared experiences and build strong connections and networks.
People attend events because they want to learn new things, meet new people, solve a problem or be inspired to think or do something differently.

If event organisers play host to those personal connections by building event communities, they can create powerful groups with strong connections to their business or brand.  And event communities can deliver real value.
Advantages of building a community around your event
Here are just a few reasons why you should build a community around your event:
Drive the event agenda - identify the hot topics and 'pain points' as the participants discussions can drive the agenda.
Identify potential speakers for future events – talent and interesting opinions surface through discussions. This can help events organisers move away from the 'usual suspects' speakers and open up more diverse voices
Encourages delegates to attend the event – connecting with speakers and other delegates and getting value from an event community has a positive impact on driving event attendance
Add value to sponsors - by co-branding your event community or by allowing sponsors to participate in conversations with delegates so they gain market insight and can deliver thought leadership with valuable contributions themselves.
Adds value to your event, and makes your event stand out – it's a competitive marketplace for attendees and sponsors, particularly for paid events – an event with an active community is a value-add at a time where attention and spend is low
Increases attendee retention – an engaged community is one that is likely to plan in and book ahead for your next event
Mimics physical networking spaces – physical events have breakouts, coffee lines, lunch and hallways. Online communities can provide these spaces for serendipitous conversations.
Provides long term value to attendees, sponsors and speakers – online event communities enable personal connections between attendees or attendees and sponsors/speakers to continue outside of live events.
Drives editorial for your event – the topics discussed can inspire blog posts for SEO and event promotion purposes
How to use Guild to support your event
Here's a helpful article about how to use Guild to support virtual events.
By creating a branded, mobile, private event community you can:
Easily, and instantly, communicate with your delegates, speakers and sponsors to keep them up to date with what is happening
Allow them to connect, communicate and collaborate in advance of the event
Post details and link to the virtual experience on the day
Post pre-recorded videos to highlight speakers and topics (you can also post recordings of the presentations after the live event)
Link to resources, e.g. Research, Whitepapers, Guides, Videos
Co-create resources with attendees, sponsors and speakers, e.g. create a crowdsourced manual, like this one developed by peer support Guild group CREO (Coronavirus Response for Event Organisers) a community set up to support event organisers during the pandemic
Create different groups or streams for your topics, tracks or breakout themes
Provide a means for follow-ups, feedback and to continue the conversation after the event
Drive bookings for your next event or some other value-driving conversion
Who is using Guild to support their events?
Here are just a few organisations using Guild to create communities to support their events:
Digiconf

She Has No Limits

Addictive / Fix Ad Tech Perfect Storm

Substribe Summit

Podge - Stodge Podge

The Alliance for Child Protection in Humanitarian Action

Good Growth Conference
We're here to help
Our award-winning support team is here to help.

Creating branded messaging groups to support an event (physical or virtual) is simple - it will take you 5 minutes on Guild, but don't be afraid to get in contact as we'd love to help and make your event a success!
---
Join Guild 🤝

See for yourself how the Guild experience is different to WhatsApp, Slack, LinkedIn or Facebook Groups. Guild is a safe space to connect, communicate and collaborate with others.
Join us on a platform that is purpose-built for professionals and businesses.
Just want to join some groups? Simply join Guild and then look through the discoverable groups and communities to find relevant ones to join
Thinking of running your own community? With an elegant and simple to use, mobile-first UX you've got everything you need to start a community  - custom branding, analytics, group and user management and support.  Get started with your own community here with our free and paid options
Contact us if you want to know more or have any questions.