B2B media businesses are gradually coming round to the idea that their business is not about 'products' and in fact it's about 'audiences', or 'customers'.
Rory Brown, CEO of AgriBriefing at 'Making Publishing Pay' made this point when I interviewed him in February 2020. He went on to explain that the secret to building value for publishers is to spend time talking with customers and understanding their whole world, not just feedback on your publications and events.
Only then can you work out what other services to develop.
All in the room, mostly media MDs, nodded sagely at this sensible advice. But I wonder how many of them really understand what bothers their customers?
Listening to your audiences is one overwhelming strategic reason for B2B media organisations to run a community. And run it well.  It's the single easiest way to regularly speak to customers and do that more frequently than an annual live event or periodic formal research.
More B2B media businesses are developing some sort of all year-round online engagement programme with their customers.  This could be as basic as an email list, an old-fashioned online forum or a LinkedIn Group.  But by taking it more seriously, using a more appropriate community platform, and investing in resource, there are big strategic wins to be had.
This article explores both the strategic (non-financial) benefits and monetisation options being enjoyed by a range of B2B media online communities.
It also summarises best practice in managing communities to ensure that they thrive and deliver mutual value amongst members and the organisations who set them up.
What are the strategic benefits of online communities?

The main advantage of a thriving online business community is that you have a "24/7 focus group" to quote Adam Harper of B2B Marketing.
A well-curated discussion group can help media identify the hot topics and 'pain points' as the participants will drive the agenda.
Product development

Here are some specific ways B2B media can drive product development through developing online communities:
Pick up on the hot topics that are discussed for editorial content
Identify insights and ideas for event tracks
Identify potential speakers for future events
Identify potential new services to add to a membership package
Spot prospective interviewees for editorial content
Identify advisory board members
Extend the value of live events

All year-round online communities can provide an extension to the networking that is so important for live events.
They enable personal connections between attendees to continue outside of live events. They also help media businesses to follow up with contacts after events, as well as spot who's also going to attend future events.
Online communities add depth to content

Online communities can also be used to add depth to your content and showcase your contributors.
A good example of this comes from Nature.com, the leading international weekly journal of science first published in 1869. They have raised the profile of their authors and have built loyalty in a competitive market by creating two streams of content, specifically for an online community to support its academic authors.
"Behind the paper" highlights the research process and "After the paper" shows the impact of the research.
Nature also features content about their journal editors which boosts their profile and the authority of the publication.
Online communities create 'soft power'

Online communities can unlock revenues elsewhere, even if they are not directly paid for through the community. Examples of the 'soft power' of online communities include:
Online communities encourage group members to attend live events
Online communities support subscription renewals
They help to attract speakers, contributors and advisory board members by evidencing the broad ecosystem of a media business
Online communities help to build trust with key stakeholders, for example advisory boards, sponsors etc.
What does it cost to run an online community?

Be realistic about the costs to set up and maintain an effective online community. Costs can be anything from £1k to £100k per annum, but don't pretend that it will be free.
Some community platforms are free, such as Linked In Groups, but they lack specialist community features. You place yourself at the mercy of a third party platform that could be retired at any time and, most importantly, you are not in control of the data
Commercial online community platforms can cost anything from £1k to upwards of £15k a year.
A dedicated community manager or moderator, even if they are not assigned full-time, is essential.  They will also need support from the rest of your organisation for domain or product expertise and possibly help with moderation, technical support etc.
The business needs to also consider the costs to market the community to gain traction and recruit community members. Support from marketing and communications is important.
And, of course, any community manager will have to work very closely with the content and events teams to create relevant content for the community - and from the community.
What is the optimum size for an online community?

Should your online community be large, medium-sized or super-niche?
Professor Robin Dunbar sits on Guild's advisory board, and is a world-renowned anthropologist and evolutionary psychologist who has studied how human networks and relationships work.
He developed The Dunbar number, which suggests the cognitive limit to the number of people with whom one can maintain stable social relationships is 150.
Many community strategists find the Dunbar Number a useful model for framing and defining their community size and connectivity.
For example, Guild have used the Dunbar number to highlight the power of small professional networks and the 'personal boardroom'.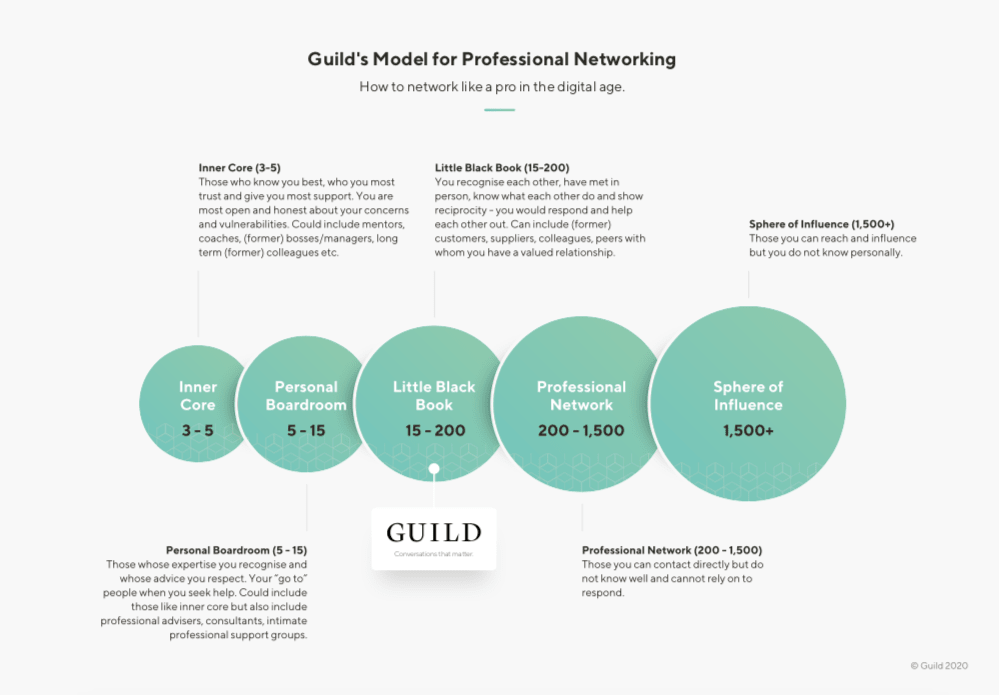 The target group size for your online community depends very much on the purpose of the group.
A close-knit CEO or senior group might work best at under 50 people, so members feel they can develop deeper relationships and become more open.
A specialist discipline, for example, a community of professional community managers or CMOs, might work better at the 150 level. This would mean a range of sectors and experiences are covered, but the group feels manageable.
A group that is trying to represent a whole industry might work best at 500 or more.
Depending on your audience, you might want to have a large open industry group and then create some specialist sub-groups for people who want to connect more deeply around specific topics or 'pain points' that only they experience.
There is some evidence that online communities do need to gather in real life at least once a year to get established, so you may wish to align your live events programme with your community structure.
How can you do online community strategy and management well?

I recommend that you read the blog content on Guild tagged 'community' to see a wide range of use cases, community strategy and community management tips and practical support.
The Community Canvas provides a helpful framework for thinking about how to nurture and grow a good community: Identity, Experience and Structure.
Identity
Have a clear purpose for the community
Be clear about the target member profile you want
Agree values for the community, e.g. confidentiality, respect, not selling
Set a definition of success  - community numbers, levels of engagement, direct or indirect revenues
Experience
Work out how people get invited or apply to join
Plan their welcome and onboarding experience
How will you make decisions about who needs to leave the community?  Breaking rules, low engagement, a changed role?
What content will drive value for the community?  And what content might they co-create?
What are the rules of the group?
How can you nurture super users?
Structure
Who owns the community?
Who makes the rules?
How will it be financed?
How will member data be managed?
How to encourage engagement in an online community

Community strategists and community managers will have tips based on their experience of building and nurturing communities.
Most will say that it's a gentle balance between letting the group set the agenda and adding enough stimulus and nudge to get some comments, especially at the start.
Adam Harper from B2B Marketing considers it important to listen, and also help a range of people feel comfortable about contributing.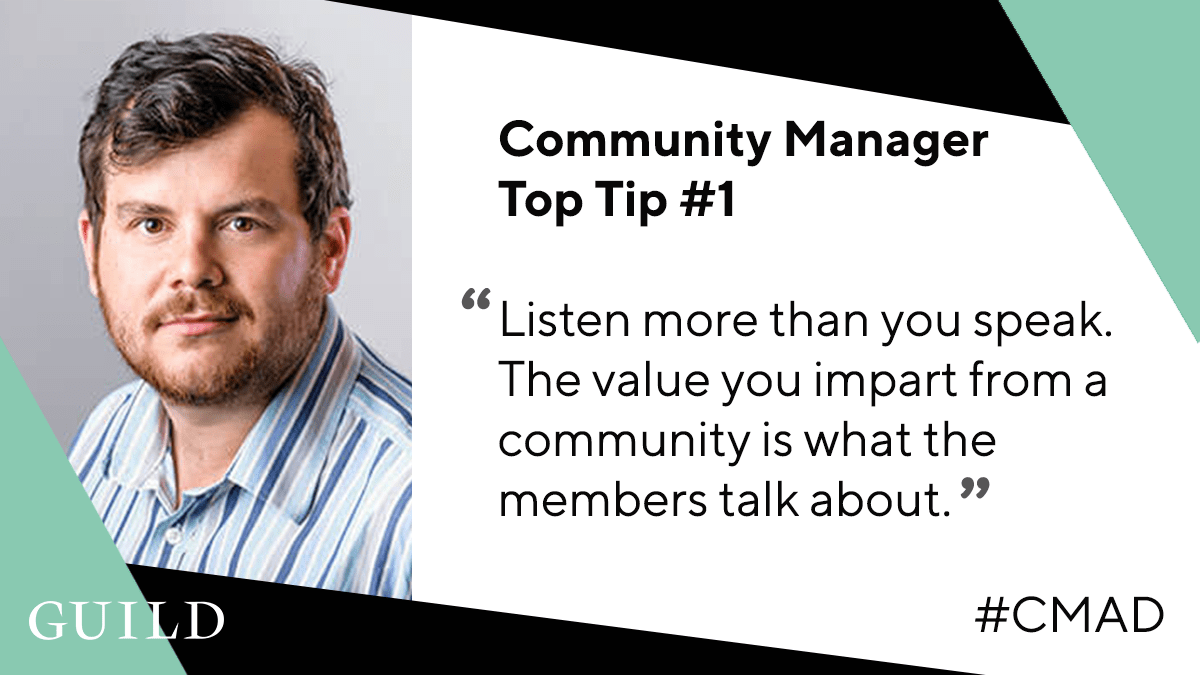 Guild's Michelle Goodall talks about the need to intersperse weighty, complex ideas and content with occasional 'friction free' stimulus. She suggests that this allows everyone, even the lurkers and the shy ones in the community, to voice an opinion "without fear or friction".
Media businesses will have lots of content to share which can help stimulate discussion, but do take care not to overwhelm a community with 'here's this content' posts.
Ashley Friedlein, founder of Econsultancy.com and Guild shares 22 ways to encourage engagement in a Guild group in this article, but my favourites were:
Invite temporary guests or experts to answer questions
Run simple interviews with members so the group gets to know them better
Seek out and nurture ambassadors who will tell their contacts about the group
Create collaborative documents, for example best practice or recommended suppliers and share them with the group
An example of a collaborative document generated by an online community can be seen on the Guild CREO Group. The free online community of more than 400 events organisers was quickly rallied and built to support those who had to cancel their events due to Coronavirus.
They collaborated to create the open source CREO Manual – a resource for all event organisers responding to Coronavirus.  
My own experience in coaxing an online community to get going is that it helps to start discussions with an open question.  If someone else posts a question I try to answer quickly but encourage other views.  It helps to make introductions between members if they don't already know each other and encourage them to refer new members.
Why invest in building an online community?

In summary, developing an online community is the absolute best way for a media business to stay close to its customers, and it can generate revenue directly or indirectly.
But it does require investment of time and resource, and has to have a clear purpose, rules and structure so that it delivers for members as well as for the business.
Further reading
22 ways to generate engagement in your Guild groups
Case Study: B2B Marketing hosts peer support community of CMOs on Guild

Growing with communities at Future Book Forum
The strategic value of online B2B communities
How to monetise an online community
About the Author

Carolyn Morgan has launched, acquired, grown and sold specialist media businesses in print, digital and live events.  
A Co-founder of the Specialist Media Show, she now advises media businesses on digital strategy through her consultancy Speciall Media.
Carolyn frequently chairs strategic media conferences and writes for trade publications.
---
Join Guild 🤝
See for yourself how the Guild experience is different to WhatsApp, Slack, LinkedIn or Facebook Groups. Guild is a safe space to connect, communicate and collaborate with others.
Join us on a platform that is purpose-built for professionals and businesses.
Contact us if you want to know more or have any questions.
---