There are many reasons why people wish to become non-executive directors (NED) or board advisors. They can be lucrative roles. But many NEDs and advisors are looking for more.
Members of the NED & Board Advisor Network on Guild say that their motivations include gaining new skills, "giving back" after a successful career, or gaining experience in new sectors.
The NED & Board Advisor Network host Martin Fincham shared his insights in a recent Ask Me Anything (AMA) session. Martin is a NED, Chairman, investor and advisor and author.
When he was first looking for advice on roles as a NED in the private sector, the only advice available was for "PLCs staffed by city grandees". Martin's first book, Diary of a Novice NED, is the book that he couldn't find when he needed it.
You can watch the whole AMA online or below (a list of key topics covered, with approximate timings, are provided).
Here are a few of the questions that Martin answered:

What do you need to consider when looking for your first NED position?

Consider the "why" – is it a hobby or nice to have addition to a day job or do you plan to go fully plural, perhaps at the end of your career. Think about the company who needs a NED or board advisor. Management or investors are being very deliberate, and you need to match it with the same level of gravitas.

Where can you find a NED role?
Martin told us none of his NED roles were ever advertised, and that there's a lot of competition for advertised NED opportunities.
By the time you see a role, the chances are hundreds of other applicants will have seen it too. You need to develop a strong personal brand. Not only will you receive more proactive approaches from businesses, but your applications will stand out from the crowd.

What experience do you need for a NED role?
The right fit and your own thought leadership are key, as well as experience.
Martin gives the example of a 25 year-old founder he works with, who is a real thought leader in his sector. This entrepreneur appears regularly in the media and has a strong reputation as a digital native and advocate for social mobility. Martin concludes "Experience isn't always measured in years."

What kind of remuneration can you hope for, and what costs might you face as a NED?
It's not uncommon to start in unpaid roles, especially in very early-stage businesses.
As a responsible NED you would want a business to invest its resources in growing the business. After an institutional funding round there's more likely to be an opportunity for an income. You'll need to consider what you need to earn and how many roles you'll need to take on. In some roles you might need to invest in the business, and investing carefully can lead to better returns later.

How is the role of NEDs changing?
The concept of a NED is growing in awareness and popularity.
Martin says he's "on a personal mission to encourage as many people as possible to do this". At the moment many people perceive it as a choice for the latter stages of a career. However, as it enters the mainstream there's room and a need for more diversity, especially in start-ups and scale-ups. The digital transformation trend isn't having as much of an effect as you might think. Martin says he's seen a pent-up demand for one-to-one, face-to-face support.


The key topics covered in this AMA, with approximate timings, are:

3.00 - Moving into a pluralist/portfolio NED career

4.30 - Cracking your first NED position – what do you need to consider?

7.00 - The high levels of competition for NED roles

9.00 - The need for personal branding, professional networking and thought leadership to make yourself stand out

10.30 - Finding NED opportunities through headhunters, jobs boards, paid networks, advertisements

12.30 - How do you stand out among applicants and get on a shortlist for a NED role?

16.00 - How much experience do you need for a NED role?

20.00 - How much can you expect to earn as NED, and are there costs involved?

25.00 - Will you have to provide equity investment?

27.00 - What kind of fees could you expect to be earning as a NED for different types of roles and businesses?

29.00 - The nuances between board advisors and NEDs in-situ

31.30 - Legal responsibilities for board advisors and NEDs

34.30 - From operator to influencer – the skills you need as a NED and how to learn them

38.00 - How much do NEDs need to be responsible for diversity and sustainability?

40.30 - What can we do to make Boards more diverse?

43.30 - Is the role of NEDs changing?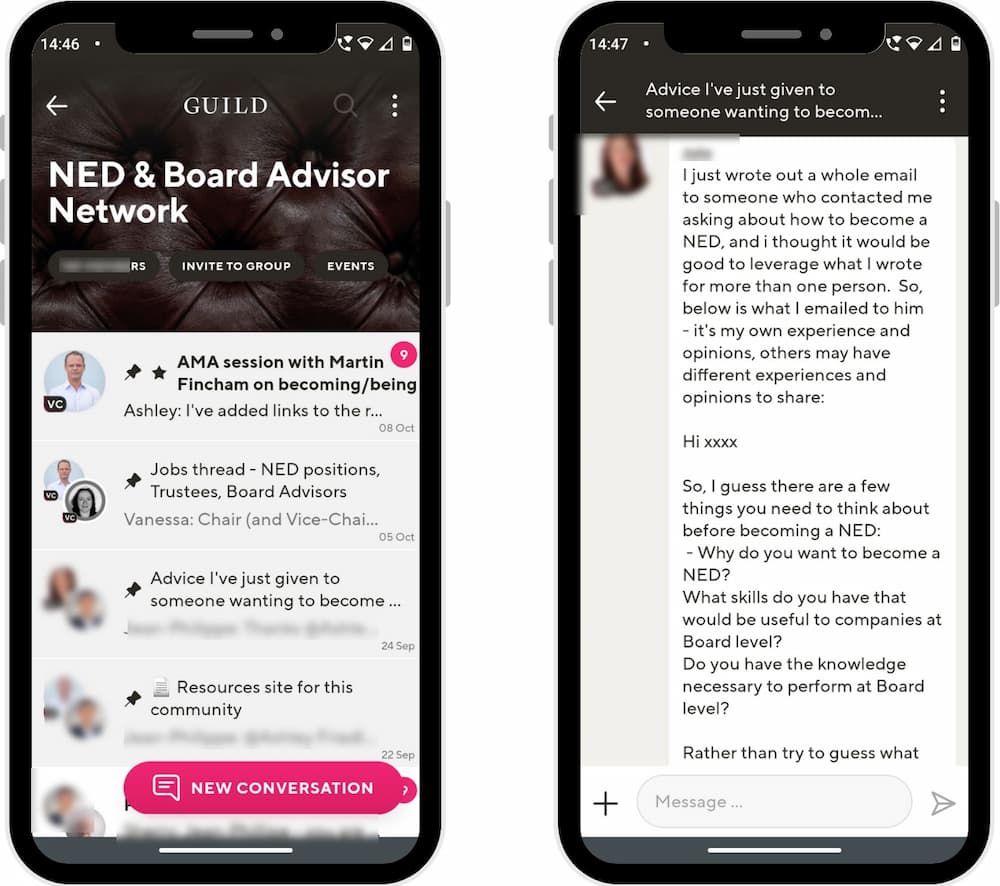 Martin Fincham is the host and Community Manager of the NED & Board Advisor Network.  
After 30 years in the technology business, as both an entrepreneur and corporate CEO, Martin is now a Chairman, Non-Executive Director and investor. He shares his expertise in B2B sales, marketing and growth management with businesses including Wazoku, Veeqo, Scoro, Blackcurve, Essentia Analytics and Bayard Consulting Group.

---
Join the NED & Board Advisor Network

Join the NED & Board Advisor Network if you're looking to connect with fellow full-time executives and portfolio professionals or if you're looking to move in to a non-executive and advisor role.
The NED & Board Advisor Network is a professional community on Guild where you can exchange ideas and advice on winning and succeeding at board non-executive director (NED) roles and other advisory roles.
Header image by  Kampus Production from Pexels