WhatsApp recently updated its policy on the Unauthorized usage of WhatsApp primarily to target anyone using WhatsApp for bulk or automated messaging which are violations of their terms of service.
However, WhatsApp are also tightening up on the non-personal use of WhatsApp which presumably includes using WhatsApp for business or commercial reasons outside of their WhatsApp Business offering.
The new policy states:
"In addition, beginning on December 7, 2019, WhatsApp will take legal action against those [...] that violate our Terms of Service, such as [...] non-personal use, even if that determination is based on information solely available to us off our platform."
Facebook also confirmed recently that adverts will be coming to WhatsApp and from a privacy point of view this is covered as a 'legitimate interest' to promote their products and conduct direct marketing: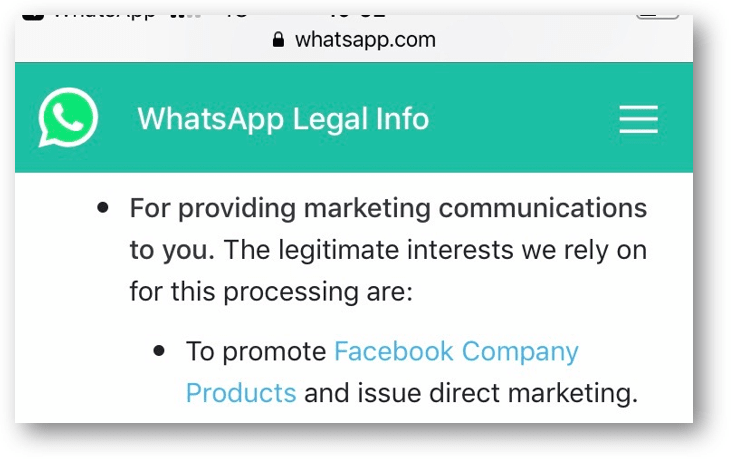 Where this consent is given by an individual, based on personal use, there is a much better chance that WhatsApp will stay on the right side of privacy regulation.
Where WhatsApp is being used by businesses and organisations for employees, customers, suppliers, stakeholders etc. then things become problematic and presumably this is why WhatsApp has hardened its stance on non-personal use.
If you are using WhatsApp for business purposes this is just another reason to reconsider. If you are looking for alternatives then read Eight WhatsApp alternatives for 2019
Try Guild now for free 🙂
Guild is free to use up to 30 members, across as many groups as you want. Just click on 'Start Free' on the Basic Plan on our pricing page now to set up your free account and start inviting people in. Contact us if you want to know more or have questions.