Our latest Guild user study (September 2021) suggests that Guild is an attractive platform for CEOs, founders and senior management to connect and network.
A sample of 25,000 Guild users found the largest single audience segment by seniority are 'senior management' at 31% of total Guild users.
Highlighting a trend towards joining smaller, intimate professional networks and communities with less noise and fewer distractions than on social media, it is interesting to see that the C-Suite continues to make up a significant number of Guild members.
16% of Guild users are CEOs or C-Suite executives such as Chief Financial Officer (CFO), Chief Operating Officer (COO), Chief Information Officer (CIO) and Chief Marketing officer (CMO) and 8% are founders or owners of the business.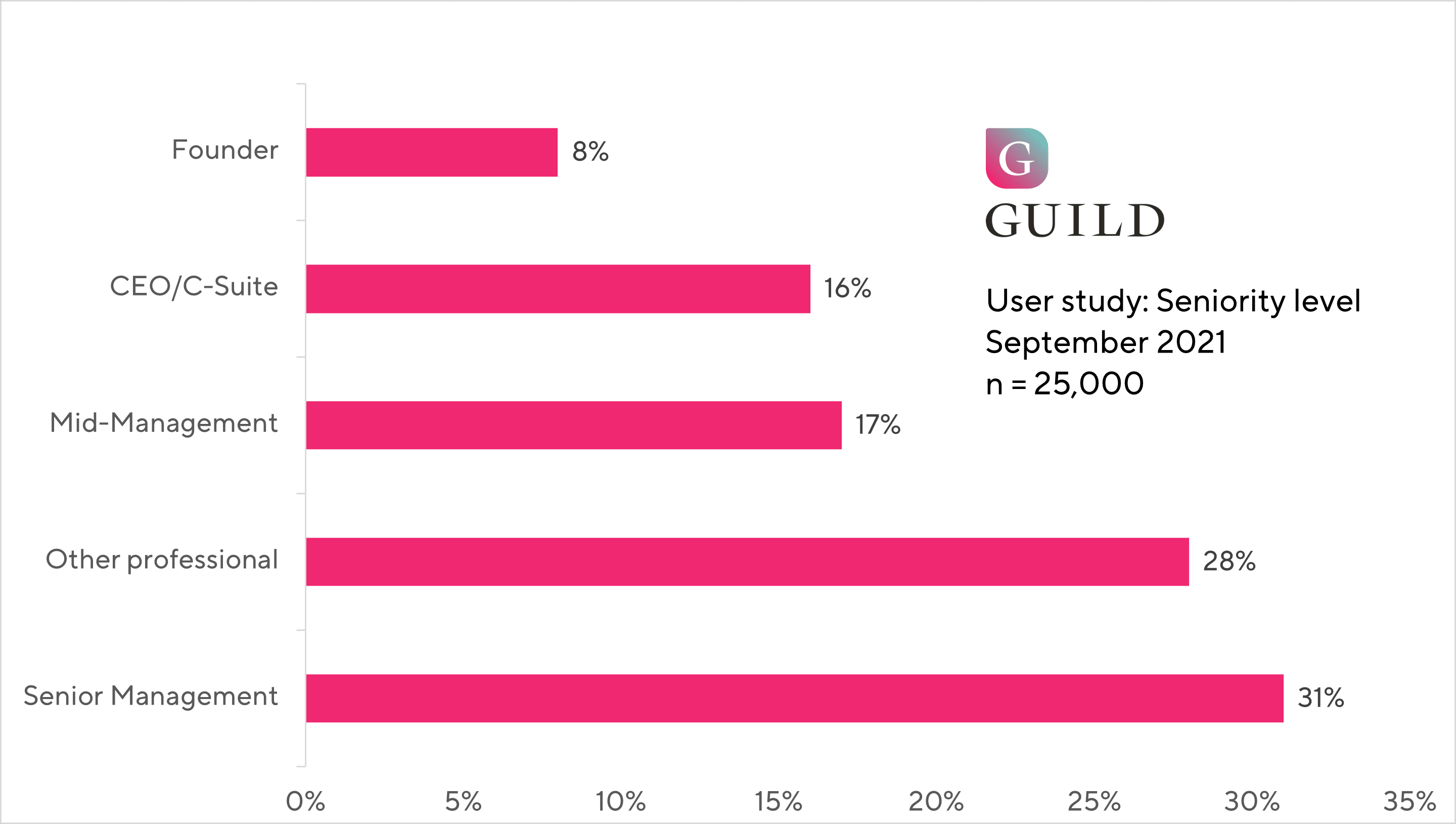 The 'Other Professional' (28%) audience segment has grown since our last user study in 2020. This audience segment covers a wide range of senior roles from sectors including Academia, Law, Engineering, Construction and Science.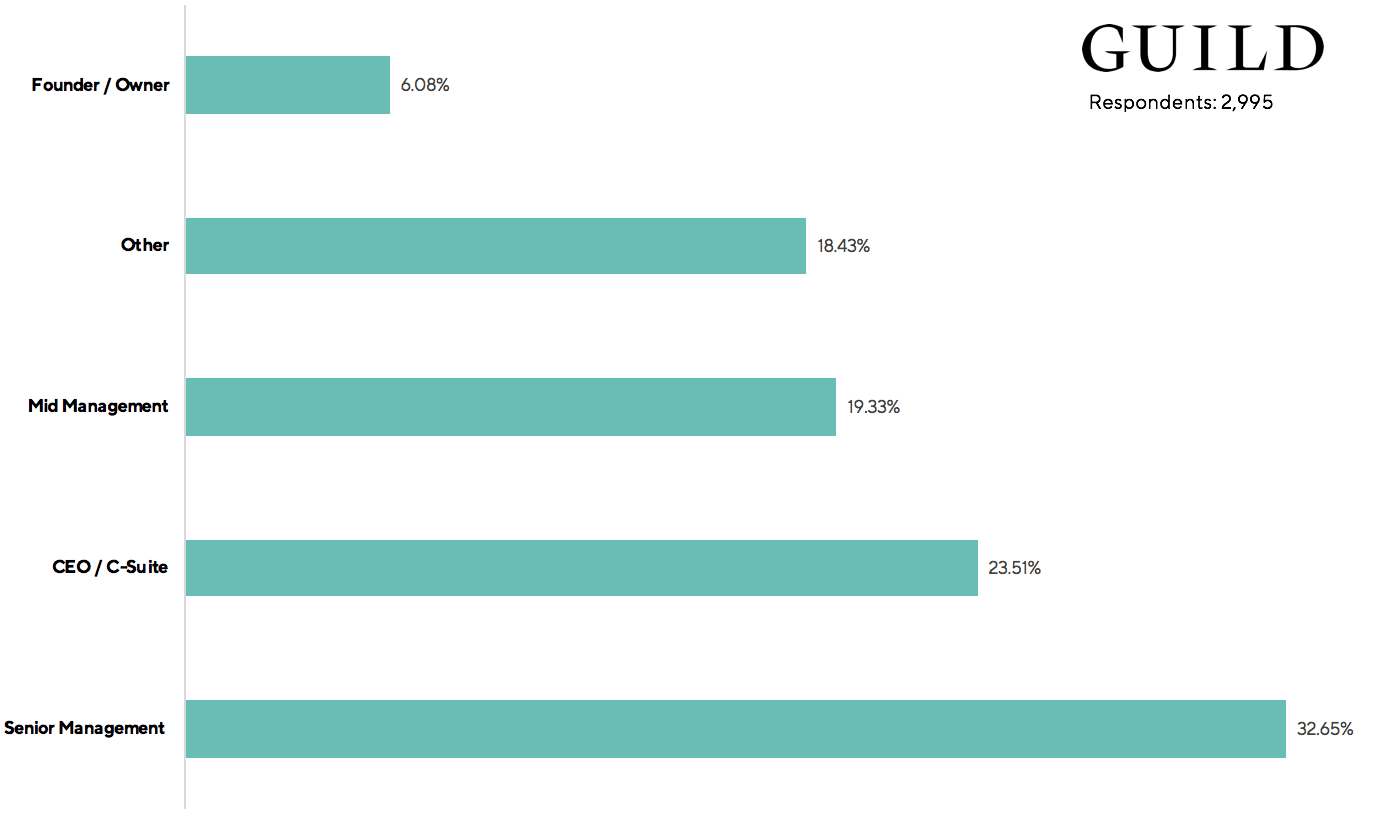 Guild founder and CEO Ashley Friedlein reflects upon these findings:
"Many C-suite Guild users have told us that they value a space to privately network with smaller numbers of peers that they trust and value.
Guild CMO Michelle Goodall adds:

"The continued growth of Guild members in senior management and C-Suite roles seems to reflect what we are being told by many. LinkedIn is critical for businesses, but if you are an individual in a decision-making role, it is becoming increasingly noisy and full of sales outreach.
My inbox is filled daily with sales-driven connection requests and InMail webinars, white paper downloads & so on.
By comparison, Guild is a place where conversation quality is high and you can think, reflect, discuss and debate without being constantly sold to."
Guild's platform for professional communities and networking is ad-free and the privacy-first invitation only experience means that senior professionals can connect, communicate and network without unwanted sales approaches or marketing clutter.
We fully expect the Guild user base to change over time and reflect the breadth of job functions and seniority in different industries, but for now it looks like the C-suite have found a network of trust, value and privacy.
If you are a senior professional yet to join Guild and want to experience it for yourself, join NED & Board Advisor Network, a peer community for NEDs (Non Executive Directors), prospective NEDs, and board advisers of all types to share, learn from, and help each other.
Hosted by Martin Fincham, experienced NED and author of "Diary of a Novice NED: A guide to going plural and developing a portfolio career as a Non-Executive Director", it's a trusted network and supportive group.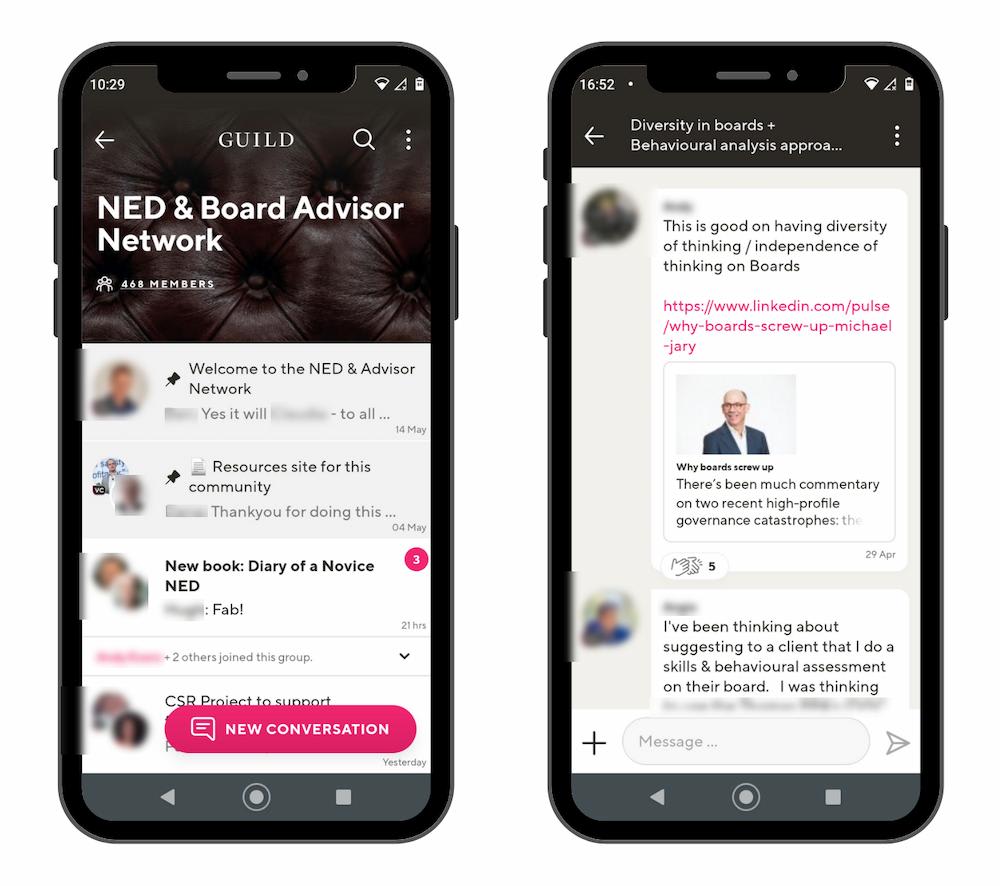 ---
Join Guild 🤝

See for yourself how the Guild experience is different to WhatsApp, Slack, LinkedIn or Facebook Groups. Guild is a safe space to connect, communicate and collaborate with others.
Join us on a platform that is purpose-built for professionals and businesses.
Contact us if you want to know more or have any questions.
---