Our latest Building Better Business is the CEO of a household name with over 5 million customers. Greg Jackson of Octopus Energy is on a mission to create "a customer-focused and affordable green energy revolution".
Octopus is one of Europe's largest investors in renewable energy. Greg Jackson's approach to team building is just as innovative - he believes "building a great team should be like building a dry-stone wall: rather than forcing people into 'cuboids' and sticking them together in neat little rows, we take authentic humans, and find ways for them to fit together naturally to form a truly solid team".
Greg gave us some time to talk about how his background inspired him to create Octopus,  how building communities - and listening to others - can improve your business, and the life of an entrepreneur is not for everyone.



Greg, can you tell us all about Octopus, please? As Marvel fans would say: What's the origin story?
"I think great ideas typically come at you more than once - and that's how you discover they're probably great ideas.
I grew up with a brilliant single mum who had three kids. We were on a very low income, and energy bills were one of the stresses. My mum had to make choices between paying for energy and buying clothes and all the other things you need in life. And I think that really sticks with you.
Then in the 2010s, there were lots of stories about energy fat cats in the UK. And you could see that energy companies had a business model which revolved around giving loss-leading prices to customers who either had a lot of time or who were very empowered, and then in return absolutely screwing others on price.
It was recognizing the price that was being demanded of busy people who'd got more to think about than trying to play hide and seek with the energy company. Getting screwed like that was the difference between buying Christmas presents and school uniforms.
I think you need to recognize what it really means to people when you're selling an essential service.
I find it genuinely heart-rending – sickening – that in other sectors, companies work unbelievably hard to drive costs down. If you look at what supermarkets and retailers do, they're consumer champions; they literally work to push costs down. And yes, they're brutal with their supply chains to achieve that.
And yet, when we looked at energy, it just didn't seem the same. I'd just sold a technology business. And with energy companies, the service was suboptimal, and they were clearly quite inefficient, bloated organizations. It appeared they were running out of date technology. And having sold a technology business, you could see the opportunity to transform sectors through technology.
And the last thing is I joined Greenpeace when I was 15 or 16 - I really care about the environment. Back then, all the energy companies were blaming environmental taxes and renewable for pushing prices up. And yet you could see the fundamental technology in renewables was going to drive costs down in the long run.
You had these bloated companies that, instead of addressing their own inefficiency, were just passing the buck. And they were passing it to something that matters more than anything else, which is the existential risk of climate change.
Between those things, I kept thinking there's got to be a better way to sell energy. I remember sitting in the pub one night, telling that to my mates, and they said, "if you really think that, why don't you do it?". So...I did.
As an entrepreneur, that's one of those things that drives you. You see a problem you think you can solve."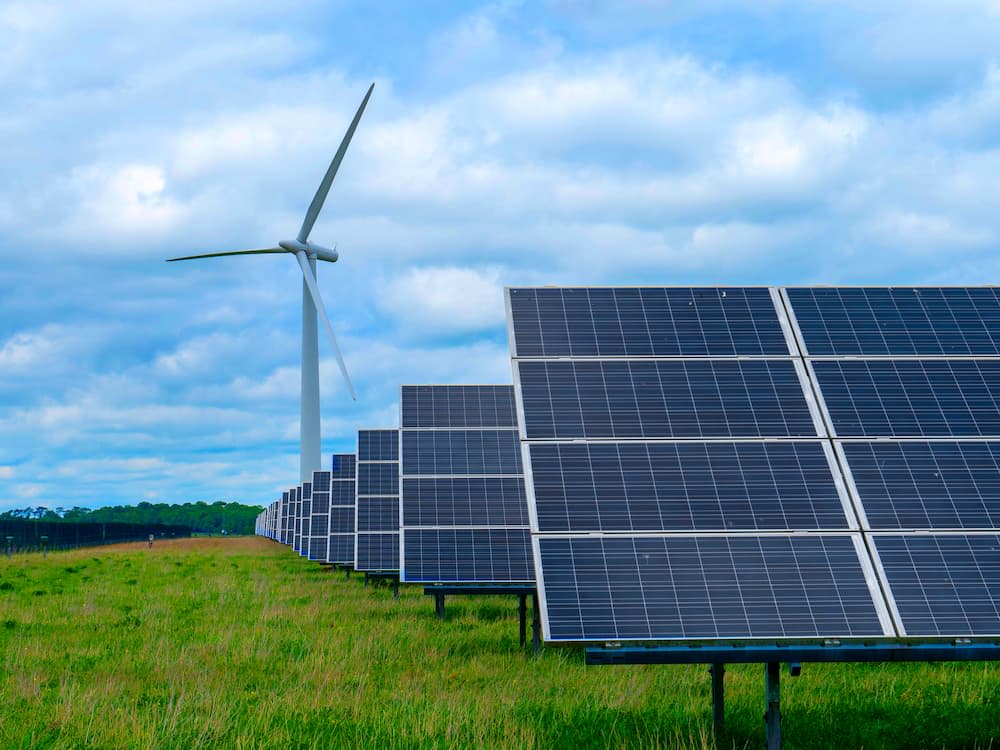 These feel like such enormous problems – how did you begin to break down a challenge like that?
"Well, I've started several businesses, and the magic in business is really: you start selling something.
You build a customer base - that gives you an understanding of everything that's required in a market. How do you source a product, how do you create operations, how do you formulate propositions that are great for customers – how do you look after customers?
The only way you can really do it, is by doing it, you can't sit and PowerPoint it out.
Because the moment you hit the real world, everything you thought turns out to be wrong. So I think the secret in any business really is finding a way to get started as a participant in the market as quickly as possible.
It's interesting because, about the same time as we started looking hard at energy, we also looked at financial services. One of the challenges there was, if you want to set up a "better bank", you had to get a banking license – that's 30 million quid and a couple of years.
That felt like quite an insurmountable challenge, and where people like Monzo were so smart is that they started creating a product using a prepaid debit card which let them get all the learning to piece together a path to being a fully licensed bank. So I think, in all these cases, the question is: how do you get started for real? And then build towards your dream?"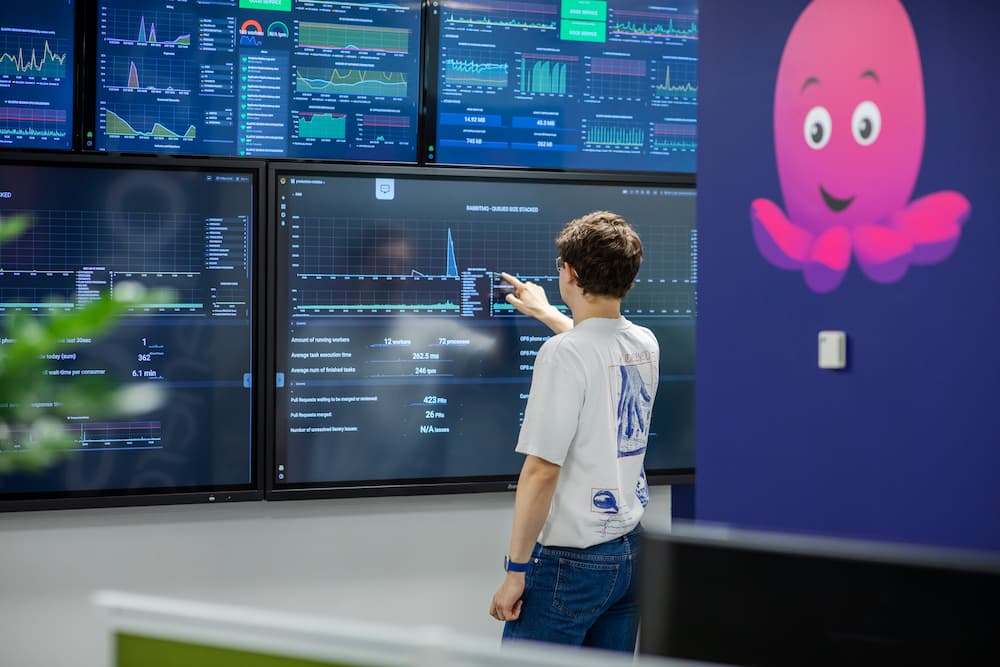 You've talked about your vision of using technology to disrupt the energy market. How have you done that?
"The business we sold before starting Octopus built enterprise software - technology for large organizations. We saw time and again that technology didn't just let you do what you used to do better, more efficiently; it let you do loads of new stuff as well.
What you see with proper technology revolutions is a complete reinvention possibility.
Too often, corporates look at technology as a cost reducer. If all you're doing is replicating your old processes, but a little bit more efficiently, you're missing out on the real magic.
We were privileged to work with loads of visionary companies when we had that business, using tech to do more and do it better, as well as do it more efficiently and more cheaply.
When we looked at energy,  we could see a whole load of processes that were decades out of date. For example, in the UK, the quarterly meter reading. There literally used to be a bloke who would come around from the Gas Board to read your meter, and that would go off into a pile of accounting. Later you'd get a bill, then you'd send a cheque – if you could – then they'd apply that to your account. When those processes were manual, it took three months, hence the quarterly bill. Bit by bit, the energy systems were computerized, but they still had that workflow.
I thought this was completely out of date – this is really a subscription service, you sign up, use electricity and gas, we run a continuous bill for you, and each month we direct debit what you've used. Broadly speaking, that digitization started with that very fundamental thought about the core processes.
At the same time, we were moving into this renewable world. In the world of fossil fuels, everything's analogue. Our grid was built for about 130 coal and gas power stations, and they can literally turn them on and off to meet demand.
With the renewable world, you have to invert the thinking - you have to look at the weather, work out when you have sunshine and wind, and then turn demand on and off to meet that generation. And that requires consumerization, massive amounts of data literally in real-time - if it's windy, let's try to find a place for those electrons. And if it's not windy, try to find ways of making those electrons less necessary.
It's really like Uber, the real-time matching of supply and demand based on price signals at a location. What you could see was the opportunity for reinvention - for improving efficiency and for dramatically better service.
We actually spoke to the energy companies and started talking them through this. We had reasonable credibility; we'd built big platforms as well. But I heard the classic phrases you hear when you come from a technology background; they would say, "energy is different". Every sector thinks they're different.
I'd also hear, "we're already hyper-efficient", "there's no need for this", "we've been doing this for 30 years". And we'd hear, "consumers don't want this kind of change; people just want their lights to come on; they don't care who their energy company is".
So the only way of entering the market turned out really then to take the approach, "If we can't convince you to let us build tech for you, we'll build it for ourselves. And we'll do it ourselves."
We set out to do two things: reinvent energy from a customer point of view, and build a technology platform that enables that.
And we always planned that once we'd proven it, we'd be able to license the tech to other companies. Essentially we de-risk, demonstrate what's possible, and then we license the tech, enabling us to drive our mission - to reduce dirty energy, to create more clean energy, and to turbocharge that by working with existing industry players, and also building a really good technology business.
And so far, we've done that. What I'm really proud of today is we've got Octopus Energy, which is an out, proud, loud brand, really designed to make energy more tangible for people and stand for something important and deliver what it stands for.
So you know, we are relentless in doing whatever it takes to deliver that mission. At the same time. We've got a technology platform, Kraken, which is now licensed to manage about half of UK households, about a third of Australia, and we've just announced a deal to license across four European countries. It's increasingly big around the world. Kraken's there to be a global platform for the future of energy."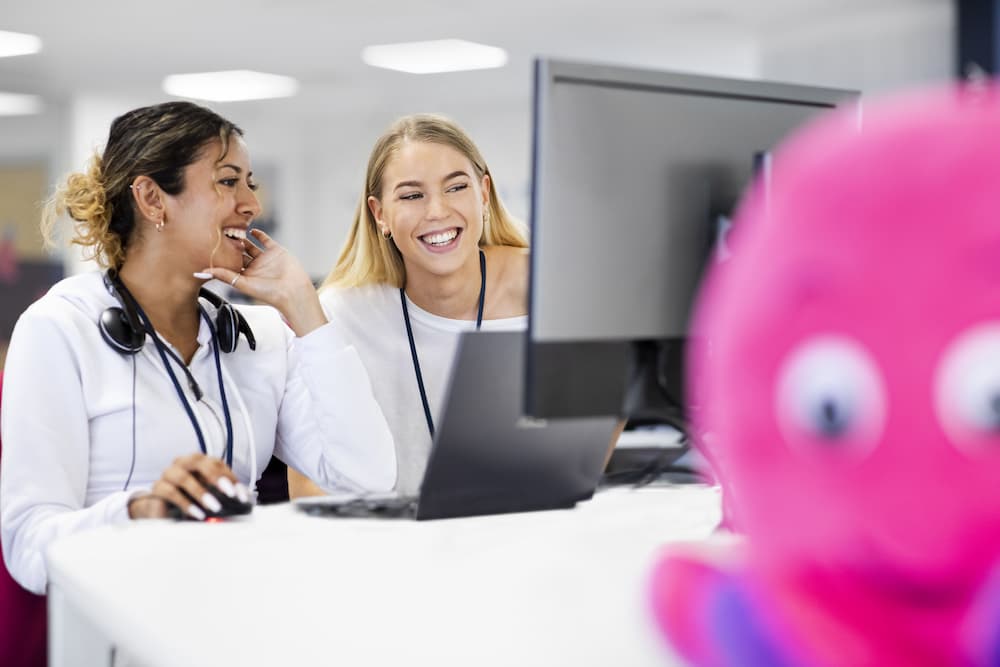 In previous interviews, leaders like Katie Vanneck-Smith, Shamil Thakrar, and James Timpson have told us about their business philosophies like work families, Seva and upside-down management. Are there business philosophies that are just as fundamental to you and your leadership team?
"There are loads - one of the great opportunities as an entrepreneur is reading about and learning about ideas and business and having the chance to do it.
Many people in business want to try something interesting, but there's a lot of management to prevent it. We have that opportunity to try things. This is the fifth business I've started.
Each business is a chance to try and get right what you didn't get right last time.
Like when you move house - you start with good intentions, but you build up clutter and bit by bit, it's no longer as sleek and lovely as it as it was when you started. So we try hard to bring to life a lot of things that we collectively learned and believed and to try and keep them true as we grow.
One or two that really spring to mind - we talk a lot about freedom and responsibility.
I believe that 95% of people come to work to do a good job. They don't come to work just to tick off some KPIs. They come to work because they want to deliver for customers. They want to deliver something they're proud of.
They want to win. Whatever it is that drives them. Most companies say in their recruitment ads that they want creative people to take responsibility. And you arrive and there's a massive amount of process that prevent you.
I started my "proper career" at Procter & Gamble, which was an amazing training ground. But there was a great article once in Marketing Week magazine that said Procter & Gamble was enough to knock the thrust of any thrusting young executive. I kind of knew what they meant.
So part of this freedom we talk about is the freedom to let people deliver the great results that they come to work to do. We make that tied to responsibility, which is people taking responsibility for the decisions they make.
We've got a very, very low-blame culture and blame flows upwards, but we need people to understand that this isn't a hippie free-for-all. We are here as a business with objectives and stakeholders, and we have to deliver for the people that have trusted us to do this.
I think that this combination of freedom and responsibility is our approach to be able to disseminate decision-making, to de-centralize and to de-process, but to do so in a way that is highly rigorous and disciplined.
It's easy to say that, but we have to be relentless. Every cloying process in a business is created by someone trying to do the right thing, and usually because something's gone wrong. So what we have to do is get people very comfortable with the fact that sometimes things will go wrong.
It's my job to make sure no one can make anything go wrong enough that it's an existential threat to the company, or be severely detrimental to a customer or that we can't sort out. That's the kind of responsibility we take.
One of my most joyous moments was when we recruited a new marketing director. She was getting some good work done and said: "Who signs this off?" - I said, "You do – you take responsibility for it. If you're worried there's anything in there that could be wrong, or could get us into trouble, we shouldn't be doing it. And if you think you need advice, go and find it. If you think you need a legal opinion, go and get it, but they're not signing it off. You sign it off, because you take responsibility." Once people get their head around that, they love it – that marketing director absolutely thrives on it now.
Back when I was at Procter &  Gamble, everything was about getting a signature – I had to get 13 signatures to get a piece of packaging changed. You start off really caring, but the process takes the life out of you and by the end, I just wanted the signatures.
Imagine all these incredibly experienced corporate lawyers who should be negotiating M&A deals or working on IP cases. Instead, there's 22 year old assistant brand manager coming around, trying to get a signature for the rinse and repeat on a shampoo bottle.
So a lot of our work is designed to make us a very human-centered organization, to motivate and inspire people to enjoy doing a better job and to get a lot out of it. And yet it's actually more risk-averse and less likely to create problematic risk than a large enterprise."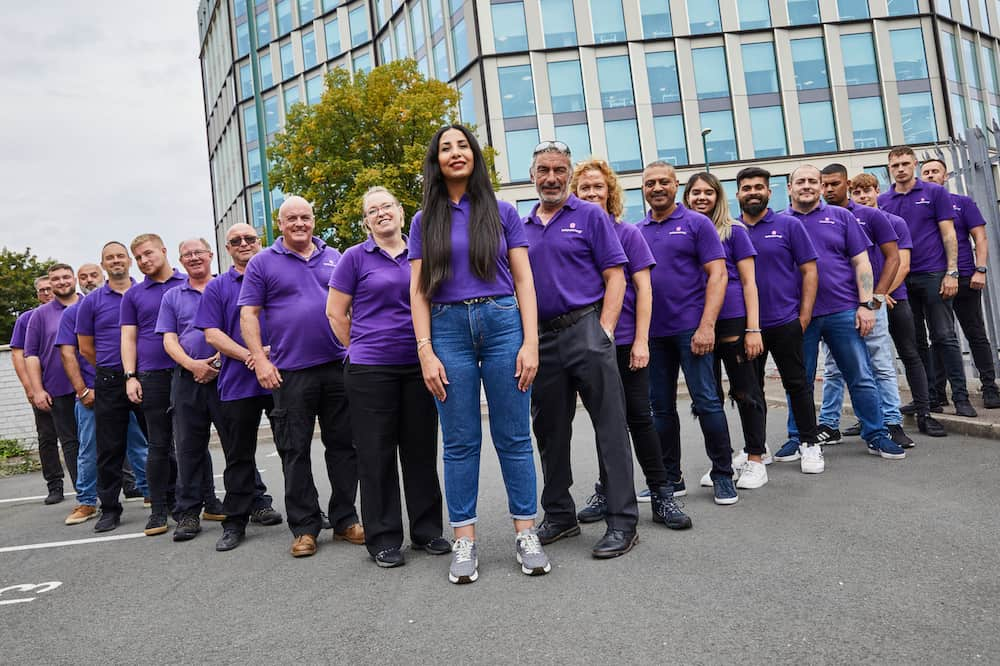 Tell us about some of the programs and initiatives from Octopus that are helping to change the world, beyond your business.
"For example, customers often ask us what they can do to help other people who can't pay their bills. So we allow our customers to round up their bill every month. We just paid out the first year of that, which is £150,000, to three energy charities. At the beginning of the year, we had 200 people signed up to it and by the end of the 8,500 - that explosive growth means that next year's cheque will be huge.
120 of our team recently ran a half-marathon in support of National Energy Action, which looks after vulnerable people who can't heat their homes, and the CEO of NEA turned up to support them, which was wonderful and beautiful.
There's a lot of that, but the biggest thing to me is that our mission is not "lipstick on a pig" - we really, really mean it.
For example, we just backed a project to build a cable from Morocco to the UK, building a vast solar farm in Morocco, and bring clean solar power to the UK that could generate 80% of UK electricity. Ambitious projects like that are necessary to decarbonize the world, so while other people try to justify a world of fossil fuels, we just want to do everything to eliminate it.
You'll see us in the press all the time talking about the importance of reforming the planning and permitting, and the ability to get grid connections. We've got 29 billion pounds available to build new, clean generation before 2030. We just want to be able to deploy that, but we will campaign like a campaigning organization if we're not able to do that.
And that's because fundamentally, you've got all these customers that want clean energy, and everyone in the company joined together to drive a cleaner energy future.
If we're held back by the monopolies and the rules, we just have to change them.
Last winter, I was really worried about customers who were too anxious to heat their homes. I pictured, you know, a pensioner sitting on the sofa, literally cold because they were scared. It was about 10 o'clock on a bitterly cold night. I've been talking to a PhD engineer who told me a human only requires about 40 to 60 watts to stay warm, yet a gas boiler burns 10,000 watts. And I realized that electric blankets are typically 40 watts.
So I phoned up our Chief Marketing Officer, we talked about it, and two days later, we've got 5,000 electric blankets in a warehouse and were sending them out whenever someone phoned us because they were scared to pay their bills or scared to heat their home.
We kept quiet about it, but eventually people posted on social media and we ended up with people like Martin Lewis recognising the benefit. Then there was a run on electric blankets - the UK ran out of electric blankets!
Fundamentally, that's what we mean when we talk about being customer focused. We weren't thinking about selling electrons and selling gas molecules, we were thinking about our customer, how they're experiencing life at the moment.
It's our job to do everything we can to try and help them stay warm. That kind of thinking is just about the customer, not about the business."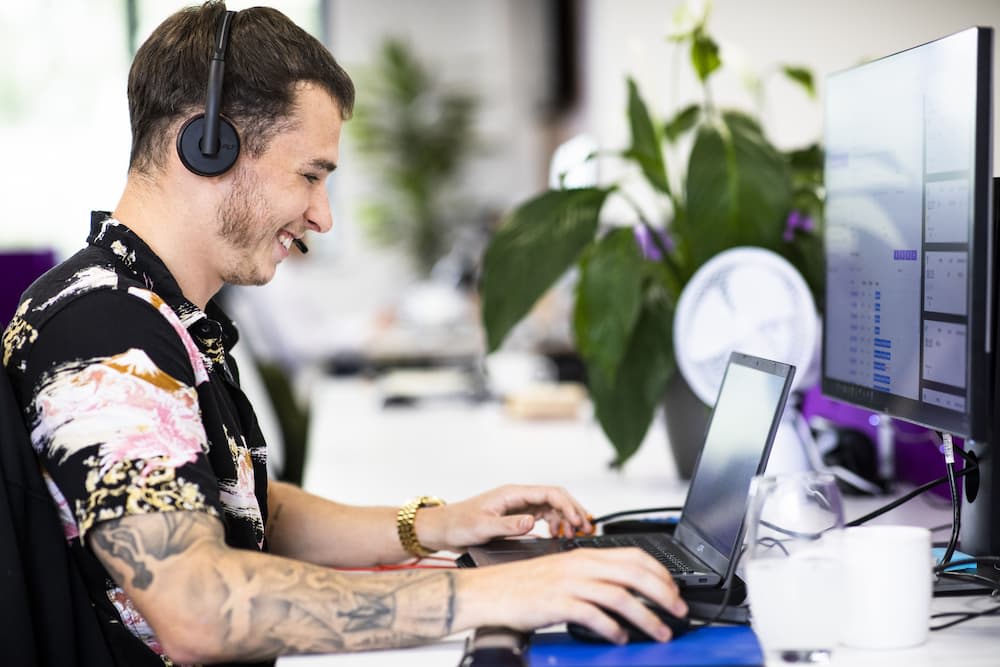 Let's talk about community. Do you think it's possible to build a business in 2023, without thinking about how community or community-led growth will fit in?
"Someone said trying to create a corporate culture is really difficult, but actually, culture is what happens.
You can behave in ways that you disseminate across an organization and generate culture change. But you can't define it.
You can't tell people "this is our culture" and expect them to behave that way. It has to be organic. It has to be authentic. And I think community is the same.
If we try to create a community, then we can put an awful lot of effort into something that isn't actually genuine, heartfelt community.
If we create the things that enable communities to grow, embrace them, go with the grain and go with the flow of that community, that can be incredibly powerful.
We see this in communities that we foster. For example, we've got loads of energy tariffs that are all about getting cheap electricity at times when renewables are abundant. We created forums where people ask questions, and communities have grown up around those forums.
Sometimes the community bursts out of that forum, into social media and Twitter or Facebook. But by working with that, listening to what those people are saying, and helping take the thing in the direction they want, it's incredibly powerful.
It has to work for both the business and the community – it's not like a democracy where everyone votes, and then we do that. But we listen to that community all the time to understand what matters to them.
And again, we listen to communities that spring up on social media around things like people who can't pay energy bills or how they experience services at different companies.
If people are complaining about how we've treated them, we need to listen and think, is it that the people are wrong, is it that we're wrong, or have our team members done something wrong, even if it's well-intentioned? Is it simply that we've got millions of customers and it's bound to be that somewhere we get it wrong, but we can learn from that? Or is it an opportunity to create new products and services that better meet their needs? That's why I'm on Twitter every day, talking to customers, listening to where we get things wrong, answering questions and helping them understand what's going on.
If I try to help customers understand something, they can come back and tell me they don't believe me, or don't understand it; that tells me something.
Fostering, nurturing, tapping into, going with the flow - communities are all powerful parts of what we do.


On to our quick-fire questions - first, are you a fan of business management books? Or podcasts? If so, what would you recommend?
"I am. I think with a lot of business books, the whole story is in the title, the blurb or the first chapter. But the good ones, especially ones that have come out of great research or really good historiographies, if that's the right word, I absolutely love them.
There are loads of podcasts but I particularly like a YouTube series, Magnates Media, that has 20-minute histories of companies across the centuries. I think they even did one on the economics of pirate ships, but they cover everything from TikTok to Vanderbilt through to Carnegie. Learning those lessons, whether they're from last year or 200 years ago, and everything between, is so fascinating."


And what advice would you give to your younger self or any young entrepreneur starting a business today?
"In the beginning, we talked about the importance of just getting going - I sometimes use the words wantrepreneur and nontrepreneur.
There are a lot of people who say I want to go and do this, I'm going to do this. I have one friend I would meet up with every six months for a curry. He was a successful investigative journalist, and he wanted to go and do his own thing, but every time we met he'd say, "I just need one more client relationship, one more session with the financial experts".
I said you're never going to do it, are you - either do it now, or stop talking about it.  The next time we met, he'd done it – and I had this horrible feeling that if it went wrong, it was my fault. Anyway, a couple of years later, he's the happiest he can be. He's been able to learn so much and has an incredibly successful business that delivers on everything in terms of what he's trying to achieve.
So my advice is do it, or don't do it. If you're never going to do it – or at least you're not going to do it yet - that's totally cool as well. Just be comfortable.
By the way, I don't eulogize much about entrepreneurship – it's brutal. It's risky, it destroys your life, it's knackering, it destroys your health. There are a lot of things that can be very wrong with it. Honestly, I'm a lot younger than I look! I spent the last four nights sleeping on planes - while you've got that fire and ambition to grow, it never gets easy.
That's a big thing for me - I'm not going to tell everyone they should be an entrepreneur and go and do it. But what you shouldn't do is sit there, wishing for a different life - either do it or don't."


One final question, what would you do if you weren't doing what you're doing now?
"Well, for a long time, my fallback if it didn't work out to be a motorcycle courier because of the adrenaline rush.  20 years ago before emails were ubiquitous, London was full of these people on motorbikes, nailing it...I definitely envied them. Although once while I was still at Procter & Gamble I turn up at our ad agency on a horrible rainy day, in my soaking, grimy, horrible motorbike leathers, and the receptionist told me "deliveries round the back"…
But it's something like that, where the daily, minute-to-minute experience gives you a high that would be quite interesting."
---
More Building Better Business Interviews

Learn from other founders, entrepreneurs and leaders who've featured in this series about better business practice.
Katie Vanneck-Smith, co-founder of Tortoise and now Chief Executive Officer of Hearst UK
Shamil Thakrar, co-founder of Dishoom
Sarah Waddington, founder of Socially Mobile
Shereen Daniels, author and MD HR rewired

Timpson CEO James Timpson
Saasha Celestial-One co-founder of OLIO
Sarah Jordan, founder of Y.O.U Underwear
Sarah Brown, founder of Pai Skincare
Ben Brooks-Dutton, Managing Partner at The Unmistakables
Emma Sexton, creative strategist and Founder, Inside Out Awards
Sam Branson, co-founder of HiddenLight and Big Change
---
Join Guild 🤝

See for yourself how the Guild experience is different to WhatsApp, Slack, LinkedIn or Facebook Groups.
Guild is a safe space to connect, communicate and collaborate with others.
Join us on a platform that is purpose-built for creating groups, communities and networks on mobile.