In Brief

The charity Bookmark was launched in 2018 with a simple vision: "we want every child to read".

According to UK government research, 1 in 4 children are unable to read well when they leave primary school. As well as impacting life chances, poor literacy is a bigger societal issue - a study showed that 43% of UK adults do not understand basic health advice.

Sadly, during lockdown in the UK, 380,000 children were at home without a single book.
Bookmark offers fun, engaging, one-to-one reading support for children age 5-8 who are at risk of not meeting the expected standard for reading. Each child has two, 30-minute, one-to-one reading sessions with a volunteer every week, for six weeks. The sessions are structured to combine level-appropriate texts with interactive games to develop the child's reading skills and their confidence.
The charity use Guild to stay in touch with a network of 350+ volunteers.

Bookmark plan to grow their volunteer community to ensure that no child in the UK is left behind when it comes to literacy and life chances.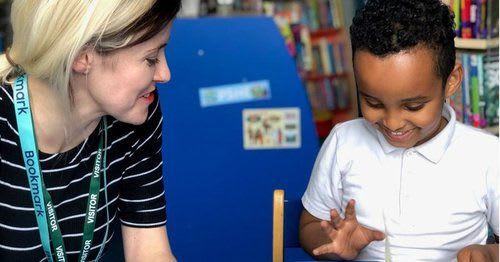 Why use Guild and not other community platforms like Slack, Facebook Groups, WhatsApp or Mighty Networks?
We spoke to Jenny Cater, Community Manager at Bookmark about her experiences conecting with a volunteer community on Guild.
Before turning to Guild, Bookmark used another app to manage their volunteers, but there were challenges. Jennifer explains:
"During the summer of 2020 we managed the volunteer community via a messaging app, this worked really well as an interim solution and the community were very engaged, however we wanted to ensure that we considered other options to help us scale and formalise our communities as effectively as possible.
We were also very conscious of the potential GDPR implications of using the platform and wanted a place where our volunteers' data would be managed effectively.
Guild is as easy to use as other messaging platforms and had just the right amount of features for us to manage the community."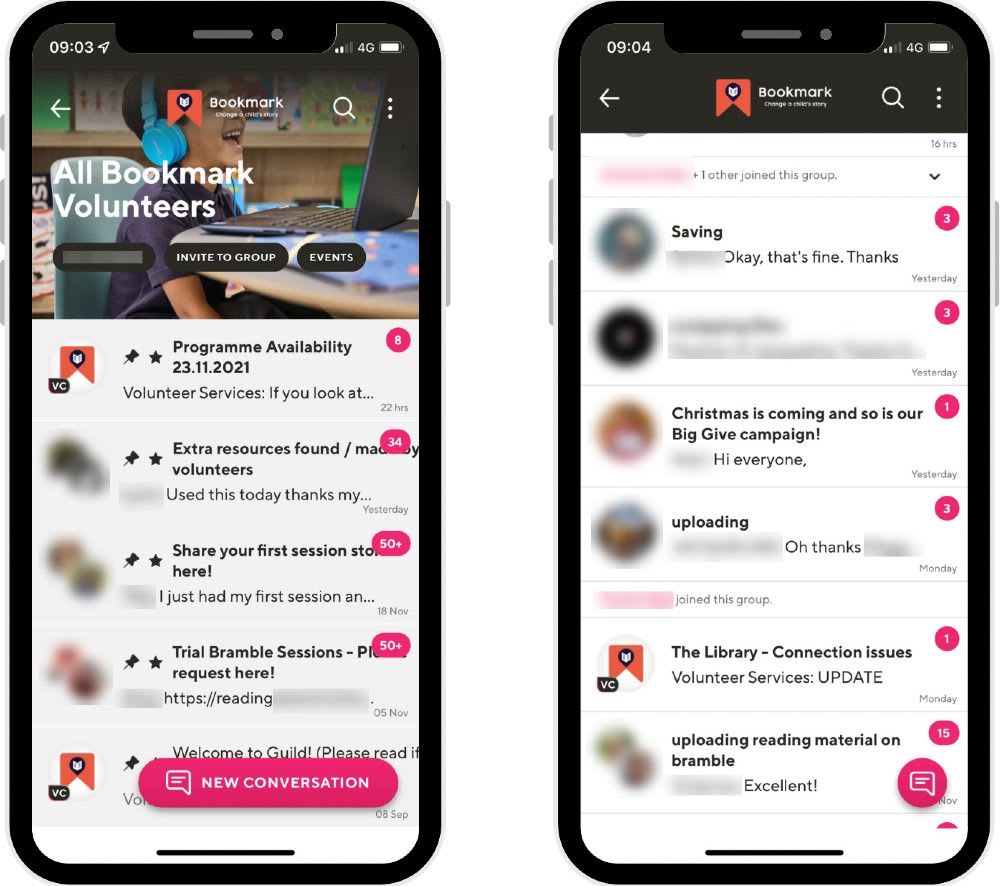 How has Guild benefitted your charity?
If you are a charity, you'll know that volunteer support is vital.
Jenny shares how Guild has helped the charity manage Bookmark's amazing volunteers more effectively:
"Our volunteer community is growing really quickly, which is a great problem to have, however from an administrative perspective it can be more to manage. For many of our volunteers this is a new experience which is why we need to give them as much support as possible.
At Bookmark, our volunteers have lots of great questions. We wanted a way to answer these in one place and encourage the community to help each other out.
The ability to search the Guild volunteer community for keywords means that volunteers can often find the information and discussions they need in the community without needing to email or call us."
Jenny continues and talks about how Guild fits in with Bookmark's tech stack and how to overcome challenges around the perception of "oh no, not another app":
"Guild sits within our resource library, so whilst Guild is its own platform the resource library enables us to provide a suite of resources that our community can access without feeling too fragmented.
For volunteers who are worried about having to download another app to their phone, the option of being able to use Guild's web version immediately overcomes that hurdle."
What tips would you give to other charities wanting to start a community on Guild?
Jenny shares some top tips for charities considering Guild for creating and mobilising communities of volunteers, trustees, fundraisers, donors or service users:
"If you plan to use Guild (and we would strongly recommend you do!), make sure your whole organisation knows exactly why you are starting a community and what the objectives of that community are.
We spent time 'selling' it into the organisation. It needs to be part and parcel of what you offer as a service within your organisation, it can't be a sidelined affair.
I briefed all of the community managers and colleagues in other departments to make sure they were aware of this new initiative and what we were trying to achieve - a safe, GDPR compliant way to mobilise our growing group of amazing volunteers.
Our comms team recently did a write up of the community and our customer support and our training team constantly remind our volunteers that the community is there for them.  It's about small nudges and encouraging your community to make a habit of it.
Throw yourself into it, if you want to make a good go of a community you need to put in the effort to make it a success. We've tested different ways to bring volunteers into the community via social media and webinars.
Don't be afraid to change tack and try new things out. Experiment. If one thing doesn't work, try something new. You can't be disheartened and give up."
Thanks to Jenny, the Bookmark team and your wonderful group of volunteers for making a big difference to so many children's lives.
More charity case studies:

"The more we look into Guild, the more we think about how we can use it in other ways to support our charity, our communications and fundraising objectives. Head of Digital - UK Charity
Read about how 'The April Fools Club' community on Guild has raised >£750,000 for the RAF Benevolent Fund.

Read how Seable use Guild to co-ordinate staff and volunteers https://guild.co/blog/case-study-seable-guild-accessible-professional-messaging-app/

Read how Guild helps Habitat for Humanity build houses in Honduras
---
Join Guild 🤝

See for yourself how the Guild experience is different to WhatsApp, Slack, LinkedIn or Facebook Groups.
Guild is a safe space to connect, communicate and collaborate with others.
Join us on a platform that is purpose-built for creating groups, communities and networks on mobile.