COVID-19 has accelerated the process of digital transformation in most industries. Whilst some organisations have been quick to adapt, many are struggling.
Sherry Coutu CBE, is a digital visionary. She's entrepreneur, former CEO, angel investor and charity board member. She anticipated female founders would need help through their accelerated journey of digital transformation.
With the help of industry partners, The Good Growth: Unlocking the Power of Digital conference for Female Founder conference was born. The initiative was collectively mobilised by Founders 4 Schools, Google, Tata Consultancy Group, Snap, Enders Analysis, London & Parters and Forgather.
The conference supported a diverse community of female entrepreneurs and business owners, from different sectors and business size.

It featured inspirational speakers including Depop, Beautystack, The Trainline and The Social Element CEOs Maria Raga, Sharmadean Reid, Clare Gilmartin and Tamara Littleton, Ooni founder Darina Garland and Unilever's Global Vice President of Ecommerce Clare Hennah.
Tata Consultancy Group supported the event by creating the Good Growth entrepreneurs community on Guild.
The community exists as a supportive space for business owners and entrepreneurs to discuss topics such as investment, marketing and scaling businesses.
As well as connecting with like-minded professionals,  community members are encouraged to sign up to Digital Boost a programme where they can receive mentorship and guidance from experienced digital professionals.
Why did you decide to set up an online community to support your B2B event?
Sherry Coutu, an existing user of Guild, chose Guild as the community platform to host the 'Good Growth' event community.
Jennifer Stanzl, the community manager, explains why community is such an important part of running an event:

"Far too frequently, events bring together incredible people with problems to solve or opportunities to explore. People attend an event, get excited and energised by the speakers and workshops and then that energy, momentum and the connections made are lost.

We saw the potential long term impact of supporting women at different stages of their business growth with a community that could continue to facilitate mentoring, professional connections and collaboration to generate real business growth"
What was your EventTech Stack?
The Good Growth virtual event ran on the Hopin platform and the events' branded online community platform runs on the Guild platform.
Live polls provided audience engagement. These were questions about the business growth challenges that attendees were facing .
Panel events included this stellar line up of CEOs Maria Raga from Depop, Sharmadean Reid from Beautystack, Made.com's chairman Susanne Given and Ooni co-founder Darina Garland.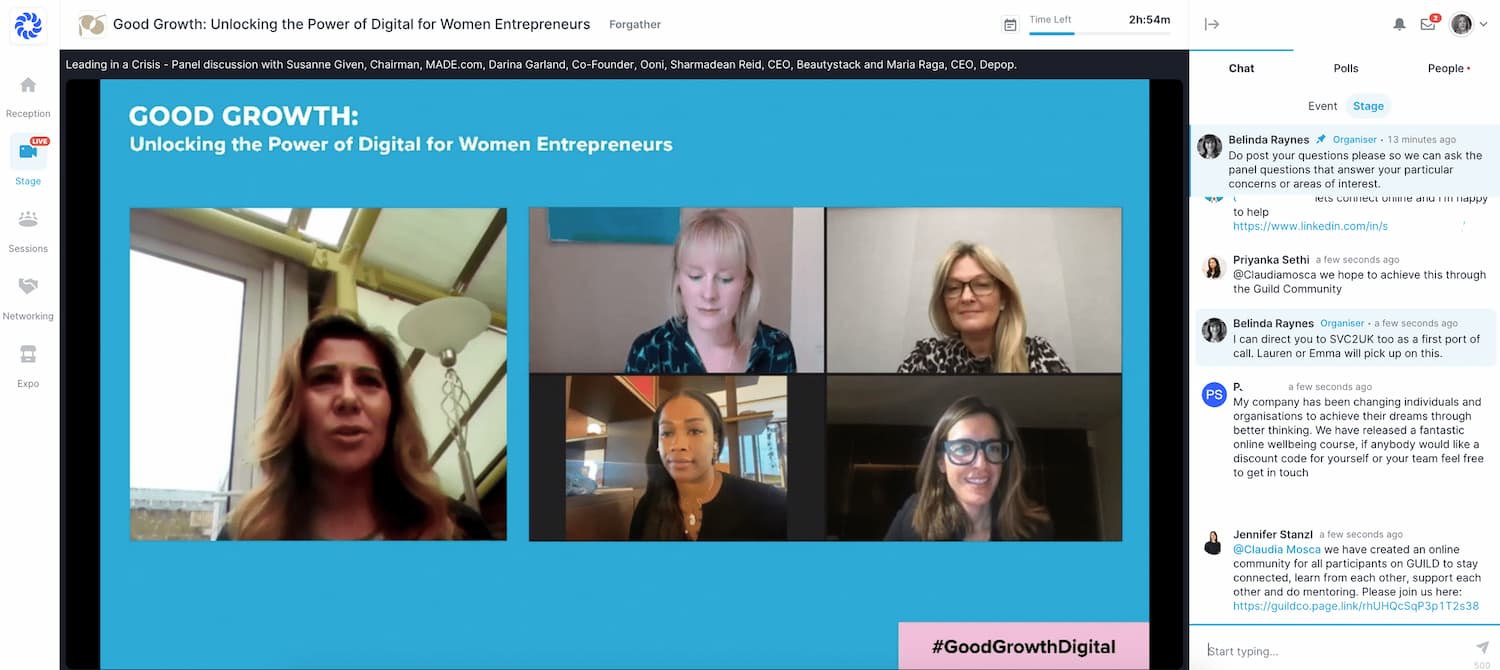 Breakout workshop sessions were cleverly themed to match business challenges dependent on size of business.
For example, in the start up/scale up marketing track Tamara Littleton from The Social Element ran a workshop on personal branding and developing a personal narrative.  Nikki Rae, Google Garage trainer hosted a social media workshop for micro businesses.
The event hosts regularly announced to delegates during the event to join the community on Guild and they posted links in the Hopin chat stream.
They actively encouraged attendees to continue connecting and networking in the Guild group.
What do you like about Guild?
Jennifer and her colleague Priyanka Sethi were tasked with setting up and branding the event community. She explains:
"It was really simple to set things up and get started on Guild.
We used email and social platforms to ensure that we didn't just drive conference registrations, but also highlighted the Guild community and encouraged entrepreneurs and business owners to join."

The team liked the 'pin threaded posts' feature. A common way to kickstart gathering attendee chat pre-event that can feed into the event content, Priyanka continues:
"Ahead of the event, we were able to highlight specific speaker sessions in the threaded conversations. One really powerful element of setting up a community on Guild was that we were also able to gauge common business pain points that the speakers might be able to address at the conference.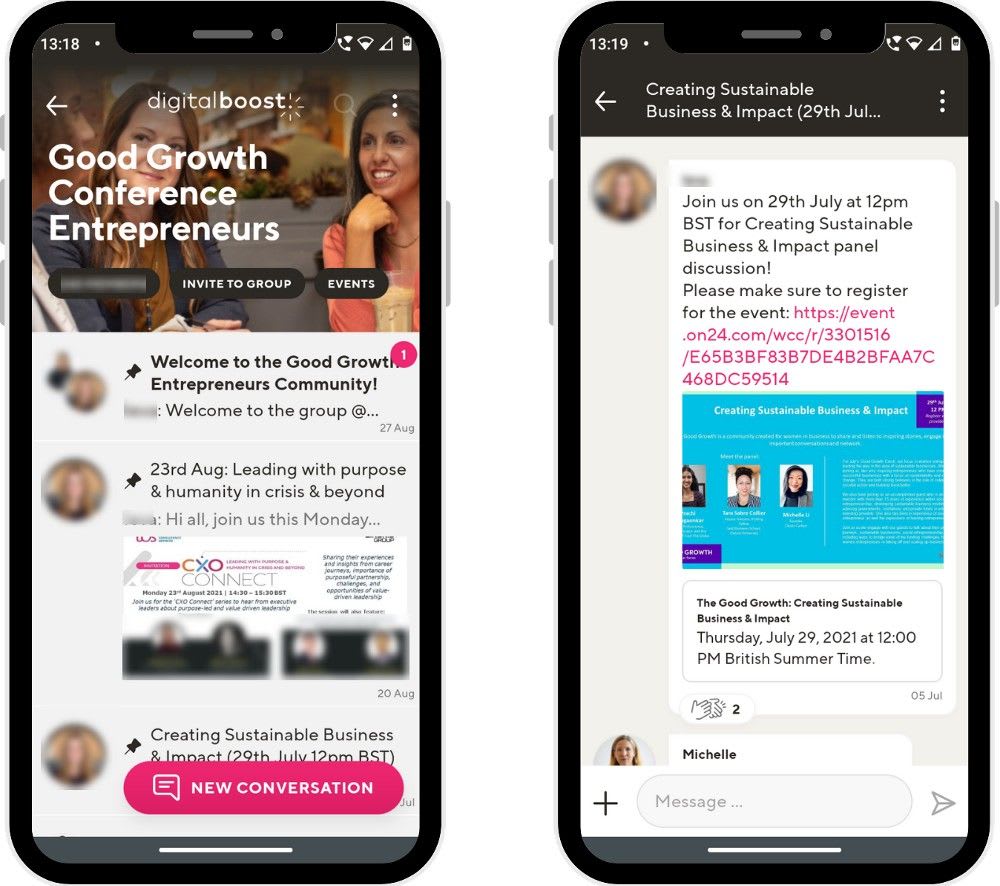 The simplicity of a messaging platform combined with the professionalism of business profiles was another plus point for the team. Jennifer explains:
"Unlike WhatsApp or Slack groups, Guild feels like a professional space. Not boring, just much more professional. Compared to LinkedIn, its so much more clean and elegant.  
We encouraged members to use some of the personal/professional branding tips they picked up from the workshop session with Tamara to highlight their professional self, link to their business websites and social presences and to celebrate their professional wins."
How can I join the Good Growth community?

The Good Growth community will continue to support female-led businesses and entrepreneurs and is happy to accept members who agree to the community guidelines.

Join Guild 🤝

See for yourself how the Guild experience is different to WhatsApp, Slack, LinkedIn or Facebook Groups. Guild is a safe space to connect, communicate and collaborate with others.
Join us on a platform that is purpose-built for professionals and businesses.
Contact us if you want to know more or have any questions.
---