In brief

Nest Commerce specialises in paid social and creative for ecommerce brands at scale. Their clients include brands like Ted Baker, Rixo, Finisterre, ME+EM and Seraphine.
CCO Luke Jonas wanted to develop a community to enable peer-to-peer discussion for senior ecommerce marketing professionals.
Nest's objectives were to create a trusted and curated space for peers to connect, communicate and discuss ideas, as well as share their teams' expertise.
Luke spoke to us about why Guild is the right platform for their fast-growing, engaging Ecommerce Marketing Exchange community.


Why was creating a thought leadership community important to you?
"Most brands have a strong understanding of the importance of paid social channels to drive revenue and brand awareness. But it's such a fast-moving sector that even experienced marketers find it hard to keep up to date.
Our company values are all about curating a deep understanding of our industry, sharing our expertise and commercial awareness.
We know it's crucial to keep embracing new ideas and stay ahead of the curve.
A community is the perfect medium to support marketers in our industry with our knowledge and expertise, but more importantly to enable peer-to-peer conversations, ultimately creating a space of ideation and problem-solving."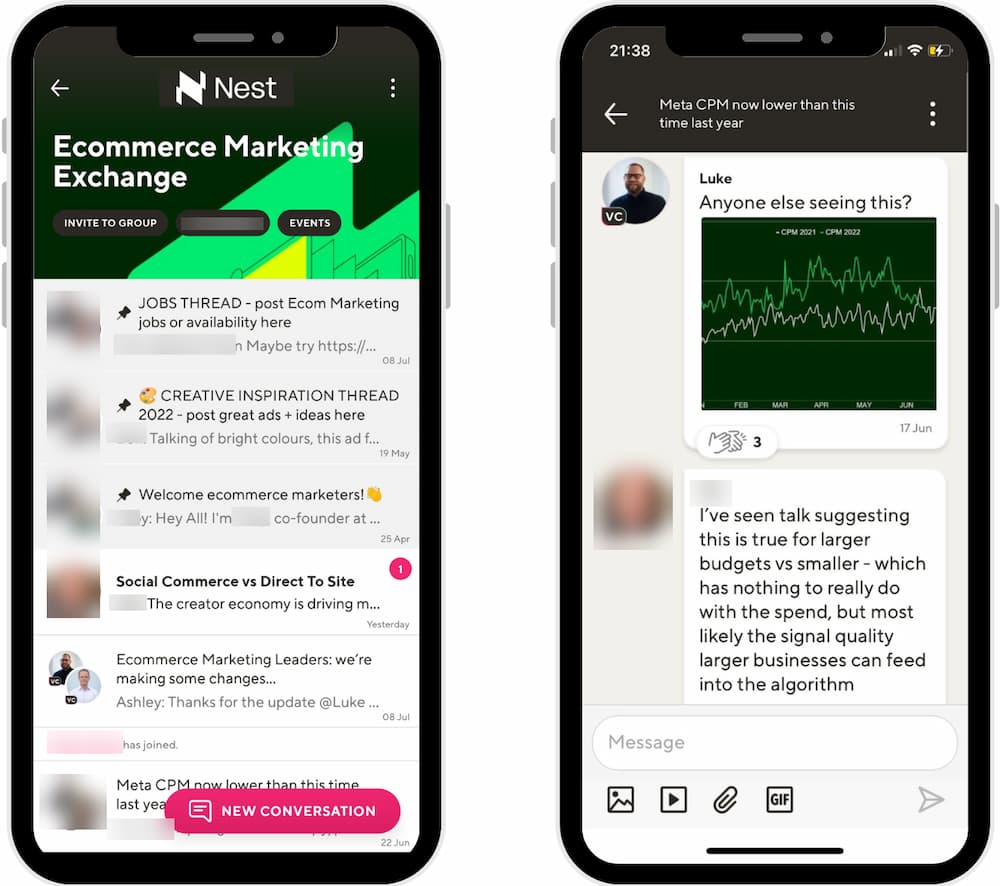 Why use Guild and not other community platforms like Slack, Facebook Groups, WhatsApp or Mighty Networks?
"Guild is so easy to get started with and is the perfect space for discussions. It has the right set of features for a community and excellent support from the Guild team when we need it.
A dedicated space where the conversations are threaded means we can focus on deeper conversations that can last for days or weeks in the community.  
At the same time Guild lets us be part of a wider professional network. The Nest team participate across a host of other high quality communities that align with our sector.
Being active in other spaces helps us offer more value to our community members. We can pick up on new ideas and trends elsewhere that can be applied specifically to ecommerce marketing and our own community needs."


How has the Ecommerce Marketing Exchange community on Guild benefited Nest Commerce?
"It's really a continuation of the point I made above. We're able to share our research and learning with a receptive community. At the same time our team is able to keep an ear to the ground and understand the challenges the wider market is tackling.
From a commercial perspective, hosting a community has enabled us to be closer to our clients and prospects all year round. When they need our support, we're hopefully front of mind."


Who should join the Ecommerce Marketing Exchange community, and why?
"Ecommerce Marketing Exchange is designed for experienced marketers and senior practitioners. Most of our members work in ecommerce and have 10+ years experience in digital, marketing or related functions, but it's not set in stone.
We discuss trends and share best practice and recommendations. For example we have a creative inspiration thread where anyone can post brilliant ads and ideas they've spotted. We also share trends, predictions and advice for important events such as Black Friday.
The community is perfect for those burning questions that you don't want to ask on social media and to connect to peers you wouldn't necessarily otherwise get exposure to.
Nobody's going to try to sell you something or prove a point, you'll only get recommendations and helpful responses."
Photo by Paul Felberbauer on Unsplash

---
More professional community case studies on Guild:
Sherpa connects global Channel Leaders with a community of practice on Guild
Digital consulting firm Addictive - Fix Ad Tech / Perfect Storm
MSI Global hosts legal and accounting professional communities on Guild
Agency Hackers host agency leaders peer-support community in Guild
B2B Marketing hosts peer support community of CMOs on Guild
Podge connects its events community on Guild
---
Join Guild 🤝

See for yourself how the Guild experience is different to WhatsApp, Slack, LinkedIn or Facebook Groups.
Guild is a safe space to connect, communicate and collaborate with others.
Join us on a platform that is purpose-built for creating groups, communities and networks on mobile.