In brief

The Chartered Institution of Wastes Management (CIWM) is the professional body for resource and waste professionals, with over 5,500 members in the UK and overseas.
The organisation was established in 1898 to tackle the public health nightmare in the UK's Victorian cities.
Today the CIWM supports and represents individuals  and organisations in a very different sector, focussed on reduction, reuse and recycling of resources with minimising waste going to landfill.
There is much that we can learn and recycle from the past, but mobilising and activating a geographically dispersed membership of 5,500 needs a new approach...and new technologies.
The CIWM chose Guild, the world's leading professional messaging app as a mobile-first, immediate and efficient way of communicating with their member communities.
Regional and sector member groups on Guild enable members to share ideas and best practice in the communities that are most relevant to them. It also keeps CIWM at the centre of where those real-time member conversations are happening.
The Opportunity

The Chartered Institution of Wastes Management members are dispersed across the UK and beyond.
There are different geographical groups, committees and councils, such as the 'Scientific and Technical Committee', 'North East Members' Council' and 'Circular Entrepreneurs'.
The CIWM wanted an efficient way for members, distinct member groups and regional councils to connect with each other in a private, compliant and immediate way.
As well as seeking more efficient member communication channels, the CIWM wanted to appeal to a wider audience, particularly younger waste management professionals, to ensure that CIWM's community evolves, grows and new ideas thrive.
How has Guild helped you and others at CIWM?

Paul Sloggett, Head of Member Engagement explains why CIWM chose Guild as their member engagement and community platform:
"Guild has allowed our members to feel part of a wider community that spans beyond their immediate geographies.
The digital communities provide a sense of being part of something much bigger -  a movement that you don't necessarily get from smaller groups that meet in the physical world. Guilds immediacy allows our members to share information quickly to their peers in different parts of the UK."
Paul continues, "Guild has helped us engage with new communities -  particularly entrepreneurial groups who are working within the circular economy. The app has enabled us to develop relationships with entrepreneurs providing new perspectives to the CIWM community and we have been working closely with them to develop unique content and insight."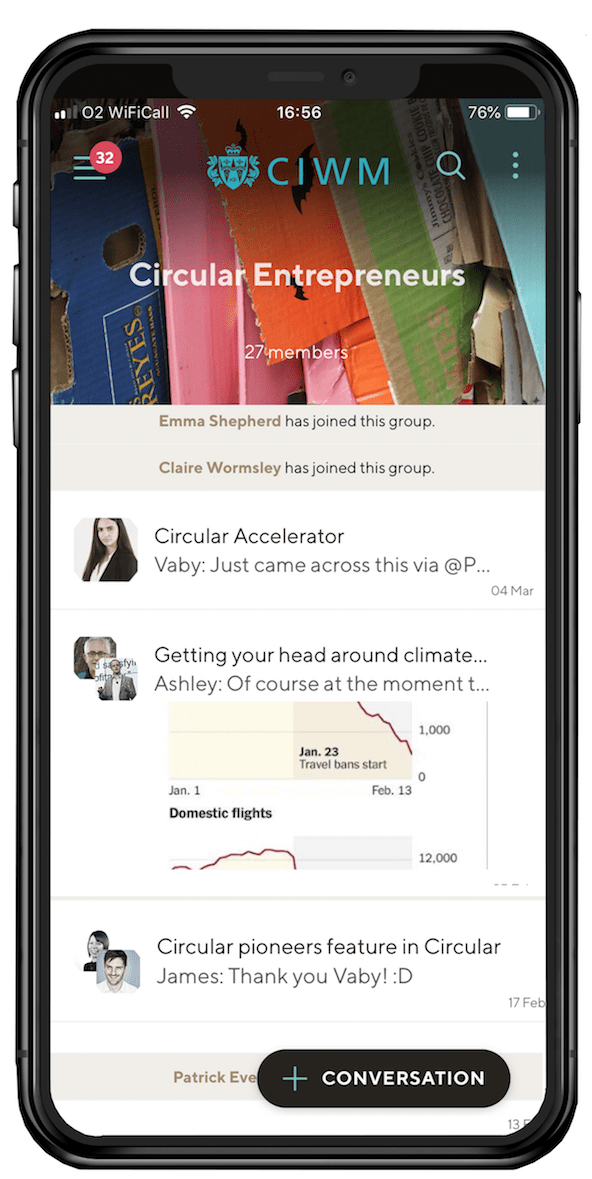 What do you/they like most about Guild?

There are surveys that suggest mobile messaging is the preferred communication channel for Generation Z (8-23 year olds) and younger Millennials only.
Paul's experience is that professional messaging works well across all CIWM members and all ages.
"We like Guild's simplicity, the straightforward user-friendly design is an important consideration for us. Our members' familiarity with messaging solutions like WhatsApp, means the adoption of Guild has been an easy transition for our members."
"A large cohort of our members have operational jobs which means they are always on the move, Guild's set up process allows our members to get signed up quickly and on their mobile devices."
The CIWM is also able to develop Guild groups around specific events and to continue the momentum generated by these physical member events and meet ups.
Paul Sloggett explains, "This year we organised a site visit to Hamburg and were able to set up a group for all our Hamburg attendees, the group was used to organise the site visits and to continue the conversations, Guild has helped us capture and maintain the energy experienced on the trip."
Do you have any advice for any other membership and community managers?

"Lead by example, use Guild how you wish others to use Guild. Be a good host, like you would do at a dinner party, encourage discussion, share useful and relevant information."
---
Join Guild 🤝

See for yourself how the Guild experience is different to WhatsApp, Slack, LinkedIn or Facebook Groups. Guild is a safe space to connect, communicate and collaborate with others.
Join us on a platform that is purpose-built for professionals and businesses.
Contact us if you want to know more or have any questions.