Comms and PR professionals are communicative and collaborative by nature. No wonder many of them are in Guild communities, seeking and providing professional and peer support.
There are several communities on Guild that are laser-focused on the needs and interests of Comms and PR professionals.
We all know that sharing experiences and challenges can make your job less stressful. And helping others can also inspire your own work.
Doing this in a safe, private space with peers who just understand where you're coming from is invaluable.
If you're a PR or Comms professional, student or academic here are a few Guild communities that you can apply to join right now.


PRCA PR and Comms Community

Do you want to champion best practice in PR and communications?
Want to do that in a fun, open, global environment?
The PRCA built this Guild community as "the go-to group for all levels of PR professionals who want to build new networks, be challenged, and stay updated on the latest industry news".
You don't have to be a PRCA member to join. Everyone is welcome. It's a good way to get a feeling for the work and culture of the world's largest PR professional body.
Request to join the PRCA PR and Comms Community


PR Academia
This community is for PR and Communications global academics and practitioners interested in bridging the professional and academic gap in Public Relations. The group is hosted by the PRCA and is a place for collaboration, sharing ideas and content, gaining feedback, and building helpful connections.
PRCA membership is not a joining requirement.
CNT: Charity and Nonprofit Trailblazers
Do you work in the charity, non-profit or public sector in digital, marketing, communications or fundraising? This group is for you.
It's a collaborative space for strategists and practitioners at all levels to learn, share and "blaze a trail for charity and non-profit success". Your host is Fay Schofield, an experienced social media and digital strategist working in the charity and non-profit sector.
Request to join Charity and Nonprofit Trailblazers

CIPR Inside
Are you a CIPR member with an interest in internal communications?
This group is a safe space for internal communicators to start conversations, share ideas and connect with each other. Join to discuss processes, technology, policies and trends. Example topics discussed include communicating change, employee experience and covid communications.
CIPR Crisis Comms Network
Are you a CIPR member with an interest in crisis communications?
This group is hosted by the CIPR Crisis Network committee members and is a safe space for CIPR members to discuss crisis and issues management.
Request to join CIPR Crisis Comms Network
CIPR Greater London Group

A virtual, private group for CIPR members within the Greater London Group to connect, communicate, share experiences and best practice.
Request to join CIPR Greater London Group
CIPR East Anglia Group

The CIPR East Anglia Group represents PR and communication professionals in Bedfordshire, Cambridgeshire, Essex, Hertfordshire, Norfolk and Suffolk. A virtual, private group for CIPR members who live or work in East Anglia to connect, communicate and share experiences and best practice.
Request to join CIPR East Anglia Group
Comms Solo

Are you a solo in-house communicator? Do you wish you had a colleague to trade ideas and compare notes with?
Kim Sklinar did and as a result she created #CommsSolo. It's a supportive community for anyone in a "team of one", or who feels that they are. As one member said "the best thing I ever did was ask for help".

Horizon Comms
Are you new to internal communications, or do you have years of experience?
Either way you're especially welcome to join this community, run by Dan Holden. As a member of both the CIPR Inside subgroup and IOIC FutureNet committee, Dan has a passion for supporting professional development in the sector. This is a relaxed and friendly group where questions, tips and shared experiences about all things internal comms are welcome.
#CommsHero

Are you the secret superhero in your organisation?
#CommsHero founder Asif Choudry created the award winning CommsHero conference in 2014 to celebrate the heroics comms people perform every day.
Whatever discipline you're in, this community is there to support you year-round. Whether you work in comms, marketing or PR this is a place for you to share knowledge and useful tips and "to remind each other how important comms is to every organisation".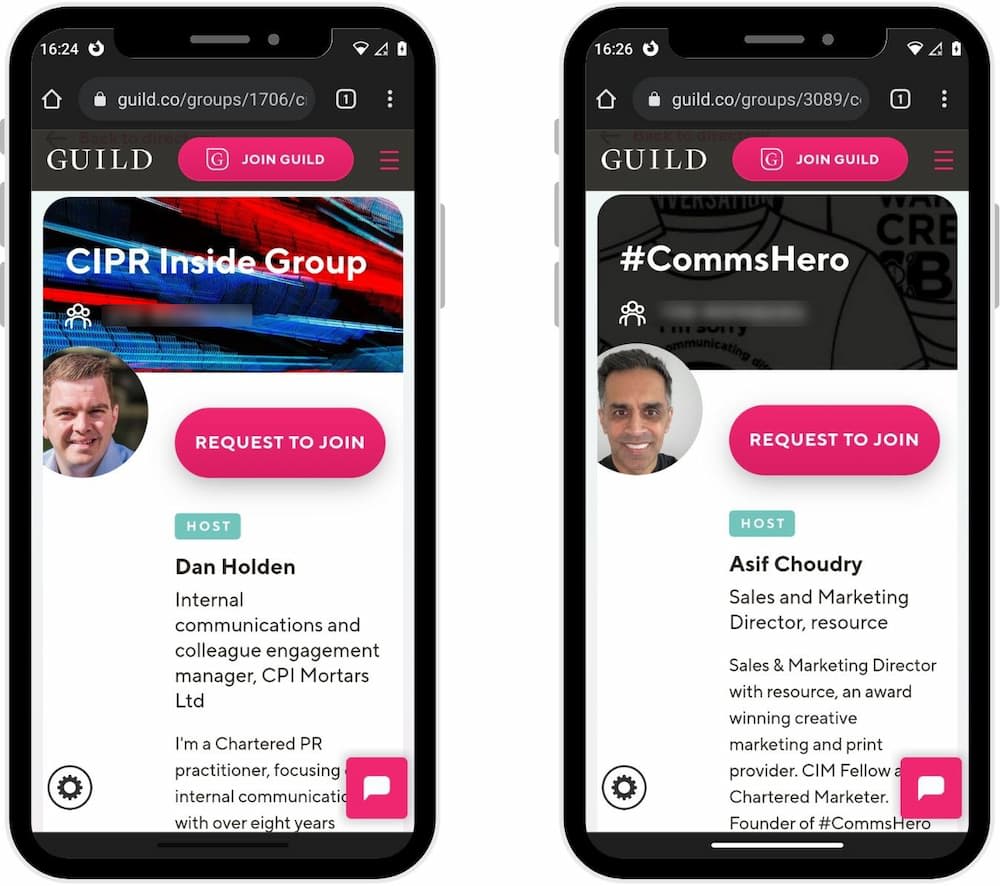 Comms & PR Pioneers

Are you looking for a broader network of comms, PR and marketing professionals?
The Comms & PR Pioneers group is hosted by Guild's CMO Michelle Goodall. She's an award-winning comms practitioner and has been called "The Dame Judi Dench of social media". If she can't help you, she'll know someone who can!
Join global community that is a collaborative 'broad church' of B2B and consumer PR practitioners, journalists, search marketers, digital PR, social media specialists, public affairs and crisis comms specialists, senior marketers, academics and PR students. Generous people, at all stages of their careers, sharing resources, discussing the latest PR trends, technology, research, events, campaigns and professional news.
Request to join Comms & PR Pioneers

This is just a snapshot of communities for PR and communications professionals on Guild.

Practitioners, businesses and professional bodies are creating new communities every day. Some are private and invite-only - you can create your own community on Guild for free.
Make sure you explore the Guild directory as soon as you've joined as a member.

---
More communities to explore in PR, marketing and comms on Guild

FORT - Furloughed or Released Talent


More resources for PR, marketing and communications professionals:

What is Community Based Marketing (CBM)?
Podcast: People Buy People on Community Building
Why Online Community is all to play for in the Comms and PR sector
---
Join Guild 🤝

See for yourself how the Guild experience is different to WhatsApp, Slack, LinkedIn or Facebook Groups. Guild is a safe space to connect, communicate and collaborate with others.
Join us on a platform that is purpose-built for professionals and businesses.
Contact us if you want to know more or have any questions.