The Marketing Society is a not-for-profit membership organisation whose mission is to unite a global community of marketing leaders.
With over 2,700 global members from organisations including Apple, Barclays, HSBC, IHG, L'Oréal, Mars, Samsung, Unilever, Vodafone and Wells Fargo, the team work hard to improve "the quality and importance of our profession and our impact on business, the economy and in society.
The power of community is key to the Marketing Society's work: "we know that together, as a community, we achieve more than we do alone".
The society has a comprehensive programme of events, professional development, awards and content. In 2021, they sought to connect members directly with an online community and chose Guild as a platform because it had the right mix of ease of use, mobile-first design and a professional feel.
Sophie Devonshire, CEO at The Marketing Society, shared her thoughts about why they chose Guild to home their "Coffeehouse" membership community:
"The Marketing Society is a global network and we've always wanted to find a way for our regional hubs to connect with each other in a simple and seamless way.
A big part of The Marketing Society is knowledge sharing and what better way to facilitate that than in an online private community. I'm really looking forward to seeing what relationships are forged in our Guild community."
We caught up with Stacey Telford, The Marketing Society's Community Manager, to hear about how their community of senior global marketing members is thriving - and growing!
Results in brief
Community is a key part of membership benefits
Feedback from community helps improve member benefits offer
Secure, GDPR-compliant member-only community
Member-to-member support and 1-2-1 connections support retention and engagement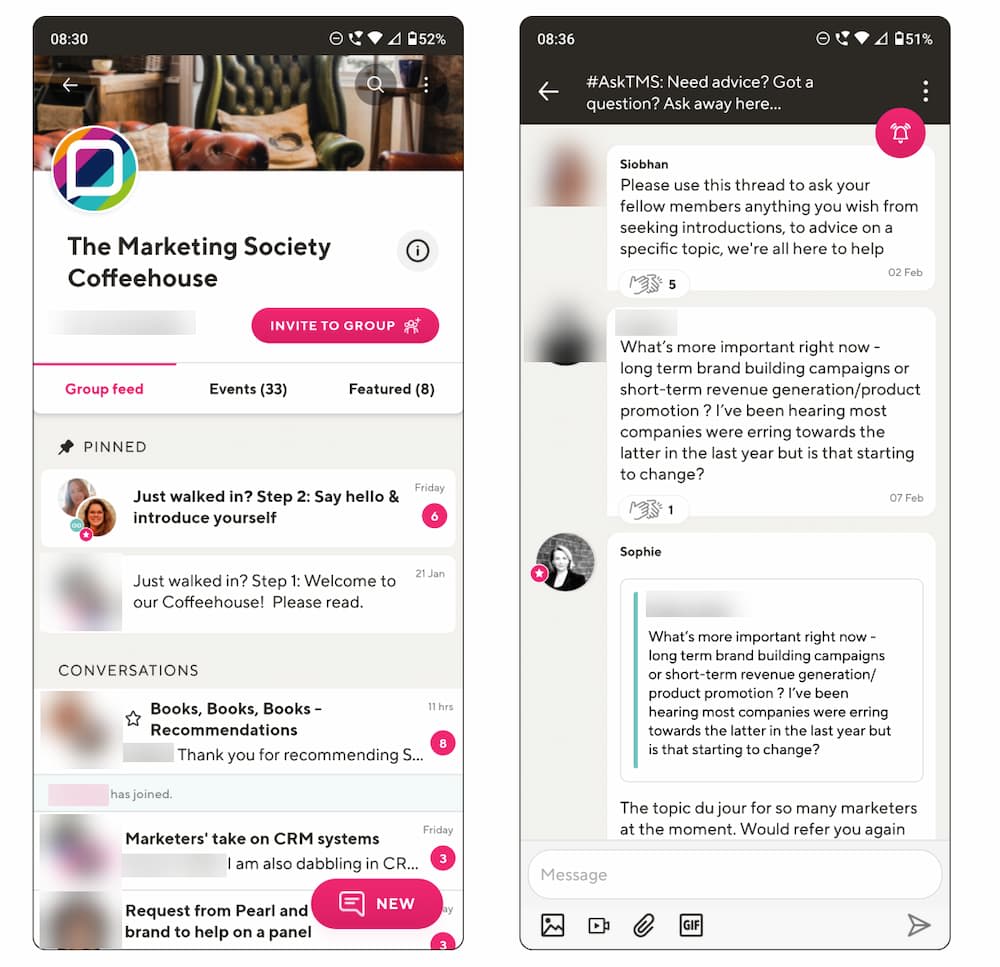 Why was creating a membership virtual community important to The Marketing Society?
"The Marketing Society is made by our members.
We know that exciting and valuable things happen when everyone gets involved and contributes to the conversation. Challenge and debate are also important in any membership organisation that wants to grow with its members.
To achieve that we needed a safe space where the community could feel safe amongst peers.
Our social media activity is important to us - it remains a good way to connect with the outside world, recruit new members and broadcast our messages.
But for building deep relationships with our members, creating a sense of real member value, belonging and influence, events and community are the key pillars.
Our Coffeehouse community is a key part of our membership offering, and it helps us to evaluate and refine every other member benefit we offer.
Offering a private online community makes it easy for members to talk about what matters to them, ask for help, give advice and learn from different perspectives - whether that's from peers in other industries, regions or with different approaches to marketing ."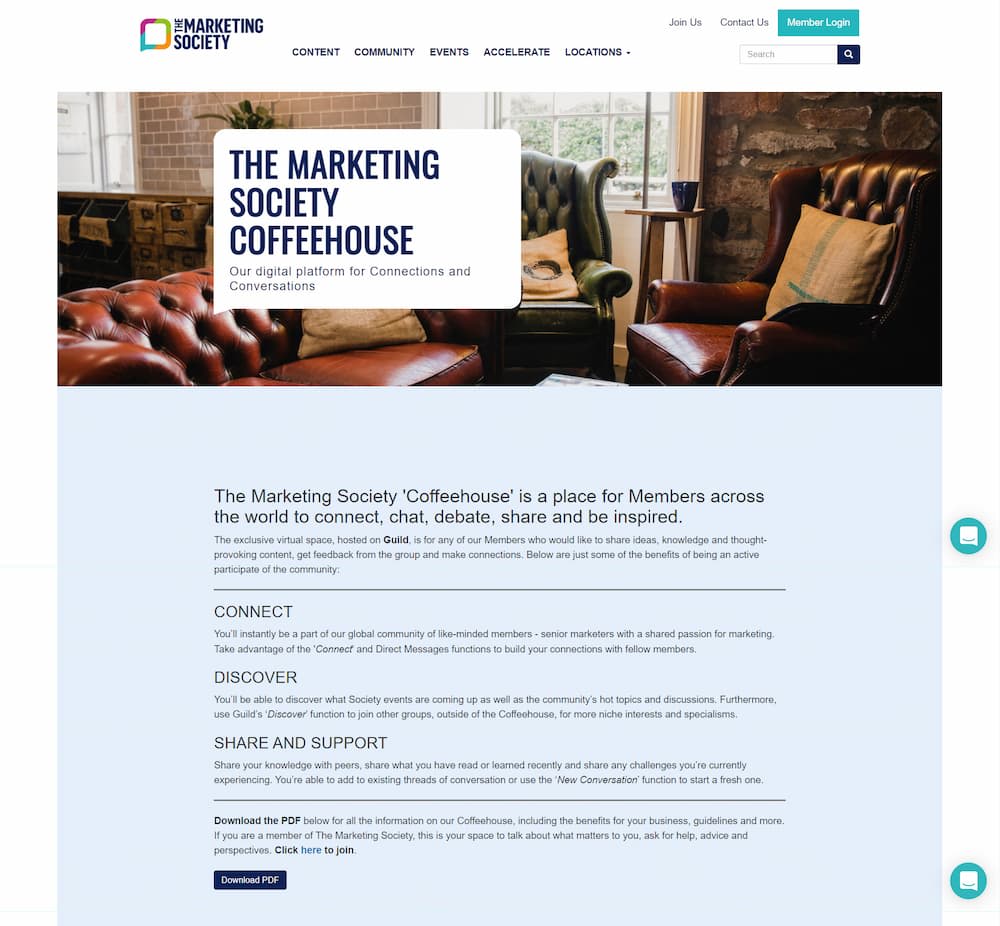 How have you encouraged members to join the community?
"We know you can't just tell people to join the community and call it done.
We've learned that not everyone is ready to join at the same time, so it's an ongoing process - you need to make sure that your members know the community is there for them when they need it.
Community is a key part of the messaging and navigation on our website, and the Coffeehouse community has its own page. We describe what members should expect to find in the community, why it will help them to join, and what benefits they get out of being a Guild member beyond the Coffeehouse community.
On that page we provide a one-page PDF that spells out what the community is, and the benefits not just for individuals and their careers but for their businesses and employers too. Word of mouth is an important way to grow the community and a resource like this makes it easy for any member to say "here's what it's all about".
And of course we link to the community "join" page wherever it makes sense - on social media posts, on presentations, in welcome packs and in member communications. Having a group landing page on Guild makes it easy for members to find and join, but allows us to make sure it stays members-only".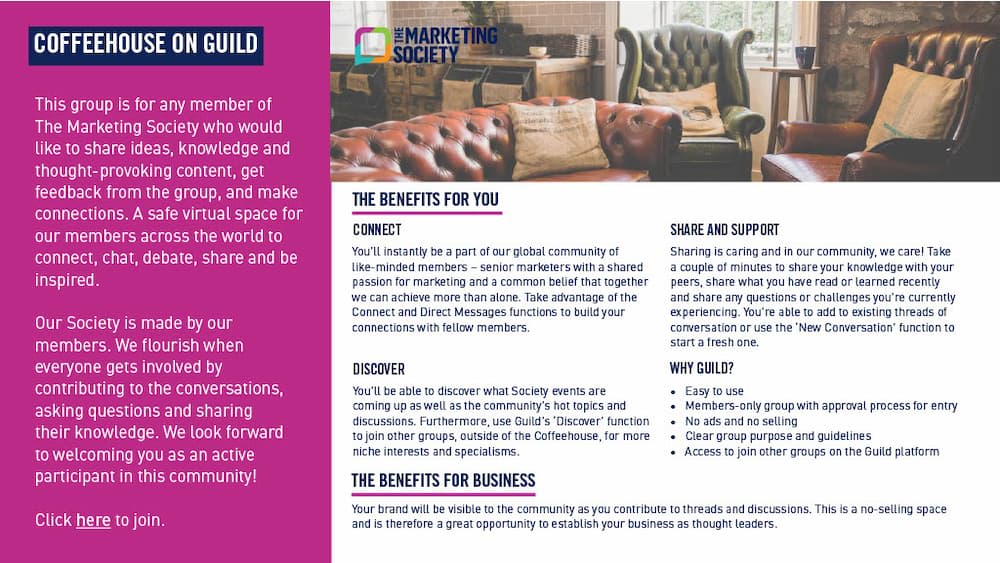 How have you ensured that members get involved and engage with the community?
"We keep experimenting, we keep what works, and we keep things varied because our members are individuals. They are busy people.
Not everything works for everyone, and not everything works every time.
You just have to keep going back to your members, listening to what they say, and learning from how they react.
The community is also perfect for all those conversations that you start but don't get to finish at in-person and virtual events. One of the greatest benefits of being part of a membership organisation is the connections you make. Being part of the community lets members take full advantage of those opportunities to build relationships and networks.
We also say that our community cares - if people take time to share their knowledge with their peers, talk about what they've read or learned recently and ask questions or describe challenges, that feels like success to our members and to us. The community creates something that no individual could plan or programme on their own."


What tips would you give to other membership organisations wanting to start a member community on Guild?
"I would say like any good marketer, start out with your goals and objectives.
Decide what you want the community to be and do, what role you wish it to play and how you'll measure success, but do get started and be prepared to adapt.
A community is a brilliant, living organic thing. It's a 'we'!
Your community's wants and needs will change over time. Realising that makes it easier to keep going and trying new activities or experiments.
One of the most important things I've learned in community is the importance of perseverance. Some things won't work, but members see and appreciate that you care and you're showing up for them.
Guild makes it very easy to get started. It's mobile-first, fully brandable and easy for our members to use wherever they are in the world.
Not having to worry about tweaking the technology or whether your content and messaging will beat the algorithm means you can focus your time and energy on what really matters - your members and their needs.
Guild feels safe and professional but friendly and accessible. The whole platform is a "no-selling space" and your data is accessible to your organisation and only to your organisation.
Your hard work and your member's data works for your organisation and your membership - that's not the case if your community is on a social media platform.
We also love that while we have complete control over our own group so we can keep it a safe space for members only, our members are free to explore and join other groups and networks or connect privately with each other through DMs.
That's great for our members because they can discover connections through The Marketing Society, and it's great for us as it means they've got more reasons to visit the Coffeehouse community."
---
Read more: how membership organisations can get ROI from community
Other membership organisations building communities on Guild

Trade Association Forum boosts membership offering with community on Guild

PRCA powers the communications sector with Guild groups
Renewd moves from Slack to Guild for its B2B membership community
Independent Print Industries Association hosts buyer/supplier community and internal communications groups on Guild
CIPD sets up HR Leader support group on Guild
Low Carbon Homes builds retrofit professional community on Guild
---
Are you a membership organisation or association looking for a better way to engage with your members?
See for yourself how the Guild experience is different to WhatsApp, Slack, LinkedIn or Facebook Groups.
Guild is a safe space to connect, communicate and collaborate with others.
Join us on a platform that is purpose-built for creating groups, communities and networks on mobile.
Contact us if you want to know more or have any questions.