Community-based marketing (CBM) defined
You've heard of ABM (Account-Based Marketing) in B2B marketing, but what about CBM (Community-Based Marketing)? In the broad sense we define "community" as follows:
"A community is a social unit or group of people who share something in common, whether that is an identity, values, location, religion, a shared goal, roles or interests. Communities share a sense of place. Whether that's a geographical area or a virtual or digital platform."
In the case of B2B marketing these communities are a) professionally-focused and b) serve a marketing purpose. So, CBM for B2B marketing we define as follows:
"Community-based marketing brings professionals together around a shared practice or area of expertise to create closer, and more valuable, relationships with prospects and customers."
Why now is the time for CBM in B2B marketing
Online communities are nothing new of course. In an earlier article we explain what an online community is and show a timeline of online communities stretching back to the 1970s. The name of our own product, Guild, deliberately refers back to professional communities from the medieval times.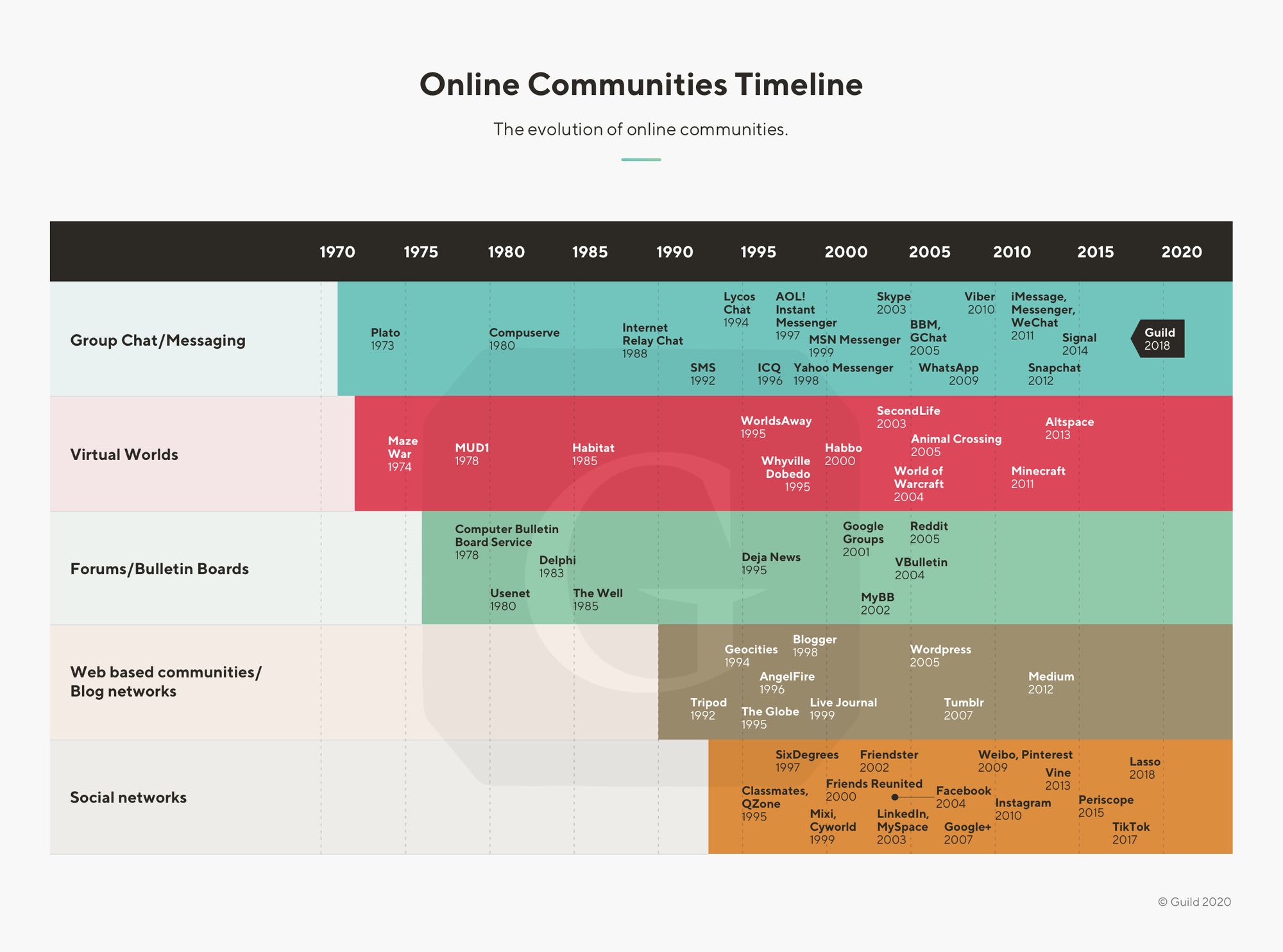 So why have communities made such a comeback? Why are VCs getting all excited about 'community' as a hot area to invest in? We believe there are three main reasons:
1. The rise of the "passion economy" and digital transformation in B2B
The 'gig economy' is well known. But there is a variation on this which applies much more to B2B, professional services and the knowledge economy. This article from Andreessen Horowitz explains The Passion Economy and the Future of Work.
Platforms like Patreon and Substack are allowing professionals to monetise their individual expertise and a huge number of micro-businesses are springing up. These are all centred around niche professional, or semi-professional, communities.
Larger organisations, undergoing digital transformation, are getting used to ways of working that are less hierarchical and monolithic and more networked, more part of an ecosystem, more 'hub and spoke', more fluid and agile. Traditional command and control approaches are breaking up to be replaced by fluid communities of interest.
2. The impact of Coronavirus
COVID-19 has forced us to distance ourselves from one another. We have been alienated and hidden behind masks. We have been shut inside and unable to take part fully in social activities like sport, music, eating and holidays.
As a result, there has been a big increase in the desire for a sense of belonging, of connection, of a sense of self as part of a group. Much of this is played out through family bonds, or a rediscovery of local community, and digital ways to stay in touch with friends and loved ones.
But it also applies professionally. We have learned new virtual ways to communicate and collaborate with our colleagues and customers but we also want to be connected to our professional peers – to learn and share, to give and receive support and encouragement, to help each other out. On Guild we saw a 120% increase in messaging activity during lockdown.
As we go into a period of great economic uncertainty, with higher levels of redundancy and unemployment, we know that our professional networking and tapping into our professional communitiesis more important than ever.
3. Saturation and waning effectiveness in other marketing channels
The final factor in the rise of CBM is that it is just getting much harder to cut through in existing marketing channels. There is so much noise. So many webinars, ebooks, white papers, email newsletters, Inmails, events, podcasts, blogs, social media. Tomasz Tungaz, VC at Redpoint, wrote about the rising costs of customer acquisition as follows:
"The costs of customer acquisition have risen. Whether it's Facebook ads, LinkedIn ads, Google search engine marketing and retargeting, email marketing, or outbound calling, all of these channels bear some hallmarks of saturation.
Response rates are declining, depressing conversion rates, and raising the cost of customer acquisition. The surge of venture capital in the last five years worsens this predicament."
If you can create a more emotional bond, and some reciprocity, with your prospects and customers through effective CBM then you have a much better chance of getting their attention, their action, and their loyalty.
Now is the time, where almost every B2B marketer is following the same playbook, to develop a new play. And CBM can be that play.

Next in this series:
2. Where community-based marketing fits in the marketing funnel
3. The 10 success factors for community-based marketing (CBM)
4. The business case for community-based marketing
Join Guild for free today
See for yourself how the Guild experience is different to WhatsApp, Slack, LinkedIn or Facebook Groups.
Go to our pricing page and join free as a member, create your Guild profile, join available groups and build your network.
Ready to run your own professional, private, branded groups, communities or networks? Excellent! Check out our Business (free) and Business Plus (custom pricing) options.
Guild is proudly British, fiercely independent, ad-free and GDPR compliant. Guild is the best place for professionals to connect and communicate. Come and join us on a different and decent kind of messaging platform that is designed for business and done with integrity.
Contact us if you want to know more or have any questions.