Most professional events have now become virtual.  
Events planners across the globe have had to learn new skills, choose new technologies and adapt their events to a world where the physical has become digital.
Virtual events can be complicated, so we hope this excellent video and explainer post can help simplify things.
CREO Guild group member and events expert William Thomson, MD at Gallus Events, has made this helpful video: '17 Things you need to know before you run your virtual events'.

It's well worth the watch!


We like how William has created a clear framework for categorising online events.
Our take from William's video, organising and from Guild being part of many event 'tech stacks' is this.
There are broadly 5 professional virtual event types, 4 business models and 3 pillars to consider when creating a virtual event.
The 5 virtual event types
Before you get into the business of content, speakers and marketing your virtual event, an important element in planning professional online or virtual events is to answer the question:
"What type of online/virtual event is this?"
If course, there are hugely successful interactive question and answer text based events such as AMAs (Ask Me Anything) on Reddit and Twitterchats on Twitter, but the virtual events that are replacing physical events today tend to focus on video-based speaker platforms.
These are the 5 virtual event types:
1. Webinar
Webinars are amongst the simplest virtual events and the 'entry level' of virtual events. Webinar technologies include Zoom, BigMarker and Crowdcast.
We at Guild run regular Zoom 'how to' webinars to help Guild users master setting up and running professional communities and groups. We include time for attendee questions at the end of the presentations.
We also run sector specific webinars with partners such as Memberwise.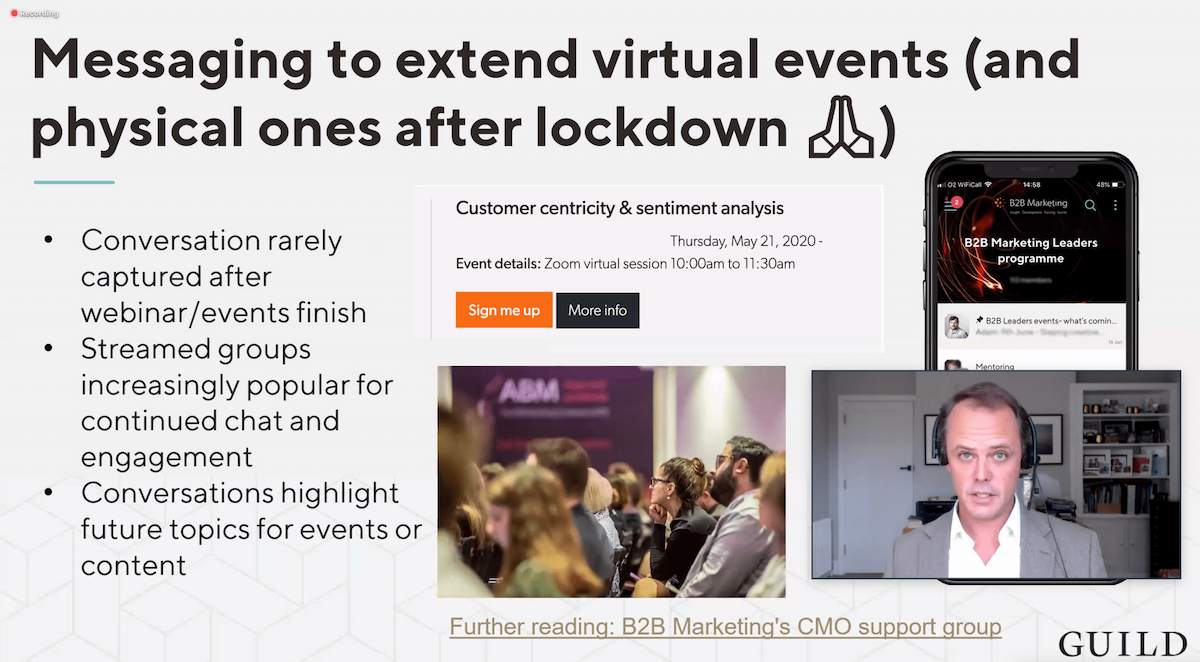 2. Webinar +
This extends the concept of a simple webinar. Additional content is introduced to extend the impact and value of the webinar.
An example of this is a cross brand collaboration between Marketing Week, Econsultancy, Influencer Intelligence, Creative Review, Design Week and Oystercatchers in their 'Lowdown' series. This webinar series features thought leaders and experts from digital, marketing and creative and is supported by content hubs and subscriber only in depth reports.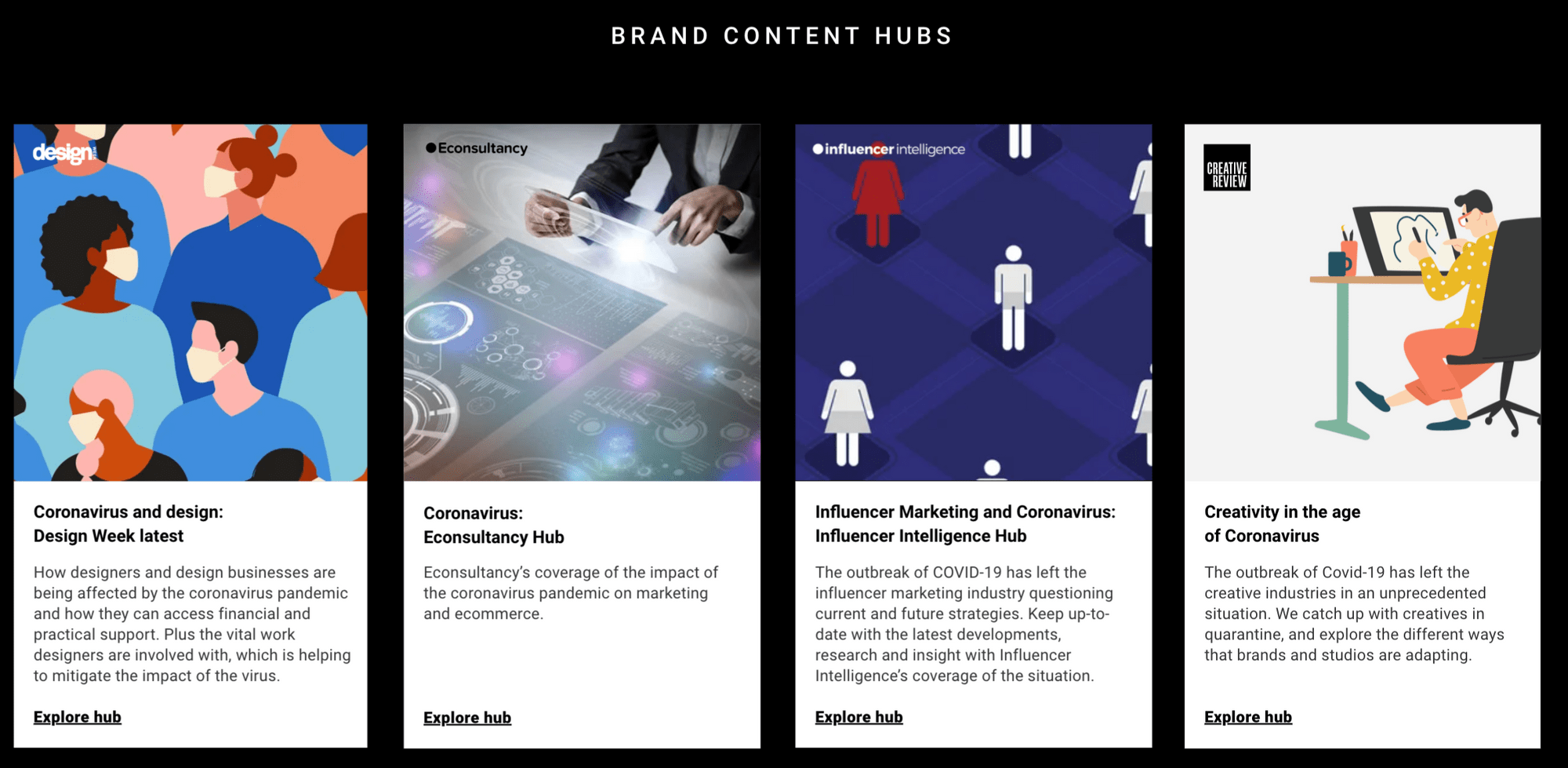 3. Content and Connect
A single webinar or a series of webinars but with an element of 'connection' and professional networking for attendees pre and post event.
Analyst Benedict Evans hits the nail on the head when he says: "some conferences are built around creating a network in the hallways.  If you take them online, there are no hallways."
Content translates from physical to digital events well, but for many, the conversations, discussions and opportunities to meet peers and experts at events is where they get real value.
The best of these virtual events move attendees, speakers (and sometimes sponsors) from the webinar to a private space or "hallways" for ongoing connection, discussion and networking.
Guild is the perfect platform to create these hallways for discussion and help organisers of virtual events increase the value and longevity virtual events by connecting attendees, speakers and sponsors.  
Event organisers such as professional service businesses or B2B media owners can create private professional communities, where the topics covered could be explored in more detail, or the thought leadership content could be evolved.
An example of this is B2B Marketing supporting senior marketers by hosting a peer-support network on Guild, to sit alongside their events. They facilitate peer discussions about the challenges of running a marketing department.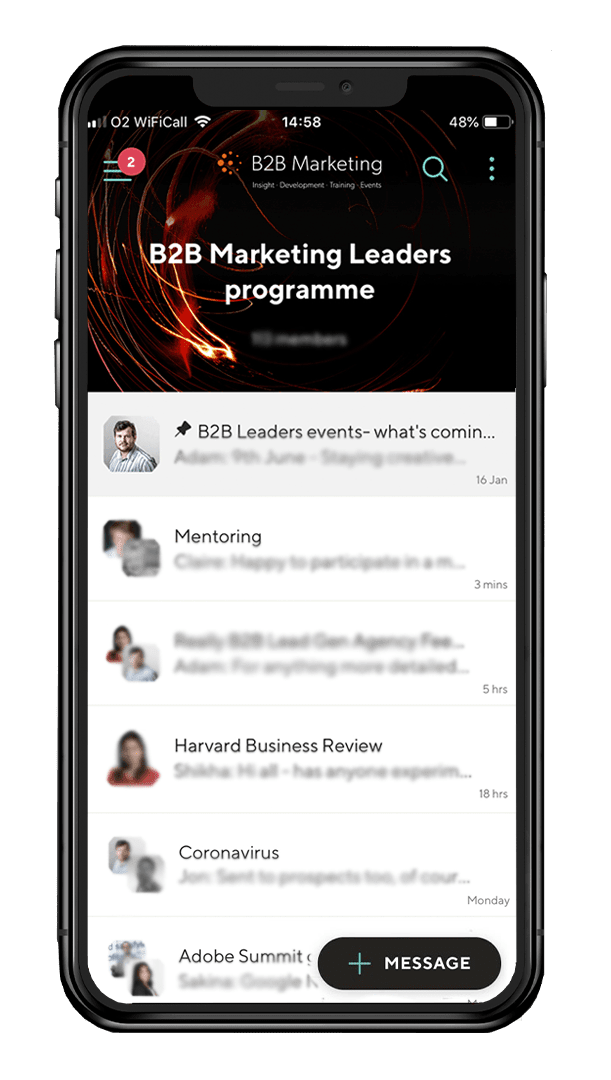 4. Online Summit / Conference
This is more like a traditional 1 day conference or summit that has moved to a virtual environment.
An example of this is Digiconf - a highly regarded 1 day digital marketing conference designed for B2B digital marketing and comms strategists. It is a collaborative and participatory conference broken into 4 'themed' sessions, each offering a series of short presentations, Q&A sessions and panels with full audience participation. Attendees can tune in all day, or dip in and out and the conference.
Digiconf has private event Guild group to connect attendees with the event organisers and speakers. This provides additional value to attendees who can explore the topics further before and after the virtual conference.  
Given the current Covid19 challenges, the team have generously made it a free event this year.
Sign up on the website and join the free Digiconf Guild group, where speakers and attendees are discussing the current hot topics in b2b digital and marketing.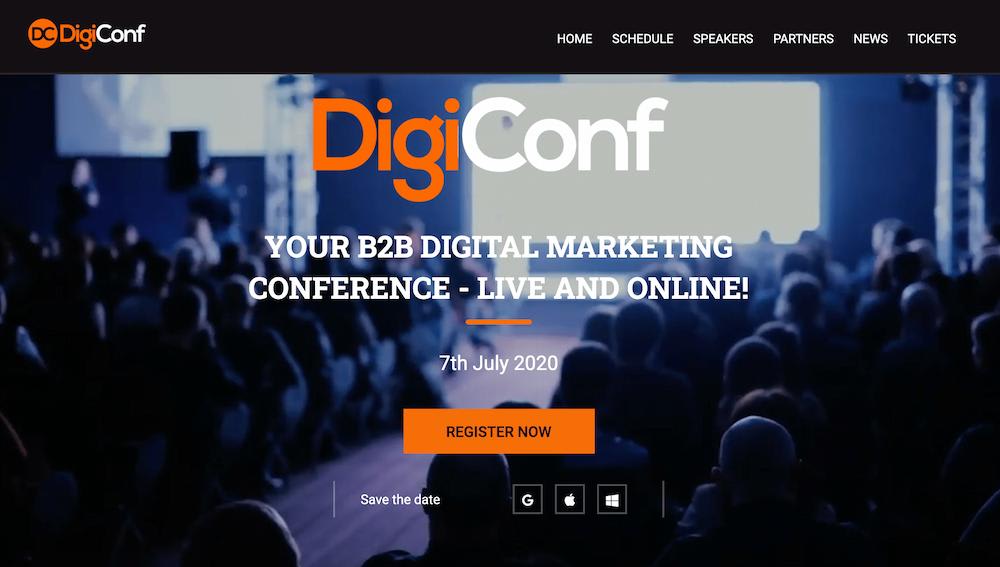 5. Virtual Expo / Fairs / Festivals
In the physical world, these used to be ambitious multi-day, multi-venue events, such as SXSW and Festival of Marketing. Virtual events like this are still possible, but are now definitely on a much smaller scale.
LikeMinds ran 2 virtual expos in May 2020 called 'Lockdown Business Festivals' to help small business owners cope with the impact of Covid19 on their business. Each festival ran for a week and enables attendees to sign up for 6 Masterclasses every day.
The 4 virtual event business models
Like physical events, virtual events have both financial and resource costs, so need to be sustained by a business model.
Events organisers should ask: "how will this event pay for itself?" or "how will this event generate a return for our organisation, business or brand?"
There are broadly 4 business models for virtual events:
1. Paid attendance
Attendees pay to attend one or all of the sessions.  Large commercial events, expos and festivals tend to run using this model, but also with other revenue streams, including sponsorships.
Paid attendance is also a model that can be used to generate charitable donations. For example, the Chartered Institute of Public Relations Greater London Group organised 'Corona Con'. 2 virtual events over 2 weeks to raise money for 2 of their supported charities.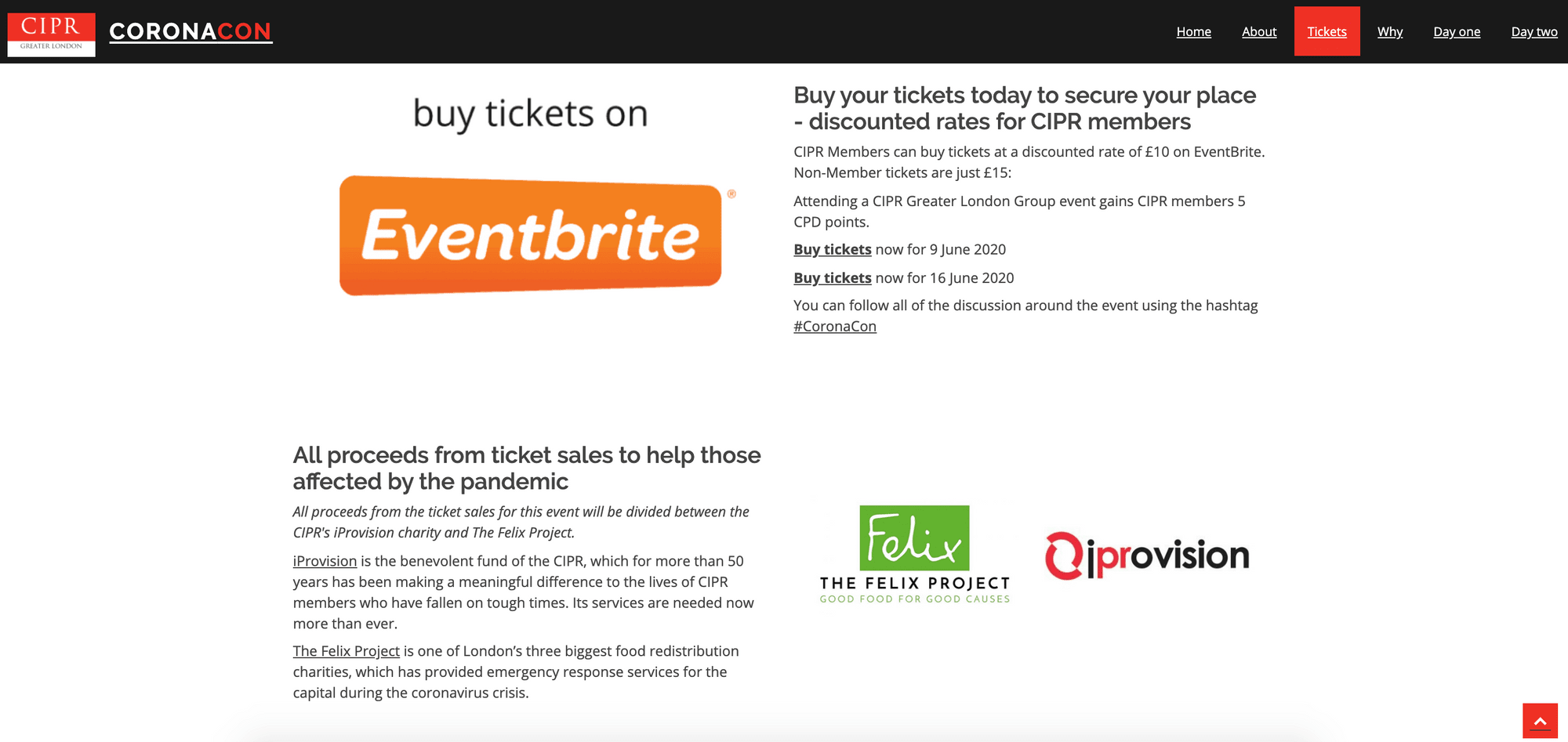 2. Benefit of subscription/membership
Many publishers and media companies use events to deliver additional subscriber or customer value by offering events as a part of the subscription or membership.
An example of this is Agency Hackers, a membership organisation for agency leaders in creative, marketing, advertising, digital and communications/PR, who run regular webinars and surgeries for their members.  A private Agency Hackers Guild group where agency leaders can have open and honest discussions about agency challenges is another member benefit.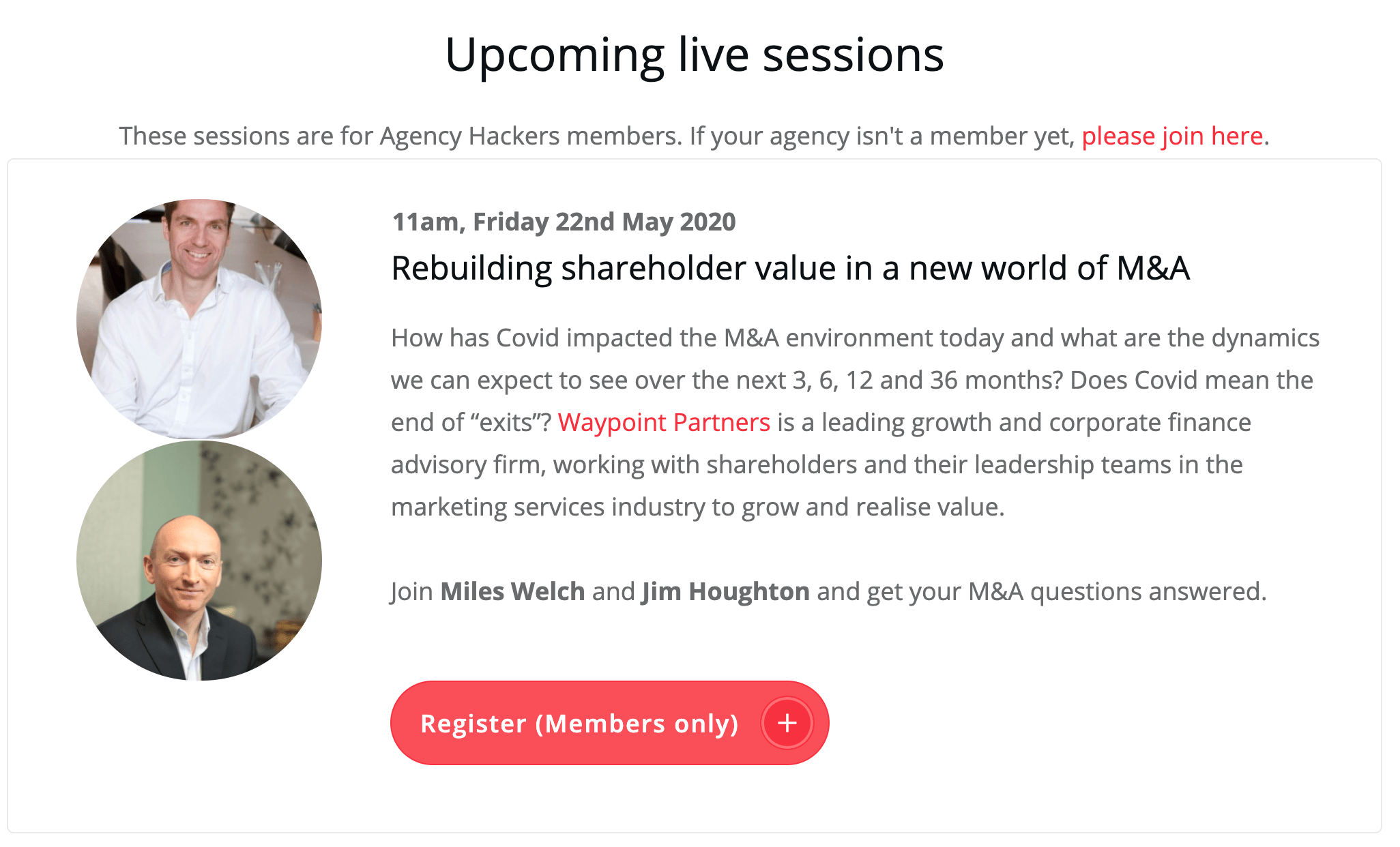 3. Sponsored virtual event
Virtual events, like physical events, take careful curation and have significant costs, including technology, speaker fees, design, marketing and teams of people to run events smoothly.
Sponsorship is an effective ways to cover costs, attract speakers and generate additional revenue. The LikeMinds and CIPR examples given earlier blend attendance fees with sponsorship.
4. Marketing/lead generation/thought leadership
Ogilvy's 'Nudgestock' is an example of this. Once a paid attendance, physical event, 2020 has seen this highly regarded 1 day conference about behavioural science move to virtual and free attendance and more of a branding/thought leadership platform.
Registering for attendance also provides Ogilvy with the opportunity to capture attendee first party data and position itself as a thought leader to potential clients, partners and employees.  
The 3 pillars of online events

Finally, there are 3 pillars of what goes into an online event:
1. Content  
The content includes topics and themes as well as the formats of the presentations. Typical event formats include: expert speaker presentations, panel discussion, 'Ask Me Anythings' (AMAs), fireside chats, quizzes or polls, enhanced presentations and even surgeries.

Our CREO event group on Guild frequently discuss which of these physical event formats and content translate best to virtual events.
2. Connection
The reason why events are so important, particularly professional and B2B events, is the opportunity to network with peers, speakers and experts, but also the opportunities for buyers and sellers to meet.

Virtual event technology, including platforms like Guild, can help to move these valuable networking elements of physical events to digital platforms. For the event itself, but also before and after the event.
3. Coverage
The third pillar of a virtual event is Coverage.
By this we mean your integrated digital/traditional marketing and communications plans and activities to help deliver against the objectives of your event. Whether that's driving ticket sales or sponsorships, brand or speaker or sponsor visibility, generating marketing leads and first party data, changing perceptions, building reputations as thought leaders, driving behaviour changes or raising money for good causes. Again, pre, post and during your event.
Are you running virtual events?
Here are 3 things that we can help you with:
CREO (Corona Reponse for Event Organisers) - support group for event organisers
We've set up CREO (Coronavirus Reponse for Event Organisers) as a peer support group for anyone running events during lockdown. The CREO community has also crowd-sourced a document (the "CREO Manual") to capture the advice, resources and insights generated by the group.
If you are an event organiser, or know someone who is and might benefit from joining CREO you can find out more and join on guild.co/groups/1101/creo-corona-response-for-event-organisers
How to use Guild to support your virtual events
We're here to help!

Here is a quick guide to using Guild to support your virtual events.

We understand this is still quite a new idea - to have messaging groups and private communities to support an event (physical or virtual) - so don't be afraid to get in contact as we'd love to help and make your event a success!
---
Guild set up the CREO community for events organisers who are learning to run virtual and hybrid events. It's a free peer support group that lets you share experiences, insights, learnings, recommended suppliers and useful contacts. If you've got questions to ask or experience to share, join the CREO community for events organisers today.
---
Join Guild 🤝

See for yourself how the Guild experience is different to WhatsApp, Slack, LinkedIn or Facebook Groups. Guild is a safe space to connect, communicate and collaborate with others.
Join us on a platform that is purpose-built for professionals and businesses.
Contact us if you want to know more or have any questions.
---