In brief
Hard Numbers is a brand new performance-driven marketing and communications consultancy.
Launched in June 2020, the team creates PR, marketing and digital campaigns that drive pipeline, sales and company growth for B2B organisations.
Launching a new business at any time is a challenge; doing it in the middle of a global pandemic is an even greater one - especially when you work in an industry built on relationships, collaboration and quick, efficient communications.
Despite the tricky timing, the founders of Hard Numbers have done just that, and have needed to lean on remote working technology solutions that support, connect and empower their team during the early days of their business.
Guild, the British, independent ad-free mobile, messaging and community technology platform has proved crucial to creating a sense of togetherness and team spirit at a time when no one could meet face-to-face, as well as facilitating collaboration and efficient work processes.
The Opportunity
Unsurprisingly, for a consultancy business like Hard Numbers, internal communications is an incredibly important part of the day-to-day. As the business is completely new, with team members to on-board virtually and clients to service, it becomes even more so.
Darryl Sparey, Co-Founder and MD of Hard Numbers, explains why Guild has provided much-needed support at a testing time:
"Guild has immensely alleviated the stress of starting a new organisation, because we can be constantly in contact without being on endless video calls. It's essentially allowed us to create a virtual office in lieu of a physical one."
"We've needed everyone to hit the ground running from day one, to deliver well-managed and effective campaigns for our clients.
There's a lot of background work that takes place before anything makes it into our external communications, so Guild is a place where we can brainstorm, share knowledge, ideas and collaborate to make sure we are always hitting the high standard we set ourselves."
Darryl wanted to use a platform that allowed all current projects to be talked about in one place, as a working 'to-do' list, and for staff to have clear and consistent internal comms processes set up from the get-go.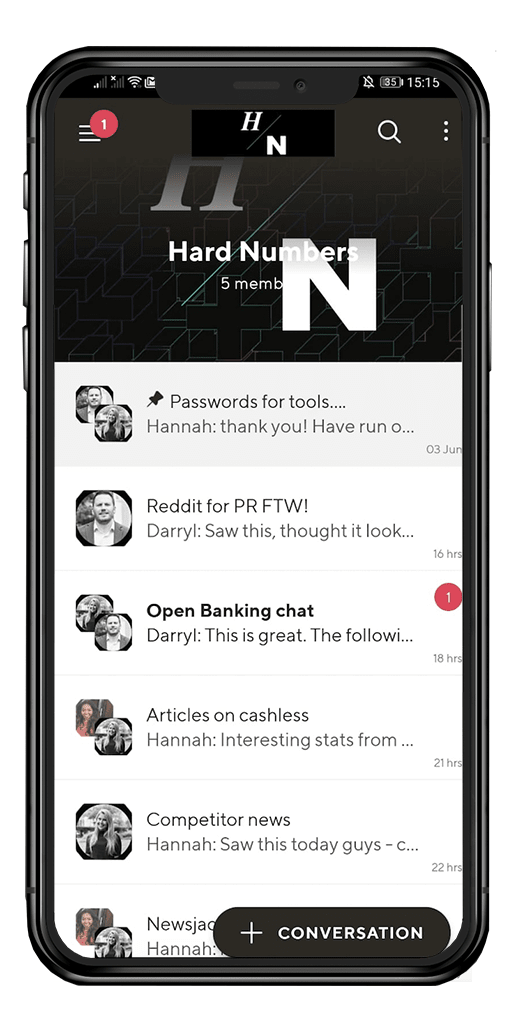 How Guild has helped Hard Numbers
Hard Numbers employees have been using Guild to keep themselves and the team on track as they work towards goals and KPIs.
The virtual applause buttons have been a quick but motivational way to praise good ideas and achievements in a fast-paced environment, where everyone is always multitasking.
"Even out of lockdown, we want employees to feel empowered and connected to their team via technology that they enjoy using," says Darryl.
"We are also committed to building an organisation which values flexible working, and so tools like Guild are key to us delivering on those promises to our employees."
"As it's so easy to use I know that Guild will come on our journey with us as we grow; it's really simple for new members of the team to be quickly onboarded and anyone can get involved and create new threads based on what they are working on."
What do you like most about Guild?
Darryl continues:
"The team likes to be able to pick up conversations one day where they left them the day before, whilst keeping all of our ideas and progress in one place. But it also gives us distinction between clients or projects as we can create different threads."
"The hard numbers are that 95 percent of organisations around the world agree that a digital workplace is important, but I know from experience that implementing this is easier said than done.
We work with technology companies and so we feel we need to lead from the front in terms of the tech we use ourselves!"
We're delighted that Guild is helping the Hard Numbers team stay connected remotely and beat the odds as they get up and running.
Photo by Maxime Lebrun on Unsplash
---
Are you a start up or small business looking for a smart way to use the power of messaging keep your team connected?
Join Guild 🤝

See for yourself how the Guild experience is different to WhatsApp, Slack, LinkedIn or Facebook Groups.
Guild is a safe space to connect, communicate and collaborate with others.
Join us on a platform that is purpose-built for creating groups, communities and networks on mobile.