In Brief

Queen Mary University of London (QMUL) runs an 8-week programme to teach students entrepreneurial skills.   QIncubator aims to help students and graduates who have a business idea but don't know where to start.
The programme combines enterprise training, expert coaching and peer-learning. Participants learn to develop a business model and define customer value propositions.
Students gain a portfolio of entrepreneurial skills to help them launch their own businesses.  They get first-hand advice from entrepreneurs and business experts. .  
The QMUL QIncubator team wanted an easy way to connect guest lecturers, mentors, staff, students and graduates. They opted to create a community on Guild.  They chose Guild's professional community platform for its mobile-first, user-friendly design.
QMUL Enterprise Manager Julie Kouamo and Adviser Miriam Irungu told us more about the community and plans for future Enterprise programme cohorts.


Why use Guild and not other community platforms like Slack, Facebook Groups, WhatsApp or Mighty Networks?

Julie Kouamo said:

"As a university we already have our own learning management infrastructure. We needed something that "just works" straight away for our guest lecturers and mentors as well as students. We also needed to be mindful of privacy and so Guild was perfect.

We looked for a platform to allow students and guest lecturers to have in-depth discussions on each aspect of the programme.
QIncubator takes a lean approach to entrepreneurship. Guild helps us reflect the programme structure in an easy-to-grasp way. People often want to revisit a previous part of the programme. Guild's threaded conversations make that easy.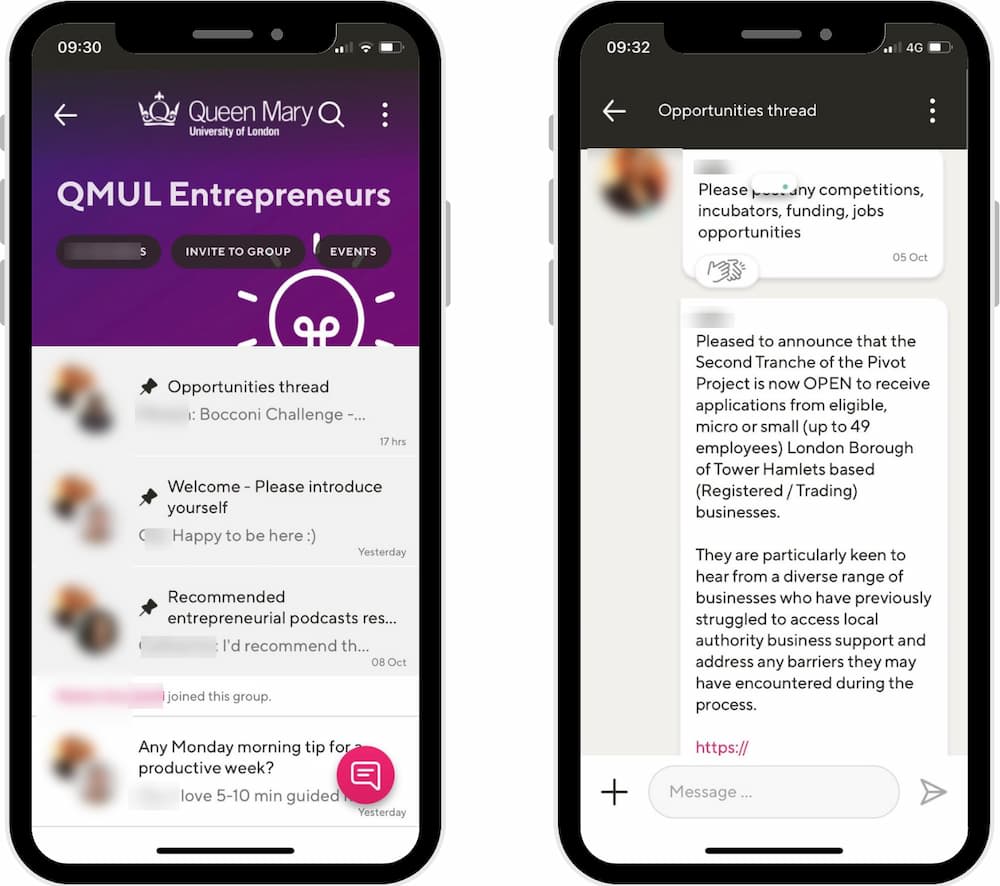 How has Guild benefitted the QIncubator programme and QMUL?

Miriam Irungu said:

"It's been so easy to get started and students and mentors alike found no difficulty in getting on to the platform. It's mobile first but you can also access Guild through a browser, so it works with our current technology stack very well.
We're encouraging graduates of the programme to connect to the broader professional network on Guild. Joining other professional communities of practice such as Digital / Marketing Pioneers, or Delivering Sustainability in Your Business helps them to understand specific disciplines and topics much more deeply, as well as make useful business connections.

In addition to classroom lectures, mentoring and these specific communities of practice on Guild, there are also some groups discussing raising equity investment for start ups and even a crowdfunding academy. We encourage our future entrepreneurs to join trusted communities like these to discuss how best to fund their business ideas from those who have many years experience."
Julie continued:

"To be a successful entrepreneur, you need to be good at collaborating, connecting and supporting others. Hosting the QMUL Enterprise community on Guild lets them start building their professional connections and network from day one.

It's our first community but we want graduates to remain. Those who don't become mentors can still contribute their expertise to the next cohort in the community. Course members will keep benefitting from their community and connections even after they finish the 8-week programme."

What happens in the QIncubator community and who can join it?

Julie explained:

"The programme has a different topic each week. We start with the basics in 'what is an Entrepreneur?' and move through understanding a business model canvas.
For example there are sessions on product development as well as market segmentation and targeting customers. We also focus on legal and financial skills and finish with a face-to-face pitching session. Everything you need to give your career as an entrepreneur a kick start.
A guest lecturer with particular expertise in that topic leads each week's theme. All the guest lecturers can join the community so that they can answer questions and add context to their sessions. This also lets students deepen their understanding by discussing what they've learned.
Bringing a community into the Entrepreneur programme is another step for our graduates from education into business. They're learning to network, to make connections and understand business better.
The QIncubator programme is open to QMUL students and graduates up to 2 years after graduation.
All they need to get started is a business idea, and to be enthusiastic about sharing experience, knowledge and creativity."

What would your advice be to other universities thinking about setting up a community?
"The university experience shouldn't stop with a graduation certificate. Building a community on a platform like Guild allows us to understand students, graduates and improves our contacts with business.  It ensures that we keep innovating our offering. It also offers students real long-term value.
Guest lecturers often want to keep answering and supporting students beyond the lesson."
A mobile-first community that our experts can dip in and out of when they have the opportunity is perfect for this. It respects their other commitments but keeps that connection going."
"Building a community takes commitment and time but it's worth it for the long term impact we can have on students and hopefully we will see many of their business ideas become a reality."
---
More about online communities for education

Why Manchester Metropolitan University uses Guild to connect its digital marketing alumni
The benefits of virtual learning communities
How the NEU used a Guild community as a resource hub for remote education
How child literacy charity Bookmark co-ordinates volunteers with a Guild community
Why The Access Project moved its internal comms from Slack to Guild
Create alumni groups on Guild
---
Join Guild 🤝

See for yourself how the Guild experience is different to WhatsApp, Slack, LinkedIn or Facebook Groups. Guild is a safe space to connect, communicate and collaborate with others.
Join us on a platform that is purpose-built for professionals and businesses.
Contact us if you want to know more or have any questions.