In brief
Socially Mobile is a not for profit 'PR school' which aims to help people from underserved and underrepresented groups improve their career prospects in the PR industry.
Co-founder Sarah Waddington CBE is a highly respected PR professional, management consultant and former president of the CIPR. Sarah saw evidence that the lack of diversity in the PR industry was getting worse rather than better. She had personally benefited from executive training and wanted more people to have access to similar privileges that are essential for career progression.
She co-developed Socially Mobile with Stephen Waddington, another former CIPR president and respected PR leader, to address these needs. The cohort-based learning programme delivers skills and knowledge, and helps students improve their professional network and connections.
The founders felt that a learning and alumni community would be essential to the long term success of the programme, allowing students and graduates to share resources, encourage one another and build deeper connections.
They chose Guild to host the Socially Mobile alumni community because it offered a safe, private space and the right professional atmosphere.  
Another reason for choosing Guild was access to the wider Guild network offering students the ability to join several high-profile communities and to connect with people in comms, marketing, digital, leadership, sustainability, legal, HR, finance, non-profit and many other related industries.



Why was creating an alumni community important to Socially Mobile?
"Socially Mobile is all about giving people from under-represented backgrounds help to move up the PR career ladder. To help them set up their own businesses or move from tactical to more strategic roles.
The people we're helping haven't had easy access to the same training opportunities as much of the PR industry. We see the 10-week course as a jumping-off point, a beginning rather than an end in itself.
The course becomes even more valuable by offering our alumni and future cohorts a place to connect.
Our students won't just graduate and wave goodbye. They will stick around for the next cohort. You can learn a lot by sharing your own knowledge with your successors, building your network and supporting your peers.
Socially Mobile is much more than just knowledge, training and skills. One thing that often holds people back in their career is a lack of the right connections.
You need people to know what help you need and how you can help them. The opportunities you get from being part of a professional network can make a massive difference in your career.
We wanted to make sure our alumni have those connections and opportunities, from the very start, and for the long-term."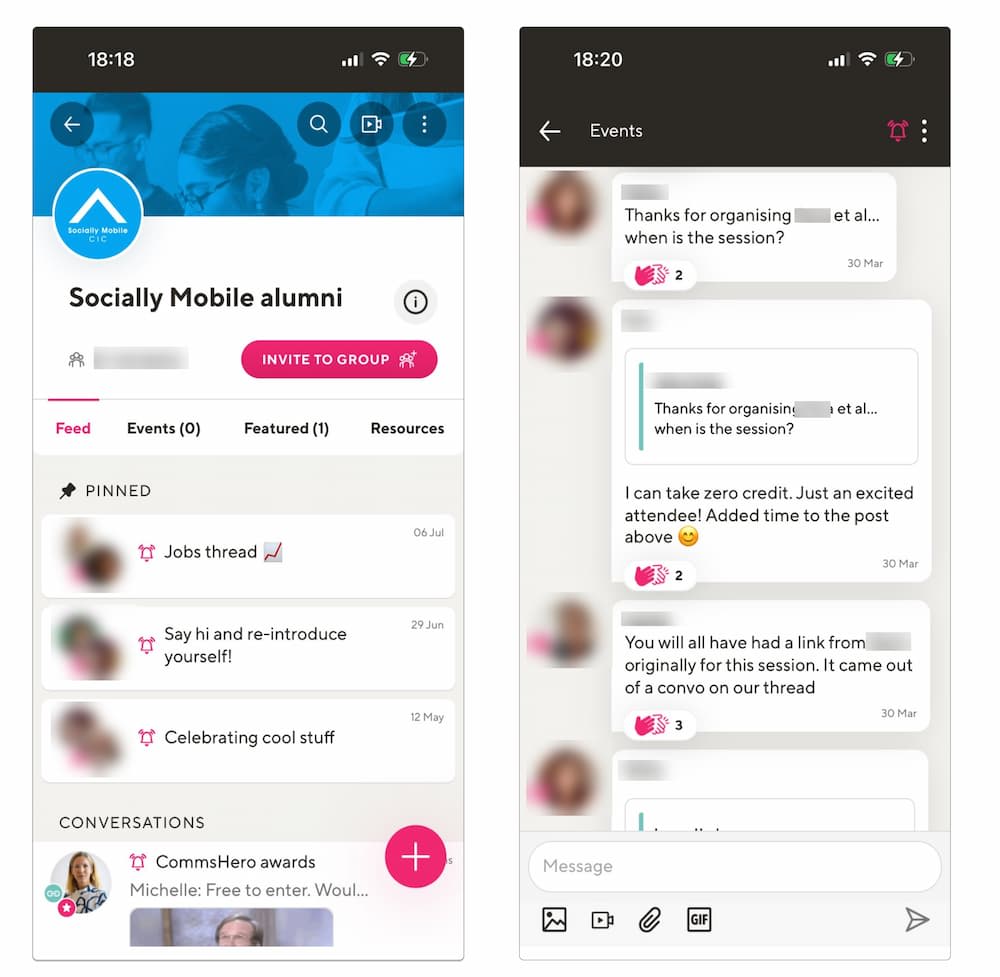 Why did you choose Guild for your alumni community rather than Slack or a social media platform?
"We're a community interest company looking to change our industry for the better. Guild's purpose, "to bring people together for professional good", really chimes with our own aims and those of our students.
Obviously, many of our students and alumni will be active on platforms like Facebook and LinkedIn, but that can be a hindrance.
Being able to connect on a neutral, focused space like Guild puts everyone on a level playing field from the start.
There are no adverts or alerts to distract you when you're in our Guild community. That's been especially important as many of our students are working full-time and juggling family commitments whilst they are studying.
On the same note, Guild is easy to use on both mobile and desktop. If our members are on their way to work or working on an assignment on a lunch break, jumping back into the conversation is easy.  A dedicated space helps people keep their focus.
Finally, it's all about building those connections and relationships.
A safe, private space for our community is essential, but they can also join other relevant communities and groups on Guild as individuals and develop deep connections across different sectors beyond the comms and PR sector. We encourage them to build their professional presence and their network on Guild.
Groups like Comms & PR Pioneers, Charity and Nonprofit Trailblazers, CommsHero, Building Inclusive Cultures and many others are all open to them, so they're in good company.
Our fully-funded students also get to become full members of the CIPR and PRCA when they graduate, and both those organisations have communities on Guild."


How has Guild helped your programme?
"Guild has supported Socially Mobile from the beginning, so we knew our community would be in safe hands.
Our students feel at home on the platform and have told us they especially appreciate the chance to connect with each other outside of the lectures.
So often, people take a course and exchange numbers, set up a WhatsApp group or add each other on social media, but we all know that tends to fizzle out.

By building a dedicated community, we know every conversation can have long term value for our students.
In the long term, we see people lifting each other up in their careers, so we're delighted that all our students have this opportunity to connect from the beginning."


How has the programme helped Socially Mobile students?
Amy Maxwell, working in communications in local government said:

"Socially Mobile is a high-energy course which has given me a comprehensive insight into the key skills, qualities and knowledge required to progress in my public relations career.
I have benefited greatly from the experience and advice shared by the expert lecturers and have enjoyed the opportunity to test my understanding on each area through the weekly assignments.
Having recently returned from maternity leave I was keen to remain committed to my career and, by its very nature, Socially Mobile has made me believe this is possible.

I am incredibly grateful to have been a member of the first cohort and am proud to be part of the special network it has introduced me to.
Guild has been the perfect platform for sharing resources, getting to know my peers on the course and discovering other valuable communities."
She also has a message for those considering applying to future Socially Mobile programmes:
"If anyone is hesitant about applying, don't be. The course is accessible, flexible to your work style and too good an opportunity to miss!"

Leanne Hughes, working in NHS communications said:
"It's not a surprise that the content for this course is amazing, considering the calibre of the professionals involved in its creation. What is a surprise is how empowering the experience has been for me personally.
Our background or life experience can sometimes make us limit or doubt ourselves. What this experience does, is remind you of your power and your potential. It reminds you that you are good enough.
The Guild group has been a positive safe space to connect with the cohort and build up a bit of solidarity and support. It's good to have a platform away from normal social media platforms to share information in confidence with each other.
Get involved. Will it challenge you? Yep. Will it improve your practice and confidence? Absolutely."

Luisa Robertson, Communications and PR Consultant said:
"As a career gap returner, Socially Mobile has been invaluable in helping me refine my skills and knowledge and progressively gain confidence.
Every module has given me huge insight and has been delivered by some of the most high profile, inspirational industry experts.
Having access to amazing content and connecting with others has been just one of the many benefits. Quite possibly one of the best things I've done and achieved in a very long time - thank you to Sarah, Stephen and everyone involved for making such a brilliant thing happen.

Discovering Guild through SM has been amazing too - it's provided a great platform for networking with peers and every single post is insightful. My book list is HUUGE thanks to the course and to Guild!
If you're considering applying, just go for it!"
Freelance PR practitioner Jeremy Sharpe said:
"I very much like Guild.  It's like a stripped-back version of LinkedIn, which effectively straddles professional student and employment networks. It packages essential messaging and networking functionality into a far more user-friendly interface.
Notably, the Socially Mobile Leadership Communications course induces lateral and creative thinking.  Guild, with its direct links to course tutors and fellow like-minded cohort professionals, provides the perfect platform to converse and explore such creativity.  Through the Socially Mobile Guild community, I have come to know some brilliant, lovely and utterly professional individuals.  Without it - and them - I could not have flourished, or even had the chance so to do."
Liz Hinds, PR Senior Account Executive, Radioactive
"I've been told once or twice previously that I've got a flair for dramatics, but I can honestly say that being on the Socially Mobile course has been a game changer for me. The course has really made me realise just how much knowledge I already had and has given me the opportunity to build on pre-existing skills.
Guild has also been the perfect home for me and my classmates to be able to share learnings, celebrate and commiserate together. Having a platform that is not only secure in terms of tech but managed in a way that encourages kindness, as well as great community etiquette has been wonderful."
What does the future hold for Socially Mobile?
"We're close to finishing with our first cohort, and we're looking forward to supporting our alumni in their next steps.
The next round of applications for fully-funded and paid places is open now and closes March 31st 2022. Please apply here.
It's a busy time as we grow the project, develop the modules and welcome in new lecturers.
We welcome paid applications for places that help cover fully-funded places alongside donations from our generous supporters.
We're looking forward to evaluating the programme's impact and making it even better. We work in an ever-changing world, and the PR industry is at the forefront of that.
We've said that Socially Mobile is about "equipping today's workforce for tomorrow's challenges". We want to see a world where the communities and people we serve see themselves integral to the PR industry."
Find out more about Socially Mobile and how to apply for the next cohort or lend your support as a sponsor or supporter www.sociallymobile.org.uk
Explore other PR and comms industry communities on Guild

More alumni and learning communities on Guild

Design Community Hub creates community for young designers
Manchester Metropolitan University builds community for digital alumni
Queen Mary University launches student entrepreneur community
NEU uses Guild for teacher community

Spark! Consulting connects entrepreneurs on Guild
---
Join Guild 🤝

See for yourself how the Guild experience is different to WhatsApp, Slack, LinkedIn or Facebook Groups. Guild is a safe space to connect, communicate and collaborate with others.
Join us on a platform that is purpose-built for professionals and businesses.
Contact us if you want to know more or have any questions.