In these 'Ways to use Guild' articles, we're featuring examples of what Guild users have created with our ad-free, private, professional messaging groups and community building platform.
In this article, we look at how Guild can be used to host an alumni group or groups. Powerful communities that can generate a massive amount of value for both organisations and individual members.
What are alumni?
Alumni is a latin word and the plural for alumnus (masculine, plural alumni) or alumna (feminine, plural alumnae).

It has traditionally been used to describe former students or pupils of a school, college, or university. For example, Oxford, Cambridge, Stanford or M.I.T Alumni.
Today, many business organisations use the term alumni to collectively refer to people who are former employees.
Businesses have recognised what educational institutes have known for decades - that your former physical place of study or work is a natural connective space, and that the bonds and relationships you form there can create a powerful, long lasting allied force.
Organisations like EY have an Alumni of over 1 million people.
According to their dedicated website, it is "a powerful network of over 1,000,000 alumni doing great things in business, as entrepreneurs, in government, in academia and in their communities."
Universities, such as Cambridge University, have Alumni networks that are given a membership card and receive alumni benefits, such as access to university services, events and spaces. This is is in addition to being able to join specific groups, provide advice, volunteering and other support to both the institution and its students.  
Why, and how, would Guild be used for alumni groups?
A key challenge for organisations is that once people leave a business, they are no longer connected by the organisations' chosen communications tools.
Work email and workplace communications channels like MS-Teams or Intranets no longer connect these individuals to each other, or the organisation.
So how should you engage alumni virtually?
Some Universities have gone down the route of developing their own private, branded community apps. Many of these have been costly to develop and maintain, but some have been successful.
Creating alumni groups or communities on LinkedIn or Facebook Pages or Groups means competing against social media platform algorithms, busy newsfeeds and notifications. Many alumni organisers need to inject significant ad budgets to ensure visibility of their communities and very few alumni programmes have significant budgets behind them.
Consumer messaging apps like WhatsApp may seem like the easy choice, but if the organisation is connected to the groups in any way, then they risk non GDPR compliance and all kinds of business governance issues.
When comes to business and professional use, it is wise to double-check WhatsApp's terms of service, as these state: "You will not use (or assist others in using) our Services in ways that: (f) involve any non-personal use of our Services unless otherwise authorized by us."
This article explains more about the risks of using consumer messaging apps like WhatsApp for professional purposes.
Guild is an ad-free, GDPPR compliant private platform that can host your alumni groups and communities without the noise of social media platforms, and with all the control, branding and analytics you'd expect from a professional app.
It's simple to use, elegant and is perfect for branded alumni groups and organisations wishing to communicate with alumni or create separate alumni networks and communities.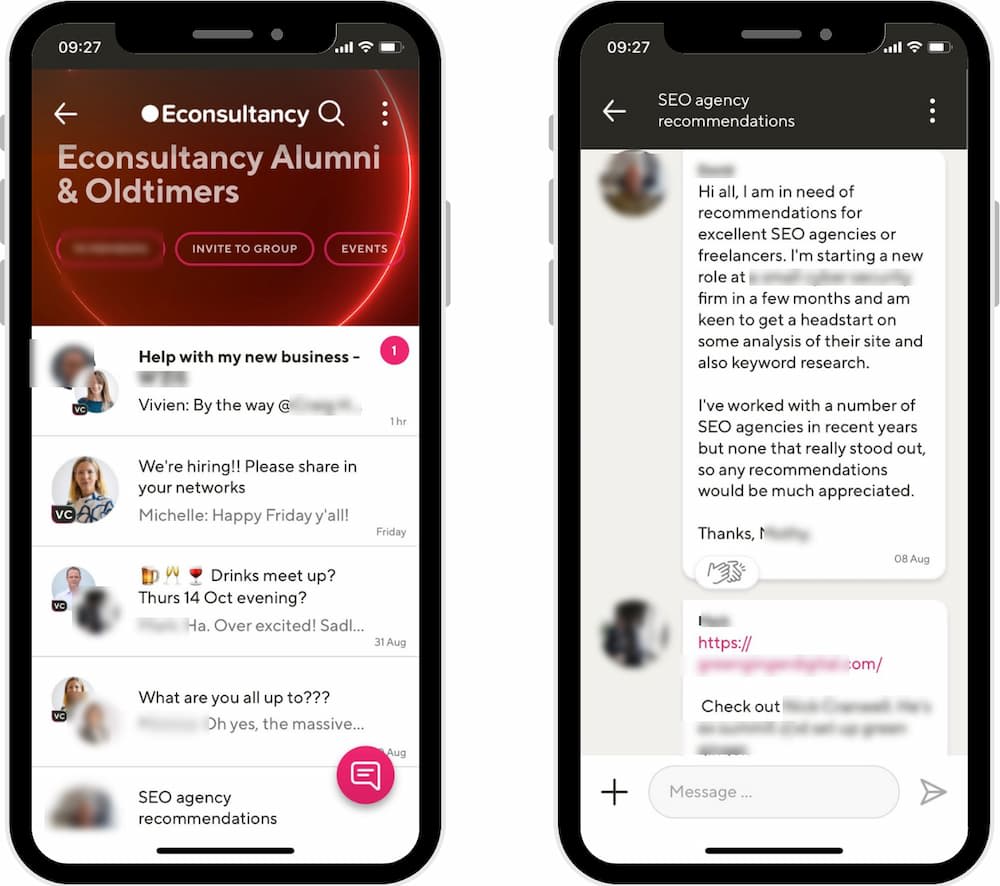 Why build an alumni community?
Shared work or study experiences and shared places are very strong foundations for online communities.
Alumni groups can convene like-minded people around shared experiences and build strong connections and networks that create value for the people who are part of the alumni, but also for the school, college, university, business or organisation hosting it.
Advantages of building an alumni community
Here are just a few reasons why you should build an alumni community or group.
Recruitment - alumni networks can help massively with recruiting efforts
Advocacy - well-informed alumni can be powerful ambassadors in their own businesses or communities for your business or organisation
Brand awareness and visibility - alumni who are connected with you are more likely to share your information and messages with their networks  
Research and a sounding board - alumni can be useful sounding boards for organisations - for example, EY surveys its alumni annually
Continuity and advice - alumnis can build a strong sense of community between current and former students or employees and provide advice
To identify business partnerships - alumnis can bring their connections to the organisation in the community, for example to fund programmes or provide speakers for events
To build a legacy -  alumni feel a strong sense of connection and partnership with an organisation as they have helped to build, shape and grow an organisation. They can provide historical information to make anniversary events more meaningful.
Funding and income generation - many Universities and Higher Education institutions work closely with their alumni to help access funding through grants and donations, for fundraising and other important income streams, such as recommendations for academic research support.
To develop commercial opportunities - again, Universities and Higher Education establishments are increasingly partnering with their alumni to develop or licence innovative technology, co-develop intellectual property or create spin-out companies.
We're here to help
Our award-winning support team is here to help.

Creating branded alumni groups and sub groups to support your organisation will take you 5 minutes on Guild, but don't be afraid to get in contact as we'd love to help and make your alumni communities a success!
Thinking about how you might use Guild?
Take a look at who is using Guild and some of our case studies.

Here are some other inspiring use cases for Guild.

Learn how Manchester Metropolitan University set up its own alumni network on Guild.
See how the NEU supports education staff delivering remote education to students during lockdown using a Guild community as a resource hub
Learn how child literacy charity Bookmark co-ordinates its 350+ volunteers with c community on Guild
Discover why The Access Project moved its internal comms from Slack to Guild
---
Join Guild 🤝

See for yourself how the Guild experience is different to WhatsApp, Slack, LinkedIn or Facebook Groups. Guild is a safe space to connect, communicate and collaborate with others.
Join us on a platform that is purpose-built for professionals and businesses.
Contact us if you want to know more or have any questions