In these 'Ways to use Guild' articles, we're featuring examples of what Guild users have created with our ad-free, private, professional messaging groups and community building platform.
In this article, we look at how Guild can be used to host communities of practice. Powerful communities that can be formal or informal and can generate a massive amount of personal and professional value for individual members.
What is a Community of Practice?
Communities of Practice is a term originally developed by the anthropologist Jean Lave and educational theorist Etienne Wenger in 1991. These groups are communities of practitioners that are bound by knowledge around a subject, a concern or a passion for something they do - and they wish to learn how to do it better.
These communities tend to link individuals together across official organisational boundaries and departments as they build and exchange knowledge.
Examples of the types of Professional Communities of practice that have set up groups on Guild include: Marketing, PR/Communications, Law, Accountancy and Human Resources - and even specialist areas within that subject, such as Digital Marketing, Charity/Not-for-Profit Marketing, SaaS Marketing, Public Affairs, Social Media, Mergers & Acquisitions and Tax Law communities of practice.
What is the difference between a Community of Interest and a Community of Practice?
Communities of Interest differ from Communities of Practice in that members of those types of interest groups are not necessarily experts or practitioners of the topic around which the community has formed.
MSI Global Alliance (MSI) is a leading international association of over 260 independent legal and accounting firms in more than 100 countries. They have a number of communities of practice on Guild.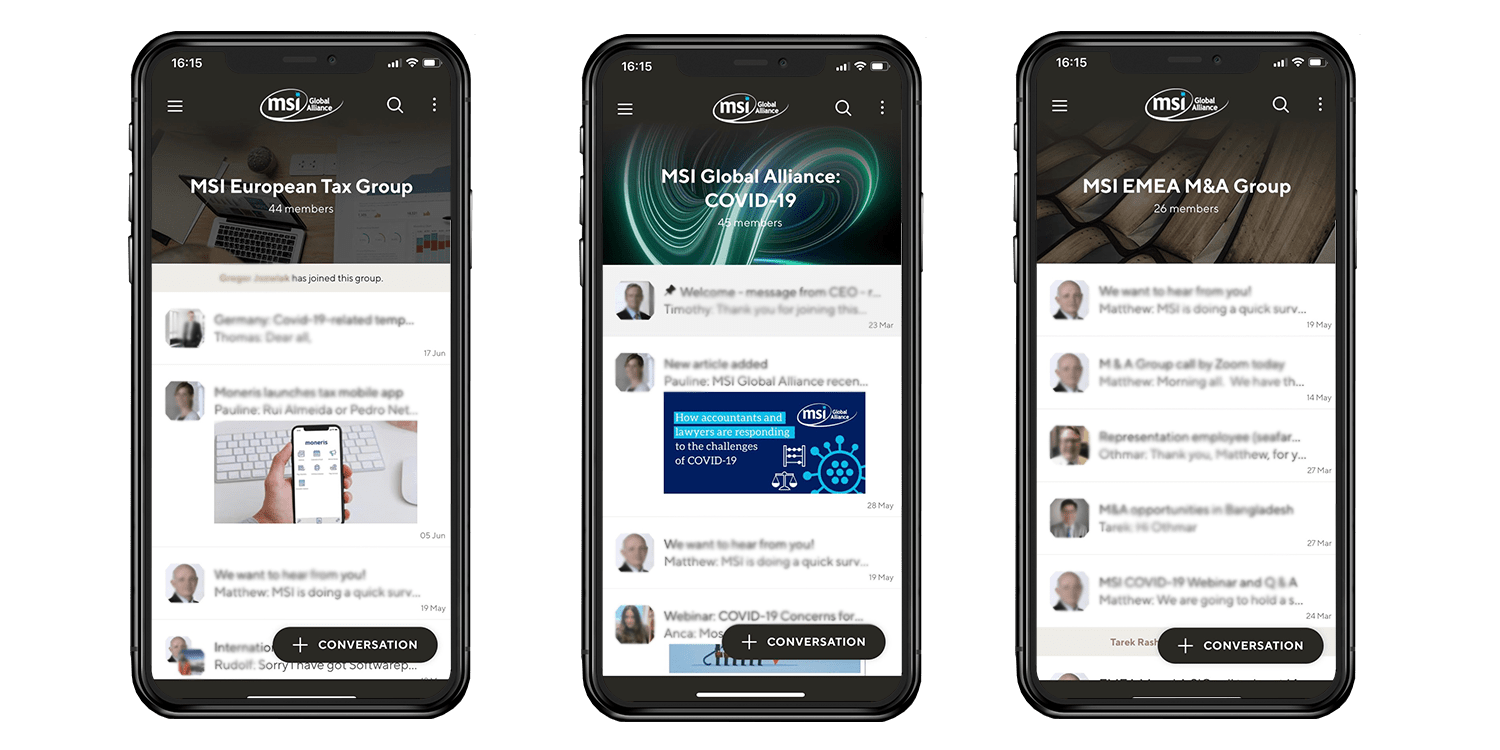 MSI's Head of Marketing Pauline Rottstock explains how these professional communities are segmented.
"We set up over 10 different communities on Guild. These are predominantly regional groups as well as specialist communities that group together members with a shared interest and expertise.
[using] Guild has added significant value to our membership and enhanced our member to member communications."
Why, and how, would Guild be used for communities of practice?
There are many professional membership organisations and associations using Guild to bring their members or subsets of their members together in a safe and private space, such as the PPA , the IPIA,  CIPD and MSI Global Alliance.
But there are also many vibrant communities of practice that don't have chartered status or an official professional membership association behind them.

Some groups have been created by practitioners who wish to improve the reputation of their chosen professional practice in their chosen field, or simply wish to convene like-minded professionals to improve collective knowledge and 'fix things' in their industry.
Creating communities of practice on Facebook Pages or Groups means not just competing against the social media platform's algorithms, busy newsfeeds and notifications, but also the risk of losing members who are unhappy using Facebook tools and giving up their personal behavioural data, or blending their personal and professional lives.

If you are creating communities on LinkedIn, you'll need to have significant ad budgets to recruit members, re-engage members and ensure visibility of the community content in busy feeds.
Consumer messaging apps like WhatsApp feel like an easy choice, but there are many GDPR compliance and all kinds of business governance risks.
When comes to business and professional use, you need to double-check WhatsApp's terms of service, as these state: "You will not use (or assist others in using) our Services in ways that: (f) involve any non-personal use of our Services unless otherwise authorized by us."
This article explains more about the risks of using consumer messaging apps like WhatsApp for professional purposes.
Guild is an ad-free, GDPPR compliant private platform that can host your Communities of Practice without the noise of social media platforms, and with all the control, branding and analytics you'd expect from a professional app.
It's simple to use, elegant and is perfect for professional groups and communities of practice.

Why build a community of practice?
The pursuit of improving professional knowledge, strengthening professional connections and building a collective of people to improve a profession are very strong foundations for online communities.
Convening like-minded people around shared experiences creates value for the people who are part of the groups, but also for their employers.
Communities of practice are generally self-organising, but they benefit from having an individual, or small group of individuals who can host and cultivate the group to ensure they sustain value for all members.
Advantages of building a community of practice
Here are just a few reasons why you should build a community of practice:
To improve collective professional knowledge - members sharing expertise and discussing and debating topics of interest together can improve the professional knowledge of everyone in the community.
Advocacy - convening and encouraging powerful ambassadors for the profession or chosen field can build advocacy outside of the community.
Problem solving and empathy - a problem shared is a problem halved! Communities of practice are an invaluable resource of empathic problem solvers. They contain people who have 'skin in the game' and real-world experience who may have worked through the same problems. Problems can be gnarly and complex or resolved with just a simple comment. Sometimes, just having empathetic ears can be all the help that's required.
Professional development - these types of community allow individual members to figure out what they need to know to develop skills and knowledge. Often specific formal and informal training and skills development is either given in the group or recommended.
Recruitment - communities of practice can help massively with recruiting efforts and pre-filter candidates.  "Does anyone know someone job hunting and experienced in qualitative research....?" "Yes, I can highly recommend Bolade..."
Research and a sounding board - members of a community of practice can help sound out and help build on ideas for projects, events, research or publications.
Mentoring and advice - strong communities like these can provide informal or formal mentoring between members, both upwards or downwards.
Co-creation - many communities of practice work collectively on guidance, white papers and content that can help the wider profession. An example of this is the CREO informal community of practice for event professionals. The community of practice comprising more than 600 event professionals have co-created the open source CREO manual for events organisers covering Event Tech, crisis management and advice on running virtual events.
We're here to help
Our award-winning support team is here to help you build your community.

Creating communities of practice whether formal or informal will take you 5 minutes on Guild, but don't be afraid to get in contact as we'd love to help and make your communities a success!
Thinking about how you might use Guild?
Take a look at who is using Guild and some of our case studies.

Here are some other inspiring use cases for Guild.
Join Guild for free today
See for yourself how the Guild experience is different to WhatsApp, Slack, LinkedIn or Facebook Groups.
Go to our pricing page and join free as a member, create your Guild profile, join available groups and build your network.
Ready to run your own professional, private, branded groups, communities or networks? Excellent! Check out our Business (free) and Business Plus (custom pricing) options.
Guild is proudly British, fiercely independent, ad-free and GDPR compliant. Guild is the best place for professionals to connect and communicate. Come and join us on a different and decent kind of messaging platform that is designed for business and done with integrity.
Contact us if you want to know more or have any questions.