We all know how important first impressions are. Whether intentionally or subconsciously, everyone makes snap judgements. These affect how we interact with each other and our surroundings.
Welcoming new people to your online or virtual community is no different.
Getting the process of new community members signing up, onboarded and joining in significantly affects how successful your community will be, and how comfortable new community members feel from the get go.


What do we mean by onboarding community members?
If we consider the different stages a member goes through when being part of a community, the onboarding part is one of the most important.
Community onboarding shapes:
How well people understand what the community is, and what it is for
What value they could get personally from joining the community
Where to start and how to orientate themselves quickly
How to take part in existing community discussions, events, challenges, co-creation etc.
How to interact with other community members
How comfortable new members feel opening up to others for the first time
As community managers, we are competing with many other factors in terms of the time and attention someone has to dedicate to joining and participating in a community.
We have to provide an immediate appeal.
We must remove as many roadblocks as possible to usage...and we must try to get that new member returning regularly!
In many communities, this procedural journey is perfunctory.
Planning steps that make up a productive onboarding process will make the difference between inactive community members and active, engaged community participants.
---

Why is it important to formalise the process of onboarding community members?
There are a few key reasons why it's important to formalise the process of onboarding new community members to your online or virtual community.  
Sticking with the generic emails most community platforms build in, or not having a process at all, will harm community growth.
It makes you think really hard about the purpose/value of your community
While people might be interested enough  to warrant creating an account and joining your community, the value and purpose of the community might not be clear to them.
Crafting communication outlining both of these during the earliest interactions will address that. Signposting the value and purpose of the community as an ongoing benefit delivered through repeated visits further reinforces them.
It helps members quickly overcome any technical hurdles
Presenting core functionality reduces technical confusion. You can point out how to participate in the community, group or network to the less experienced.
If activity in your community is through specific platform features, for example, Video Rooms and Live video meet-ups on Guild, explain how they work. This will help people find high-value touchpoints in your community.
It reinforces community culture and community guidelines
Community culture, house rules and terms of use need to be clear as they are a vital part of the engagement contract with your members.
We all feel and operate better when we know what expectations are, both on us and in how we will be treated.
Listing them helps to set healthy boundaries and encourage engagement in your community, group or network. Really thinking about how this is communicated to and experienced by new members helps to create the right user experience from the off.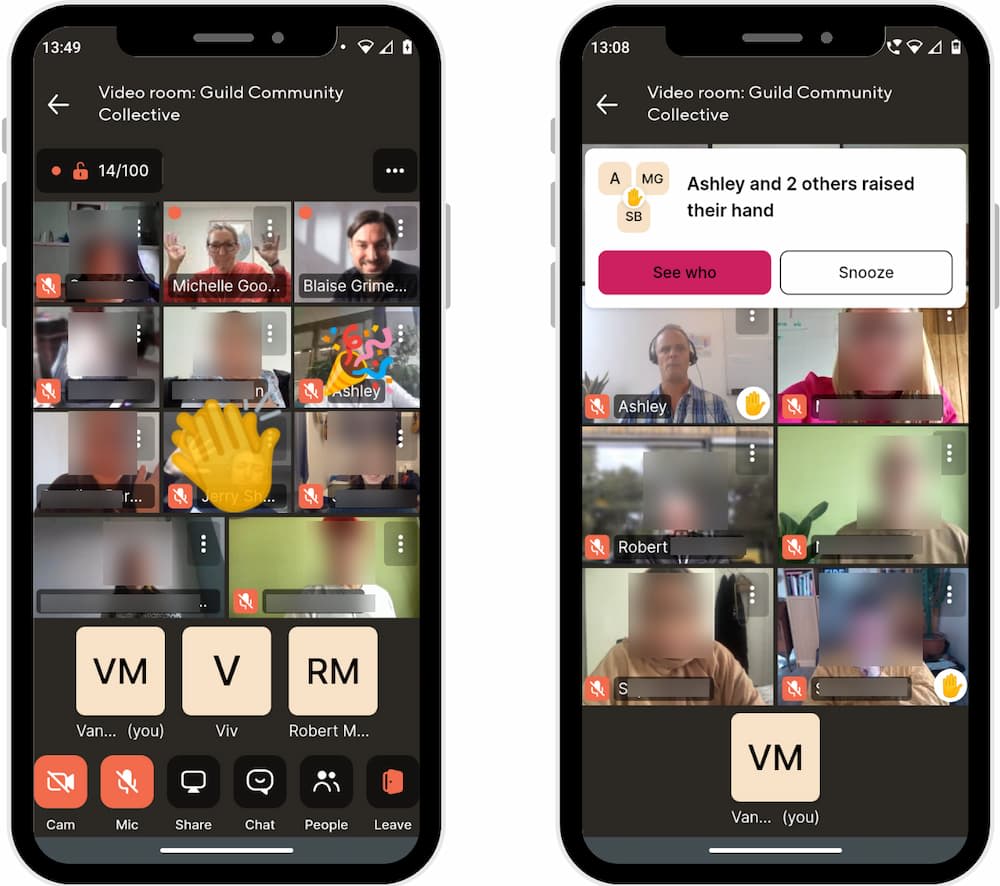 Five simple steps for creating an engaging and effective community onboarding process
Follow this framework of prompts when crafting your onboarding process and materials.
It will ensure these prompts are effective and specific to your community.


1. Set goals for your community onboarding system
We need to consider and set goals for what we are trying to achieve first. Being clear about what you are aiming for will make decisions about specific elements easier.
Typical onboarding goals would include:
Making the information we share accurate and easy to understand, with all links working.
Have some kind of hook to encourage an early act of engagement from new community members
Ensuring our onboarding instructions are both standardised and personalised where possible. We can do this by flagging networking opportunities, practical content and ways of introducing yourself as a new member.
In larger communities, goal setting should also be supported by some targets or key performance indicators (KPIs), e.g '75% of new members per month to introduce themselves to the community, 65% of new members to complete their profiles', etc.


2. Think of the User Journey
New members will navigate their onboarding to a community via specific steps. We must consider all of these steps through their eyes.
Ask yourself these questions:
As someone approaching your community without knowing much about it, how do they feel?
Does the communication they receive make them feel positive and clear about what to do?
If they do follow the steps suggested, are features labelled and easy to understand?
Looking at suggested conversations to jump into, do they appear welcoming for new community member?
Watching how new users interact with your calls to action will show you what works or not. You can improve take-up rates by explaining how to use key functionality and what purpose it serves.


3. Choose the best ways of communicating with your community members
Most community onboarding occurs via an email flow. It's simple to create an email workflow and everyone knows how to handle email. It's also an easy way to reach people even if they are not actually on your site.
The trick to expanding from the typical template that all forums and platforms use is to create a series of steps, with a gap between each email outlining phases of onboarding.
Integrating your Guild community with your CRM system is a great way of creating an email flow for member onboarding and beyond.
Using Guild's direct messaging feature in the platform, whether that's crafting an Auto DM to welcome new members to your community followed by a personalised set of DMs in early life, is a powerful way to onboard new members in addition to emails.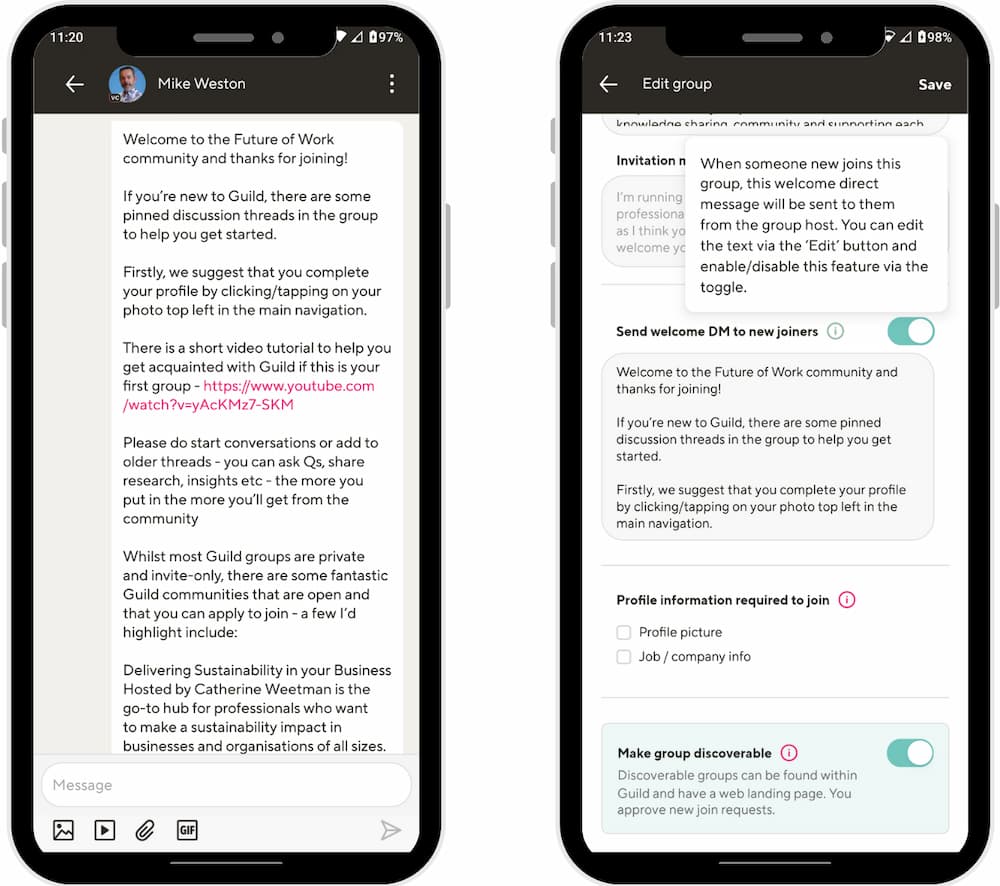 If your chosen platform can handle it, you can even have the next email in the chain triggered by a member's use of certain features (or inaction!). Timely information and prompts will be easier to process and less overwhelming.
Different platforms offer different features that can be used for member onboarding and engagement. Here are some broad examples of tactics that you should consider:

Landing pages are great to act as a full record of all guidance, community rules, history, key discussions and events. They usually cover important information in a wiki or FAQ style. Take a look through the different approaches to community landing pages on the Guild directory for some examples.

Videos allow you to zero in on exactly how to use community tools. You can reduce support requests and situations where someone gives up or is unaware of expanded usability features. These could be posted on your YouTube or Vimeo channel or uploaded directly into a pinned post in your community. Guild allows community managers and members to use video natively in conversations.

Help labels next to functions, such as tooltips, provide contextual help as people navigate the community The tips can act as calls to action in themselves.

This last point is particularly powerful as it flags where important features are. It draws attention to them along with instructions on why and how to use them, and breaks information down into digestible chunks.


4. Get your community onboarding messaging right
You can include many different items in your onboarding messaging.  The following list is not exhaustive, but it should cover important calls to action and provide food for thought on any other messages specific to your community.

A request to finish filling in their personal profile information. This might include image and visible background information

A link to a welcome thread in the community, asking them to introduce themselves

Pointers to your most popular content, or to other groups and resources they may be interested in

Illustrations of the most important features that are essential to their experience or easily missed

Some history, high points, ceremonies, achievements or testimonials about the community

Profiles of key members or mentors to connect with in the community

An invitation to upcoming events, whether physical or virtual

An open invitation to get in touch with any questions


5. Work in Waves
Depending on the type of community you're building, you might benefit from inviting people in waves, with a gap of a few weeks between them.
You can get to know people better and provide a more intimate onboarding experience if you do this in waves. Importantly, you can customise your early outreach and gain insight into which part of your process is working best - and then optimise things.  
When existing members know to expect these waves, it's easier for them to focus on relationship building. New people are better absorbed into the community.
---

Common pitfalls of community onboarding

There are a couple of learnings I can share from having set up many onboarding systems on community platforms.
These may help you avoid problems.


The onboarding information must be crystal clear
Run your copy through a team member who is not particularly experienced with participation in the community.
It's a great way to get impartial feedback and spot things that might lead to confusion. If they are of a similar profile to your target member profile, even better!
You can also run your text through a word processor with comprehension scoring, or use apps that can improve your writing style to fine tune copy, such as Hemingway or Grammarly.


Regularly check all the links and features referenced in the onboarding information work.
There's nothing more frustrating than being directed to a dead link or pressing buttons that don't do what's described. It also leads to rapid departure and low trust in the community.
---

After onboarding your community members

As with other aspects of building a community, group or network, analyse your onboarding process and make improvements in a continuous manner.
This increases the likelihood of success for future joiners, which in turn improves the experience and ROI for all.
Checking that people are actually following the steps you have laid out is one of the most vital aspects of this assessment.
Each call to action should be analysed, and completion monitored. You can also run quick surveys a few weeks in to assess how satisfied people are with the clarity of information provided.
---


More community strategy training
What are the different types of online community? The 5Ps of community.

The Periodic Table of Community Strategy
How to align Community to your organisation or business goals
Community Strategy and Community Management resources hub
---


Get tips and share learning with fellow Community Managers
Join this free online community for community and social media professionals, however experienced you are.
Guild Community Collective is for you whether you're a community strategist, community builder, community manager or social media professional.
Share best practice, ideas, inspiration, interesting content and resources. Get feedback from the group on ideas and initiatives, develop partnerships and make useful industry contacts and connections.


About the author



Blaise Grimes-Viort has 20+ years of Social Media & Online Community Management experience. He has built and managed large teams of moderators, social media & community managers and volunteer community leaders.
A hands-on community manager and host of Guild Community Collective - the community for community and social media professionals.
Blaise has a track record of success building communities, both online and offline, in Publishing, Telecoms, Entertainment, Auto, Financial, FMCG, Charity, Gaming and more.
You can connect with Blaise on Guild.
---
Join Guild 🤝
See for yourself how the Guild experience is different to WhatsApp, Slack, LinkedIn or Facebook Groups. Guild is a safe space to connect, communicate and collaborate with others.
Join us on a platform that is purpose-built for professionals and businesses.
Contact us if you want to know more or have any questions.