What's the ROI (Return on Investment) of community?
A common question. So here are 12 ways publishers get value from community:
Rebuilding trust
Understanding your readers
Fulfilling the need for emotional engagement
Diversifying content channels
Proven strategic value
Recurring revenue models
Cutting through noise and information overload
Community fits in to your marketing funnel
Monetisation of your community and improving your subscription offer
Adding value to your events programme
More attractive sponsorship opportunities
Conversational intelligence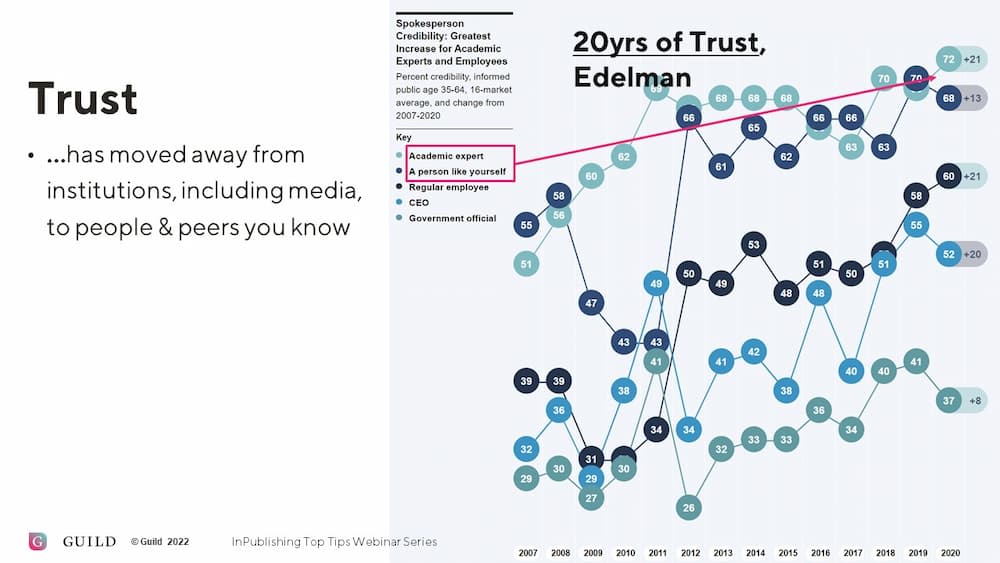 1. You need to rebuild trust with disillusioned audiences
According to the Edelman Trust Barometer, trust in institutions and media is diminishing. Yet trust in experts and peers has grown. The popularity of online reviews is an obvious example of the growth of peer influence. People want to find spaces with like-minded, trusted peers and professionals. Building a community allows you to provide the necessary space and time to build trust. The day-to-day interactions with your audiences in a community can help them see you as both peers and experts.

2. Understanding your readers / audience
All businesses have an ever-increasing need to capture valuable, actionable insights about customers. Consider the massive amount of data that social media platforms collect but don't share. Smart brands and businesses have been creating their own communities. It's not only about getting closer to customers. It's also a way to gather deeper insight that can help shape decisions.  It can help you develop brands, products, campaigns, and sell services.  And with the "cookie apocalypse" on the horizon, first-party data is going to be increasingly valuable.

3. Fulfilling the need for emotional engagement
Customers value purpose and authenticity in the brands they choose to trust or spend with. A 2020 study found that consumers are 4.1 times more likely to trust a brand with a strong purpose.  And they're 6 times more likely to protect such a company in the event of a misstep or public criticism.

4. Diversification of content channels
It's easier than ever for readers and listeners to choose what channels they want to use to get closer to content.  Podcasts, newsletters, forums or social media are all cheap and easy ways for journalists to connect directly with readers. Individual journalists and analysts such as Casey Newton, Joe Rogan and Sam Harris are building their own communities. On Guild, advertising expert Simon Harris has built a community around his newsletter, Fix. These individuals are leading the way in making community more important to readers.

5. The strategic value of building communities
For any publisher looking to invest in community, it's important to be clear on the value. You need to understand the time and the resources required to generate a return on your investment. As so often, SaaS and technology companies are leading the way. Paddle's State of SaaS Growth report found that 48% of product-led growth companies have an owned community. That's in contrast to 28% of other B2B companies in the same index.
Companies like HubSpot, Salesforce and Adobe have whole teams focused on developing communities. They're blending digital communities with in-person events, conferences, and meetups. The result is the elusive "always-on engagement" and a closer relationship with customers.
Technology companies aren't the only ones who understand the value of communities. Finola McDonnell, CMO of the Financial Times, has said "Community is the next phase of media". She also notes: "The FT comment section is as good as the journalism – readers are our equals". The FT has identified the importance of readers knowing that they belong. Its research has shown that high levels of participation and engagement increase the lifetime value of a subscriber.

6. The shift to recurring revenue models
Year-round engagement offers a revenue guarantee. It helps bolster the subscriptions and revenue, which leads to financial certainty. Consumer brands are already doing this en masse. Witness the growth in subscriptions for food, razors, skincare, and pet food.
This model of smaller, more regular engagement can replace the cycle of engagement. Big events like training, conferences and reports tend to form peaks with little in between. A community can bind these touchpoints together, making it greater than the sum of its parts. A community can help your communication and collaboration to flourish.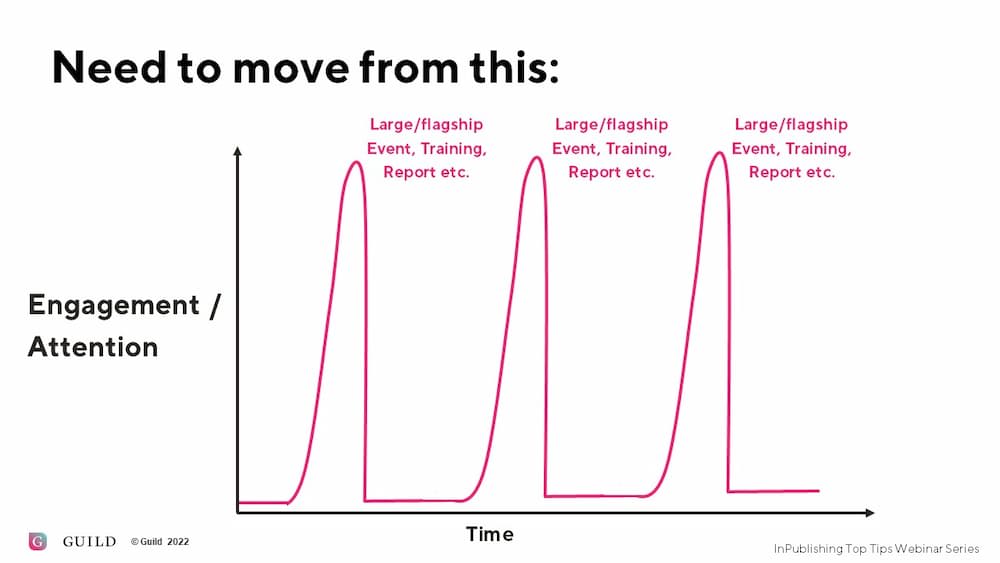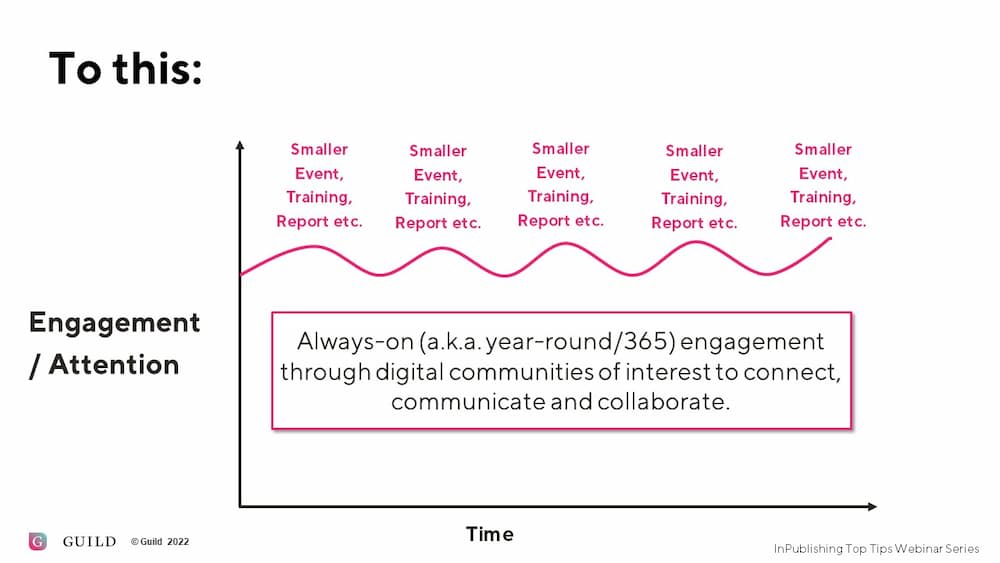 7. Where does community fit into your audience engagement approach?
There are only so many events, reports, catch-up videos, and social media posts that anyone can read. There's no shortage of competition for audience attention, creating a lot of noise.
Community can help cut through that noise.  Audiences can choose a place and space where they're not bombarded with information. They can take time to reflect, discuss, forage, explore, read, and understand.
One metaphor for an online community is a "digital campfire". People effectively huddle around and trade information and conversations. This contrasts with legacy platforms like Facebook and LinkedIn. Like a series of digital stages, messages are broadcast to passive listeners.


8. Community Based Marketing
Guild coined the term Community Based Marketing (CBM) in 2020. It describes a phenomenon that SaaS businesses have been using for many years. Brands use CBM to create closer, more valuable relationships with customers and prospects. Crucially, the value is on both sides. Customers and prospects become partners. They have influence, as well as generate revenue.
Community Based Marketing fits into several stages of the traditional marketing funnel. For example, publisher Econsultancy runs the Econsultancy Connect community on Guild. Members of the community get a taster of what its subscription can offer, which fits into Interest/Consideration and Desire.
Community also supports the Action/Conversion phase. For example, community members can be encouraged to take part in training, events and awards. Finally, community also works in the Loyalty/Advocacy space. Community membership builds loyalty and satisfaction, which can later translate into advocacy.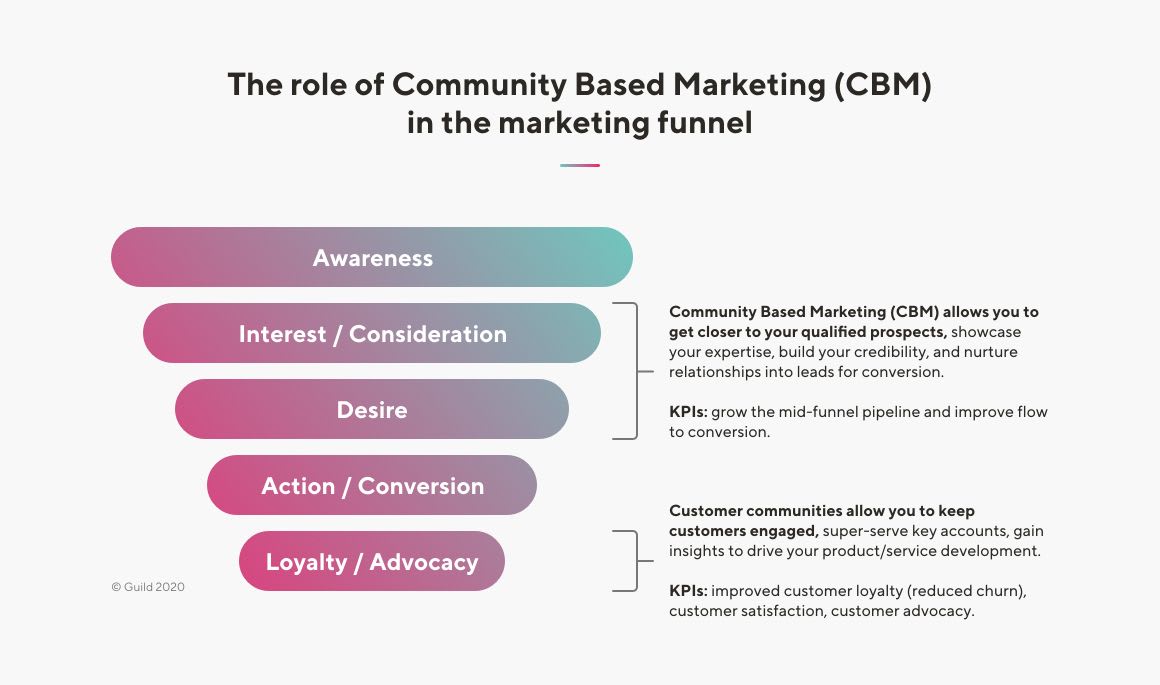 9. How can publishers monetise communities?
Community is a sticky value-add to any subscription model. A number of membership associations are great examples of how this can work. The CIPR, CIPD, PRCA, NEU and Marketing Society all offer communities on Guild to their members as part of their subscription. Loss aversion is a powerful motivator for subscriptions. Many us will want to avoid losing access to a valuable community if we don't renew.
If your community is open to non-subscribers, sharing links and previews of firewalled content can increase interest in subscriptions. Social proof in the form of conversations between subscribers and staff gives potential customers the intelligence and incentive to invest in your publication.

10. Events and community
Events are an important part of any publisher's revenue model. Again, your community can support the promotion, creation and curation of events. A community can also add value to events by allowing attendees to continue conversations and networking. For more on this, see our Events and Community Best Practice Guide.


11. Adding value to sponsorships
Communities offer multiple benefits for your sponsors. They can demonstrate authority on a topic. Presence in a community helps build awareness with a highly-qualified target market. Brands can showcase their expertise and credibility year-round. And a community is an ideal channel to cross-promote content, events, etc., while providing member value.  Thoughtful, tailored sponsor partnerships can add value for both the community members and the brand.

12. Conversational intelligence
Conversations in your community offer priceless first-party data. That can represent a wealth of valuable insight for you, your sponsors and your partners. For example, in the CREO community on Guild we've analysed conversations to identify semantic trends, sentiment trends, and brand awareness.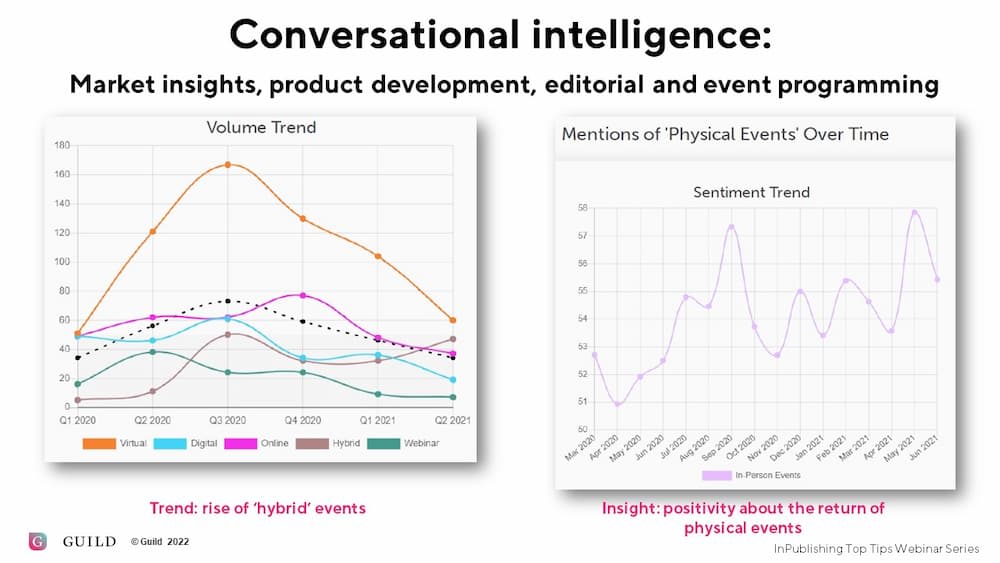 How can publishers resource communities?
There are many roles within communities. Unfortunately, editorial teams aren't automatically qualified to manage communities. Certainly, a community manager needs credibility and expertise. But they also need to have people skills, organisation, empathy and strategy.
Like social media management, you can't expect a junior member of staff to make your community a success. Investing in dedicated community staff or training can pay off. Funding for a community frequently comes from the marketing budget. In bigger publishers, dedicated community teams are increasingly common.
Photo by Vanilla Bear Films on Unsplash

More about the value of community for publishers
What is the ROI of online community for B2B media?
Media as a service - the future of B2B media?
A maturity model for the journey to memberships for B2B publishers (Part 1)
The return of community in B2B publishing / media (Part 2)
12 ways membership organsations get value from community

Community success factors
Align your community to your business goals
The ingredients for a successful community
Choosing the right community platform
Readers, listeners, advocates and ambassadors
Events and community best practice guide


Successful publisher, media and subscription communities
Media Entrepreneur Meetup builds networking community on Guild
Speciall Media builds community of practice for publishers and media owners on Guild
Renewd moves from Slack to Guild for its B2B membership community
NEU (National Education Union) use Guild for teacher community
Case Study: Addictive - Fix Ad Tech / Perfect Storm
Case Study: PPA use Guild for professional publisher online member communities


---
Want to learn more about community strategy and community skills?
Guild Community Collective is a free community for community and social media managers, builders, and strategists. If you're taking your first steps in building a community you're just as welcome.
This community is for anyone interested in sharing best practice, ideas, inspiration, interesting content and resources. Get feedback from the group on ideas and initiatives, develop partnerships and make useful industry contacts and connections.  Regular virtual, in-person and hybrid events let you build your knowledge and network. Join today to be the first to hear about new events and resources.

---
Try Guild 🤝

See for yourself how the Guild experience is different to WhatsApp, Slack, LinkedIn or Facebook Groups.
Guild is a safe space to connect, communicate and collaborate with others.
Join us on a platform that is purpose-built for creating groups, communities and networks on mobile.