At Guild, we are big fans of community. The word suggests connectedness, people joining together, and becoming something bigger than the sum of their parts.
An online community (also known as a virtual community,  internet community or digital community) is where people come together digitally to interact, share knowledge and build relationships.
Online communities are generally made up of people who share similar interests or goals, whether it's raising money for charity, working on a project together, giving each other advice on how best to do something or simply sharing a passion.
Virtual communities offer members a safe place to discuss common challenges, find answers and share stories. As members connect, they can support each other and build rapport through their shared experiences. A virtual community also gives everyone a voice.


Table of contents
Features of online communities
What is the difference between social media and an online community
Does being an online community member feel different to being a social media user?
How can you use an online community?
What are the benefits of creating an online community?
What are the different types of online communities?
What is an online brand community?
What is a professional online community?
Features of online communities
Online communities have been around for a long time in various shapes and forms, and are constantly evolving to provide both hosts and members with a better experience.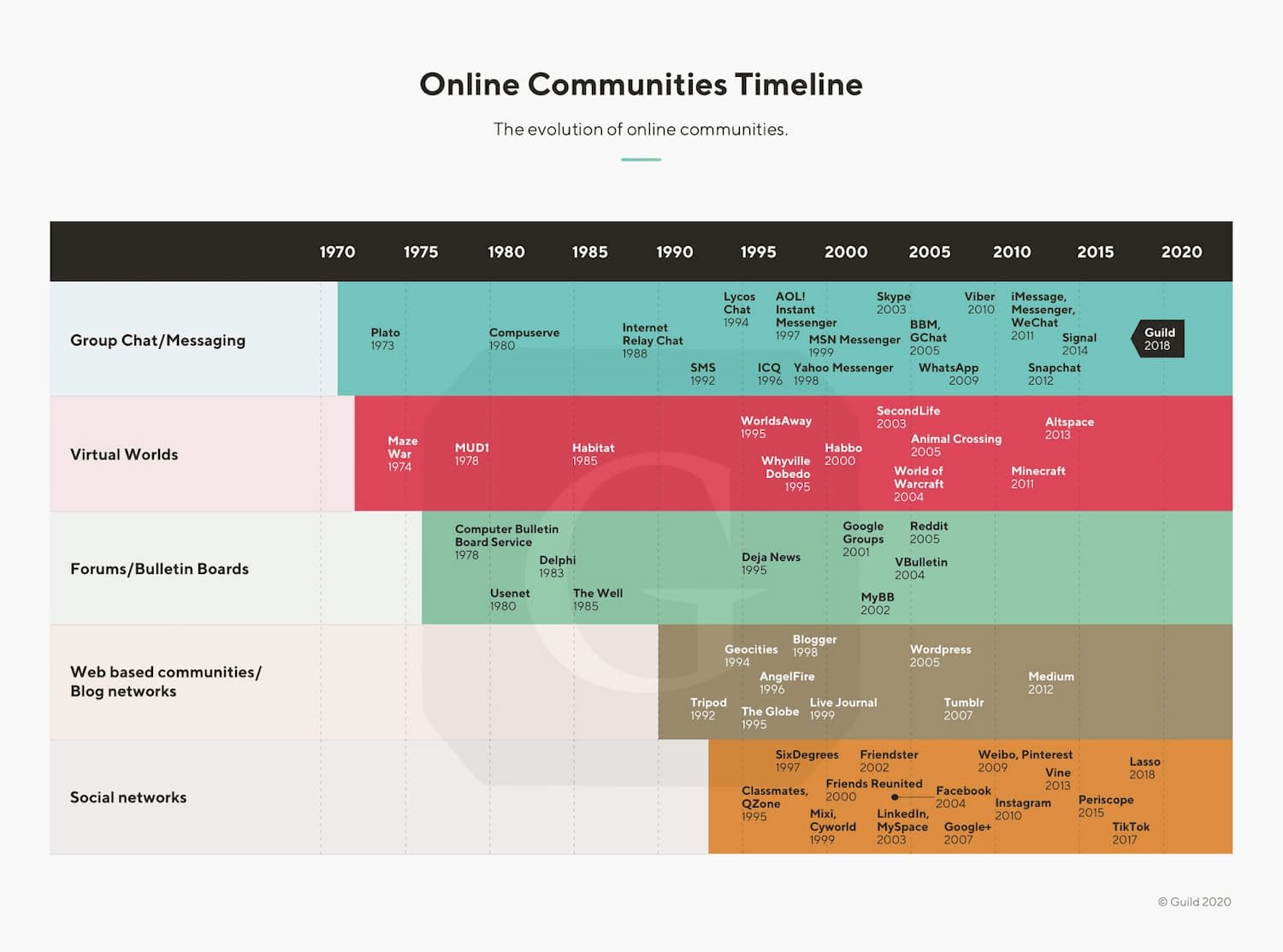 Each person has an account that lets them log in to post content and participate in discussions with other members.
Virtual communities may be open to all, or closed so that only its members can interact, with requirements and vetting prior to letting people join.
Most platforms have features like private messaging, commenting, tagging and liking posts.
Many virtual communities are hosted on purpose-built community platforms. These platforms are packed with features, including:
Analytics and reporting
Moderation tools
Payment/monetisation integration
Events, polls, audio, live streaming, and video capabilities
Custom branding
Integration with other tools and platforms, including via APIs
Advanced filter and search options

The term "online community" is often used interchangeably with "social network," but there are some important differences between them.



What is the difference between social media and an online community?
Is social media 'online community'?
Social media platforms such as Facebook, Twitter, and Instagram are great for connecting with other people and for spending time scrolling through an entertaining feed, but they're not the same as online community.
While social networks and social media focus on connecting people to other people and providing a scrolling feed of a mixture of content, including ads, online communities are designed to bring people together to focus on something specific.
This 'specific thing' could be improving their skills/knowledge around a subject, supporting a cause, connecting with others who have the same set of circumstances, achieving an important goal (such as living more sustainably) - there are many, many reasons for creating a community.
In online communities, the quality of interaction and trust between people tends to be much greater because they have intentionally joined a group of individuals who share the same interest - and that shared interest is at the core of the community.
Online communities are more focused on the collective 'we' and not the individual or 'me'. Social identity theorists suggest that when we join a group/community, we experience a shift from our individual selves to a collective self.
They are spaces where discussions, networking, learning new skills and building relationships with people who share your interests or circumstances can happen in small or large spaces. But they are much more private spaces than social media.
And these discussions and relationships between members of online communities are often significantly more authentic than those taking place in the public glare of social media.
Online communities can include social media, such as Reddit, Facebook Groups, and LinkedIn Groups.
But they can also be developed on very different platforms to social media. Platforms that have been specifically designed for for communities.
These Community platforms, such as Guild, have specific tools and functionality designed to give all members the same share of voice.
They have a focus on data privacy and safety.
Their user experience is designed to encourage intentional engagement and discourage and manage unhelpful behaviour.
Online community platforms provide a series of tools and functionality that help group hosts to better engage with members and create a sense of community among them. They can also be great for internal communications, team building and project collaboration.
Still want to create an online community on social media?

When building virtual communities on social media platforms, you need to consider the impact of social media algorithms. Social media algorithms take away the equal share of voice that communities thrive on as the social networks determine what individuals see in their feeds.
In social media, individuals and brands can find it hard to get their messages and posts even seen by their communities – the people they've already connected with.
LinkedIn, Twitter, Facebook, TikTok, Reddit, Instagram are all ad-funded platforms with algorithms designed to keep users scrolling, but they make it difficult to create focused and successful online communities.
The effect of algorithms is one of the reasons most community strategists don't recommend building a virtual community on social media.


Does being an online community member feel different to being a social media user?
There are a number of reasons many users prefer online communities and online community platforms over social networks, including feelings of belonging, more meaningful conversations, respect, feeling seen/heard and appreciated.
GWI asked social media users and online community members how each platform made them feel.
The following GWI research data shows the differences between online community members and social media users attitudes as a percentage difference.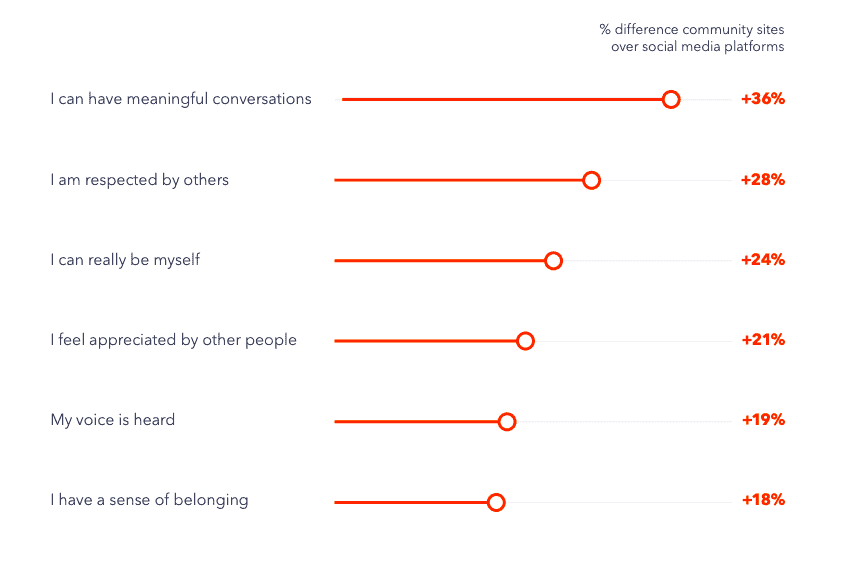 How can you use an online community?

An online community is designed for people to interact and communicate with each other. You can use it for a variety of things such as sharing knowledge, finding solutions to common problems, finding solutions to specific issues, engaging in discussions, forming teams, collaborating on projects, sharing work, achieving common goals - and the list goes on.
An online community can be used for many different purposes, including:
Sharing content and information about a particular topic with others
Collaborating on projects
Getting support and feedback from peers
Getting advice from experts
Exchanging and generating ideas and tips
Building relationships with like-minded people
Networking
Supporting a cause or campaign
Learning about a particular topic (for example, taking an online course)
Gaining customer feedback and insights
Providing customer service
When it comes to what you can do with your community, there's no one-size-fits-all answer.
The best thing to do is to actually get started and focus on creating a community that suits your needs and the interests of its members.
There are many community specialists who advocate the 'Minimum Viable Community' approach - where you start small, experiment, generate good ideas and iterate as you gain momentum.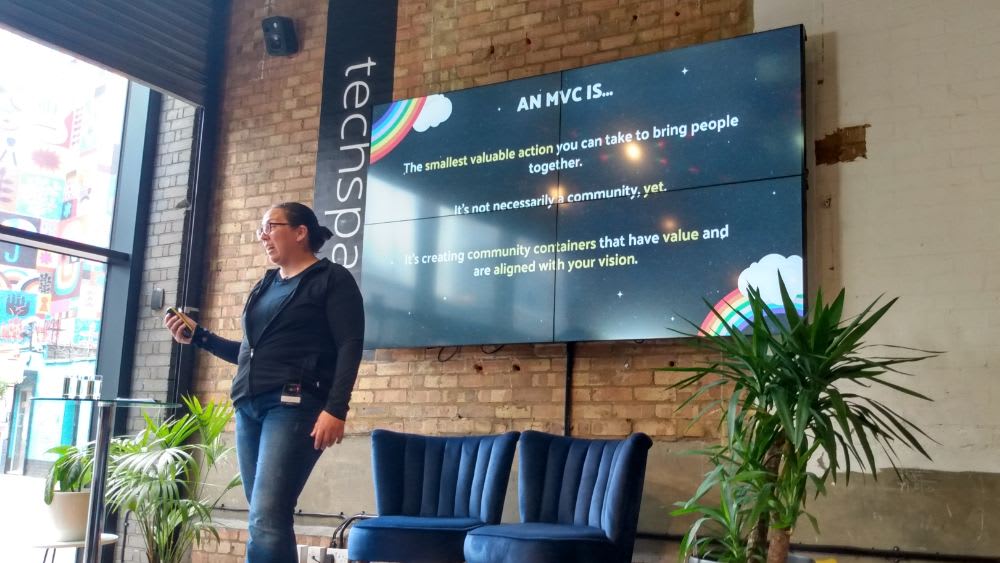 If you are building communities to support your business or organisation, it's important that purpose of your online community aligns with the purpose of your organisation. Ensure that you align Community to your organisation or business goals.



What are the benefits of creating an online community?
Online communities are growing in popularity and businesses and organisations should take note.
A study by GWI showed that:

"As consumers grow weary with messaging from influencers and celebrities, and meaningful connections become harder to find online, consumers are looking for more personal relationships with brands."

Additionally, the same GWI study revealed that the primary drivers for why people join a virtual community are to discover new things and to make meaningful connections with others who share similar interests.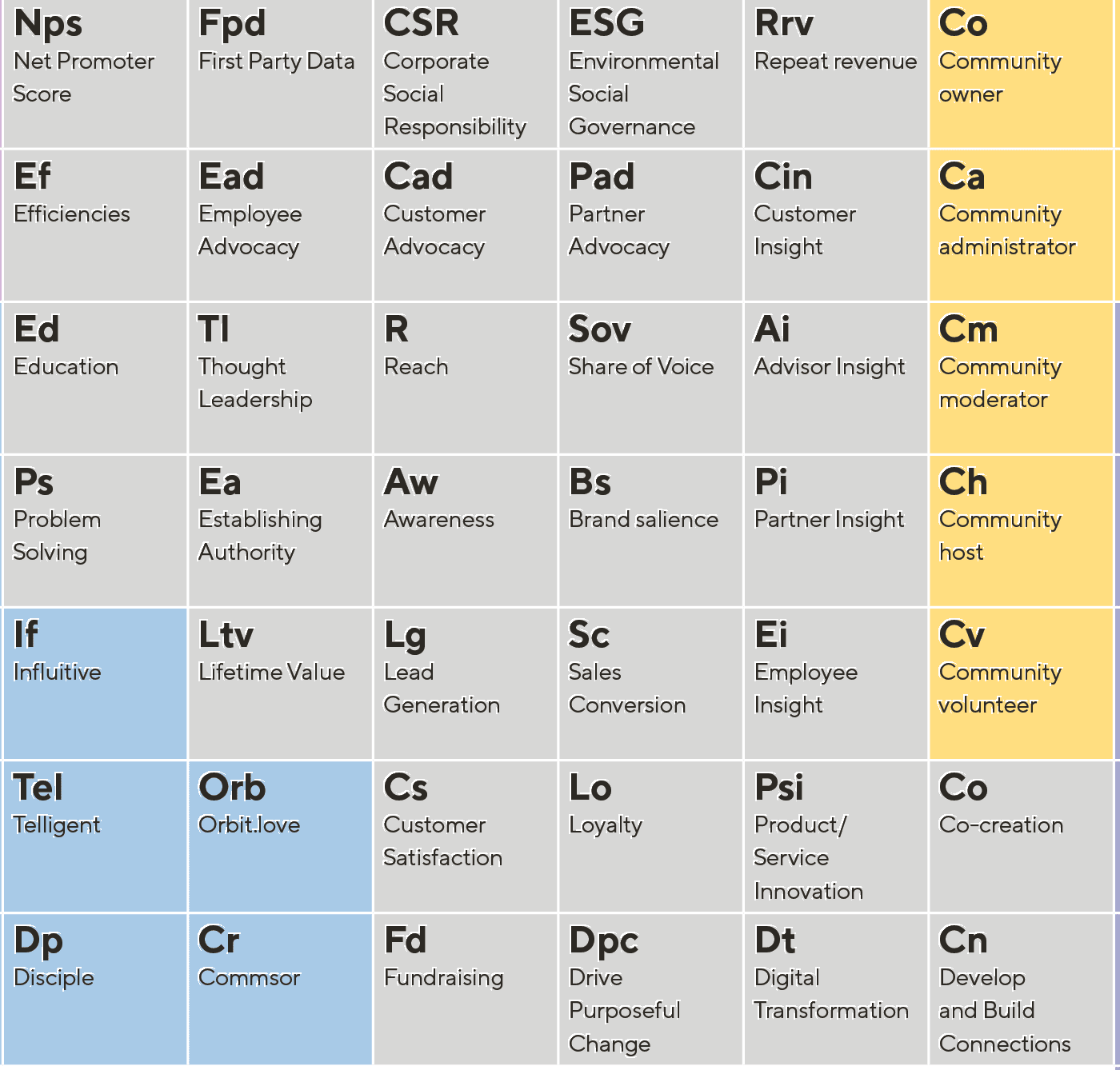 Here are some of the top reasons to create an online community:

Better engagement
Online communities are an effective way for brands, businesses and organisations to connect with their customers, prospects, audiences and many other different types of stakeholders - including employees, partners, advisors, volunteers etc.
Communities are an essential part of the digital communications mix and increasingly a core part of the marketing mix.
By creating a community, your customers, prospects, audiences and other types of stakeholders can interact both with your organisation and each other.
The benefits of improved engagement through online community can be measured in many ways. Here are just a few examples:
Prospects who engage in your community and with your brand are more likely to become customers
Customers who engage in your community and with your brand are more likely to become loyal, retained customers, even brand advocates or ambassadors
Volunteers who engage in your community will feel more connected to your vision and mission
Members or subscribers who gain engage in your community will feel that there is more value from being amongst peers and will renew and become champions
Brands with online communities for different audiences and stakeholders can see the positive impact that engagement has on an increase in brand awareness, customer acquisition, customer loyalty, advocacy and product, service and market intelligence.
Improved brand recognition
Creating an online community is a great way to make your business, brand or organisation stand out to your target audience.
You may be creating fantastic content and information, but struggling to reach the right people with that content. It can be lost amongst the 'noise' in social media and may never reach intended audiences without significant advertising spend.

Sharing useful, relevant and entertaining articles, videos, images, events, tools, experiences and other content in a captive community can ensure repeated brand and message exposure to your audience. Your community members can be encouraged to help build your audience and encouraged to share your content.

Increased trust
People are more likely to trust an organisation, business, brand, product, or service that has a more open relationship and is happy to engage with its customers, prospects, audiences and other types of stakeholders.
Businesses and organisations that listen and actively do something that feedback are more likely to be trusted.
The user generated content (UGC) such as reviews, tips and guides and insights created in online communities is powerful social proof that your brand is trustworthy.

Direct access to customers
In online communities, conversations are contained within a single location, eliminating the noise and ads customers experience on social media platforms, while providing them with direct access to your brand.

Lead generation and increased revenue opportunities
Communities can be great places to nurture your prospects and generate leads. In B2B, thought leadership communities, where members deeply value the expertise, connections and content on offer in the community can actively generate leads, encourage repeat revenue and increase the value from existing clients.
Our Community Based Marketing Best Practice Guide details the sales and marketing value that can be gained from building and sustaining valuable communities as a part of your marketing strategy.
It's not just in B2B. Consumer brands that use online communities can also see an increase in sales, as users interact with each other, feel closer to the brand and share recommendations.

Some communities can be monetised. Creators can use online communities as a way of monetising their content through subscription-based models, or by offering access to exclusive content to their paid members.
Publishers, media and membership organisations can offer members special deals, events and new content, either as a part of a subscription, or as a new revenue stream.

Greater access to market, product, service, competitor insights
Whether you're a start-up or established business, asking for feedback on a new product, new features, how they use something or how they feel about other brands can provide invaluable product, service, market and competitor insights.
And these can be captured within online communities. This highly valuable research data can be utilised to inform future business decisions.
Virtual customer communities and support/customer service communities have been around for many years.
Actively creating a community of customer or end users can help save huge amounts on market research, while keeping customers close and giving customers exactly what they want.

Improved customer service
Brands with online communities can improve customer service and reduce pressure on support teams by utilising them as a space for customers to self-serve.
These support communities can be used to encourage advice from other users and gather important product, service or market insights and intelligence.

Improved communication efficiency
Many businesses and organisations build online or virtual communities when they discover that they are emailing or updating customers, prospects, audiences and other types of stakeholders with the same thing...time and time again.

Communities can be a core element of improved communications, whether that's with people outside of your organisation or amongst the people who work in your organisation (Internal Communications).

Increased employee engagement
By encouraging engagement among employees, brands with online communities can create a sense of community within the organisation and encourage brand advocacy.

Virtual community can also be a essential component of a feeling of belonging to those working remotely and for teams spread out across a country, region or the world.

Enhanced innovation
Brands that use online communities can foster an environment for creativity and innovation among employees, customers, advisors, investors, partners and other stakeholders.

Ownership of data
Unlike social media platforms, communities can provide a wealth of first-party data, which can be used to enhance marketing strategies.
This data should be handled and used in accordance with The General Data Protection Regulation and any relevant laws on data protection.
Data should be used responsibly only to improve the relevance of any communications or campaigns.

Better Search Engine Optimisation (SEO)
Online communities are a great way to give your SEO strategy a boost.

SEO is is the process of improving the quality and quantity of website traffic to a website or a web page from search engines. This in turn impacts the visibility of your website, brand, business or organisation on searches in Google and other search engines.

By sharing content with your online community you can boost your website visits, its authority and it can help to create more organic links.


What are the different types of online communities?

Online, digital or virtual communities can be broadly classified into the following 5 categories or pillars.
At Guild, we call these the 5 Ps of Community:
Communities of Practice
Communities of Play
Communities of Product
Communities of Place
Communities of Purpose

Communities of Practice
A Community of Practice is a professional community led by experts and usually restricted by sector or industry.
It is often focused on a discipline, skill or craft.
On Guild there are thousands of communities of practice cover disciplines including law, marketing/advertising/communications, finance, sustainability, technology, medicine, engineering, healthcare, transport, construction, media and entertainment, retail, education, arts & culture and more.

Communities of Play
Communities of Play form around a specific hobby or interest. They can cover topics such as gaming, sports, arts, music, collectables and are often created by enthusiasts passionate about it.

Communities of Product
Communities of Product focus on discussing and learning about a specific product. They provide a valuable way for consumers to share information, find inspiration and get access to exclusive content and rewards.

Community of Place
Communities of Place are made up of people who are connected because they have the same location in common. These online communities can be neighbourhoods, cities, or workplaces. They can also be people connected by a gathering, event, or any other geographically specific place.

Communities of Purpose
Communities of Purpose should have a goal or ambition and fulfil a higher purpose, aligning people around achieving a single goal.
There is additional and very important category of community.
A Community of Circumstance
Similar to a Community of Practice, except that membership is driven by a set of circumstances or life experiences rather than a shared interest or profession.

Examples might include people living with the impact of Parkinson's Disease or those caring for those with Dementia.
>> Find out more about the different types of communities




What is an online brand community?
An online or virtual brand community is where individuals meet to interact with both a brand and other like-minded people.

Examples of brand communities
The HR Network is a community of "people professionals."
The community is run byHR Recruit, a human resources recruitment specialist, to support candidates and clients with a programme of roundtables, networking events and webinars.
It's a great example of a brand community - a Community of Practice - with a clear purpose where members interact and support each other - it's not all about the brand.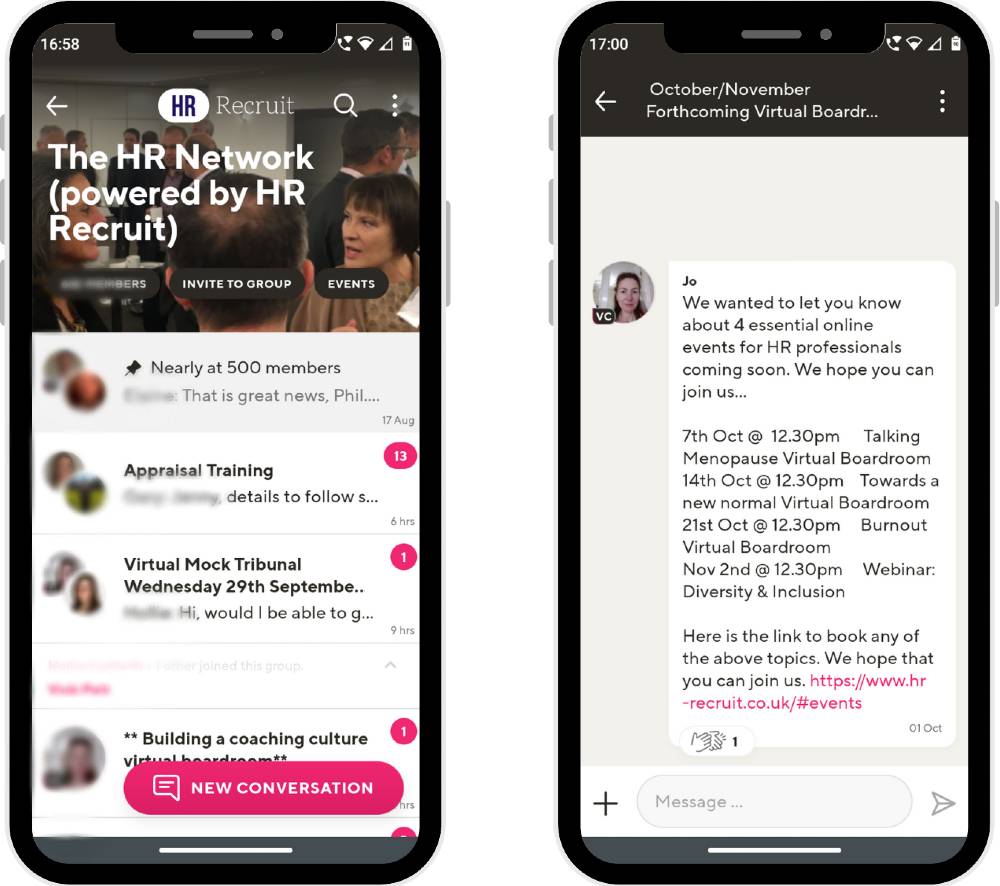 LEGO Ideas brings together "fellow fan designers" to share their own creations with the product, submit proposals for new products and vote on ideas from the community.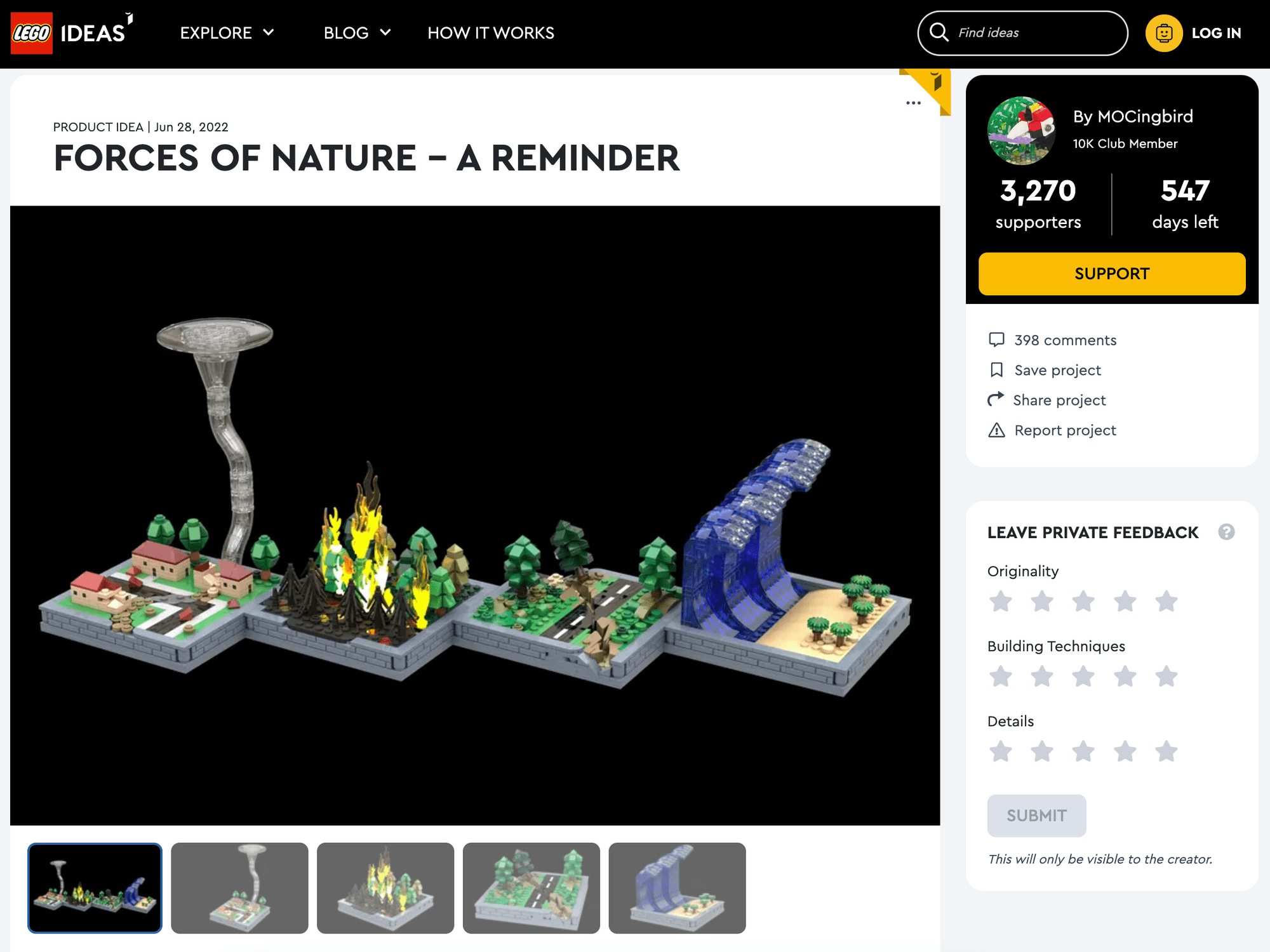 What is a professional online community?
A professional online or virtual community allows people in a specific role or industry to connect with peers and colleagues and access resources to elevate their job performance, improve their knowledge and to network with others.

Examples of professional communities

CREO is a peer support community for events professionals.
Its catalyst was the coronavirus pandemic when the events and conferences industry found itself shut down with next to no notice.
But the community has continued to thrive as events professionals hone their skills in virtual and hybrid events and face challenges around technology, the economy, sustainability and inclusivity.


The connects academics, practitioners, students and teachers from the marketing, media and public relations industries.
Members are invited to "explore issues and ideas related to their area of study or work" - context, confidentiality and a ban on commercial posts are key to creating civilised conversations among its professional peer group.
The Public Relations and Communications Association (PRCA) is the world's largest professional Public Relations body and it has created a number of virtual communities for members and non-members.
Its mission is to create a more professional, ethical, and prosperous global PR industry. Their virtual communities on Guild improve global access to PR and communications best practice resources, increase their reach, build relationships and broaden their membership base around the world.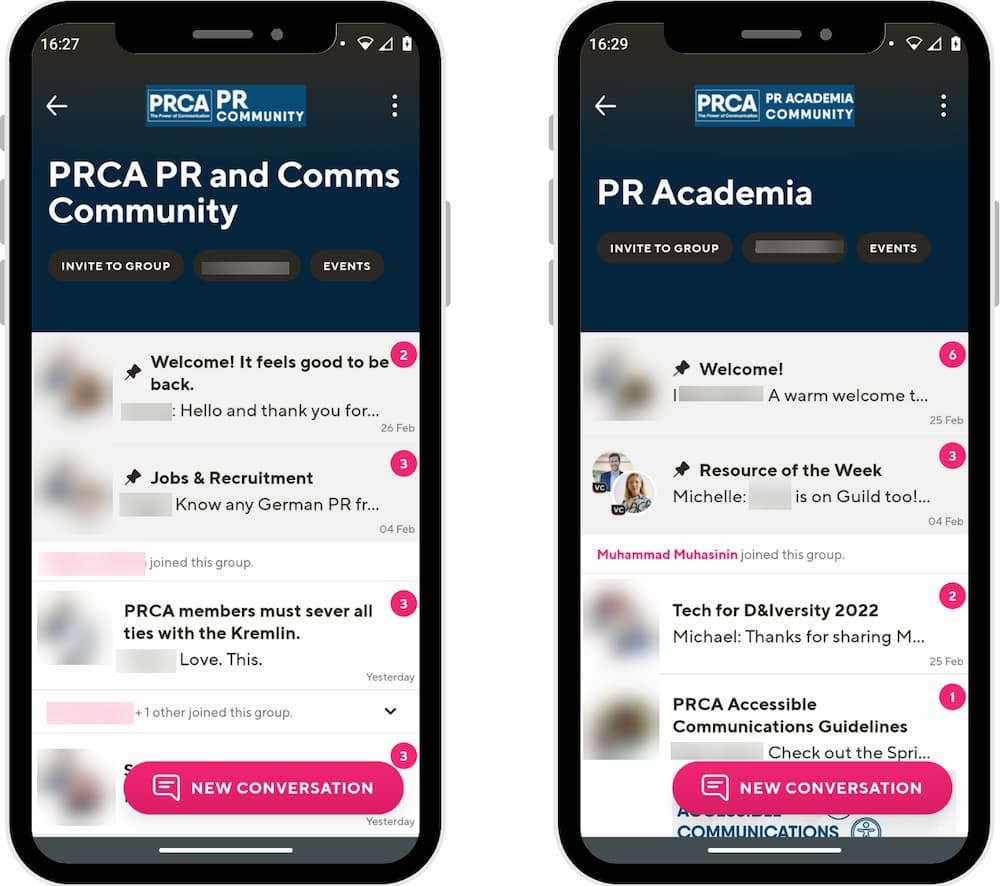 Conclusion
As you can see, building online or virtual communities can be a great way to connect and foster relationships.
The most important thing to remember is that you can't just launch a community and expect it to be a success. It takes a strategy, a plan, resource and requires time and effort to launch, sustain and improve.
Want more tips and advice on how to get started with your online community?
Check out some of our other blog posts, or take a deeper dive with our community strategy series.
---
Looking to build your online community expertise?

Join a free and friendly virtual community for community builders with all levels of experience.
Guild Community Collective is a dedicated community for community managers and social media managers, community builders and strategists to connect, communicate and collaborate on all things community and social media.
It's for anyone interested in sharing best practice, ideas, inspiration, interesting content and resources, getting feedback on ideas and initiatives, developing partnerships and making useful industry contacts and connections.
---
Join Guild 🤝

See for yourself how the Guild experience is different to WhatsApp, Slack, LinkedIn or Facebook Groups.
Guild is a safe space to connect, communicate and collaborate with others.
Join us on a platform that is purpose-built for creating groups, communities and networks on mobile.