InnovateHer is a social enterprise whose mission is "to get girls ready for the tech industry, and the industry ready for girls".
Their programmes encourage role models in STEM (Science, technology, engineering, and mathematics) professions to share their experiences in schools. The objective is to spark interest in STEM-related careers and opportunities with girls and non-binary students before they start to choose exam subjects.
In 2022 the programme reached over 4,000 students and it continues to grow.
InnovateHer wanted to create an online community for its Ambassadors and partner organisations including Sony Interactive Entertainment, Co-op and BAE Systems to streamline communications, reinforce a sense of connection to each other and bring them closer to the organisation's mission.
Relationship Manager Beth Hobbs explained how Guild's combination of a private, easy-to-use community with access to a wider professional network has transformed InnovateHer's Ambassador and partner engagement.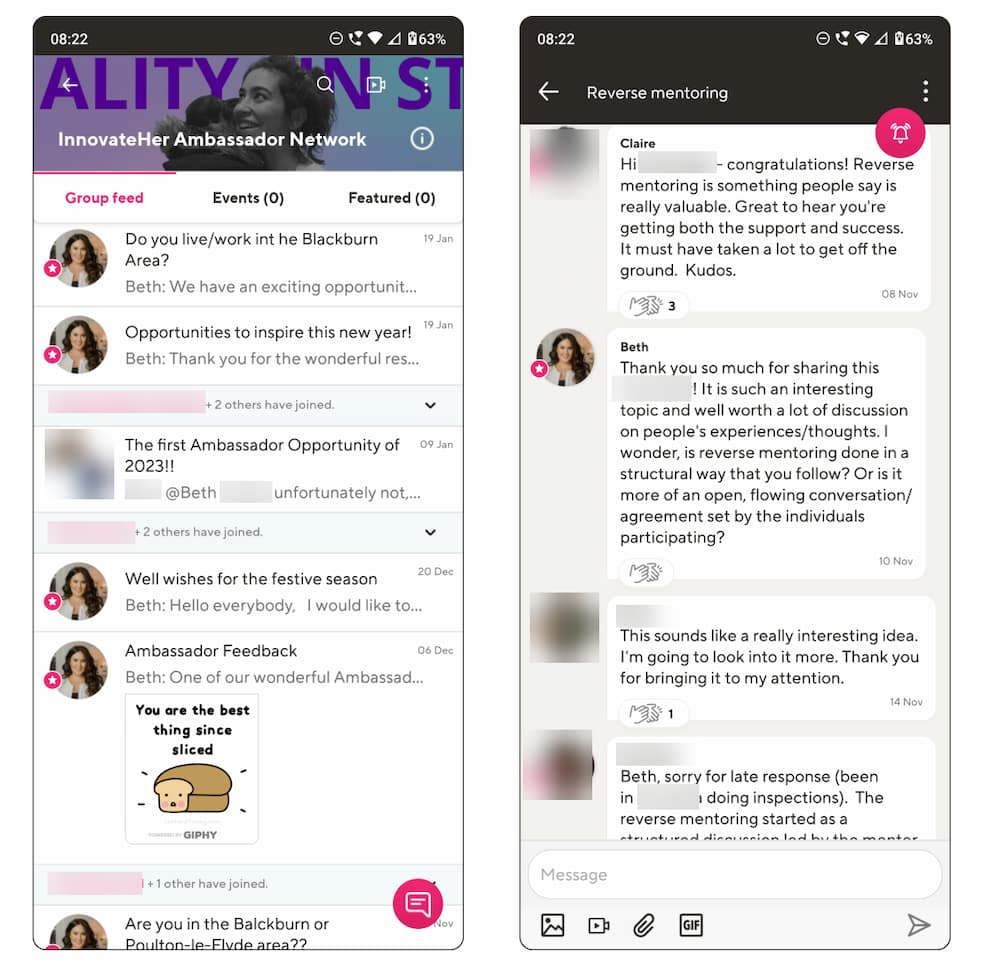 Why did you create the InnovateHer Ambassador Network?
"We needed a safe, private space for our Ambassadors to connect with us and each other, and where we could help them to feel more connected to our overall mission -  to reduce the digital divide and the gender gap in tech.
It has a really practical day-to-day purpose too – we can share opportunities with our Ambassadors and they can accept and deliver them in a much more personal and easy way.
Creating a community has made it so much easier and efficient to communicate with and support our Ambassadors.
No more battling with multiple email updates to our community."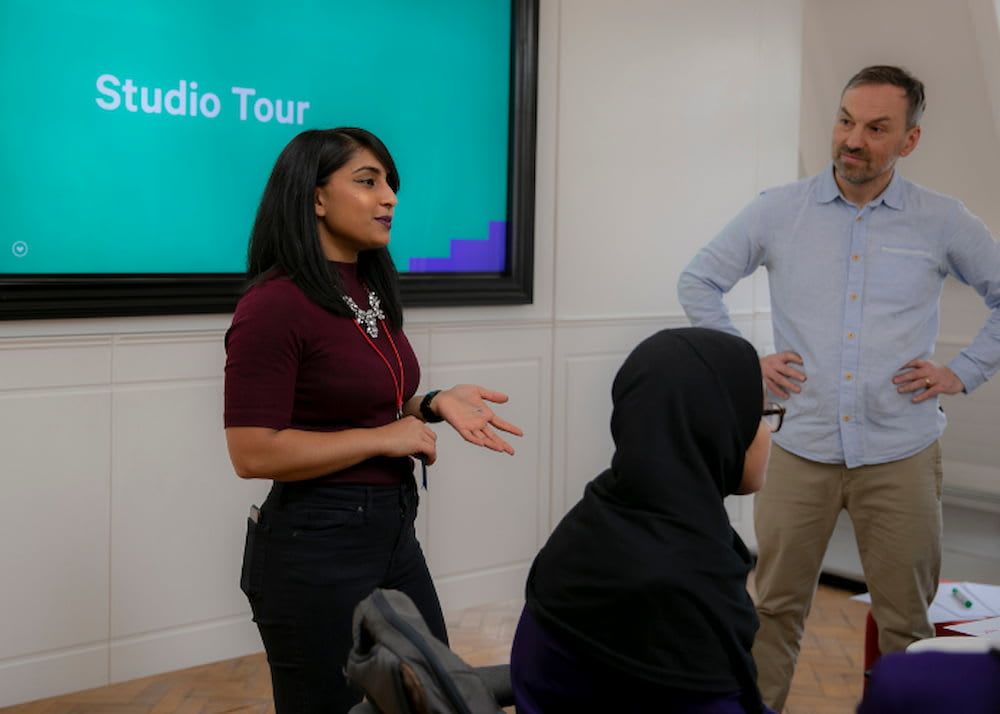 Why is your Guild community so important for your Ambassadors?
"Without Ambassadors we simply can't do what we do! We're passionate about supporting them and making sure the role works for them as well as for schools and students.
Being able to bring Ambassadors together shows them how important they are to us.
It also gives them extra value from the connections they can make with each other.
Our partner organisations are a key source of Ambassadors but anyone in the tech industry who is passionate about equality and girls as leaders can join the network as an individual. We provide lots of support and training but within the community, they can also learn from peers."


What do your Ambassadors think about the community? How has it helped InnovateHer's work?
"Our Ambassadors are busy people working in some high-pressure jobs but Guild is so intuitive and easy to use. Once we had their attention and got them to join, they were really positive about the opportunity, and the community.
Since starting the community we've filled every Ambassadorial role that's come up. It's really made a difference to our work.
In the past, members of our team would have had to fill some speaking opportunities but in the community, people can see the need and the enthusiasm from others - and it inspires them to step forward.
We also have the chance message people directly if we think a particular opportunity is right for one individual, so we get the best of both worlds."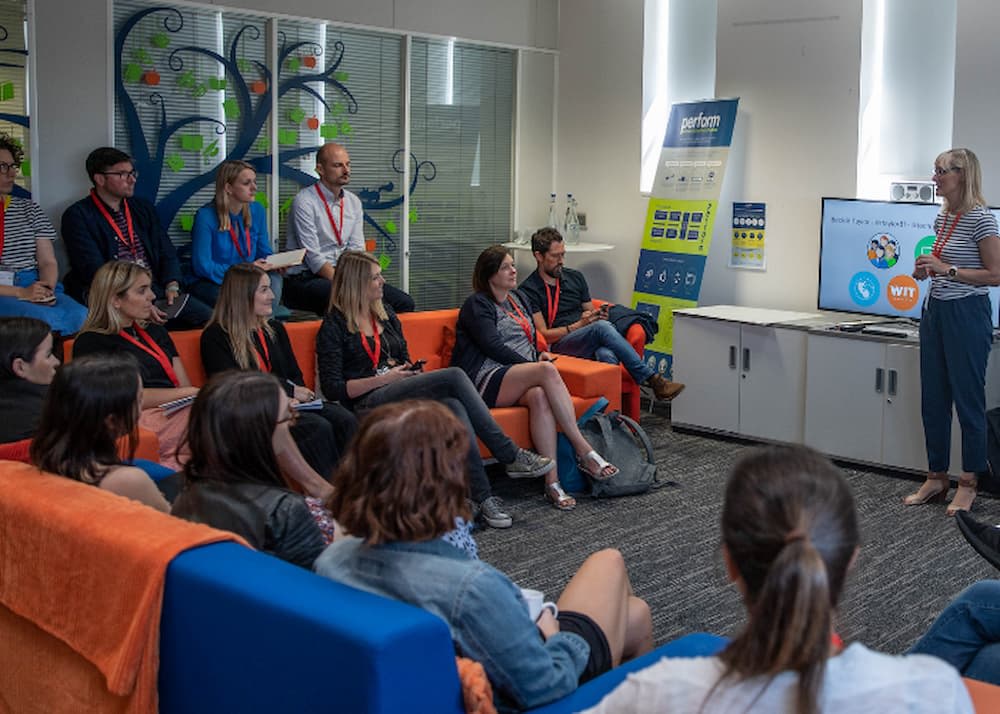 Which features on Guild do you find most useful?
"We love the Visibility Boost feature. It sends messages directly to members' email inboxes which makes communicating important messages with our members really straightforward. The ability to direct message members means that we can have 1:1 conversations when we need to.
We're also experimenting with the Video Room video meetup feature to give members a more intentional way to connect with each other, with partners and with outside experts.
We have the support of the brilliant Guild team and the Inside Guild support community to learn more about the art of running a community and to keep up to date with new features.
Guild is so easy to use – it lets us concentrate on our members and we don't really have to think too much about the technology."

Can people from anywhere in the STEM industry get involved with your community and your work?
"Absolutely – we're open to all working in the STEM industry, male, female or non-binary.
Our goal is to spark curiosity and interest to put girls on the right route before they reach their GCSEs.
We need a diverse range of Ambassadors because when they've taken less obvious routes into their industry, it makes students realise "that could be me; I could do that".  
Ambassadors who can share the twists and turns of their stories are especially important. And you get to be part of a community of people who share your interests and values!
Because our events are usually virtual it means wherever you are in the country we could have an opportunity for you.
We provide materials and coaching to support our Ambassadors – and of course, the community is here to support them too – but that personal touch is key. If you're a tech worker with a passion for diversity in your industry, you have the potential to be an InnovateHer Ambassador."
Find out more on https://www.innovateher.co.uk/tutors-and-volunteers/
Request to join the InnovateHer community on Guild
---
More customer success stories

Renewd moves from Slack to Guild for its B2B membership community
The Access Project charity moves from Slack to Guild
DigiConf support virtual B2B digital marketing event with a Guild community
Bright Network builds Intern Experience community on Guild
Inside Out Awards connects in-house creatives with Guild community
Socially Mobile builds alumni community for future communications leaders on Guild
---
Join Guild 🤝
See for yourself how the Guild experience is different to WhatsApp, Slack, LinkedIn or Facebook Groups.
Guild is a safe space to connect, communicate and collaborate with others.
Join us on a platform that is purpose-built for creating groups, communities and networks on mobile.
Contact us if you want to know more or have any questions.