2020 changed the world forever.
In 2021 people and organisations focused on recovery, rebalance and adapting further to the dramatic changes.
We've learned that 'community', in all its forms, is one of the most important things that binds us together.
Whether that's local communities, support communities, communities that encourage us to laugh, explore, escape, regenerate; or whether it's professional communities that give us a sense of connection, progress and personal growth.
In uncertain times, predicting future community trends might feel like an impossible task.
But here at Guild, we host a global network of leaders and experts in our Professional Community Leaders Community. They have their fingers on the community pulse, sensing significant movements and organisational change.
We asked them what trends to expect in community in 2022, and how to adapt to them.

Here are their predictions and 14 community trends for 2022:

All things Community will continue to accelerate in 2022
Easier (hopefully) and even more rewarding times ahead for Community Managers
Community science informing the hybrid future of work and leadership
Community careers - will the Chief Community Officer be the new CMO?
New Community governance models
A big year for Community Based Marketing (CBM)
Community Ethics and 'Community Reclamation'
Influencers, creators, communities and commerce collide
Events and Community converge in 2022
Community data and measurement - tactical to strategic maturity
Facebook / WhatsApp and LinkedIn Group migration
Distinct Community technology paths are emerging


1. All things Community will continue to accelerate in 2022
2020 saw a rapid shift to digital and screen-based communication.  
Many businesses pivoted to community to build closer, more meaningful relationships with their audiences, customers and clients.
At the same time, individuals were driven to connect with friends and family digitally, but also joined formal and informal groups and communities that matched their interests, passions or professions.
If the word of the year 2021 isn't 'community', then it's likely to be related to Crypto, NFTs or the Metaverse, all of which are connected to community and spawning more terminology such as Decentralized Autonomous Organizations (DAOs) and Non-Fungible Tokens (NFTs).
In tough times for many businesses - redundancies, furlough and then the 'Great Resignation' - more people considered career moves and side-hustles. A flurry of niche-media, passion and knowledge communities emerged.
In B2B, sector 'celebrities' who would usually keynote events focused on newsletters+podcasts+community.
Media and membership associations, many of whom had dabbled in investing in online communities, were forced to adapt quickly and consider how to best support their sectors, retain members and maintain engagement.
Virtual events, on-demand content and online communities allowed many businesses and organisations to continue conversations and discussions beyond peaks in campaigns and content.
What is certain is that community momentum in both B2C and B2B will inevitably carry through to 2022. Local, global, physical, online, virtual, niche and mass communities will likely play an even more important part in all our lives.
Over to our community experts:

"I feel like 2020 was a build-up to 2021. Lots of companies grew and raised money in 2020, in 2021 they were hiring.
I'm excited for what the future holds now that community has real interest and money behind it. I feel 2021 has started to see real improvements for our industry."
Rosie Sherry - Community Lead - Orbit

"As the pandemic was a slingshot for the Community model and profession, convergence towards the model and the power of community accelerates in 2022 - organizations (associations, non-profits, media/event companies, NGOs, SaaS business and corporations) dedicate increasing attention and resources towards building year round communities."
RD Whitney - Founder - Community Leaders Institute


2. Easier (hopefully) and even more rewarding times ahead for Community Managers
2020 and 2021 may have felt like the longest years in a Community Manager's life.
Community Managers are 'people people'. Many have helped their community members through exceptionally difficult times - furlough, financial hardship, loneliness and isolation and bereavement.
As more communities launch, and competition increases for time and attention, it will also be important to give yourself the headspace to analyse improvements to your community.
Community Managers around the world - we're calling on you to make time for your own self-care, but to keep doing what you're doing. Not all heroes wear capes! 🦸‍♀️
And finally, 2021 saw the launch of the Community Leaders Institute.
Community Leaders Institute eXpo (CLIX) will take place in Memphis, in April 4-5 2022 and Guild founder and CEO Ashley Friedlein will deliver a keynote.
Expect more formal community professional education, peer support, training, professionalism and events in 2022. And with increased professionalism should come increased rewards.

"There are news articles about people experiencing terrible burnouts in various sectors, industries and roles across the world. It's also true of Community Managers that I've spoken to. So many are feeling truly exhausted.
Of course, it's an incredibly rewarding job and a fabulous privilege to be a Community Manager, but there is no denying that 2021 has been hard work. Especially for those working in sectors experiencing the sharper end of the pandemic.
In 2022, do make time for your own self-care and wellbeing. Hopefully 2022 will be a little easier for Community Managers."
Michelle Goodall - CMO - Guild

"It has been challenging catching and maintaining attention and engagement in the face of an explosion of online activity.
A combination of increased remote work, adoption of social tools, and development of a community-considerate mindset in many businesses has led to many competing clamours for participation.
Add in a mounting digital burnout and Great Resignation, generating many small consultancies trying to build and leverage online audiences for business growth and product advocacy, and we've had the perfect storm of many eyeballs, many shiny communities to participate in, but also a growing lassitude of the screen."
Blaise Grimes-Viort - Social Media & Online Communities Consultant - BlaiseGV Consulting


3. Community science informing the hybrid future of work and leadership
One of the rare joys over the past two years has been the willingness of business leaders to open up to specialists and experts in areas that they may have never worked with before.
When better to reach beyond your usual sources of expertise to inform organisational re-design and transformation, than when you're living in the midst of a global crisis?
Again, community strategists are advising those looking adapt their organisations to hybrid ways of working. Advice from professionals who have been practicing for decades, and especially those who teach community and behavioural science, is especially valuable.
Online Community is a successful template to help build back better and develop future-facing working cultures.

"The impacts of the pandemic have seen community soar in popularity as an organisational design model and toolkit, as leaders and managers look to the community management playbook to steward remote and asynchronous teams and cultures.
I've seen it in my own practice - in 2020 and 2021 I worked with record numbers of leaders rebuilding their organisations around community, drawing on community science and practice to create new efficiencies and scaffold experiences outside a built environment.
This trend is opening up a new avenue for community practitioners to explore, helping organisations navigate the future of work applying their skill-sets."
Venessa Paech - Director & Founder  - Australian Community Managers

"Hybrid approaches will be key. As the Covid pandemic hopefully retreats, and with the rise in issues increasing due to its impact, we will see the importance of combining intensive online discussion with a physical manifestation, as people look to apply the outputs in their lives.
Whether through realising the reach that can be attained for one's expertise, applying accelerated remote learning or activating cause-driven advocacy, we will need as community leaders to scaffold in effective and accessible real-world outlets as part of our engagement programs, through chaptering or otherwise supporting smaller face to face local gatherings.
This will be supported by a move to tighter integration of toolkits; both to make the experience of community engagement more seamless in day-to-day working and personal lives, but also streamlining which tools we use, where we source content to engage with and how we vet groups we participate in."
Blaise Grimes-Viort - Social Media & Online Communities Consultant - BlaiseGV Consulting


4. Community careers - will the Chief Community Officer be the new CMO?
There is a growing battle for talent in Community.
Google Trends shows that interest in the topic 'Online Community Manager' continues to grow. Community Managers with decades of experience, many of whom managed communities before social media, are observing a growth in roles, even if some of the new job titles, such as 'Community Growth Manager' or 'Community Launcher' make them smile.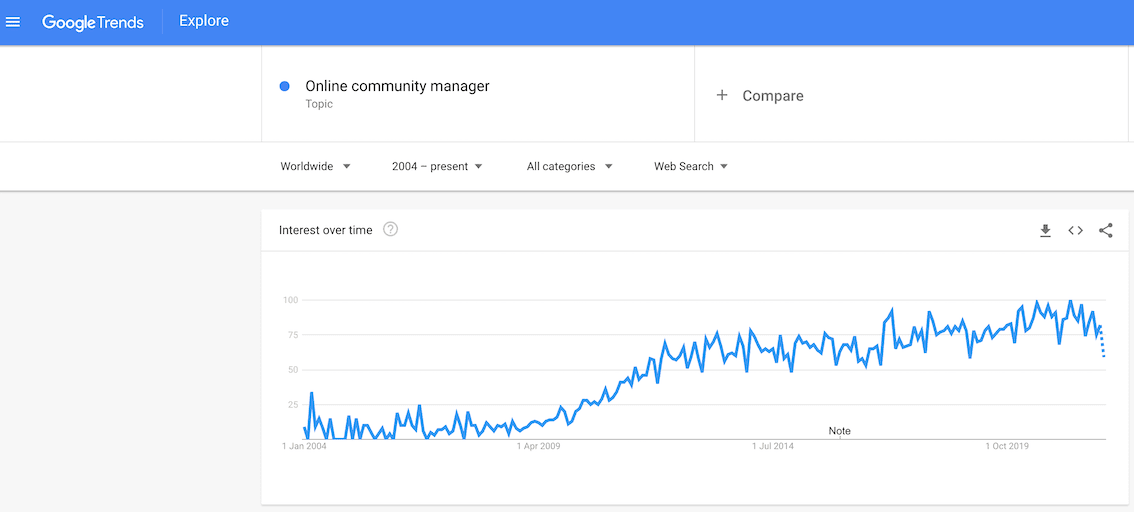 CMX founder David Spinks surveyed 500 community builders in early 2021 and found that 67% had at least two full-time members in their community team, a 10% increase from 2020.
In the same article, he detailed the potential career path for new community practitioners - from Associate Community Manager to Community Manager, Director of Community, VP of Community and Chief Community Officer – a possible board level role, requiring 12+ years experience.
Greg Isenberg, CEO of the community-based product studio and agency Late Checkout, made this provocative statement: "The chief community officer is the new CMO", in a TechCrunch interview in early 2021.
Follow his tweets closely. He dispenses some sharp insights about community-led businesses. One tweet suggests that CEOs should go and listen to their communities before checking their emails.
Smart advice.
It's the equivalent of going on to the shop floor in disguise, or the research methodology of listening to customer feedback in naturalistic observations - one of the best, unprompted market research methods.

"Organizations are starting to understand the value in hiring experienced community professionals to build and lead community programs. No longer is community an afterthought when it comes to how this work gets carried out.
Much of the value in community success is driven by the ability for a dedicated resource - and team - to create strategies and KPIs that not only show community value, but tell the story around what engagement actually looks like and how it lends to the full customer/member journey.
Not only will community roles flourish, but the resources needed (from budget to tech) in order to fulfil solid community strategies will be front and center, and community professionals will continue to see a seat at the table in ensuring that larger organizational goals and strategies are realized."
Marjorie Anderson - Founder, Community by Association and Product Manager, Community at Project Management Institute

"CCO as the new CMO? Clever headline grabbing, but there is more than a germ of truth here.
Today's C-suite, not just the CMO, needs to be more plugged in to its various digital stakeholder communities. This is where you'll find honest conversations and helpful feedback.
If the 2000s were about the 'Social CEO' and broadcasting the corporate line in LinkedIn and Twitter, then 2022 and beyond will see the 'Community CEO' - leaders plugged into multiple stakeholder communities.  These will be leaders who value active LISTENING above all. More importantly, they won't be afraid to use the business intelligence that they gather."
Michelle Goodall - CMO - Guild


5. Community as a business model
We are hopefully moving from a 'CSR as a tick-box' era to one where many organisations recognise their role and responsibilities in the communities that they serve.
Innovative consumer brands are using community-led thinking to redefine their entire business ecosystem, as well as what it means to engage with and 'sell' to their customers.
In November 2020, Kevin Sutherland, Director at Vida Media and Strategy Partner at WEAREVOLUME  published the excellent  'Direct to Community Economy' report.  It explored how trends in media, tech, and marketing are converging into a a mega trend - the 'Direct to Community Economy'.
The report has been updated for 2021 and highlights the drivers and recent accelerants of community-based business models, including Direct to Community models. It also considers the implications that will be felt for media, marketing, tech, audiences, customers and investors in 2022.
In our recent Building Better Business interview with OLIO co-founder Saasha Celestial-One, she felt it wasn't impossible to build a business without a community, but that it would be far less defensible:
"I think what a community does is make gives you a sense of defensibility. When the next direct-to-consumer challenger comes along.
Community can help a company have genuine brand loyalty and defensibility - a kind of protective moat against the competition. People will stick with a community a lot longer than they'll stick with a product or service."
Ben Francis, CEO and founder of fitness clothing brand Gymshark, listens carefully to the customer community that his brand was developed for. In this interview with SIFTED, he talks about how community is at the heart of Gymshark's highly successful business model:

"If I was speaking to a financier I would say: 'we sell really high quality product and we get it to our customers quicker than any of our competitors and at a much better price.' But ultimately, the community, what we give to them and get back from them, would be the biggest part of the business."
It's not only direct-to-consumer brands where content and community drive commercial growth.
In our 2020 Community Based Marketing (CBM) Guide we highlighted B2B businesses such as RS Components and their B2B community for >1 million engineers, as well as Salesforce, HubSpot, Sage and other SaaS and technology businesses and their community-led strategies for growth.
This model is highly replicable with the range of monetisable community and content distribution technology available.
Creator-led B2C media start-ups and journalists and consultants, like Casey Newton from The Verge or Digital Consultant Simon Andrews, are leveraging their specialised 'passion economy' knowledge and challenging established media for readers.
Subject matter experts are increasingly using Guild or Discord for communities, podcasts and Substack newsletters to monetise their knowledge, and combining these strategies to develop an audience, build their brand, grow community and earn income.
Simon Andrews believes that communities are the natural evolution of the content > newsletter > event model. It's one which membership organisations, media and publishing businesses and - increasingly - professional service providers, consultants, agencies and vendors are opening up to. Something that we explore more in our Community Based Marketing (CBM) articles:

"I am really focused on the 3Cs - Content, Community and Commerce - and building this with Guild has been really useful in developing that thinking.
I 100% subscribe to the 'Community Based Marketing' (CBM) movement.  But to make it a success, you've got to understand that communities are so much more than a marketing tool.
Convening people who are interested and highly engaged in a subject or industry is one of the most valuable things organisations and businesses can do. If you're clear about what the community is for, why it exists, who it's for and what value it generates – oh, and you are willing to put the effort in to develop it and manage it properly - then the return on investment can be massive."
Simon Andrews - Editor of Fix and Founder of digital media consultancy addictive!


6. New Community governance models
The 'sexier' community ownership trends such as blockchain-powered community tokens and cryptocurrency in creator, gaming and music communities such as DAO or TILT is grabbing headlines. However, a different type of grass roots community ownership model trend is much more likely to transform society and change more lives in 2022.
In the UK, there's growing momentum behind local communities using community share schemes to buy shops, pubs and even funding housing projects, wind turbines or soccer teams – things that could benefit the community, but require money to become a reality.
The community can unite to buy shares, and enable projects to become sustainable. Community shares don't have to be large investments - they can start at a few dollars or pounds.
In the US, the Center For Community Ownership is also providing assistance to communities by helping them create community-owned enterprises. Communities of all sizes can invest in their local economies, start or save crucial businesses that boost local economies and morale, revitalise town and neighbourhood centres, and limit economic vulnerability.
These governance models are similar to co-operatives, but closer to traditional business structures with which most people are already familiar.
To find out more about community ownership and governance, we highly recommend reading the excellent Exit to Community: A Community Primer by Malene Alleyne, Camille Canon, Amelia Evans, Yichen Feng, Nathan Schneider, and Mara Zepeda

"Community ownership and governance of technology platforms is a big part of the movement towards a more humane future."
Tristan Harris - Co-Founder & President - Center for Humane Technology


7. A big year for Community Based Marketing (CBM)
In 2020, Ashley Friedlein, CEO of Guild, coined the term Community Based Marketing or CBM.

"Community-based marketing brings professionals together around a shared practice or area of expertise to create closer, and more valuable, relationships with prospects and customers."
Ashley Friedlein – CEO & Founder – Guild

The concept of community in B2B is gaining interest because businesses are finding it harder to connect with their prospects or clients, and are seeing diminishing returns from their content marketing and Account Based Marketing (ABM).
Building or buying community - as virtual conference platform Bevy did with CMX in 2019 - is an effective way to lower Customer Acquisition Cost (CAC), increase loyalty, advocacy and Lifetime Value (LTV).
Community is a perfect space to collaborate and create insights to drive improved customer experience, innovation and new product development as well as a space to uncover insights for thought leadership content and campaigns.
Community also provides business with the audience to publish, promote but also synthesise that content.
Investment in Community for awareness, building brand salience and creating mental availability has gained significant momentum in 2021, making it easier to be front of mind when prospects are ready to buy in B2B.
Agencies, technology vendors and other professional services providers are increasingly using platforms like Guild to create community for showcasing expertise, building credibility and lead nurturing.

"If you can create a more emotional bond and some reciprocity with your prospects and customers through effective CBM, then you have a much better chance of getting their attention, their action, and their loyalty."
Ashley Friedlein – CEO & Founder – Guild

Award-winning agency Sherpa is an excellent example of this. Their tech vendor, channel partner and alliance community of practice on Guild, Channel Leaders, is a high quality community where members make connections, ask questions of peers and share general best practice.
In 2022, there are many that predict we will see 'community' become much more closely aligned to marketing and Community Based Marketing (CBM), becoming an essential part of all B2B and B2C marketers' strategic playbooks.
It's time to move over, ABM - CBM will be much more than a marketing buzzword in 2022!

"The marketing profession itself continues to shift towards developing communities from their audience and nurturing communities (taking things into their own hands rather than outsourcing to media or event companies and social media and search tech companies)."
RD Whitney - Founder - Community Leaders Institute

"I think 2022 is going to be a big year for Community Based Marketing. More and more companies are seeing the power of communities in building brands as diverse as Monzo, Fortnite, Etsy and Gymshark, and building demand for new products, like NFTs.
But at the same time, busy in-house marketing teams are struggling to cover the existing channels they're responsible for.
I think a growth in the adoption of Community Based Marketing will go hand-in-hand with a reliance on expert third parties and agencies to help support companies, brands and organisations build community around their products and services."
Darryl Sparey - MD and Co-founder - Hard Numbers

"Community Based Marketing (CBM) can't just come out of a box and isn't simply a marketing tactic. True community and creating value takes time. Community won't ever be 'owned' and the value for businesses and organisations comes from the members, their connections and discussions.
"I believe in 2022, more B2B organisations will succeed at community - but only if they attempt to build community with the right intentions and seek a true value exchange.
Begin with the questions:
"What is really in it for members of this community?"
"What can community actually do for them?"
"How can we find a harmonious balance between ESG,  community, commercial performance and return on investment (and how will we measure that)?"
Get it right, treat community as a long-term investment - like brand building - commit the time and proper resource and the benefits will be huge."
Michelle Goodall - CMO - Guild


8. Community Ethics and 'Community Reclamation'
Not all marketing is bad marketing. Few marketers want growth at all costs.
But where community can power business growth, it's understandable that operators at the less ethical end of the spectrum will be attracted to all that is good about community.
'Community Washing' - building groupings of people for unethical or exploitative purposes - is on the rise.
The concept of a rush towards Community Based Marketing (CBM) naturally concerns experienced Community professionals who have witnessed some social platforms and businesses adopt a 'growth at all cost' mentality.
2022 will see almost certainly see a tension develop further if 'community' is hijacked by those who see community as a mere tactic and take more than they give.

"'Community-washing' has sadly become all too popular - putting a feel good, social spin on marketing or business activities that are ultimately extractive, even harmful.
The word community carries social capital, and this is easily exploitable by surveillance capitalists and others disinterested in the work or impacts of actual community building and maintenance.
Globally, we're seeing a surge of practitioners who are passionate about the ethics of community application, raising challenges and provocations across sectors, industries and contexts, and helping organisations work ethically to achieve their community goals.
With belonging deficits, social fractures and mounting crises confronting us, community can be a transformational mechanism, and I'm encouraged to see this reclamation of community as a force for good - in business and beyond."
Venessa Paech - Director & Founder - Australian Community Managers


9. Influencers, creators, communities and commerce collide
The music industry has always been an early adopter of community technology. For those of us who remember even further back than MySpace and Bebo fan communities and observed 'netiquette' in band fan chatrooms on the likes of Launch.com, it has been simply incredible to watch this exciting phase of music community and creator/influencer converge.
Rex Woodbury is an investor at Index Ventures and tech and start-ups writer. He explains the concept of tokenized fan communities in his popular Substack Digital Native.
The concept is that the most devoted and earliest fans of a musician (he uses the example of Lil Nas) could be rewarded with opportunity to buy fan tokens (e.g. $NAS) and then access to a private community with the artist, other rare experiences and gifts, or even guaranteed tickets for concerts. Those very early purchased tokens would enable the artist to make more music, invest in publicity and could also come with some element of equity, for example a small share in streaming royalties.
Apply this to fashion, art, comedy and the emerging influencers and creators that are breaking through, as well as the more established talent, and you can see the potential disruption to labels, houses and talent management business models.
The gaming industry is further ahead in terms of establishing a commercial ecosystem of creators, fans and community.
Blockchain expert Dr Jane Thomason explains how the gaming ecosystem is very much community-driven.
At the edge of community innovation, games developers are creating communities of player/creators who are incentivised to enhance the game experience by making in-game assets, creating NFTs and selling them on secondary marketplaces.
Timothy Armoo is the founder of Fanbytes, one of the world's leading Influencer marketing agencies which helps innovative brands reach Gen Z  on social media through its network of influencers. Timothy sees the world of gaming, brands, commerce, social and community merging further in 2022 and the rise of creators launching their own DTC brands:

"We're going to see the move away from creators monetizing through brands and rather using their own audience to launch direct-to-consumer brands. This is going to be a very powerful thing going forward and we've already seen it with brands like Mr Beast and Beast Burgers. Brands are now more open to these types of partnerships too, and to long-term engagements.
With Web 3, the main trend now is with luxury brands that are spending significant budgets to elevate the value of their brands. I expect to see this trend continue over and move into the gaming world led by gaming creators as they're at the precipice of Web 3."
Timothy Armoo - CEO - Fanbytes


10. Events and community converge in 2022
Events are not a community in themselves, but a powerful and visible manifestation of a community.
In March 2020, we launched CREO (Coronavirus Response for Event Organisers) as a peer support community for event organisers around the world dealing with the shift to virtual events.
The events experts in this community constantly share learnings about a return to in-person and hybrid events in 2021, alongside the typical event technology stacks that are powering events today.
At the time of publishing, it is uncertain what 2022 will look like for events, but it's clear that combining physical, virtual or hybrid events with online community is something that everyone wants to achieve, and also something most organisations could improve upon.

"The world of events has forever changed and I believe we're heading into an era where events will be led by community engagement.
We all crave community, for our voices to be heard, for our thoughts and feelings to be understood and felt by others, for us to find likeminded people. The best events should be delivered within a community framework; for event hosts, this model strengthens your proposition, gives you more buy-in, and positions you as the thought leader."
Kate Hutchinson – Managing Director – The Secret Event Service

"Extremely well-funded virtual events platforms move their strategy towards the community model, leap-frogging the hybrid event solutions no one ever really fully understood in the first place.
These same virtual event platforms, along with other well-funded marketing tech platforms and community tech platforms, purchase media assets to create captive customers that generate a nice profit in addition.
The community tech space continues to evolve and partner with innovative stack solutions along with full platform capabilities."
RD Whitney – Founder - Community Leaders Institute (CLI)

"Events/Influencer and Communities will collide - these disciplines are likely to become intertwined still further in 2022 as communities contain influencers in them and events are instances in a community."
Marc Duke – Community Manager – Tech London Advocates

"It will be interesting to see how event technology players like Glisser, Hopin and Airmeet evolve to support the commercial requirement from many event organisers to create recurring revenue and much longer-term value from events through community.
As with most SaaS, you'll get those who favour the best-in-category point-solution techstack and those who prefer investing heavily in 'all-in-one' platforms.
We're certainly seeing Guild being used more and more for event communities as a point solution within a techstack. Being mobile-first, intuitive tech and having built-in year-round networking features certainly helps."
Michelle Goodall – CMO – Guild

Further reading: Best Practice Guide: How To Combine Events With Community


11. Community data and measurement - tactical to strategic maturity
As community becomes more important and strategic within an organisation, community data maturity follows.
Where investment levels in community are low or community might be new to the organisation, typically Community Managers use a simple and tactical set of community metrics, such as measuring community growth, sentiment, engagement and content consumption.
Others are measuring a more organisationally strategic set of metrics, including customer support/satisfaction and marketing metrics such as connection between community participation and customer lifetime value/retention.
Those who have embedded community fully into their organisations are measuring operational efficiencies, innovation and intellectual capital. For example marketing research qualitative and quantitative insights from their owned communities that can provide competitive advantage, or can help shape product development.
With marketers having to adapt to the loss of cookie data in 2022, a premium is being placed on bringing multiple sources of customer or prospect data together. The ambition is to create a single customer view to power relevant campaigns and messaging at the right stage of the customer journey.
As Gymshark CEO Ben Francis says of his multibillion dollar community-led business, staying ahead is all about listening to customers and responding to "diamonds in the data".

"The big change for marketers is the increased importance of collecting valuable Zero Party Data (e.g. communication preferences, product preferences, Customised account configurations etc.) and First Party Data (Email, Phone, Purchase history, loyalty data etc.). The latter can also include Voice of the Customer data such as customer success/support and marketing data, where communities are playing an increasingly big part.
The increasing value of FPD has been one of the key levers in 2021 for marketers looking closely at community to supplement the paucity of data from social media platforms, where access to data on some platforms is simply impossible.
Expect increased investment in community in some sectors, especially from businesses with data maturity. They are choosing the best platforms and analytics tool set to stitch together multiple data sources and apply meaning to it at different stages of the customer journey."
Michelle Goodall – CMO - Guild

"The first party data that community generates will increase in value and importance in 2022."
Marc Duke – Community Manager – Tech London Advocates


12. Facebook / WhatsApp and LinkedIn Group migration
We have a horse in this race, so it's hardly surprising that we are highlighting this as a community trend for 2022.
Guild is not owned by any of the existing social media or tech giants – we believe the world deserves a new kind of digital communications platform.
But there is a reason why Guild and other community platforms are growing fast.
We're not the only people who believe that social media platforms – Facebook Inc, sorry 'Meta'-owned WhatsApp, Messenger, Facebook, as well as LinkedIn Groups – don't offer the right kind of environments for communities. Their focus is instead on collecting behavioural data to sell more ads.
When you see the value community brings as a core strategic element of your business, then you're going to start to question the appropriateness of ad-funded, behavioural data-hungry social media platforms for your communities.
It's rented property after all. How many of us invested time and resource into building LinkedIn Groups, only to find they removed any meaningful moderation tools?
The price you pay on social media is not being able to control the user or community experience. It's debatable whether your community content and conversations will beat algorithms and actually be visible to your members, and of course you can forget that first party data.
Whilst Mark Zuckerberg states that the Meta rebrand was to move past the 'confusion and awkwardness' of sharing a name with its main app, many are simply mistrustful of a company of whom the former Facebook employee and whistleblower Frances Haugen suggested prioritised "growth over safety".
Many are migrating because they value experience, visibility and data, but others have simply grown tired of a long timeline of Facebook's privacy record and regulatory fines.

"In 2022 brands/agencies/organisations will look to evaluate dedicated platforms and not Facebook and LinkedIn so they own the data and can look to personalise the experience"
Marc Duke – Community Manager – Tech London Advocates

"It's hard to say how fast, soon and indeed simply how the difficulties around antisocial behaviour, information legitimacy and negative impacts of the social sphere will be improved. But we can see how a retreat back to vetted, private and safe environments could lead to people seeking out smaller spaces for themselves, which could lead to fragmentation and hence effects on scaling and interaction growth.
Ultimately, we've all become very comfortable with seeking answers in social, whether in relation to personal growth, career progression or customer support. We want to have an influence in the products and experiences we web into our lives. Companies will be looking to push community into their operations in a way we haven't broadly seen before, which makes for a likely exciting 2022 for Online Community."
Blaise Grimes-Viort - Social Media & Online Communities Consultant - BlaiseGV Consulting

"It seems that the 'old' social platforms which seemed to be well set up for groups just aren't catering for them now - I'm an admin for a couple of Facebook groups and we've seen a noticeable decline in reach and engagement within both.
It certainly feels like there has been a number of significant changes to algorithms to suppress brand content visibility to those who have followed or joined.
Either way we're actively looking at moving across to other platforms now. Both to maximise reach amongst a keen and opted-in audience, but also for better visibility of activity on the platform."
Chris Reed – Founder – Restless Comms


13. Distinct Community technology paths are emerging
Few community professionals choose their career because they ultimately want to become an engineer or Chief Technical Officer.
Most community managers are 'people' people, strong on communication and soft skills, more likely to major in behavioural rather than computer science.
However, community strategy requires an understanding of the technology, as well as making the business case for community platforms and related technologies.
We've highlighted some of the challenges when using social media technology to host your community. Community professionals are seeing a few clear technology paths emerging.
Investment in community technology and platforms requires due diligence. Community professionals need to ask more questions about platforms, data governance and a how well community technology will sit within their Martech stacks in 2022.

"Clearly, there has been an evolution in the community-tech sphere away from one-size-fits-all to best-of-breed specialists in specific niches.
In community, two patterns are emerging, post-social-media: point-solution community-tech providers needing dedicated investment to deliver results, or free social-messaging services used as no-cost (but risky/uncontrolled) alternatives.
The winner will be a service who combines the best of both of these approaches, respecting the real data needs of the individual while delivering returns for marketers."
Robin Carswell - The NoCode CTO


14. Here comes Web 3.0
Metaverse, Blockchain, Cryptocurrencies and Non-Fungible Tokens are all much more than buzzwords. They are foundational to the next phase of the Web - Web 3.0.
Web 2.0 was the era of the social web, combining mobile, social and cloud computing.
Web 3.0 is defined by the core concepts of decentralisation, openness, trustless networks and will be powered by encrypted, accountable distributed ledgers.
Everything  - art, fashion, finance, insurance, healthcare, government services etc. - can be reimagined as goods and services that are owned by shared groups rather than traditional company structures.
But like AI, and Web 2.0 before it, Web 3.0 risks being defined by a small subset of Silicon Valley rather than a global, inclusive network.
It's early days, but our community experts are cautiously optimistic about the principles and are ready to understand and embrace the opportunities.
"I think Web 3.0 is something we should all be keeping a close eye on. There's a lot of hyperbole around how revolutionary it might be, but the concepts of decentralization of the internet will have an impact on how communities form, mature and provide value to the users who are part of them.
My hope is that we can use that tech to make the internet more inclusive, but there's a huge risk that we end up with the opposite if we're not intentional about inclusion and accessibility. So, as always - hope and anxiety!"
Michael Shillingford - Community Manager - Brandwatch

"I think we'll be talking about how do we stake out our community spaces in the Metaverse - persistent spaces on Metaverse platforms from Roblox to Virbela, VRChat, AltSpace and maybe even revisiting Second Life.
My top tip - land grab your username on the web friendly framevr.io beta. e.g. framevr.io/magicfreebies."
Toby Beresford – Author of Infinite Gamification - Head of Client Engagement at Veneficus Network

"As Web 3 gains more popularity we will be pushed to explore the boundaries of what good communities are.
This doesn't mean we need to be 'Web 3', it means we should look at what Web 3 people are talking about to seek understanding to help us improve our existing communities in whatever way makes sense."
Rosie Sherry – Community Lead - Orbit
Photo by JOSHUA COLEMAN on Unsplash
---
Join Guild 🤝

See for yourself how the Guild experience is different to WhatsApp, Slack, LinkedIn or Facebook Groups. Guild is a safe space to connect, communicate and collaborate with others.
Join us on a platform that is purpose-built for professionals and businesses.
Contact us if you want to know more or have any questions.
---