Welcome to our annual global trends in community round-up.
Against the backdrop of a difficult 2022 for many people, community has been a safe refuge this year - reminding us that nobody is alone in a crisis.
The Collins Dictionary dubbed 'Permacrisis' as the word of the year for 2022 - defined as an "extended period of instability" and a sense that the world has lurched from one unexpected crisis to another.

At Guild, we gather hundreds of community leaders, builders and experts from around the world in Professional Community Leaders and the Guild Community Collective community.
So I've crowdsourced this version 1.0 of 2023 Community Trends from some of the top global experts in those communities:

Evan Hamilton from HubSpot, Christie Fidura from Salesforce, Tamara Littleton, Venessa Paech, Marjorie Anderson, Rosie Sherry, Blaise Grimes-Viort, Todd Nilson, Ashley Friedlein, Katy Howell and others.
Some of the trends were bubbling under and highlighted in our 2022 Community Trends.
The difference this year has been the sheer pace of the pivot to community.
We'll evolve these trends into version 2.0 over the next few weeks, based on more discussion and reflection,  so please come and discuss them in our communities for community builders and share your thoughts and predictions.

"Community is the most powerful force in the world. I love being a part of it."
Christie Fidura - Director, Developer Community – Salesforce
---
Prefer a visual tour? Guild Community Collective members have exclusive access to a recording of our Key Trends in Community for 2023 webinar with community experts Ashley Friedlein, Michelle Goodall, Shana Sumers and Evan Hamilton.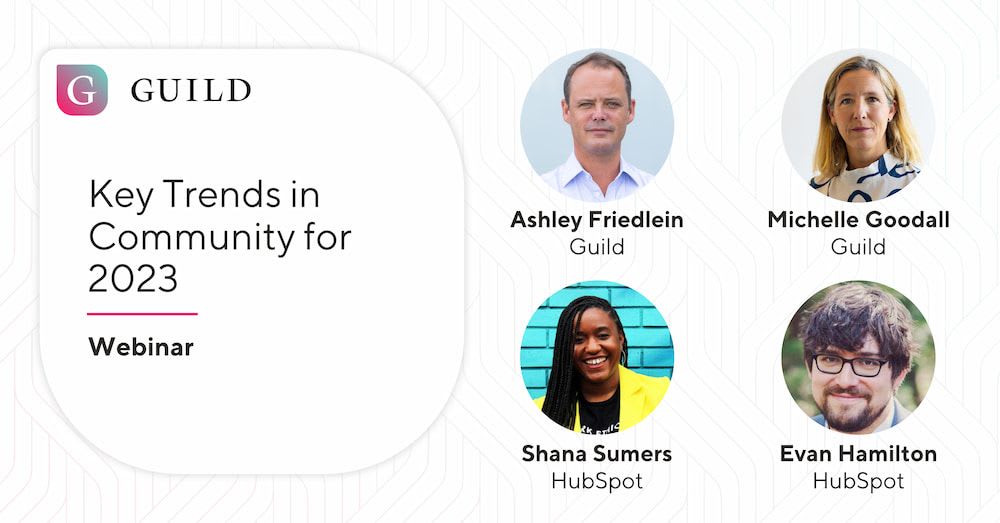 ---

Here are the 14 community trends for 2023:

Community and community-led growth becomes core to more businesses
Community Based Marketing (CBM) gathers pace
Community aligns closer to influencer marketing and employee advocacy
Events and community become even more integrated
Communities align to search and SEO
Rise in subscription, micro-payment and DAO communities
Community Tech: the battle between "all in one" vs "best of breed" community
Mediocre communities will die out
Migration from social media to communities / smaller, quality spaces gathers pace
Corporate media and brands continue to scoop up ready-made communities
Community managers not replaced by AI, but augmented by it
Community leaders will still be critical to community success


Community and community-led growth becomes core to more businesses

The pandemic was a slingshot for a community model within businesses and organisations. In 2022 we saw many more businesses and organisations calling themselves "community-centric organisations" or stating their focus was "community-led growth."

In 2023 more companies will dedicate attention and resources towards building year-round communities for multiple stakeholders.
There will be an increasing recognition that communities are valuable, tangible business assets - an important element of a strong brand and an economic 'moat'.
The 2022 State of Community Management report from The Community Roundtable highlighted that 88% of C-level execs felt positive towards community programs compared to 56% in 2017.
This report and the CMX 2022 Community Industry Report highlighted an increase in independent community departments, but also an increased shift towards community being a part of the marketing function.
Community teams are operationalising and needing to report in ways that executives understand and care about.
Expect increased executive interest and business leaders asking serious questions of community and the potential for value creation:

"We'll see more integration of Community throughout the business. As a traditionally small, risky investment, Community has often been pushed off to the side.
As we deliver and better measure big outcomes for businesses, I think we'll see more formal partnerships between Community and other teams in the organization.

I believe we'll see faster maturity in community ROI measurement.
The tools are improving at a rapid pace and we have more people with business backgrounds involved in Community. I think we'll see less "community can't be measured so don't spend too much" and more "community is driving so much value it'd be dumb not to fund it".
Evan Hamilton - Director of Community - HubSpot

"If I think about the businesses I understand - consumer-facing industries like service or hospitality, we wouldn't attempt to build a business without a community.
We want to bring people across generations and cultures together over food. We want them to be together in one place and experience something together. That's really, really important for us.
I think you're leaving an enormous thing on the table if you're trying to create a business without any community."
Shamil Thakrar - Founder - Dishoom
[excerpt from Building Better Business interview]

"Creating powerful communities - whether that's colleagues, partners, fans, customers, investors, volunteers etc. builds reputational 'moats'.
Increasing brand value through encouraging network effects or connecting important stakeholders (like investors or advisors) to support business growth will be important next year as trading conditions become tougher.

The connection between 'community' and long-term business growth has been a consistent message from business leaders that I've interviewed and CEOs like Ben Francis from Gymshark."
Michelle Goodall - CMO - Guild

"Communities are not a new concept, their role is constantly evolving and being recognised as a highly effective business asset.
I expect professional communities will continue to gain increased traction and play an ever-increasing role as people gain more value and reap the rewards."
Andy Bacon - Senior Vice President of Momentum ITSMA


Community Based Marketing (CBM) gathers pace
Investment in community for building awareness/brand salience, creating mental availability and generating data and insights has gained real momentum in 2022.
In 2020, Ashley Friedlein and I coined the term Community Based Marketing (CBM) and defined this new, professionalised marketing discipline. We also explained who was doing it well and the success factors behind it.

Many marketers are practising ABM (Account Based Marketing) in B2B marketing, but CBM (Community Based Marketing ) hadn't been truly defined or professionalised before 2020.
Here is the definition of Community Based Marketing (CBM):

"Community Based Marketing (CBM) is bringing people together around a shared practice, purpose, place, product or set of circumstances to create insights and closer, more valuable relationships with prospects, customers and other stakeholders to deliver organisational value."
Ashley Friedlein / Michelle Goodall - Guild


This McKinsey article in September 2022 stated that community is the "big idea" in marketing for this decade and celebrated the trend towards underpinning marketing with community.
We recently updated our co-authored 2020 Community Based Marketing (CBM) Best Practice Guide to help business leaders and marketers understand community and community-led growth better, and to help community professionals create even more successful business value and outcomes from community.  

Our community experts agree that Community Based Marketing (CBM) is set to define many marketing strategies next year and beyond.


"We know from recent research from the likes of Gartner and CMX that the business case for investing in community is no longer just about reducing costs to serve.
Particularly given the tougher economic climate, it is no surprise to see businesses wanting to get ROI from Community based on marketing and sales objectives like lead nurturing, lead generation, revenue, reduced customer acquisition costs etc.
Community managers should embrace this opportunity rather than reject it."
Ashley Friedlein – Founder – Guild

"The value of brands becoming involved in, or even creating, communities is one that we've understood for decades, but now is becoming ever more recognised.
As the cost of living crisis bites next year, the importance of meaning something to communities will be more clear than ever.
Community, as well as fostering positive, lasting relationships between brand and human can serve another use: bringing brands' attention to the issues that matter for customers."
Tamara Littleton – CEO – The Social Element

"Commerce is as human as community. When values align and outcomes are equitable, marketing and community can work wonders together.
Thanks to algorithmic bias, misinformation and bad actors, the days of mass user recommendations as a trusted source are waning.
But intimate relationships remain a key driver of consumer and market engagement. As long as community is built transparently and non-exploitatively, these two functions [marketing and community] are shrewd bedfellows."
Venessa Paech - Director & Founder - Australian Community Managers

"Businesses prefer to view community as an output of their smart, innovative relationship building, through content, client experience and culture creation. So in this respect, community becomes the objective or outcome, not the strategy."
Kevin Sutherland - Strategy Partner, VIDA and Founding Partner, VOLUME

"We're speaking to many specialist agencies, consultancies and in-house marketers where community will play a core role in underpinning marketing strategies in 2023 and beyond.
Lots of smart marketers are quickly learning that the art of community building is much like brand building - enormously valuable, but that it takes time, skill, perseverance and patience."
Michelle Goodall - CMO - Guild


Community aligns closer to influencer marketing and employee advocacy

Social Selling, Employee Advocacy and supporting SMEs (Subject Matter Experts) to influence through social media are mature disciplines in B2B.
At the B2B Social Trailblazers Summit, Influencer Marketing specialists from IBM, Ericsson, Mercer and agencies as well as creators/influencers including Sally Eaves, Neal Shaffer, Bernard Marr, Ronald van Loon and Efi Pylarinou talked about best practice and trends in the influencer and employee advocacy space.
We were shown influencer partnerships, campaigns and business outcomes that would impress most consumer marketers.
But one of the key realisations from the summit was that by focusing on social media for the past decade, the power of engaging with or creating smaller, influential communities and networks may have been overlooked.

We can expect smart B2B strategists who presented at the conference like Katy Howell, Danielle Guzman and Anita Veszili to lead the charge and align influencer, employee advocacy and Community Based Marketing (CBM) with social media and influencer marketing programs and tools. They will use community to signal and deliver influence and impact.


"The rise of the B2B influencer is likely to also have an impact within Community Based Marketing.
This is a hot topic right now across social, and it makes sense that community would be part of the trend."
Katy Howell - CEO - Immediate Future

"More than ever, we're seeing CEOs become celebrities online.
Not only that, we're seeing investors, product managers, designers, recruiters become celebrities online too.
This is by far one of the best things I'm seeing as it gives a lot of perspective into a company or an individual's approach to things, but also builds the element of trust and strengthens relationships with companies."
Edu Giansante – Head of Community - Wix

"In the past, the worlds of community and social media were quite distinct.
As communities become more about prospect and customer engagement, or lead generation, we will see social media and community working closer together.
Likewise, the relatively more recent emergence of influencer marketing as a discipline clearly interrelates with communities of influence."
Ashley Friedlein - Founder - Guild



Events and community become even more integrated
We highlighted this as a community trend last year. In 2022, many event organisers returned to in-person formats - and this raised a set of questions and challenges:
Would these in-person events actually run?

Do hybrid event models work?

Are people willing to spend time out of the office at events?

Do they want to travel - or would they rather attend virtual events in the comfort of their yoga pants?
Media and publishers have tried community in the past with mixed results, but we are seeing a renewed interest from events organisers looking to break from using traditional logistics/push event apps and to provide a pre, during and post-event event community and networking experience - one which provides more value to event attendees, sponsors and organisers.


"Event organisers are increasingly looking to build communities to help drive event attendance, extend the event experience, and provide year-round engagement with their audiences.
But so too are those who provide training and learning.
Platforms will emerge which provide solutions across all these areas, with integrated community offerings, or specialist solutions will provide easier ways to integrate with other solutions e.g. via Zapier or APIs.
There will be more M&A activity as tech platforms consolidate."
Ashley Friedlein - Founder - Guild

"Events professionals have many of the natural networking skills to be not just great community members, but leaders of their own branded communities."
Michelle Goodall - CMO - Guild


"I am excited by the further collapse of distinctions between online and in-person community building.
The virtual-hybrid-live divide is becoming less distinct and I'm excited to say that online "community management" will soon just be referred to by organizations as "community management."
Todd Nilson - Community and Digital Workplace Strategist - Clocktower Advisors


Here come pop-up communities
Communities can still be valuable when they have a super-short shelf life.
Much community discussion in 2022 was centred around Minimal Viable Community (MVC).
Rosie Sherry presented on the topic at our 2022 Guild Community Summit (Join Guild Community Collective and access a recording of her presentation here).

We predict that 'pop-up communities' will be a key community trend in 2023.
These short-term pop-up communities deliver the same benefits of a virtual community and can have all the same features -  but the community is designed to be set up in minutes, members come together fast and they are onboarded and oriented quickly.

A valuable community experience is delivered against specific objectives. Then the community is wrapped up rapidly.


"It is usually assumed that communities will be ongoing. But there are lots of use cases where temporary communities make more sense e.g. around an event, a learning cohort, a piece of collaborative content, a particular campaign or initiative etc.
People are used to creating temporary WhatsApp groups for such needs in their personal lives but we will see this happening in the business world too [but note the GDPR compliance questions about WhatsApp].
Temporary groups avoid the need to resource a community year-round and try and maintain engagement all that time."
Ashley Friedlein - Founder - Guild



"Pop-up communities are perfect for events, like this MX3 Berlin pop-up event community and pop-up and other short-term campaigns and initiatives.
But we'll also see a proliferation of short-term pop-up communities supporting disciplines like market research, product development, customer and buyer journey research, political/ union campaigning and many other use cases.
And a community platform like Guild is perfect for them - mobile-first, simple to use and set up, complete control over branding, the user experience and community data."

Michelle Goodall - CMO - Guild


Communities align to search and SEO
News that a growing number of Gen Z are searching for information on TikTok rather than Google for answers to their questions may feel odd to many.
But TikTok's rise as an information discovery tool is part of a broader change in digital behaviours. Google is still the dominant search engine but people have been 'Amazoning' to search for products for years.
In our Community Based Marketing (CBM) best practice guide, we highlighted the growing connection between community and SEO.
And we believe that marketers specialising in search and search behaviours will be building strategies in 2023 and beyond, focusing on how community drives content discovery amongst some valuable buyer groups.


"The impact of social media on search engine visibility and SEO has long been debated, but it's clear that the more people talk about something, the more they share content and links, whether that's on public social, dark social (e.g. WhatsApp, DMs) or in private communities.  And this does have some impact on search engine visibility and rankings.
Effective SEO involves many things, but includes page views and earning links from trustworthy sites. Interacting with your followers via your community helps you to drive traffic to your content, can help you build links, can get your content shared more widely, and can help you reach relevant influencers who will amplify it in other ways.
How much you value SEO and the discoverability of your community in search engines will determine whether you want your community to be entirely private and non-discoverable to people or search engines, or whether you want prospective members, prospects and other stakeholders to find it by Googling.
And depending on the agreement that you have in your communities and with your members, you can choose to safely surface discussions and content that you can post on your website for visibility."

Michelle Goodall - CMO - Guild
[excerpt from 'What is Community Based Marketing (CBM)? Best Practice Guide]

"Community discussions as primary sources of trusted information will have a moment in the near future. The news that a growing number of people are starting to look to TikTok and Reddit rather than Google for quick answers to questions is less surprising given the wider crisis of trust in traditional institutions and leadership.
People tend to trust people they perceive to be like themselves, and community offers exactly that peer-to-peer connection.
The consequence of this is how easy it is to spread misinformation. To paraphrase an old saying, on the internet nobody if knows you're a dog, an expert with 20+ years of experience, or a novice with malevolent intention and a knack for short-form video.
Communities can borrow a page from journalism here in both the curation of knowledge and in firm challenges to less trustworthy information, to be able to surface the wisdom of the crowd more effectively."
Jon Stricklin-Coutinho -  community builder and strategist


Rise in subscription, micro-payment and DAO communities

There is a lot of talk about Web3 - the "read/write/own space". And there's much excitement about the communities and shared economies within it.

At the Guild Community Summit, Zoe Scaman explained the principles of Web3  - NFTs, Tokens, DAOs, the ownership economy and 'headless brands'.
She shared examples of the communities that marry community, effort and capital - clubs, social collectives and modern-day co-ops such as Maxwell Social and Flyfish Club that exist virtually and in some cases in the real world. They require buy-in from members, but also enable earn-out and a say in the direction of the community/brand - "think Soho House, but you earn a part of it."
To watch her excellent presentation from the 2022 Guild Community Summit click this link to join Guild Community Collective and access a recording.

For Zoe, the success and impact of these ventures will "release brand-new experiments and brand-new potential and possibilities for the world of communities like we've never seen before".
But blending community and subscriptions is not solely the domain of Web3.
In The Community Based Marketing best practice guide, we highlighted a number of successful communities on Guild charging a membership or subscription fee for access to content, connections and community.
These modern membership community clubs charging for subscriptions blend knowledge, the 'passion economy' and their skill to convene people together into a community, creating greater value than the sum of the events, information and access that define them.
Agency Hackers, the membership community for agency owners and leaders, is a massively successful example of this.
And media owners and publishers are increasingly realising that community needs to be a core element of 'membership' and brand building - involving their 'customers not audiences' in the journalistic process to shape a better end product and to ensure recurring revenue.
Those who blend community with their subscription/member offer and use the resulting data to shape a valued media brand for the ownership economy will be the winners of this era.  


"The reason we think of Tortoise as membership not subscription is because community matters. Giving people a seat at the table, giving our members a voice in the journalistic process really matters, because we're not trying to educate and inform; we're trying to get to a better understanding.
I don't think you can understand anything unless you have that give and take of community. Basically, it's all built on listening.

Communities provide that organised system of listening. And when you're looking at things like systems change, be it in society or business or in life, if you start with listening, you're starting from a good place."
Katie Vanneck-Smith - Co-founder - Tortoise Media
[excerpt from Building Better Business interview]



"There is a lot of talk about Web3. The one thing that is already happening is the diversification of secure financial transactions that will ultimately enable a completely different kind of economy. We will continue to be able to make money in increasingly novel ways.
A YouTuber getting their paycheck from a cut of ad revenues is Web2. A digital creator receiving subscriptions, tips or donations directly from their fans, with no middlemen taking a cut, is Web3. We've already got NFTs, but there will be more practical valuing of output and transactions to come.
For community, this opens up a range of possibilities. Communities could operate like private membership clubs with transferable membership tokens. Community leaders can earn a living directly from the community itself via subscriptions, tips or donations. A member's contribution to a community could be translated into monetary value. The incentives could be super-charged by money in so many ways.
Look out for movements in this space in 2023."
Gregor Young - CEO - Guild

"With co-creation, we'll see more communities start to play around with ideas, IP and innovations, treating their shared spaces as sandboxes for new thinking, dreaming up and building upon concepts.
As a result, we'll see more branded communities providing their members with open-source IP, toolkits and component parts designed to be remixed and reimagined.
The next is contribution and co-ownership. Rather than communities being focused on quantity of members, they'll instead be focused on quality of contribution and input.
Volume < Value.
As a result, we'll see many communities cut their dead weight – discouraging and deleting lurkers, and instead encouraging and rewarding proactive participants.
The rewards could vary from things like karma points, to contribution profiles/passports and even monetary kickbacks or equity stakes in community shared funds, creative IP or products.
Zoe Scaman - Founder – Bodacious

"There's a real opportunity for DAO ( decentralised autonomous communities) to emerge as genuine alternatives to pyramid-style schemes."
Mary Keane-Dawson - Managing Partner Growth - Kiln

"I think we might see movement towards decentralized community platforms but not necessarily those based on Blockchain, though we will still see money being thrown hand over fist at anything that puts "Web3 Community" in their Pitch decks."
David deWald - Community Manager - Ciena

"We're excited about the prospect of innovative, decentralised Web3 platforms and their ability to enable creators to better protect and exploit their IP, access and organise resources and streamline payments via DAOs and deepen connections with, and reward, their community with tokens in the future.
Both B2B businesses and consumer brands will see the value of building and nourishing community as companies slash marketing budgets due to fears of recession, inflation etc."
Kevin Sutherland - Strategy Partner, VIDA and Founding Partner, VOLUME

"We see more community hosts considering making their communities paid access. This trend began with the rise of the creator economy and is also growing in the professional sector with experts looking to monetize their knowledge and relationships.
The tightening of the economy and rising costs means more people are looking at ways to create additional income which includes running their own paid communities, even if part-time as a 'side hustle'."
Ashley Friedlein - Founder - Guild


Community Tech: the battle between "all in one" vs "best of breed" community
Have you seen Scott Brinkers' amazing Martech Landscape?
He has been tracking the marketing technology ecosystem for 11 years and started by listing 150 technologies.
In 2022 he highlighted a staggering 10,000 platforms, tools and technologies that marketers use to support their activities - including CRM, content creation, email, social and search marketing and more.
There are many community and networking platforms to choose from. And Guild is among them.
The question of whether you choose all-in-one platforms/single suites/closed solutions or best-of-breed solutions for your community, group or network is not best answered by us.
We at Guild may be a bit biased. We believe in doing one thing (i.e community through chat/forum conversations and networking) really well and integrating for everything else.
What we are seeing is that marketers are using specialist community apps like Guild to sit within their Martech stacks (and Sales stacks and Customer Success stacks). But these specialist apps are now typically integrated with a primary platform/suite in 'platform ecosystems' - like HubSpot or Salesforce.
2023 will be a year when technology choices will not necessarily be driven by community specialists, but by those looking to integrate community, data and the customer experience/customer journey - and they will be choosing platforms that work within a platform ecosystem.
2023 will also be a pivotal moment for marketers recognising the power and value of community data (first-party and zero-party data).
Whilst social media will continue to be important for reaching mass audiences, many will see the obvious shortcomings of building communities on social platforms and consumer messaging apps like WhatsApp - with their algorithms, significant risks and paucity of data.


"The big players will try to do it all - we are already seeing some social platforms trying to foster more exclusive environments, whilst also essentially remaining as platforms for broadcasting content. In my view, it means some of them miss the mark on both.
Bespoke platforms will get their moment - those platforms which are relentlessly focused on a community-first approach, such as Guild, are likely to see growth in users, and in usage. Those who do one thing, and are best-in-class, will be recognised - across the marketing tech stack and beyond."
Jack Richards - Team Lead Marketing Northern Europe – Talkwalker

"Everything seems to come around. After Google recently announced they are going to start including forum discussions in their search results, and also just generally people being tired with fast-paced chat — I'm predicting a comeback of forums. In fact, I think they've started to come back this year and we'll start to see more of them in 2023 onwards."
Rosie Sherry - Community Executive Officer - Rosieland

"I think we'll see more progress on figuring out how chat plays into community ecosystems. In 2022 we saw more once-buzzing chat communities falter, but we also saw more platforms start to combine forums and chat.
In 2023 I hope we'll see community professionals stress-testing various combinations to figure out the sweet spot."
Evan Hamilton - Director of Community – HubSpot


Mediocre communities will die out
In 2014, Mark Schaefer coined the term 'content shock' in relation to 'content marketing'.
He explained that our ability to consume the content created by brands and organisations was finite. That there were human limits to the consumption of all the information and 'stuff' produced for our benefit.
The same applies to community. Should we call it 'Community Shock' in homage to Mark?

If your community, and the discussions, connections and experiences within them are low quality, then expect people at worst to leave, and at best to ignore you.  
The prospect of possible 'Community Shock' should mean that we focus our attention on creating mutual value and high-quality communities.

"As community as a concept matures, just saying you're a 'free community' that is relevant to someone isn't enough.
A community needs to be unique, valuable and highly relevant. People have worked out they need to contribute to communities almost as much as they take out of them, which means they have to be more selective."
Helen Coetzee - Founder & CEO - MPG

"The great aspect of community as a channel is that it's very easy to opt-in, and very easy to opt-out.
I do think there's a limit to how many communities people want to be part of, and for what purpose.
I will never need to be in a customer community for the toothpaste brand I use or for the manufacturer of my recently bought garden shed.
Again, as customer communities proliferate, I can see people being increasingly choosy about those that they are a member of or choose to commit time to."
Darryl Sparey - Co-founder/MD - Hard Numbers


Migration from social media to communities / smaller, quality spaces gathers pace
It's not surprising we highlighted this as a trend for 2022 given we are a platform that offers an alternative to building branded communities on social media/rented land.
But that was before Elon Musk acquired Twitter.
It only takes a quick scan of Twitter to see how many individuals, brands and organisations are considering today whether to stay on the platform at all.
Social media, comms and marketing strategists in professional communities on Guild such as Comms & PR Pioneers are explaining to others why they have stopped advertising on the platform, not just because of accelerated brand risks, but because of declining ad performance.
Guild is not owned by any of the existing social media or tech giants – we believe in Tech For Good and that the world deserves a new kind of digital communications platform that can be profitable without the irresponsible exploitation of data.
And there is a reason why Guild and other community platforms are growing fast.
Many believe that social media platforms – such as Meta-owned WhatsApp, Messenger, Facebook, Instagram and Microsoft-owned LinkedIn – don't offer the right kind of environments for communities. Their focus is instead on collecting behavioural data to sell ads.
Social media platforms are rented land.
People are still investing time and resource into building communities on LinkedIn Groups, only to find they removed any meaningful moderation tools years ago, that they can't access data or control the user experience.
It's debatable whether your community content and conversations will beat algorithms and actually be visible to your members, and of course, you can forget accessing that valuable first-party data.
Many are migrating because they value experience, visibility and data, but others have simply grown tired of a long timeline of Facebook's privacy record and regulatory fines and are wary of Twitter's direction of travel under its new owner.
In 2023, we predict that the migration of meaningful communities from social media to community platforms will accelerate.

"The past 15 years have been dominated by an ad-fuelled volume game: get exponential user growth, get maximum engagement from your user-base, put the data and tools in place to put relevant ads in front of those engaged users. Everyone profits.
The consequence is that the dynamics of these digital spaces are fundamentally volume-based. To tweet is to broadcast to the world. To post on LinkedIn is to share with your 1k+ professional network. This entirely determines how you speak and what you say.
We would all speak in a controlled, censored, scripted and careful manner if we were on a stage in front of a crowd. When we are in a small group of trusted peers we speak very differently: openly, honestly, without agenda.
Virtue signalling is just one of the many toxic consequences of constantly broadcasting to the mass. These public spaces are useful, and often wonderful, but sometimes not appropriate for how we need to communicate. We are gradually becoming more aware of the downsides and seeking out alternatives.
Digital communities offer an alternative where we find connections and conversations that are more akin to real-life and not determined by the volume dynamics."
Gregor Young - CEO - Guild


"People are exhausted by the big stuff. Platforms that have long lost relevance, overflowing with spam or misinformation are understandably falling out of favour.  
We're going to continue to see the renaissance of the small, with informal and formal communities seeking more intimate spaces they can curate with minimal third party intervention.
Communities in the early web offered participants and owners more agency.
That's been lost for over a decade, and we're hungry for its return - especially when everything else feels out of control."
Venessa Paech - Director & Founder - Australian Community Managers

"We've seen a real move away from traditional social media community work - with a general feeling that effort towards organic Facebook and Twitter activity, in particular, is seeing diminishing returns in terms of engagement and conversion.
We're gearing ourselves up for the possibility that communities return to the pre-social media boom status of existing in more interest and subject-specific bubbles.
In 2008 and when I first started in PR, we had incredibly active forums dedicated to the most niche of topics. Although you'll always have your fair-weather social media users that open Facebook, Instagram and Twitter as a matter of habit, it only takes a cursory glance at your own feeds to see that they are quieter places.
While we won't shut the door on those platforms entirely, we are gently encouraging relevant clients in the direction of gated communities across the likes of LinkedIn, Discord, Slack and Guild, and only really seeing organic client growth and heightened interest in relation to TikTok."
Rich Leigh - CEO -  Radioactive

"It will take concerted effort to change the mindset of users and convince them to use a 'better' platform and install yet another app, rather than sticking to their familiar social media apps.
Some of the big political drivers are privacy and protection of data, regulation of 'big tech' and legislation around harmful content.
Many of the most successful online communities are running on legacy platforms that originally weren't built for private, brand or corporate communities.
The trend that I'm hoping to see is that new communities are established and grow on specialist community platforms, and even that well-established communities migrate to better platforms."
Stuart Bruce -  Co-Founder - Purposeful Relations

"I've been astounded by the sheer number of new community platforms in our space. These were mostly prompted by interest in starting up dynamic Web3 communities, but they have expanded their use cases.
I'd expect that we'll see some collapses of a few of these startups in the coming year if they cannot find their market niche."
Todd Nilson - Community and Digital Workplace Strategist - Clocktower Advisors

"Smaller communities will begin to have access to things that previously only larger communities have had. A good example is rich data. As we see community tools rapidly emerging/improving, leaders of small communities will be able to operate in increasingly sophisticated ways."
Tom Ross - The Community Building Guy

" Communities do tend to follow wider behavioural trends, and the most active communities understand how to harness these. For instance, 'experience' is the breakthrough trend for this year. Like the wider public, our communities are looking for experience(s) – we see it succeed all over social media.
People want more from their engagement or their attention. Whether that is entertainment, purposeful belonging or simply knowledge sharing. In communities, that could be in relationships with like-minded folk, or it could be in the activities that bring ideas and thinking together.
Couple experience with the increasing demand for value exchange and a need for trust and transparency, and you have community gold.
This is a challenge though. It most definitely requires effort. It needs valuable content that delivers above expectations.  Trusted experts need to be nurtured and supported. It is most definitely an investment. But one that is the future of community building."
Katy Howell - CEO - Immediate Future

"We've seen our community of clients flourish online both on Guild and our own client portal.
The trend we're seeing is that our clients increasingly crave face-to-face community options. Online works brilliantly for many situations and the value of a platform like Guild has been proven during the pandemic.
We've seen our community more than double in size and that means lots of new people who have never met in person. As one client described it 'these are my peers but not my network' - they want to establish stronger connections with smaller groups within the community so that they can grow the trust that comes from personal connections. We will facilitate this with face-to-face meetings and online tools like Guild's Video Room."
Dan Drury - Partner - Bowen Craggs & Co


Corporate media and brands continue to scoop up ready-made communities
There have been many community acquisitions in the technology space over the past few years; Bevy and CMX, Zapier and Makerpad, HubSpot and The Hustle, Salesforce and The CMO Club, Stripe and Indie Hackers to name a few, and there are bound to be many more to come.
Figma's acquisition by Adobe was almost certainly driven in part by the size and the impact of its community (one of Figma's 'moats'). A community that informed product development and championed the brand.
But we predict that it won't just be technology businesses and brands that will be looking for communities to partner with or even to acquire in 2023.
The challenge of scale is something that creators and small collaborative groups face when their 'passion community' becomes bigger than they anticipate.
And, scale is something that big businesses are happy to support if it means potentially buying ready-made communities + engaged audiences of potential customers.
Keep an eye on which communities are acquired in 2023 and in which sectors.


"After Figma's recent acquisition, a lot of community leaders started to talk about Figma's successful community, but very few were part of that community or really understood why it became what it is today.
Figma's community is an example of an underdog, stealth community that outgrew the product. While Figma was still being baked and had tons to be improved, the community was already being formed. It was being formed because they followed three simple, yet hard, steps:
Truly listen to industry experts and implement feedback fast
Create a sense of rooting for the underdog. While InVision, Sketch and XD were the big players, Figma came in as this cool little kid who was willing to beat Goliath.
Tap into your network to bring big names. Figma's team reached out to former team members and got them on board to start sharing feedback and participate more actively in group discussions (including in-office pizza sessions). If you bring a big name, their herd will follow."
Edu Giansante – Head of Community - Wix

"We've seen a Cambrian explosion of creator-led, community-powered creative and content businesses in the past 3 years.
The ability - in theory - for anyone to build an audience and monetise it effectively has driven what Brian Morrissey refers to as the 'flight to niche.'
But the big trend we're seeing now is the 'scale challenge' - few of these start-up businesses have the resource, capital or capabilities to reach sufficient scale to be sustainable - or investable - on their own - and they are heavily dependent on the big 4 platforms and emerging creator tech for their audience, ceding a large part of their income in the process.
As a result, corporate media are starting to explore M&A opportunities for 'smaller deals' with aggregation and roll-ups of individual creator businesses to address the scale challenge."

Kevin Sutherland - Strategy Partner, VIDA and Founding Partner, VOLUME


Community data matures
Community has become more strategically important within organisations over the past few years. The CMX and Community Roundtable reports this year highlight that community, as a function, either sits within or much closer to marketing.
One of the results of this community + marketing alignment is data maturity.
Community managers are being asked to move from a simple and tactical set of community metrics, such as measuring community growth, sentiment, engagement and content consumption.
Increasingly strategic sets of metrics are being used, including customer support/satisfaction/retention/efficiency and marketing metrics such as connection between community participation and community qualified leads (CQLs), customer lifetime value, and customer retention.
Those who have embedded community fully into their organisations are measuring operational efficiencies, innovation and intellectual capital.
For example:
an increase in 'first-party data' and 'zero-party data' from customers and prospects
audience and marketing intelligence through qualitative and quantitative community data
market and competitor insights from their owned communities
All of these can provide competitive advantage, drive messaging and campaigns, or can shape product innovation/development.
With marketers having to adapt to the loss of cookie data, a premium is being placed on bringing multiple sources of customer or prospect data together to make better decisions and impact growth.


"In 2023 we will see community data being valued much more highly.
And community tools and platforms will need to adapt to the changes in who needs that data, how that data should be packaged up, how it can be handled compliantly, and for what purposes the data will be used.
This year has seen a massive decline in the revenues of the ad-fueled tech giants.
The introduction of privacy controls by mobile OS and browser providers that undermine the data-hungry ad delivery networks has had a big part to play in this. But they are responding to user demand: users don't want their data being exploited and they never did.
With greater awareness more and more of us will reject the ad-fueled platforms and seek out spaces where we can be sure of responsible data stewardship, transparency and a fair value exchange."
Gregor Young - CEO - Guild

"We know marketers are very keen to get access to more first-party data and community can deliver this.
But community offers much richer data than mere profile information. What community members do, and say, in a community reveals behavioural, sentiment and intent data, including buying signals, which are of huge value and insight.
Community tech and platforms will be more focused on how to deliver this community intelligence to community managers."
Ashley Friedlein - Founder - Guild

"Organisations have finally embraced big data and how it can contribute towards understanding the size, shape and detail of their communities.
But I think more analysis needs to be done to help individual divisions understand the specific data about the community that is important to them.
That understanding should come with a hefty and continuous dose of education about how to interact with community as well as appreciate them."
Christie Fidura - Director, Developer Community – Salesforce

"Rather than needing recourse to a data scientist to build your own data-driven dashboards, community professionals can now use tools like Common Room or Comunify. These tools are becoming increasingly competitive with one another and, therefore, more affordable."
Todd Nilson - Community and Digital Workplace Strategist - Clocktower Advisors


Community managers not replaced by AI, but augmented by it
Exciting stuff is happening around the practical applications of AI linked to communications and community.
'Generative AI' and tools such as ChatGPT and DALL-E have everyday uses for community, content and communications professionals and they are getting all the headlines.
Stuart Bruce has detailed his thinking about ChatGPT and David Spinks has written an article about Community Managers being replaced by AI and bots….
…Actually, that's not true; Spinks says that we will become "cyborg community builders" and "AI won't replace us, it will enhance us." which we wholly agree with.
The always-excellent Venessa Paech highlighted the role of AI in community more than 6 months ago in her brilliant presentation at the Guild Community Summit (access the presentation and watch the video here), to maximise outcomes and minimise harms.
In 2023 we'll see AI helping much more with anything repetitive/rules-based allowing community managers to focus on the stuff the AI cant do (yet):

Copywriting – never a wholesale replacement for great thinking and brilliant writing, but tools like ChatGPT can help with content creation, member acquisition and onboarding copy, emails, topics for community discussion and other written work that takes time and effort.
Image and video creation – we will be using AI to generate images and videos based on a 'brief' or community-created discussions to bring written content to life. We'll see many AI image competitions/challenges in communities in 2023. We will see synthetic welcome videos and AI-generated profile pics.
Predictive AI – for example, to help connect community members, to analyse skills and previous comments to highlight who is best placed to respond to a topic, and to bring to light valuable historical content and discussions. Also answering questions that have already been asked and answered, e.g. "I think this has already been answered here [link to older post]"
Note to community managers - it will become even more important to ensure your community platform doesn't restrict your community lookback/archives (see 'Slack's New Pricing - bad news for community managers')
Community ops and community insights  - AI will support reactive moderation, risk management triage, onboarding, engagement nudging, reward and recognition, wants/needs match-making, personalisation, influence and network mapping, risk indicators (e.g self-harm or trolling signals) etc.
The future is bright. But let's all be careful with shiny things!


"AI, Machine Learning and Automation will become ubiquitous in community management tools from 2023 onwards.
We are already seeing ML applied to community data sets, helping with segmentation and surfacing behavioural insights. As community leadership grows in importance and scope within organisations, these empowering technologies will help keep workloads in check and improve effectiveness."
Blaise Grimes-Viort, CEO of community consultancy Is The Answer and host of Guild Community Collective


"I believe that AI will positively impact community and communications professionals. The opportunity to automate many repetitive tasks and to maximise insights from communities will free up some serious time… and some serious smarts.
It's important that we focus on using AI to create better outcomes for our community and to act as "context coaches" as Venessa Paech advised. And we need to avoid negative effects and biases that can creep in with AI, like those we've seen with algorithms in social media.
That's why we'll be working closely with groups and people that focus on AI ethics and privacy."

Michelle Goodall - CMO - Guild


Community leaders will still be critical to community success
In 2022 we asked community managers to ensure that they took time for self-care after 2 years supporting community members through exceptionally difficult times - the pandemic, financial hardships, loneliness, isolation and loss.
This year, we're rallying you to help to educate others about the community profession and to be the very best community leaders that you can be.

AI won't replace community managers - you are the very best type of people to know and to work with - but it's important to continue to skill up in 2023 and demonstrate the professionalism required to do community 'well'.
At Guild, we are committed to supporting you with learning materials, best practice guides (e.g. Community Based Marketing,  Events & Community), community strategy training modules, community models, events for community managers - and free peer communities (Professional Community Leaders, Guild Community Collective) where you can benchmark your knowledge, and give and get support amongst community professional peers.
And, to be able to continue to support the profession with these high-quality resources, we're challenging ourselves to be the fastest-growing, most successful community platform in 2023.

"Community will continue to be a long game. There are no hacks and it requires dedicated resources.

Those looking to leverage community as a strategic advantage need to own understanding that and allow the time for growth to be realized if they want to build community well."
Marjorie Anderson - Founder - Community by Association L.L.C.

"We're seeing more people prioritising safety and moderation as a critical component of effective communities, and a distinguishing feature for platforms and organisations (tech giants continue to underperform in this area).
Australian Community Managers are scaling up training and resources in these areas for anyone gathering people online, to help them grow and sustain safe digital spaces that deliver value for all participants.
When we gather people for any reason we have responsibilities to mitigate harm. Those who don't step up to that risk being left behind (or overrun by bad actors)."
Venessa Paech - Director & Founder - Australian Community Managers

"I believe that there is real merit in community leaders. In my experience, the most engaged communities are the ones that were initially based around a person, rather than a brand or product.
People connect with people, it's as simple as that and as such, having a real person with a life and a story, at the helm of a community means that there is more opportunity for connection and engagement."
Liz Hinds – Community Strategist - Radioactive

"I have been delighted to see further career specialization emerge for community professionals, such as the new community operations role which prompted an entire track at this year's CMX event.
Companies may have over-hired during the pandemic in anticipation of needing more community-oriented online frontline workers.
I suspect that they decided to remove these roles now that there are signs of economic contraction and, sadly, community professionals were lumped in with marketing professionals, who always seem to be laid off when things get tight.
It's a lack of education and a fear-based reaction that I hope companies will learn from. The best community managers gain some celebrity as they serve as the "face" of their brands. Downsizing these individuals has a greater impact than a company may realize only too late and to their detriment."
Todd Nilson - Community and Digital Workplace Strategist - Clocktower Advisors

"The markets are changing, we've had a boom, much of the tech world has. There's been a lot of hype that hasn't been backed up with substance.
Now is the time community builders are being tested. Our budgets have been tightened. Our value is being questioned.
Generally speaking, I feel the belief is still there, but we all still have lots of work to do to prove that community can work as a long-term strategy."
Rosie Sherry - Community Executive Officer - Rosieland

---



Thank you to these expert contributors
Guild would like to thank the following experts for their help in producing these trends:
Marjorie Anderson- Founder - Community by Association L.L.C.
Andy Bacon - Senior Vice President - Momentum ITSMA
Stuart Bruce - Co-Founder - Purposeful Relations
Helen Coetzee - Director - MPG
David deWald - Community Manager - Ciena
Dan Drury - Chief Commercial Officer - Bowen Craggs & Co
Marc Duke, Community Manager - Tech London Advocates Createch Group
Christie Fidura - Director - Developer Community - Salesforce
Ashley Friedlein - Founder - Guild
Edu Giansante - Head of Community - Wix
Michelle Goodall  - CMO - Guild
Blaise Grimes-Viort– Founder, Is The Answer
Evan Hamilton - Director of Community - HubSpot
Liz Hinds – Community Strategist - Radioactive
Katy Howell – CEO and Founder – Immediate Future
Mary Keane-Dawson - Managing Partner Growth - Kiln
Rich Leigh - CEO -  Radioactive
Todd Nilson - President and community strategist - Clocktower Advisors
Venessa Paech - Co-Founder & Director & Founder - Australian Community Managers
Tamara Littleton - CEO and Founder - The Social Element
Jack Richards - Team Lead Marketing Northern Europe - Talkwalker
Tom Ross - The Community Building Guy
Rosie Sherry - Founder - Rosieland
Darryl Sparey - Co-Founder and Managing Director - Hard Numbers
David Spinks - Co-Founder - CMX
Jon Stricklin-Coutinho- Community Builder & Strategist
Zoe Scaman - Founder - Bodacious
Kevin Sutherland - Strategy Partner, VIDA and Founding Partner, VOLUME
Shamil Thakrar - Founder  - Dishoom
Katie Vanneck-Smith - Co-founder - Tortoise Media
Gregor Young - CEO, Guild

Photo by JOSHUA COLEMAN on Unsplash
---
Join a free community for community professionals and the community curious
Guild Community Collective is a community for anyone interested in sharing best practice, ideas, inspiration, interesting content and resources, or getting feedback on community ideas and initiatives.
Community builders and social media managers, strategists are all welcome - regardless of experience levels.  Join today to ask your questions, seek support and share insights.
Join many of the contributors to these trends in a dedicated community, Guild Community Collective, today.
---
Join Guild 🤝
See for yourself how the Guild experience is different to WhatsApp, Slack, LinkedIn or Facebook Groups.
Guild is a safe space to connect, communicate and collaborate with others.
Join us on a platform that is purpose-built for creating groups, communities and networks on mobile.
Contact us if you want to know more or have any questions.